Halloumi Fries are one of my favorite crispy-coated fries. They are baked instead of deep-fried for a "healthier" alternative. Pair your fries with some creamy avocado mayo for dipping.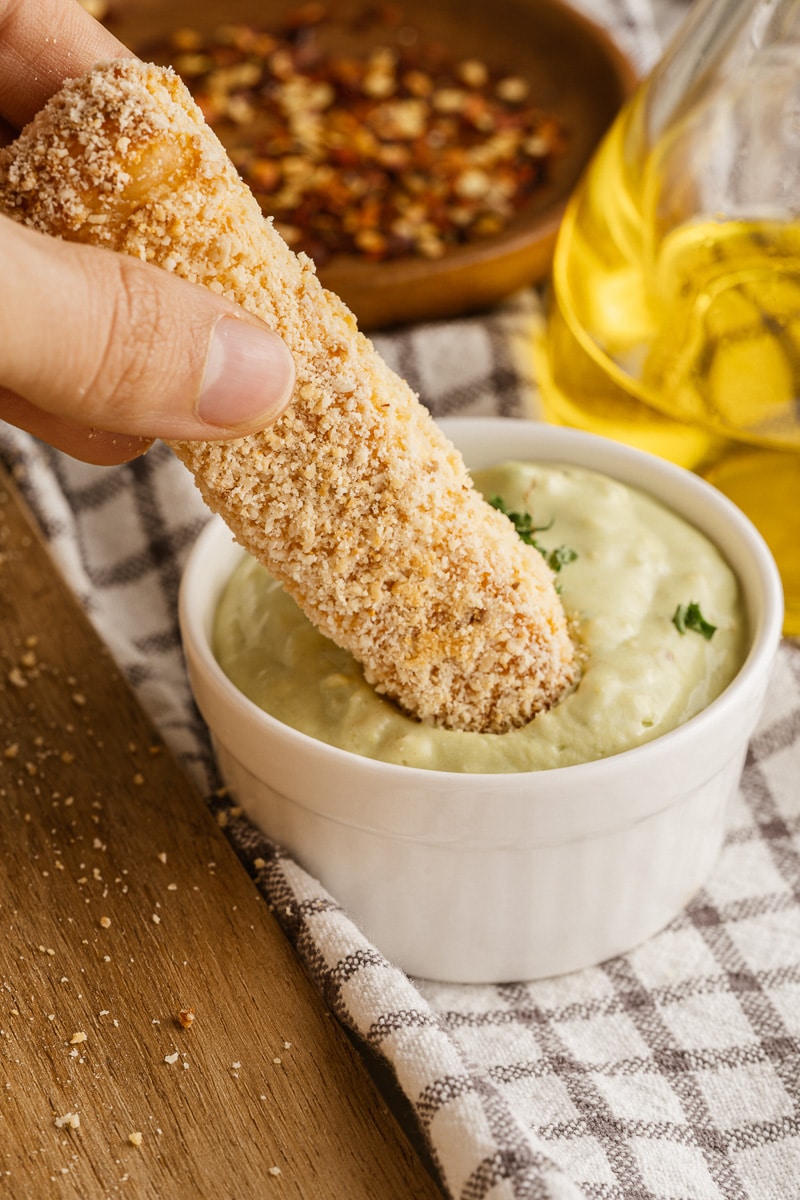 Not sure what halloumi cheese is? It is a white cheese that is generally made from sheep's milk and very firm. In fact, halloumi is so firm that it does not melt when grilled or fried. 
Its firmness makes halloumi the perfect cheese for baking or frying up in a skillet—like these Halloumi Fries. They are a gluten-free finger food that the whole family can enjoy!
You can also use halloumi in these recipes for Cranberry Grilled Cheese sandwiches and this Goat Cheese Tart with Sweet Salsa.
Looking for vegan options? We've got you covered with this Vegan Baked Mac and Cheese and the tasty Herbed Cashew Cheese in this French Lentil and Arugula Salad recipe.
For dessert—my personal favorite—try this decadent Vegan Vanilla and Raspberry Cheesecake.
These Halloumi Fries Are...
Gluten-free 
Tasty finger food 
Vegetarian
Baked snack 
Appetizer or side dish 
And don't forget to grab a copy of my free vegan cheat sheet too! It's packed with my favorite easy substitutions to help you make just about any recipe vegan!
How to Make Halloumi Fries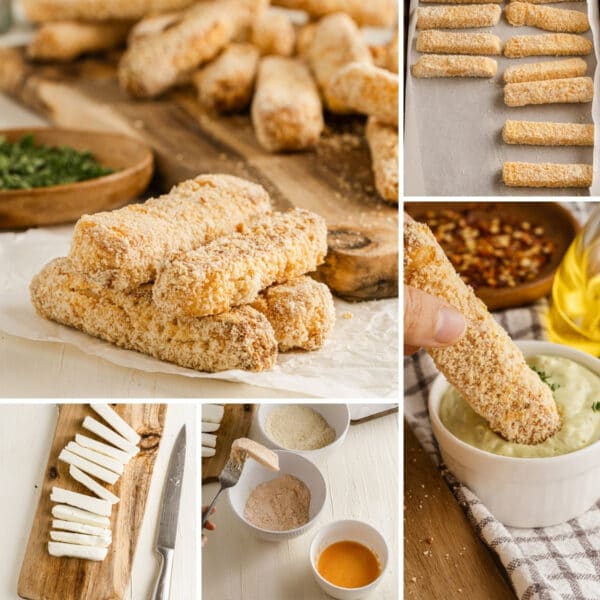 Preheat your oven and grease your baking dish. 
Dice up your cheese into even pieces. (I did 30 pieces.)
Add coconut flour and paprika to a bowl. Mix and set aside. 
Fill one bowl with eggwash and one with almond flour. 
Coat cheese in coconut flour, dip in egg mixture, then almond flour.
Place cheese sticks on your baking tray, and drizzle with oil. 
Bake as directed, and then pair with the creamy avocado mayo. 
Full steps for Halloumi Fries are in the printable recipe card below. 
Tips and Tricks For Halloumi Fries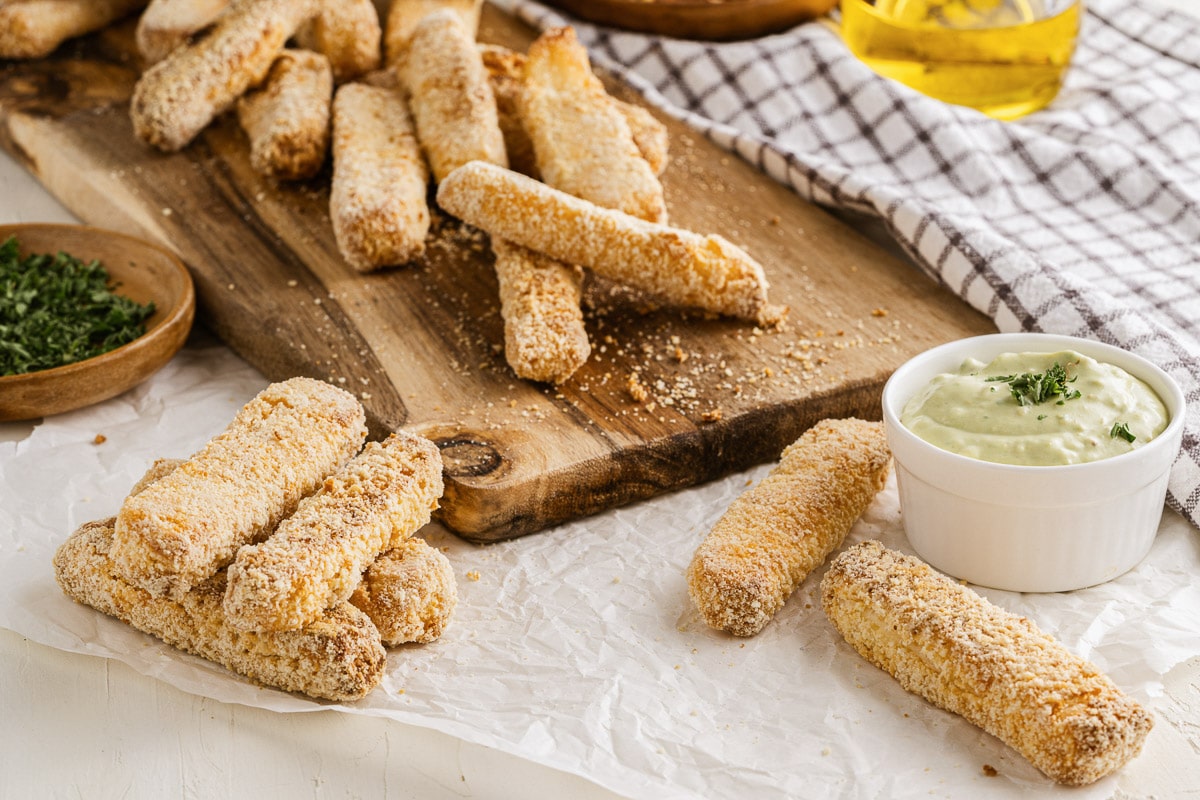 Slice Cheese Evenly
Make sure to slice your cheese evenly. It is important to have even slices to help your cheese fries bake consistently.
If you have different sizes of cheese, you will find some fries cook a lot faster or slower than others. 
Crisp Up The Cheese 
The oil will help the almond flour crisp up into a golden color. If you find that some of the cheese sticks are still pale-colored, simply add more oil to your cheese fries.
Space The Fries Out 
Make sure that you lay out your fries with enough space around them before baking. You will find that if your cheese sticks touch, you will not get an even cook on your fries.
Variations To Halloumi Fries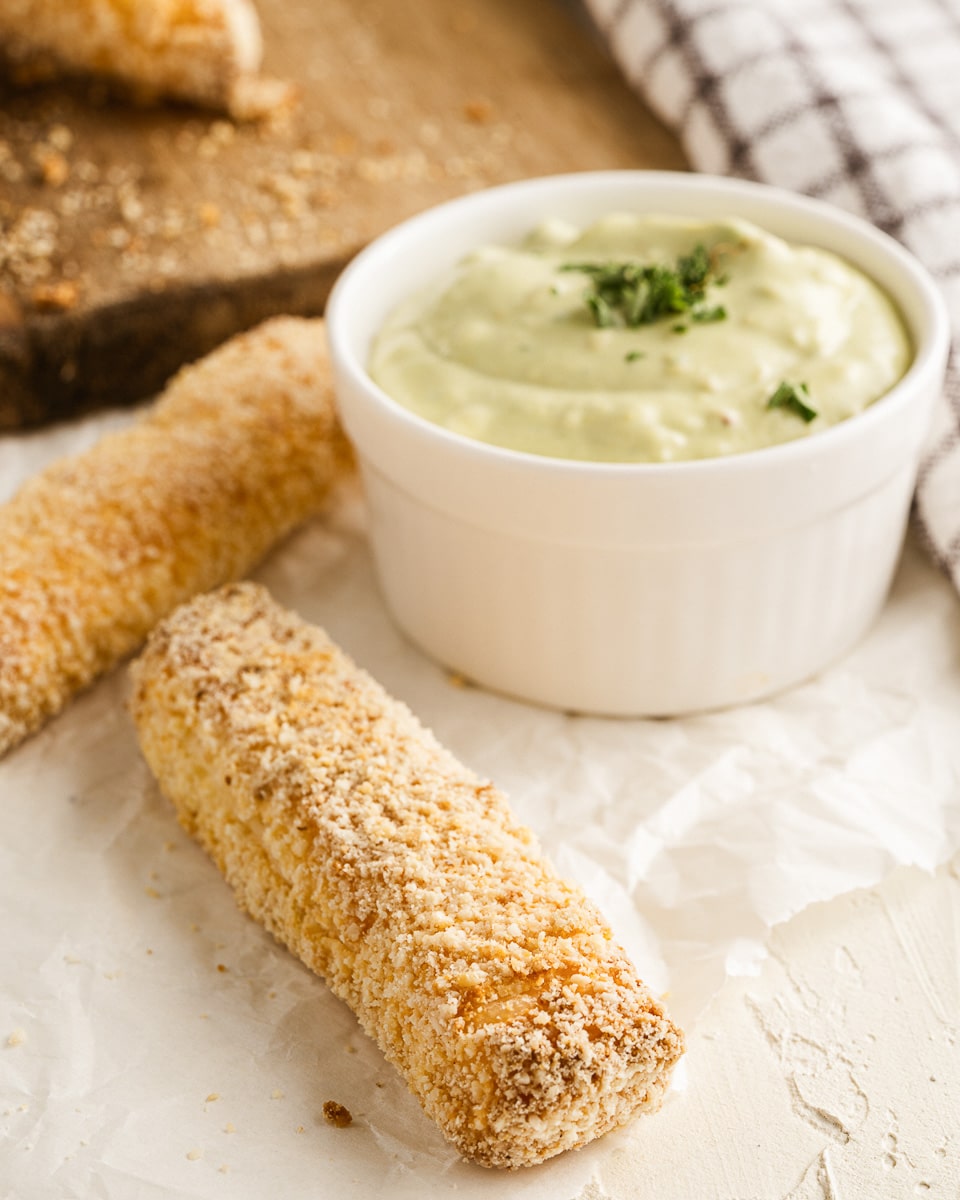 Deep Fry
Instead of baking in the oven, you can heat oil to 375°F in a pan on the stove. Make sure to use a peanut or canola oil. Then deep fry the halloumi pieces until your fries are golden brown. 
Place fried cheese fries on a paper towel-lined plate. Allow fries to cool a couple of minutes, then serve. 
Dipping Sauce
You will find a recipe for avocado mayonnaise below, but feel free to change it up. A sweet and sour, ranch, or even marinara sauce would make a great dipping option for your baked Halloumi Fries. 
Alternative Coating
You can easily swap the almond flour breading for a breadcrumb, pork rind, or even an all-purpose flour if you want. I just enjoy the coconut and almond flour coating. The almond flour adds a nice nutty flavor. 
Halloumi Fries FAQs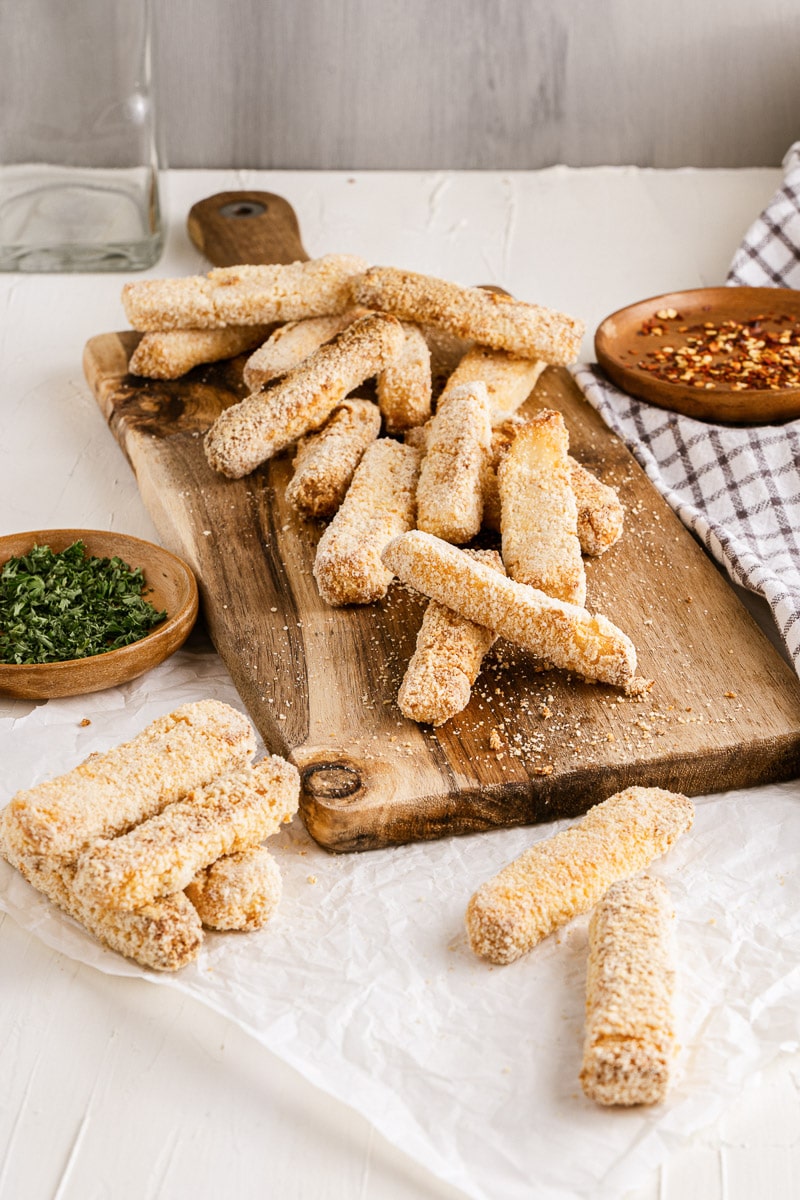 What does Halloumi cheese taste like?
Halloumi is a sheep-milk cheese that offers a very salty flavor. You will find that this cheese is also similar to mozzarella in terms of its mild flavor. 
What is an alternative to halloumi cheese? 
If you don't have halloumi handy, you could substitute it for paneer. I have found that paneer cheese is the closest option to halloumi for a similar flavor in this recipe. 
How do you store leftover cheese fries? 
If you do not eat all these fries right away, store them in an airtight container in the fridge for 2–3 days. You can eat your leftover fries cold or warm them up in the microwave or oven. 
While you're here, be sure to grab our FREE 5-Day Meatless Meal Plan. It's packed with tasty recipes to make vegetarian cooking easy and delicious!
Recipe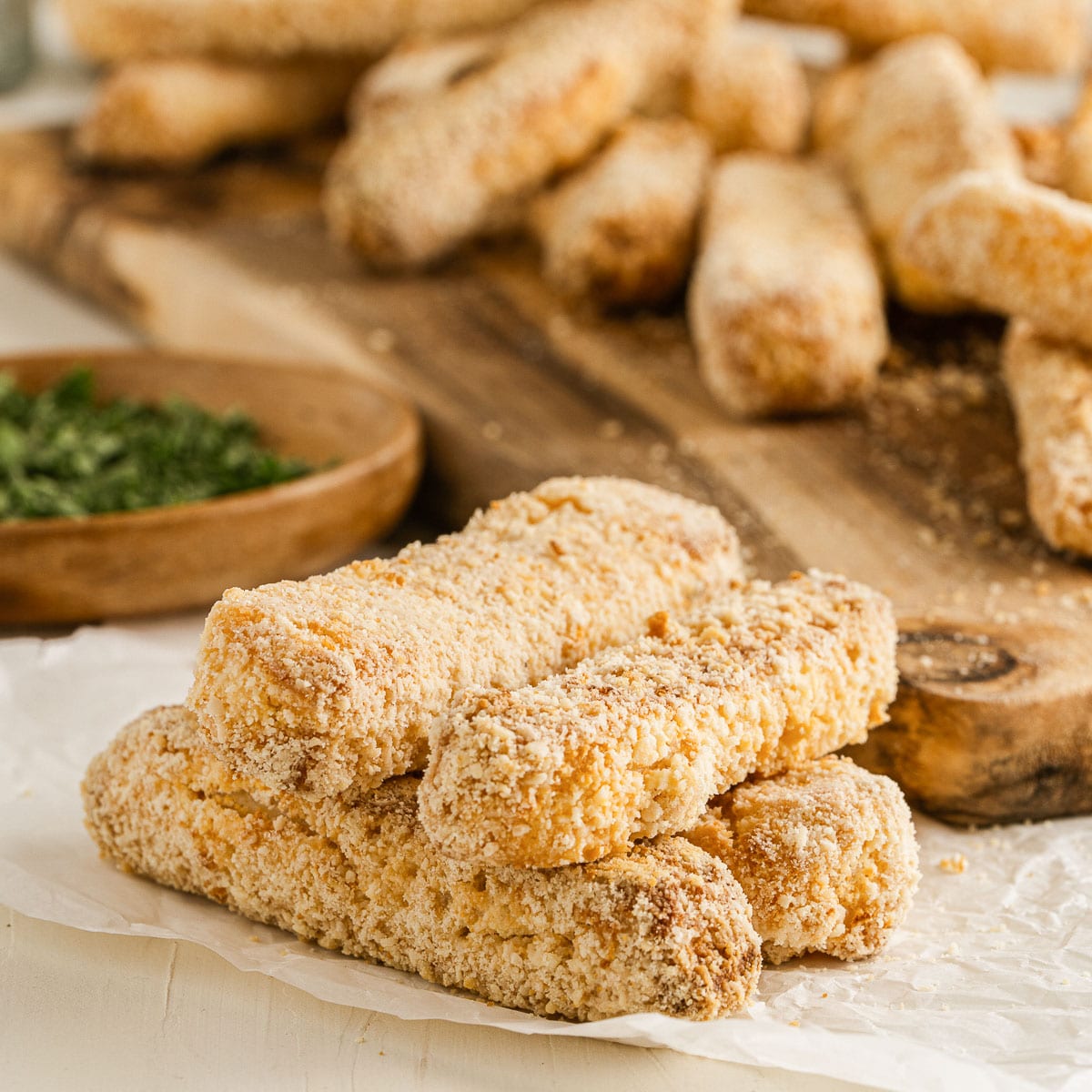 Ingredients
Avocado Mayo
1

ripe avocado

⅓

cup

mayonnaise

¼

tsp

salt
Instructions
Preheat oven to 400°F. Prepare a baking tray with baking paper or a drizzle of oil.

Chop halloumi into 30 sticks.

Place coconut flour in a small bowl with smoked paprika.

Beat one of the eggs (you may or may not need the second one; that's why it is best to just start with one of them), and add ½ tsp of salt.

Place almond flour in another small bowl.

Coat the halloumi sticks first in coconut flour; shake them to remove excess. Then dip them in the beaten egg. Finally, dip them in the almond flour until well-coated.

Place halloumi sticks in the prepared baking tray and drizzle 2 tbsp of olive oil on top of them.

Bake them for 20–25 minutes or until golden brown on top.

To make the avocado mayonnaise, just mix all the ingredients and enjoy! It's best when fresh.
Notes
You could make these fries in an Air Fryer; just make sure not to overlap them. Cook them at 400°F for 8 to 10 minutes.
Replace coconut flour with regular flour and almond flour with panko for a non-keto/low-carb diet.
Nutrition
Calories:
115
kcal
Carbohydrates:
2
g
Protein:
5
g
Fat:
10
g
Saturated Fat:
4
g
Trans Fat:
1
g
Cholesterol:
12
mg
Sodium:
285
mg
Potassium:
6
mg
Fiber:
1
g
Sugar:
1
g
Vitamin A:
50
IU
Vitamin C:
1
mg
Calcium:
182
mg
Iron:
1
mg
Craving more veg-friendly recipes?
Shop our collection of vegetarian and vegan cookbooks, including our new Vegan Thanksgiving and Vegan Christmas cookbooks!