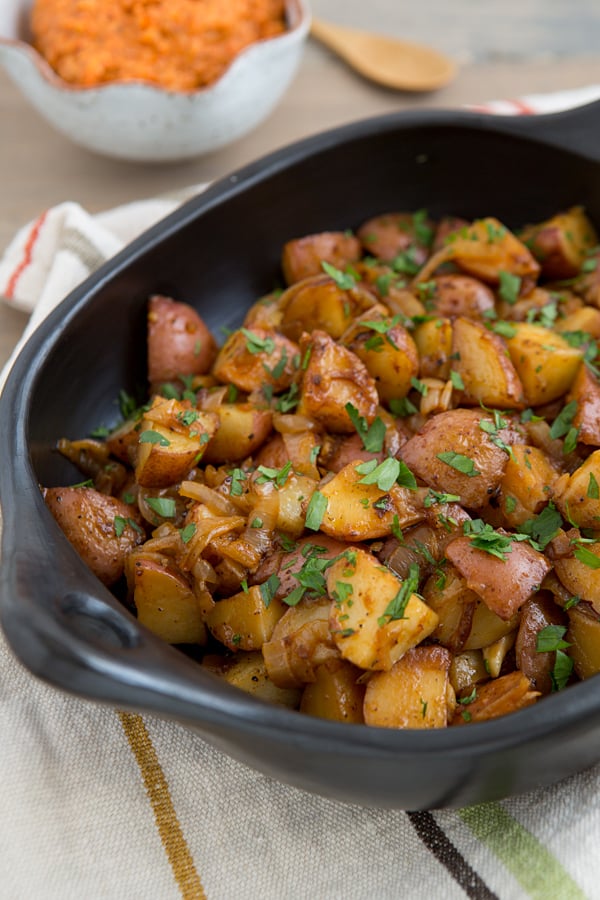 Pull up a chair and sit down. I have something very important to say to you.
People who tell you not to eat potatoes aren't your real friends.
I mean, okay, you shouldn't eat potatoes like they're the only vegetable in existence. French fries and fresh salads aren't exactly interchangeable. But demonizing potatoes? Saying you should never eat them ever because OMG carbs? No. I won't have that. Not in my house!
My default method of potato preparation used to be roasting, but I've moved onto braising. And now I am all about braising. When you braise potatoes, you cook them on the stovetop first, add stock or broth, then finish them in the oven. The broth thickens to coat the potatoes and when they're done, they're tender, delicious, and they make you want to never eat un-braised potatoes again.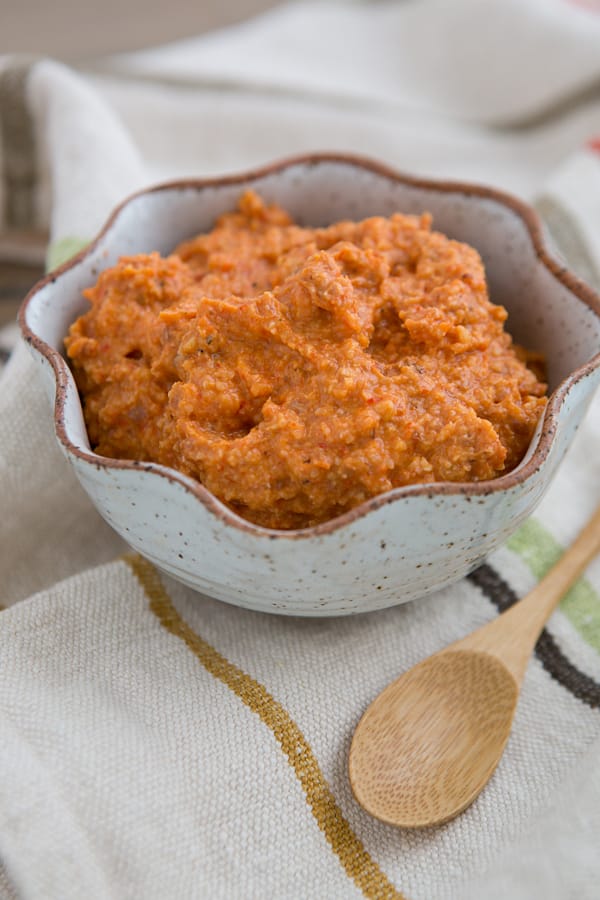 Because I added smoked paprika to these braised potatoes, they're tasty enough to eat on their own, but if you have a little time, whip up my Spicy Romesco Sauce to go with them. I make my romesco a little bit differently than most people—I use raw (not blanched!) almonds that get toasted in the oven, I never add bread, and I always add harissa for a spicy kick. We love it on baked potatoes, as a topping for burgers, and as a dipping sauce for steamed veggies. It freezes well so you can double the recipe and have some on hand for later.
This post was originally published on April 14, 2014.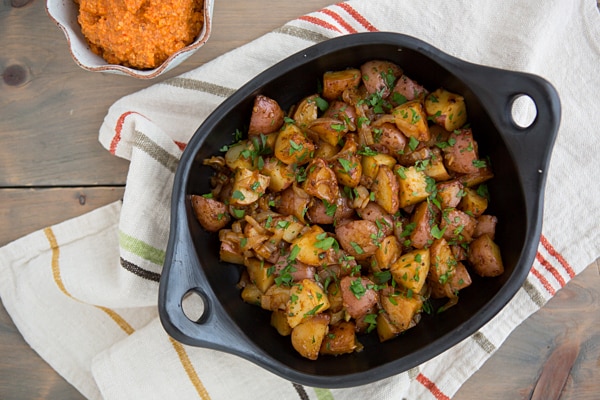 Ingredients
3

tablespoons

olive oil

1

tablespoon

unsalted butter

1

medium onion

thinly sliced

1 ½

pounds

red potatoes

cut into 1-inch pieces

4

cloves

garlic

sliced

½

teaspoon

smoked paprika

1

cup

vegetable broth

Salt and pepper to taste

Coarsely chopped parsley for serving

optional
Instructions
Preheat oven to 375ºF.

Heat the olive oil and butter in a large oven-safe skillet over medium-low heat. Add the onion and cook, stirring often, for about 15 minutes or until softened. Stir in the potatoes, garlic, and smoked paprika.

Increase the heat to medium-high and continue to cook until the potatoes are just starting to brown, about 10 minutes. Remove from heat and pour in the broth.

Cover the skillet and place it in the oven. Bake covered for about 10 minutes (or until the potatoes are tender), then remove the cover and cook until the liquid has reduced into a thick sauce that coats the potatoes, about 15-20 minutes more. Season with salt and pepper to taste and sprinkle with parsley, if using. Serve with Spicy Romesco Sauce.
Notes
If you don't have an oven-safe skillet, no worries! Simply transfer the potatoes to a roasting dish before putting them in the oven.
Nutrition
Calories:
256
kcal
Carbohydrates:
31
g
Protein:
4
g
Fat:
14
g
Saturated Fat:
3
g
Polyunsaturated Fat:
1
g
Monounsaturated Fat:
8
g
Trans Fat:
1
g
Cholesterol:
8
mg
Sodium:
268
mg
Potassium:
833
mg
Fiber:
4
g
Sugar:
4
g
Vitamin A:
348
IU
Vitamin C:
18
mg
Calcium:
30
mg
Iron:
1
mg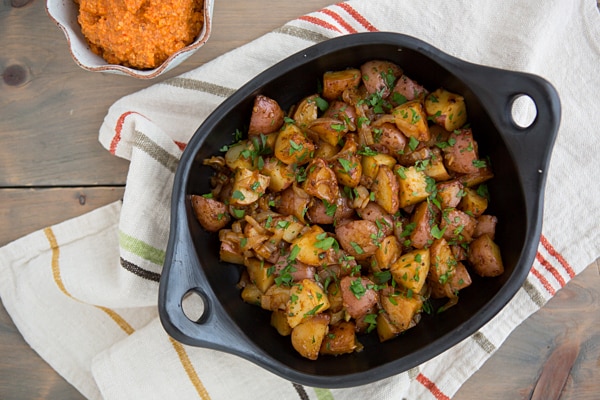 Ingredients
2

tablespoons

olive oil

divided

1

large red bell pepper

cut into chunks,

1

large tomato

cut into chunks

½

cup

raw almonds

2

cloves

garlic

minced

1

tablespoon

harissa

Salt and pepper to taste
Instructions
Preheat oven to 400ºF.

Toss the tomato and pepper chunks with 1 tablespoon of olive oil on a large rimmed baking sheet. Roast for 25 minutes, stirring halfway through, then stir in the almonds and roast for 5 minutes more, until the almonds are toasted. (Be careful not to leave them in the oven for longer than this—they will burn!) Remove from the oven and allow to cool slightly.

Transfer the peppers, tomatoes, and almonds to a food processor and add the remaining tablespoon of olive oil, garlic, and a teaspoon of harissa. Process until smooth. Season to taste with salt and pepper. Add additional harissa 1 teaspoon at a time until the sauce reaches your desired level of spiciness. (Because brands of harissa vary a great deal in spice level, it's best to be conservative! I use

Mina harissa

and 1 tablespoon is perfect.)
Notes
If you don't have harissa, any hot sauce you have on hand will work in this. A few pinches of red pepper flakes can be substituted for the harissa too.
Nutrition
Calories:
742
kcal
Carbohydrates:
32
g
Protein:
18
g
Fat:
64
g
Saturated Fat:
7
g
Polyunsaturated Fat:
12
g
Monounsaturated Fat:
43
g
Trans Fat:
1
g
Sodium:
214
mg
Potassium:
1127
mg
Fiber:
14
g
Sugar:
13
g
Vitamin A:
4854
IU
Vitamin C:
173
mg
Calcium:
224
mg
Iron:
4
mg