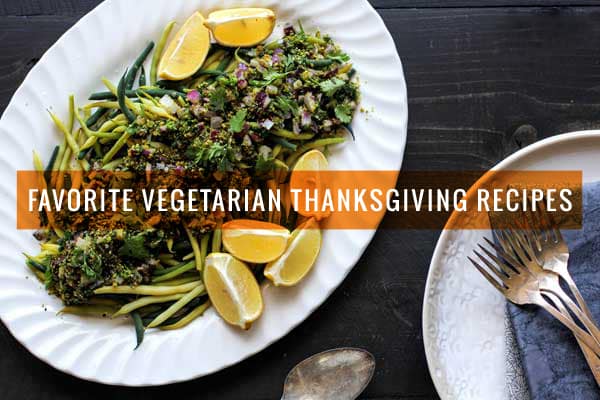 I'm not really a sappy person, but something about Thanksgiving brings out my sentimental side. Gratitude! Family! Traditions!
So many other holidays are now over-shadowed by consumerism, obligatory greeting cards, and massive amounts of candy, but Thanksgiving is still about sharing a meal with loved ones and taking time to be grateful for what you have. These vegetarian entrees for thanksgiving only make it more special.
In the spirit of gathering together and sharing food, I asked all of our contributors to share a favorite vegetarian entrees for thanksgiving from their blogs.
I'd also love to see your favorite vegetarian entrees for thanksgiving too -- share a link in the comments below and tell us about it. It'll be like a virtual Thanksgiving potluck! Looking for vegan Thanksgiving recipes? We've got those too.
Green Beans with Lemon-Almond Pesto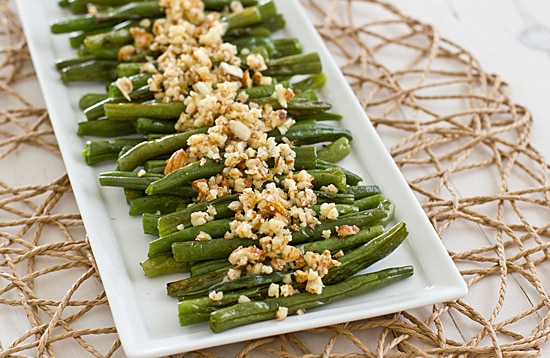 This easy side dish is a twist on the classic combination of green beans and almonds.
Brussels Sprout & Potato Gratin
I confess Brussels sprouts are still not my favorite veggie (I'm trying!) but if I had to choose one way to eat them on Thanksgiving, it would be in this gratin. Since last year it's become one of our favorite recipes and even though Thanksgiving is all about the mashed potatoes swimming in gravy, there's still room for this dish. It only needs about 20 minutes in a hot oven, so it can go in just before everything else is done. - Lindsey
Fall Lentil Salad with Butternut Squash & Goat Cheese
This lentil salad is bulky enough to be a main dish, yet it's also perfect as a side. The salad portion and dressing can be made in advance, so all you need to do is reheat and garnish with the toppings on Thanksgiving day. - Ashley
Quinoa-Stuffed Acorn Squash Rings
The best way to tackle the vegetarian-at-Thanksgiving issue is to serve a vegetarian main dish that works as a side dish for everyone else. These squash rings are the perfect example of that. And since the squash is sliced into smaller rings instead of halves, you'll still have plenty of room on your plate (and in your belly!) for mashed potatoes, cranberry sauce and pie. - Kiersten
Apple Cranberry Sauce
Nothing beats homemade cranberry sauce, and this version with apples, cinnamon and a pinch of cloves is our perennial favorite. I usually make it weeks (or even a couple of months) in advance, when I've got a few extra minutes in the kitchen. Then I freeze it so that all I have to do is pull it out, thaw it, and put it on the Thanksgiving table. - Kare
Smashed Sweet Potatoes & Butternut Squash
Think you have to skip the marshmallow-topped sweet potatoes because you're vegetarian? Vegan marshmallows
to the rescue! Instead of layering the marshmallows on top with tons of brown sugar and maple syrup, they are instead simply tossed with five spice powder, which adds a slightly exotic flavor into the mix. - Joanne
Naturally Sweetened Pumpkin Pie
I love this recipe because I looooove pumpkin pie. It's one of those magical things we only got once a year when I was growing up, and each year I really looked forward to it. Now I'm lucky enough to get to celebrate Thanksgiving twice a year since we celebrate Canadian Thanksgiving in October, but most of our friends here are American so we celebrate again in November.
Double the pumpkin pie! This pumpkin pie is naturally sweetened using dates and a touch of maple syrup. I've also roasted the pumpkin because you can't get it in cans where I live, but canned is totally fine too. - Katie
Green Bean Salad with Tahini Dressing
For me, Thanksgiving isn't Thanksgiving without a good green bean salad. I usually look forward to a side of green beans almost more than I look forward to the mashed potatoes! This is my favorite bean salad to date. The creamy tahini dressing makes this taste like an indulgent treat, however you won't feel weighed down. The toasted almonds are a must and tie this simple side together. I hope you all enjoy this salad as much as my family does. - Andrea
Maple Roasted Brussels Sprouts & Butternut Squash
This dish has so many flavors and textures going on, it almost feels like an entire Thanksgiving dinner in one side dish. Save time by chopping the Brussels sprouts and butternut squash the day before the meal. The coconut bacon can be prepared up to a few days in advance and put back into the oven on the day of serving to get some of the initial crispness back. - Alissa