This Savory Pumpkin Galette makes a great vegetarian main dish for Thanksgiving. It's packed with flavor from creamy roasted pumpkin, walnuts, sage, and Parmesan cheese. Yum!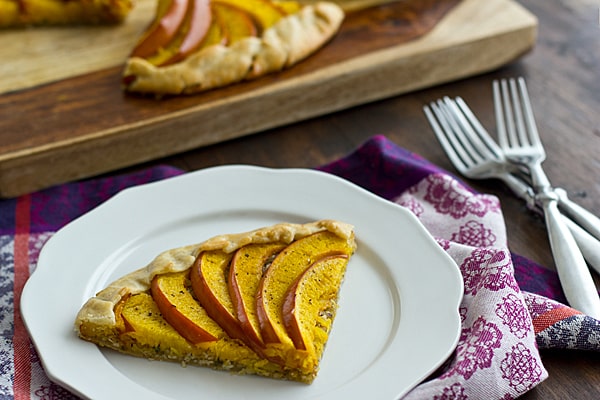 Being Vegetarian at Thanksgiving
I know most of the people who read my blog aren't vegetarians. You're looking to cut down on meat or maybe you're just looking for some good recipes to add bacon to. (Yeah, don't think I don't see your pins on Pinterest saying, "I would add bacon" because I do!) So you're probably going to eat turkey on Thanksgiving.
But this recipe is for those of you who aren't going to eat turkey. Are you tired of feeling like a weirdo on Thanksgiving? Tired of people making fun of you for eating some sad looking faux turkey?
Here's an idea - bring your own main dish!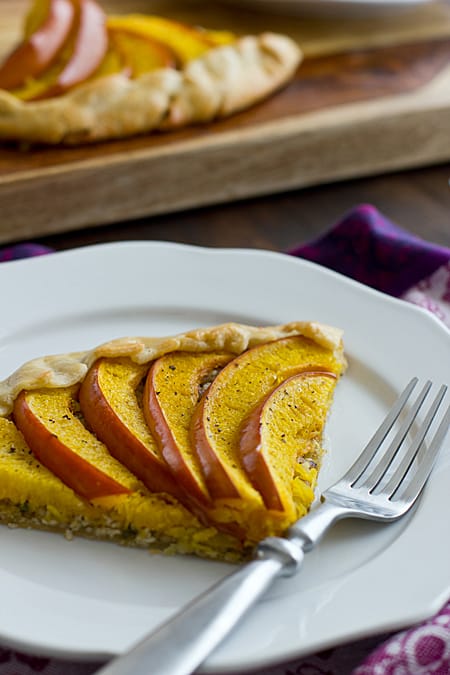 But not just any main dish! Oh no! You need to bring something crazy impressive. So then instead of pointing and laughing while you eat your weird vegetarian food, they'll be all, "Ooh, that looks really good!"
Then you can say, "Yeah, it does. AND IT'S MINE. So you can't have it."
Or you can share. Fine. That's probably more in the spirit of Thanksgiving, isn't it?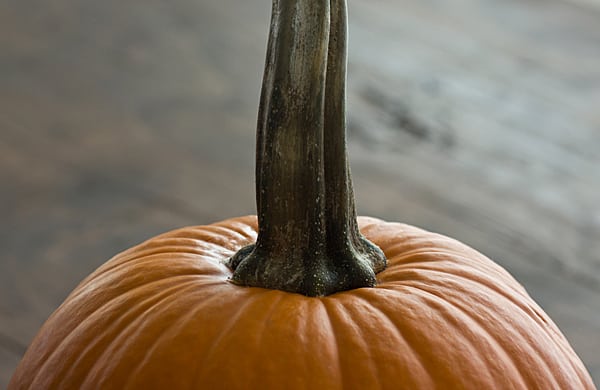 The next two weeks on Oh My Veggies are going to be all about Thanksgiving. I've got a delicious main dish recipe and some awesome sides, and I'm going to be putting together a post with lots of other holiday main dish ideas that go beyond the typical imitation turkey.
In fact, I recently published an e-cookbook full of all my favorite Vegan Thanksgiving recipes! So check that out if you're planning a completely plant based meal.
But when I was working on this Savory Pumpkin Galette, I realized that it would also be perfect for Thanksgiving. So consider it a bonus recipe!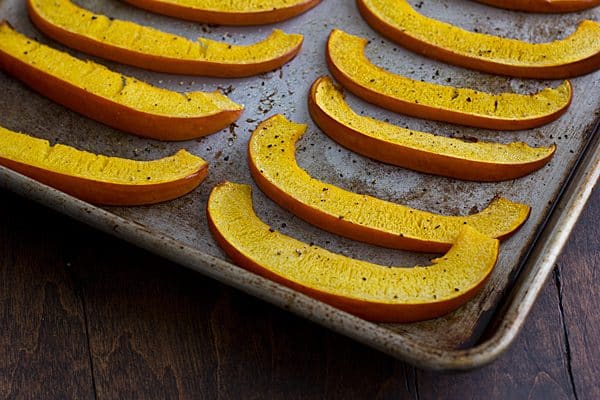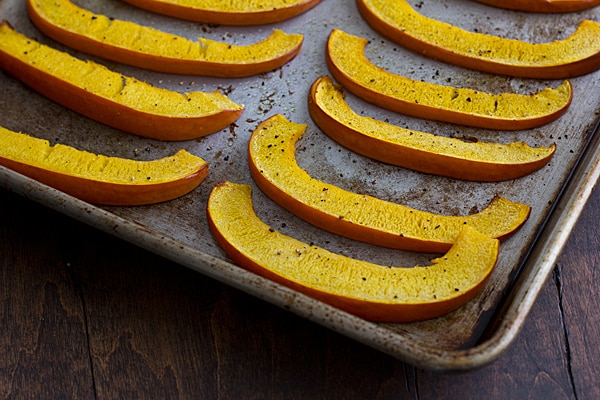 Tips for the Perfect Pumpkin Galette
You can use your favorite homemade pie crust recipe for this galette or you can cheat like I did and use pre-made pie crust. (Yes, I also see your pins saying, "I would use homemade pie crust.")
And guess what else? If you don't like pumpkin, you can use pretty much any roasted squash! Rings of delicata squash would be beautiful on this, as would half moons of butternut squash.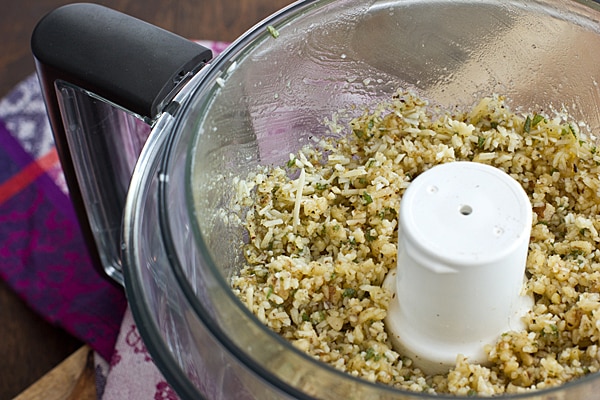 Inside the crust is a walnut pesto made with fresh sage leaves, Parmesan cheese, and a little bit of olive oil. You top that with the pumpkin (or squash) wedges.
It takes a little time and patience to get them all to line up just right, but take the time because the whole point of this dish is to make the haterz jealous of the deliciousness in front of you a stunning Thanksgiving main dish, sans turkey. It's totally worth the effort.
More Recipes
If you love this pumpkin galette, check out these other Thanksgiving-worthy ideas:
Recipe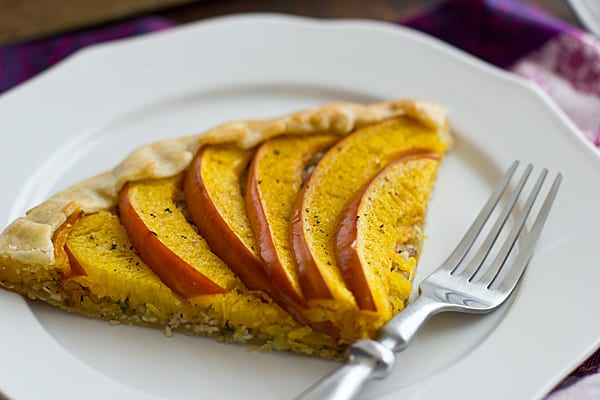 Ingredients
½

small pie pumpkin

seeds and guts removed & cut into ¼ inch wedges

olive oil mister or cooking spray
salt and pepper

to taste

½

cup

walnuts

pieces, lightly toasted

½

cup

Parmesan cheese

shredded

2

tbsp

olive oil

1

tbsp

chopped sage

1

pie crust prepared, store bought or your own recipe

1

egg yolk

beaten with 1 tsp water
Instructions
Preheat oven to 400°F.

Spray a rimmed baking sheet with oil or cooking spray. Place pumpkin wedges onto sheet. Spray tops with additional oil and season with salt and pepper. Bake for 20–30 minutes, or until softened but not browned. Let these cool while you work on the next step of the recipe.

Combine walnuts, cheese, olive oil, and sage in a food processor. Process until coarsely chopped (see image in post). Add salt and pepper to taste.

Place prepared pie crust on a baking sheet lined with parchment paper. Pour walnut mixture into center of crust and spread to cover, leaving an inch margin on all sides. Arrange pumpkin wedges in an overlapping circle on top of the walnut mixture. Cut off any overlap so pumpkin does not extend into the 1-inch margin.

Fold overhang of dough onto the pumpkin. Spray pumpkin with additional oil or cooking spray and brush pie dough with egg yolk mixture. Bake at time and temperature indicated on pie crust package or in recipe, until crust is golden brown.
Nutrition
Calories:
462
kcal
Carbohydrates:
35
g
Protein:
12
g
Fat:
32
g
Saturated Fat:
8
g
Polyunsaturated Fat:
9
g
Monounsaturated Fat:
13
g
Cholesterol:
57
mg
Sodium:
378
mg
Potassium:
707
mg
Fiber:
3
g
Sugar:
5
g
Vitamin A:
14638
IU
Vitamin C:
15
mg
Calcium:
222
mg
Iron:
3
mg
Craving more veg-friendly recipes?
Shop our collection of vegetarian and vegan cookbooks, including our new Vegan Thanksgiving and Vegan Christmas cookbooks!