These butternut squash stuffed shells are filled with a creamy blend of cashew ricotta, roasted butternut squash, and crunchy walnuts, all baked to perfection and served up with a creamy butternut squash sauce. And they're 100% vegetarian and vegan friendly!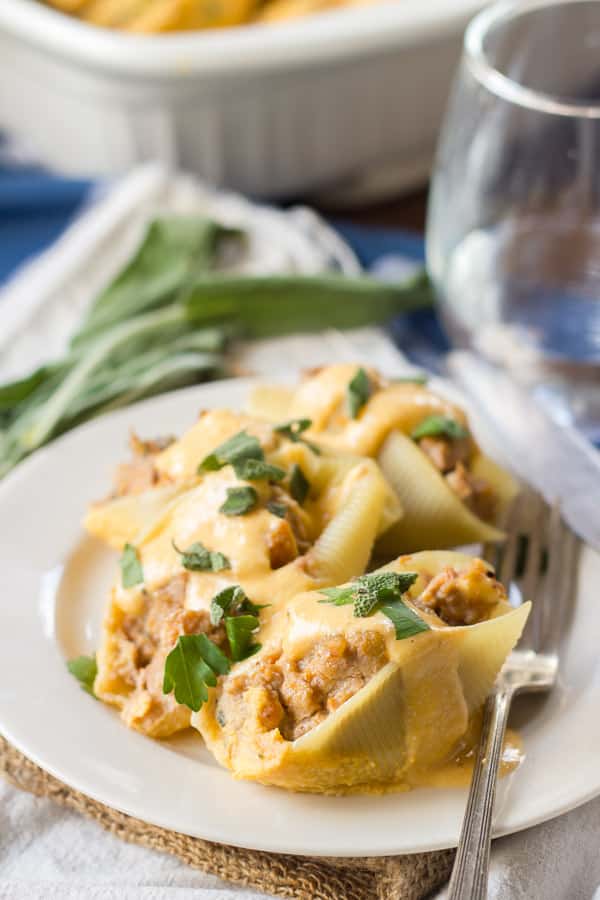 Jump to:
My family has always been great about providing a vegetarian entrée at our holiday get-togethers. I consider myself pretty lucky in that department.
We've got a lot of Italian in the family, and fortunately, vegetarian Italian food is pretty darn easy to do. And everybody loves pasta – not just the vegetarians. Lasagna, baked ziti, and stuffed shells have adorned my plate at many Christmases past.
It wasn't until I cut out dairy that things got challenging. Pasta with lots of sauce and cheese? Easy?
Ditch the cheese and suddenly things can get a little boring. That's why these days I try to bring a vegan main dish whenever possible, and I try not to just to bring something that I'll enjoy, but something that everyone, whether vegan, vegetarian or omnivore, can get down with.
The key to getting everyone interested in checking out your vegan dish is to make it a more interesting version of something they might otherwise be all about. Everyone loves stuffed shells, and adding butternut squash and crunchy walnuts instantly ups the intrigue factor, so they'll all want a taste.
If you're here planning your holiday menu, don't miss our new Vegan Christmas and Vegan Thanksgiving cookbooks. They're packed with all my favorite holiday-worthy recipes for a plant-based feast.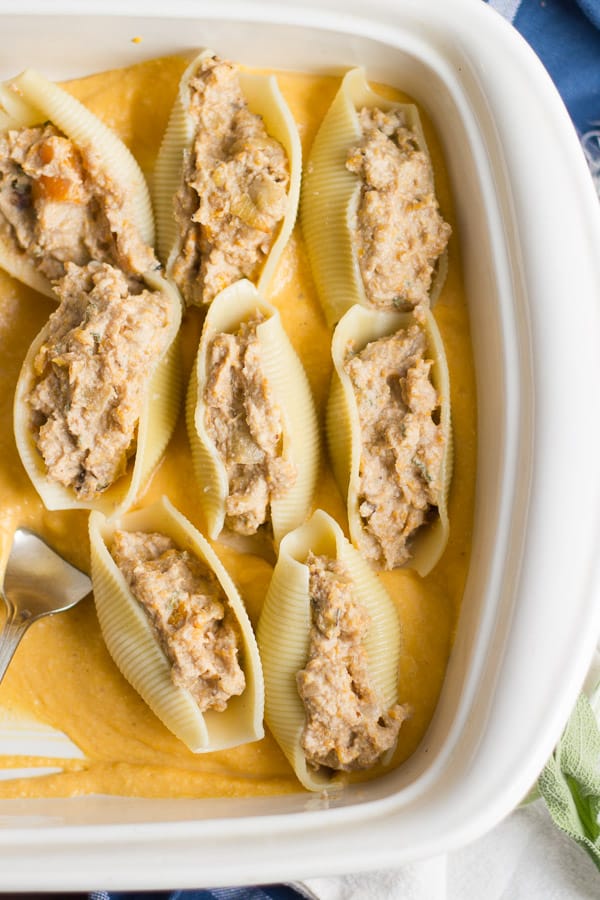 Butternut squash is some pretty amazing stuff, which is why you'll find it in both the sauce and the filling of these shells.
Blended up with some creamy cashew cheese, it adds some creamy smoothness and sweet flavor to the filling.
Since I like a little bit of extra texture in my shell filling, I went and added some crunchy walnuts too. The sauce is a simple blend of roasted butternut squash and onion blended with non-dairy milk and cashews, to make it extra creamy.
All in all, these butternut squash stuffed shells are rich, creamy, and delicious, with a nice blend of sweet and savory flavors. It's serious comfort food.
Your family should be pretty impressed if you serve these up as a vegetarian (and vegan!) main dish at your next celebration.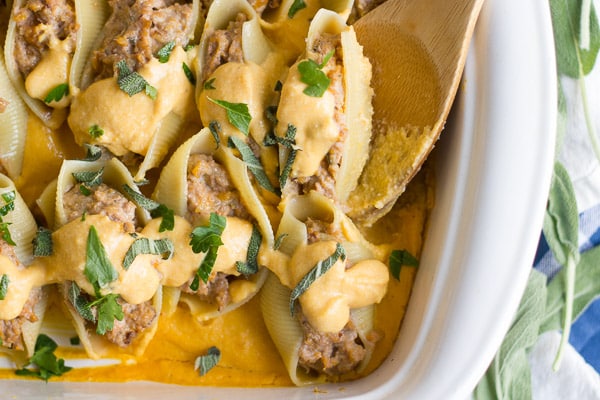 Helpful Tips
Raw Cashews
Be sure you use raw cashews for this recipe. Do not use the roasted and salted kind that you find in the snack aisle - they will not work!
Soaking the Cashews
You need to soak the raw cashews in water for 4-8 hours prior to using them in this recipe. That helps soften them so they can be blended up into a creamy sauce.
This is a common trick used in all kind of vegan sauces - like my 5-minute vegan alfredo sauce.
If you forget to soak the cashews (I am guilty of this sometimes!), don't worry. You can cheat by soaking them in boiling hot water for 30 minutes instead.
Storing the Stuffed Shells
Like all dishes with a creamy sauce, these stuffed shells taste best when served immediately.
Leftovers (if you have any!) will keep for 2-3 days in the refrigerator.
This can also be frozen for up to two months, but the sauce does lose much of it's creamy texture. If freezing, freeze prior to baking. I would prepare extra sauce and freeze that separately. Then you can defrost the sauce, add extra dairy free milk if needed to get the creamy texture back, then pour it over the top of the shells and bake.
More Recipes
If you love these butternut squash stuffed shells, be sure to check out these other tasty recipes:
Recipe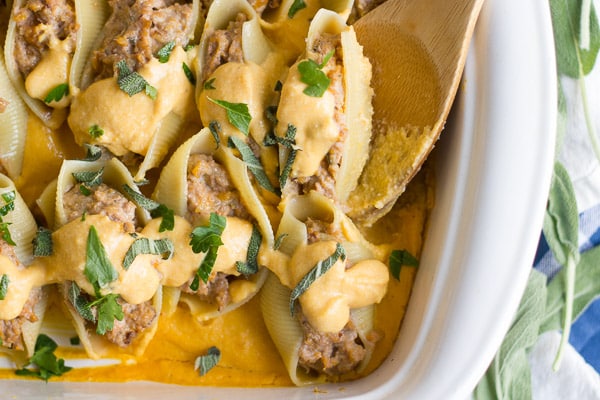 Ingredients
3

lb

butternut squash

peeled and cut into 1 inch cubes (about 6 cups when cubed)

1

onion

large, coarsely chopped

2

tablespoons

olive oil

10

oz

jumbo pasta shells

dry packaged

1 ½

cups

raw cashews

soaked in water 4 to 8 hours, then drained and rinsed (divided)

2

garlic cloves

minced

1 ½

cups

unflavored almond milk

or soy milk, divided

1

tablespoon

lemon juice

2

tablespoons

fresh sage leaves

chopped, plus extra for garnish

1

cup

walnuts

chopped

¼

teaspoon

nutmeg

Salt and pepper

to taste
Instructions
Preheat oven to 400°F. Place butternut squash and onion into a large roasting pan or oven safe skillet and add olive oil. Toss to coat. Place into the oven and bake until squash is tender and onions are lightly browned, about 45 minutes, flipping once or twice.

While the squash bakes, bring a large pot of water to a boil. Add the pasta shells and cook according to package directions. Drain the shells into a colander, return them to the pot, and toss with a few dashes of olive oil to prevent them sticking together.

To make the filling, place roughly ⅔ of the soaked cashews (see note) into the bowl of a food processor fitted with an S-blade. Add garlic, ½ cup of milk, and lemon juice. Blend until the mixture is mostly smooth (it doesn't have to be perfect). Add half of the roasted squash and onions, and all of the walnuts and sage leaves. Pulse a few times just to mix the ingredients, keeping the mixture a bit chunky and being careful not to over-blend them. Season the mixture with salt and pepper to taste. Transfer the mixture to a bowl.

To make the sauce, place remaining squash and onions into the food processor bowl. Add remaining cashews, ¾ cup of the almond or soy milk, and nutmeg. Blend until smooth, stopping to scrape down the sides of the bowl as needed. Thin the mixture with additional milk as needed (you may not use it all). It should be saucy and a bit thicker than soup. Season with salt to taste.

Spoon about ⅔ of the butternut squash sauce into the bottom of a 9 x 13 inch baking dish. Stuff each shell with about 2 tablespoons of the filling, then arrange in the baking dish. When all shells are filled, cover the dish loosely with foil. Bake until heated throughout, about 20 minutes.

Warm the remaining sauce up on the stovetop or in the microwave, adding a few additional splashes of milk if it gets too thick. When the sauce is hot, spoon it over the baked shells. Sprinkle with some additional fresh sage and serve.
Notes
Soaking the cashews: Soak the raw cashews in water for 4-8 hours before using them in this recipe. This softens them so that they blend into a creamy sauce. If you forget, you can "cheat" by soaking them in boiling hot water for at least 30 minutes. 
Nutrition
Calories:
602
kcal
Carbohydrates:
70
g
Protein:
16
g
Fat:
32
g
Saturated Fat:
5
g
Polyunsaturated Fat:
13
g
Monounsaturated Fat:
13
g
Sodium:
17
mg
Potassium:
1224
mg
Fiber:
9
g
Sugar:
9
g
Vitamin A:
24113
IU
Vitamin C:
51
mg
Calcium:
167
mg
Iron:
5
mg
Craving more veg-friendly recipes?
Shop our collection of vegetarian and vegan cookbooks, including our new Vegan Thanksgiving and Vegan Christmas cookbooks!