This 15-Minute Cashew Cheese is perfect for dipping veggies, crackers, and more. Finally, here is a spreadable, vegan-friendly cheese that is bursting with flavor!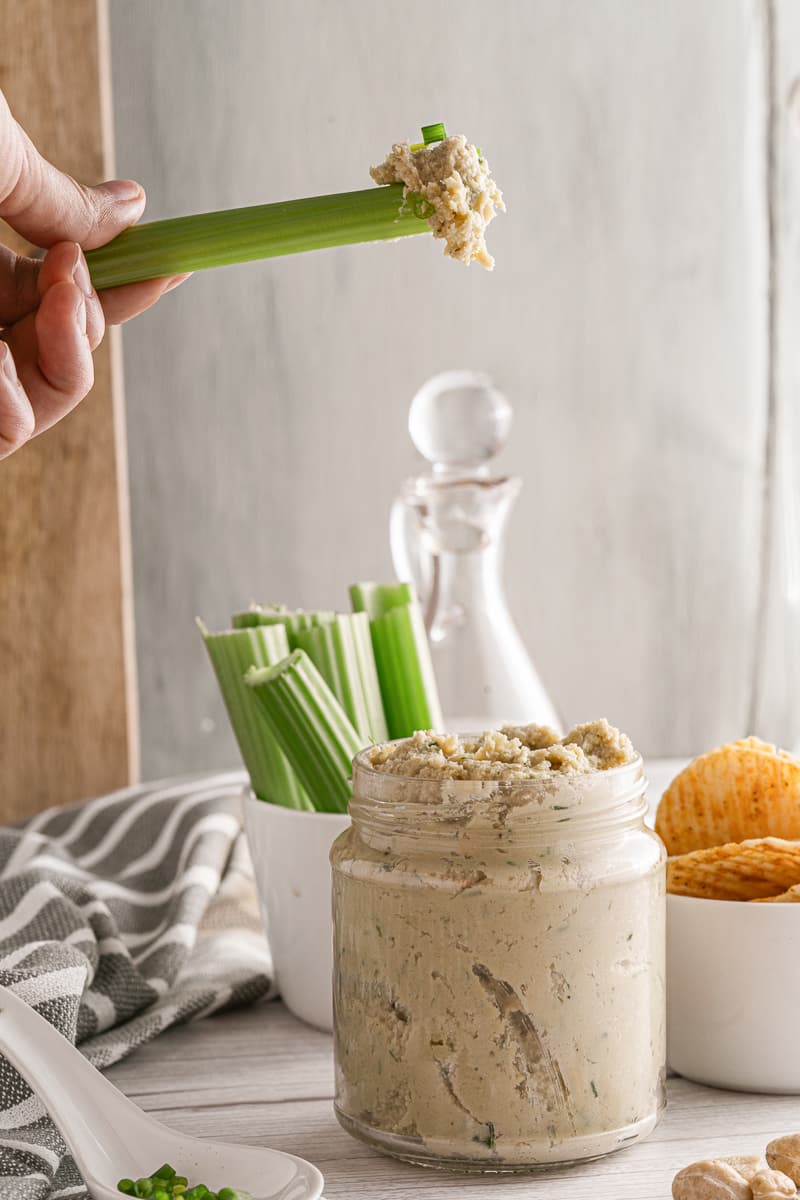 It takes literally no time to whip up this cashew cheese recipe. Even better, you can change the thickness to your taste! I like my cheese nice and thick so it's great for spreading on a bagel, bread, and more.
This 15-Minute Cashew Cheese recipe is...
Vegan
Dairy-free
Gluten-free
Ready in 15 minutes
How to Make 15-Minute Cashew Cheese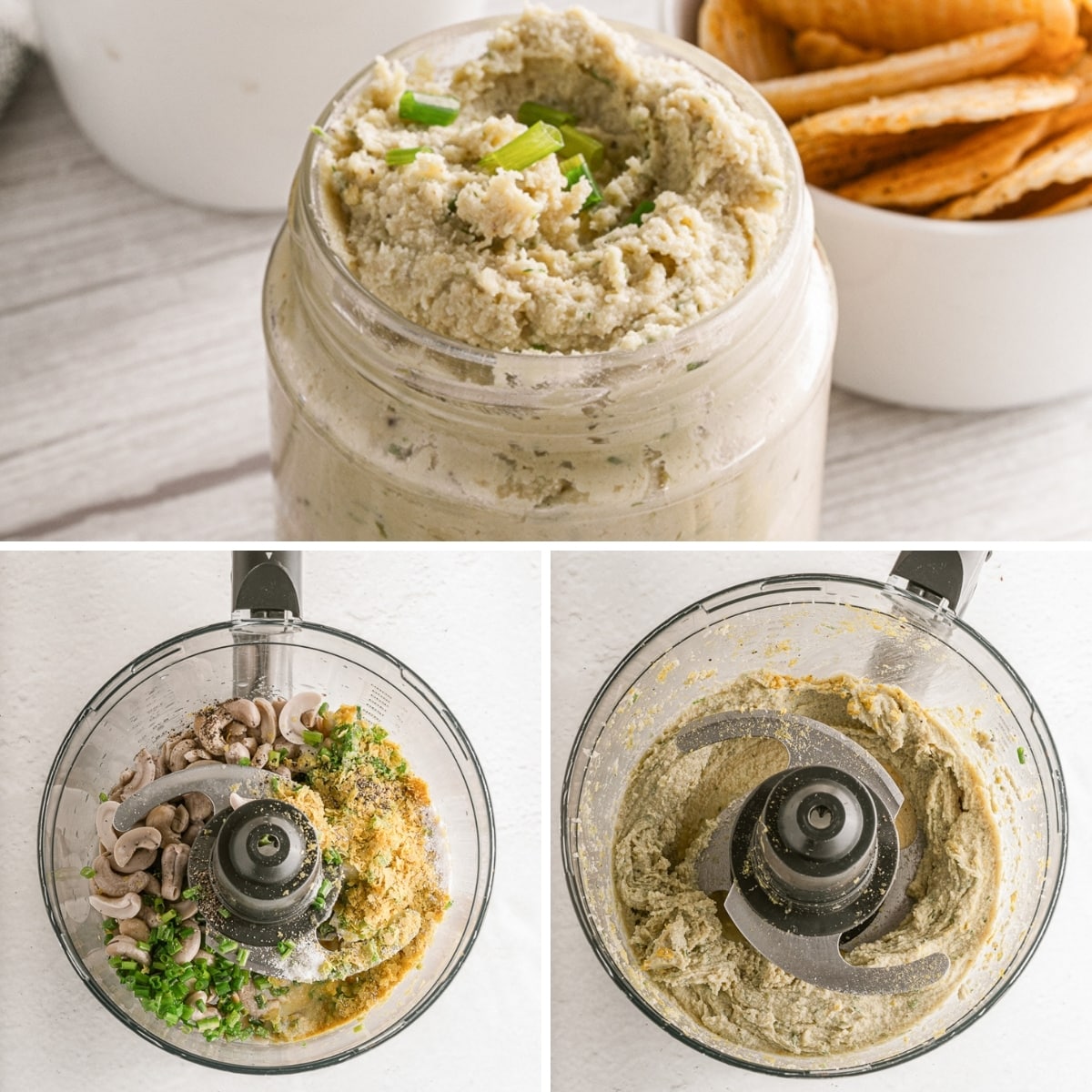 Start by adding all the ingredients into your food processor.
Blend until smooth, making sure to scrape down the sides as needed.
Season the cheese with salt and pepper!
Tips & Trick for 15-Minute Cashew Cheese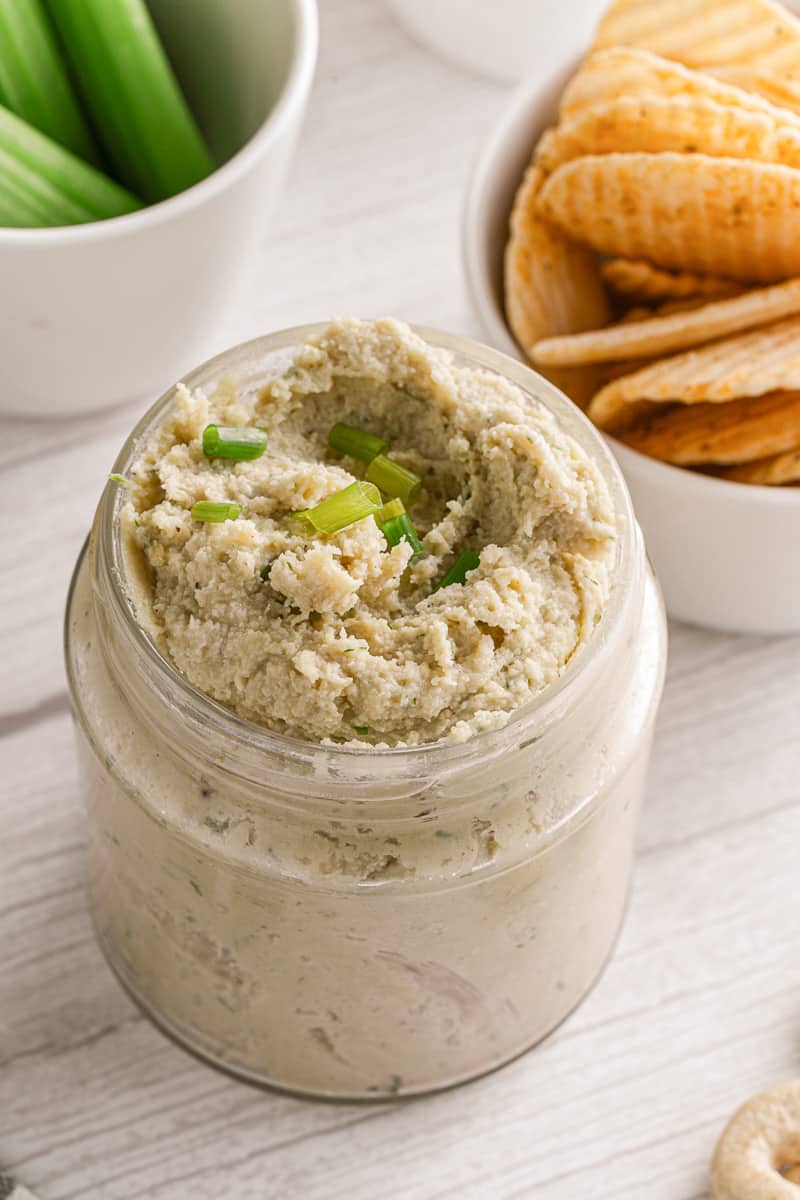 Food Processor
I find that using a food processor or high speed blender for this recipe is key. Otherwise, the cashews and other ingredients won't break down enough to create a good cheese-like texture.
Soaking Cashews
You have to soak your cashews overnight to make this recipe. To do this, add cashews and water to a bowl, then place in fridge to soak overnight.
Or, to speed up the soaking process, boil the cashews in water for 30 minutes. Whichever method you choose, the nuts just have to get soft so they can cream up properly.
Variations to 15-Minute Cashew Cheese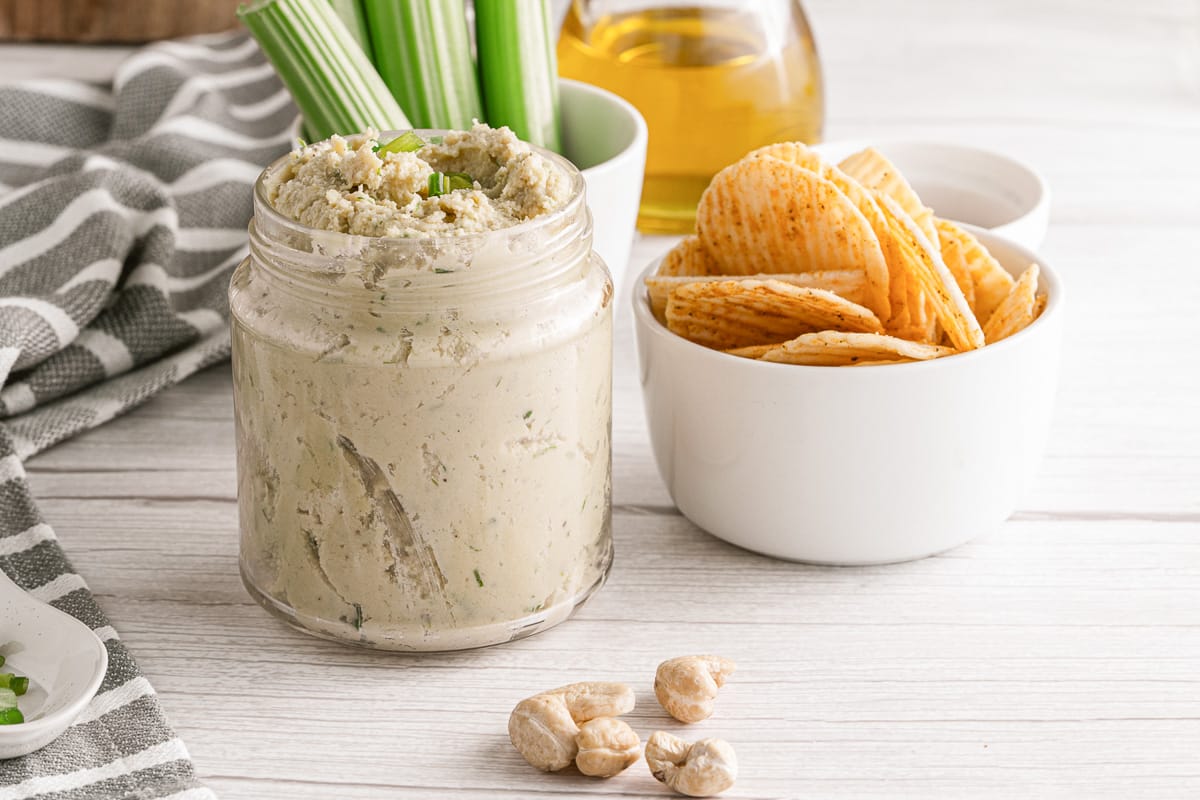 Ingredients Used
Feel free to swap out ingredients to change the flavor of your cheese. I love the bite of the apple cider vinegar with the chives and lemon. But if you're not a fan of chives, swap them out with something else.
Green onions could be a good option! You could also try adding garlic, parsley, smoked paprika, red pepper flakes, etc. These are all great swaps for this cheese recipe!
Vinegar
I used apple cider vinegar, but you could swap it for some white wine vinegar for a less bite-y vinegar. It will work the same but lessen the bold flavor.
15-Minute Cashew Cheese FAQs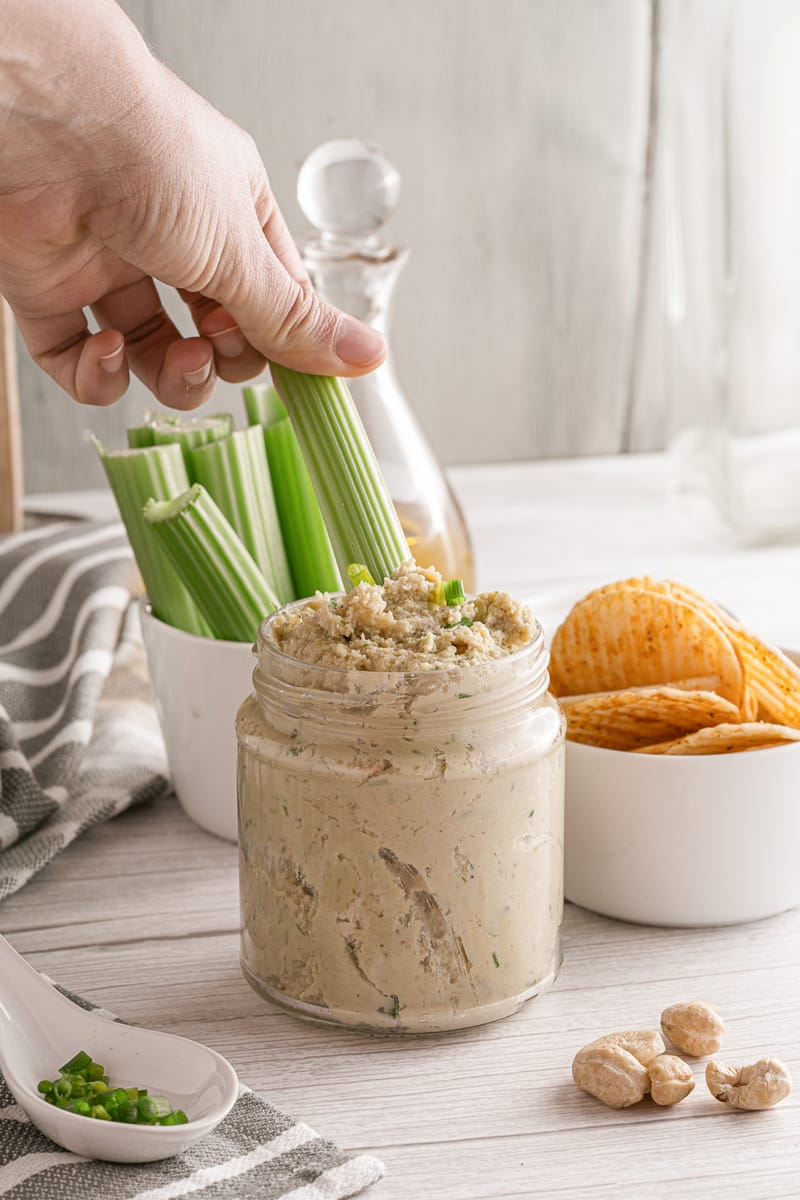 How can I make this cheese thinner?
If you want your cheese to be a bit thinner, add a little more oil and water to the recipe. I recommend adding more by ½ teaspoon at a time to prevent your cheese from becoming too watery.
How do you serve cashew cheese?
Pair this cashew cheese with crackers, chips, veggies, bagels, toast, pasta, etc. This vegan cheese is so delicious and can be used in so many ways!
It's also delicious in place of traditional ricotta cheese in many recipes, such as these butternut squash stuffed shells.
How should I store cashew cheese?
This cheese spread needs to be stored in an airtight container in the fridge. In the fridge, your cheese will remain good for up to 5 days.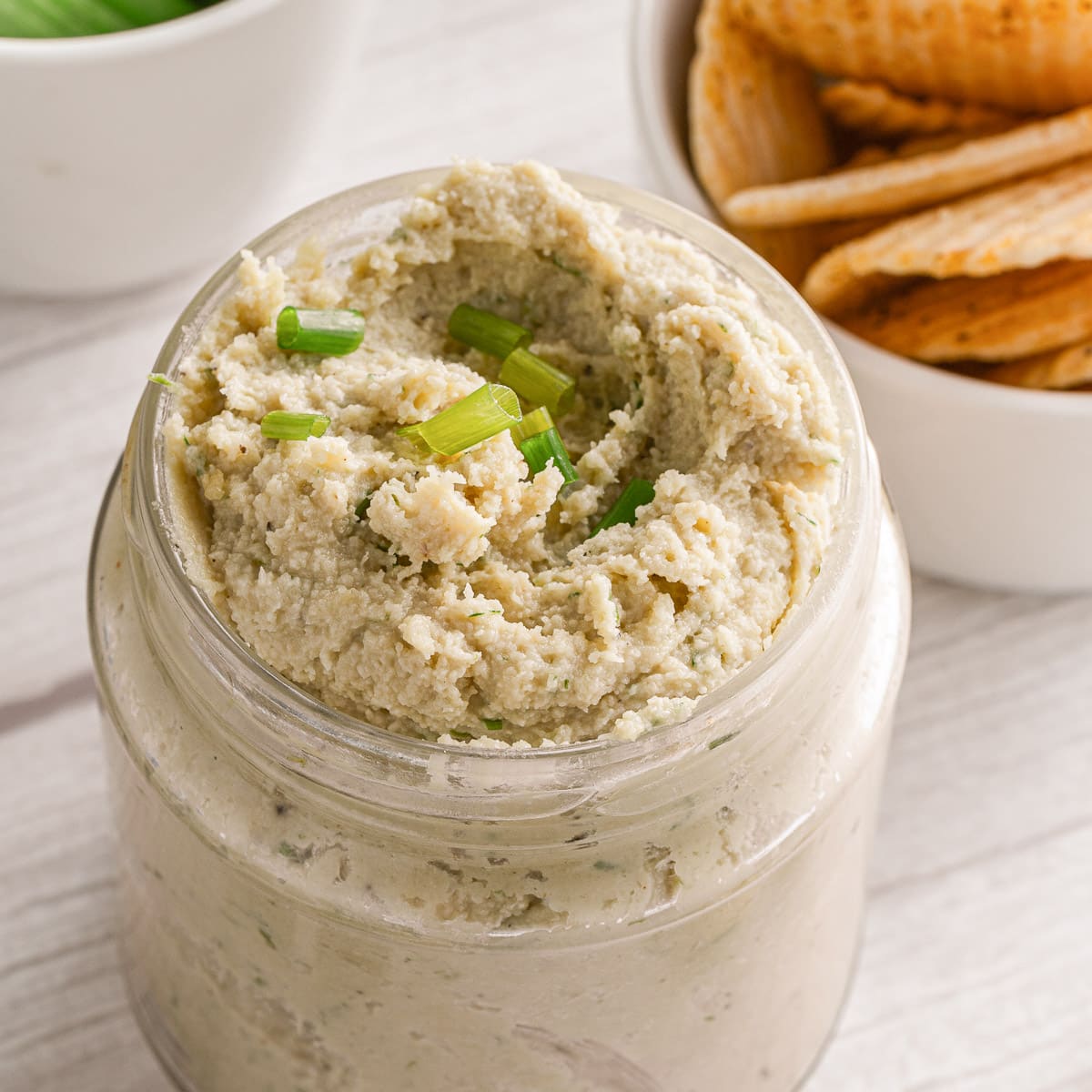 Instructions
Place all ingredients in a food processor.

Blend until smooth. You may need to scrape the sides a few times to remove any un-blended bits.

Adjust the salt and pepper to taste.

The resulting cheese will be very thick and spreadable—even sliceable after being refrigerated! If you're looking for cheese with a thinner consistency, add up to 2 more tbsp of oil and water.
Notes
To make this cashew cheese, you need to soak the cashews overnight. Simply place cashews in a bowl, cover with water, and set in the fridge overnight. If you are short on time, you can place the cashews in hot water (boil water, then remove from heat) for 30 minutes instead.
Serve cashew cheese with tortilla chips, crackers, celery, or carrot sticks. Garnish with fresh chives.
This cheese can be used as a dip or to make creamy pasta.
Keep the cashew cheese in the fridge, in an airtight container, for up to 5 days.
Nutrition
Serving:
2
g
Calories:
528
kcal
Carbohydrates:
25
g
Protein:
18
g
Fat:
43
g
Saturated Fat:
7
g
Polyunsaturated Fat:
7
g
Monounsaturated Fat:
26
g
Sodium:
590
mg
Potassium:
682
mg
Fiber:
5
g
Sugar:
4
g
Vitamin A:
219
IU
Vitamin C:
6
mg
Calcium:
31
mg
Iron:
5
mg
Craving more veg-friendly recipes?
Shop our collection of vegetarian and vegan cookbooks, including our new Vegan Thanksgiving and Vegan Christmas cookbooks!