Searching for the perfect main dish for that plant based feast? Here are 40 of my favorite vegetarian main dishes for Thanksgiving!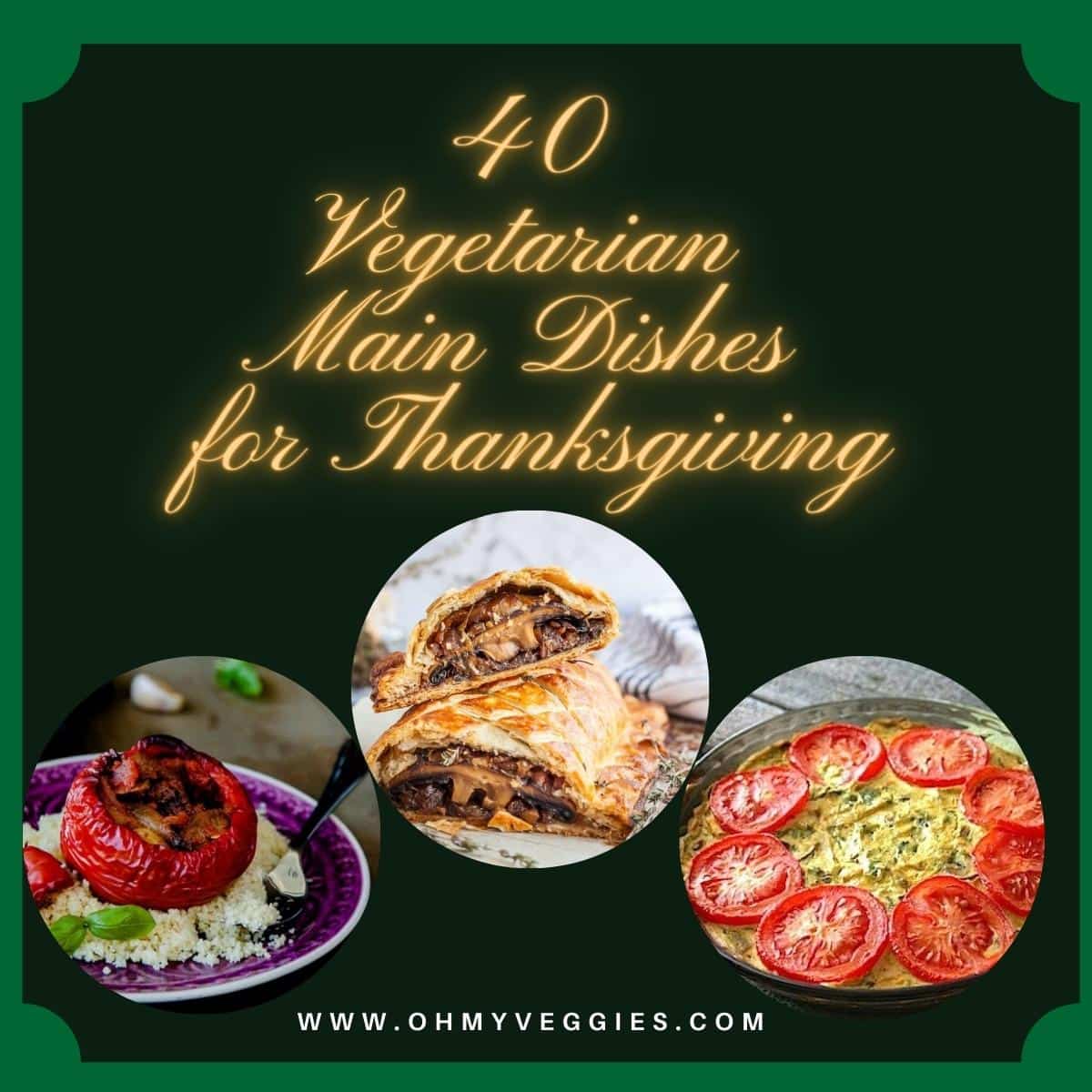 Being a vegetarian can be a little bit awkward on a holiday often referred to as Turkey Day. Judging by all the "What do you eat on Thanksgiving?!" questions I get, a lot of people seem to think it's impossible to celebrate the holiday without a plateful of turkey. (Really, it is possible!) These vegetarian entrees for thanksgiving prove just that.
Last year, I had a lot of people visiting my blog in the days leading up to Thanksgiving in search of advice on how to cook for their vegetarian guests. So I thought I'd make myself useful and put together a post with some vegetarian entrees for thanksgiving. If you're cooking for a vegetarian this Thanksgiving, here are some helpful tips. Here are some vegan Thanksgiving ideas too.
Make Vegetarian-Friendly Sides
Most vegetarians are happy just eating sides on Thanksgiving. But make sure they're vegetarian! Stuffing cooked in a turkey or gravy made with drippings don't count.
Ask What Your Guest Will Eat
I know people who consider themselves vegetarians and eat poultry and fish. Others don't eat meat, but will eat broth, gelatin, shortening, etc. Because so many people define vegetarianism in so many different ways, the best thing you can do is be clear on what your guest can and cannot eat before you make any meal plans.
Have Your Guest Bring a Dish
This is probably the easiest solution! These vegetarian entrees for thanksgiving will make that much easier.
While there are a few vegetarian faux turkey options out there, I much prefer a homemade main dish made with real ingredients. If my Savory Pumpkin Galette and Quinoa-Stuffed Acorn Squash Rings aren't your thing, here are 40 more vegetarian main dishes for Thanksgiving.
P.S. Don't miss our complete Vegan Thanksgiving Cookbook, for the ultimate plant based feast!
40 Vegetarian Main Dishes for Thanksgiving
Vegan Thanksgiving Cookbook
If you're looking for even more vegetarian and vegan recipes for Thanksgiving - be sure to check out our complete Vegan Thanksgiving E-Cookbook!
It's packed with my favorite tried and true Thanksgiving recipes to make the holidays easy and delicious.
I hope you all have a wonderful Thanksgiving!