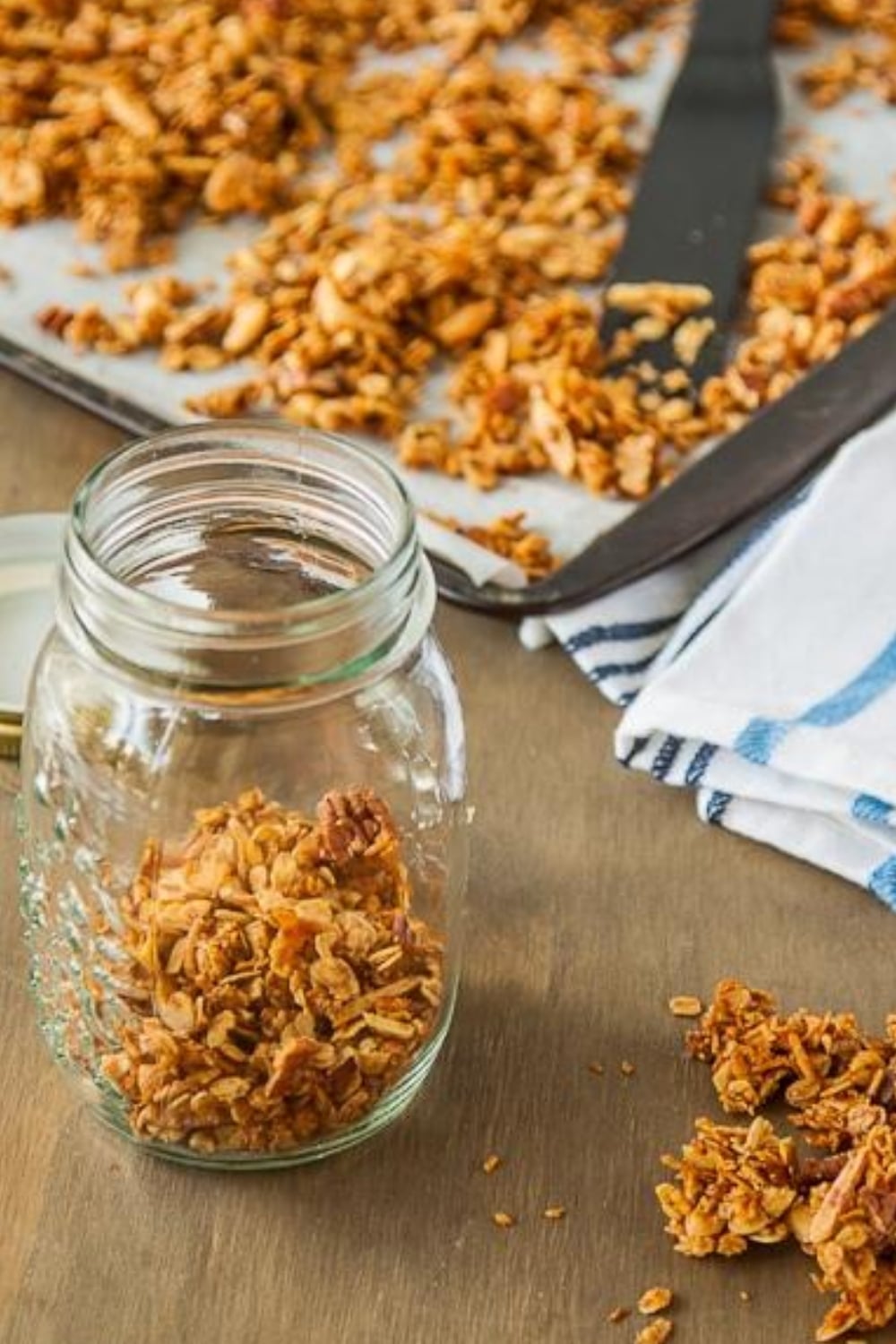 I can't stop eating this.
I have a little bowl of this Honey Nut Granola sitting here beside me as I type up today's post and it's quickly disappearing.
You may have noticed a distinct lack of breakfast recipes here on Delicious Everyday. It's not that I don't eat breakfast. In fact I'm one of those people that wakes up hungry and has to have breakfast. It's just that I have a couple of standard things in my breakfast rotation that I think aren't exciting enough to share.
Firstly there's wholemeal toast, slathered with vegemite (yes, I'm a vegemite girl) made with my own homemade bread. In fact I've been making this bread, and another which I will share with you soon, all throughout the year. There's something about a couple of slices of toast and a cup of tea that I find so satisfying in the morning that I have it most mornings. And because everyone knows how to make toast, well, there's no need to share that.
Then there's the poached egg breakfast that I also have in my rotation. This has been featuring quite a bit more recently. It starts with a slice of homemade bread, which is toasted, sliced avocado, sliced tomato and then topped with a poached egg. Sometimes I also throw in a bit of asparagus when I happen to pick some up at the grocer. It's healthy, delicious and perfect for those mornings when you want something more interesting than toast.
Cereal doesn't really feature much on my breakfast menu. I grew up eating cereal, but for some reason fell out of love with it. However on our honeymoon in New York we were given a jar of granola after our lunch at Eleven Madison Park and the next morning, when I had some for breakfast, I fell back in love with granola and vowed to make some when we got home.
While I'm not fortunate enough to have Eleven Madison Park's exact granola recipe I came up with this Honey Nut Granola, and it's good. Really good.
For me granola has to be fruit free. I don't like anything to interfere with the oats, coconut and nuts. I also have a thing about sultanas and currants...I'm not sure what it is but they make me think of dead flies. Sorry to for that horrible visual, but they do! While I do like other dried fruits, particularly turkish apricots, I still prefer my granola without fruit, opting instead to top it with fresh fruit and a dollop of yoghurt when I enjoy it for breakfast. It's also delicious enough to eat on it's own, which I'm doing now.
So if you like your granola without fruit try this delicious Honey Nut Granola. If you like your it with fruit, simply add it to this recipe. Customise it and come up with your perfect granola.
Tell me, do you like your granola with or without fruit?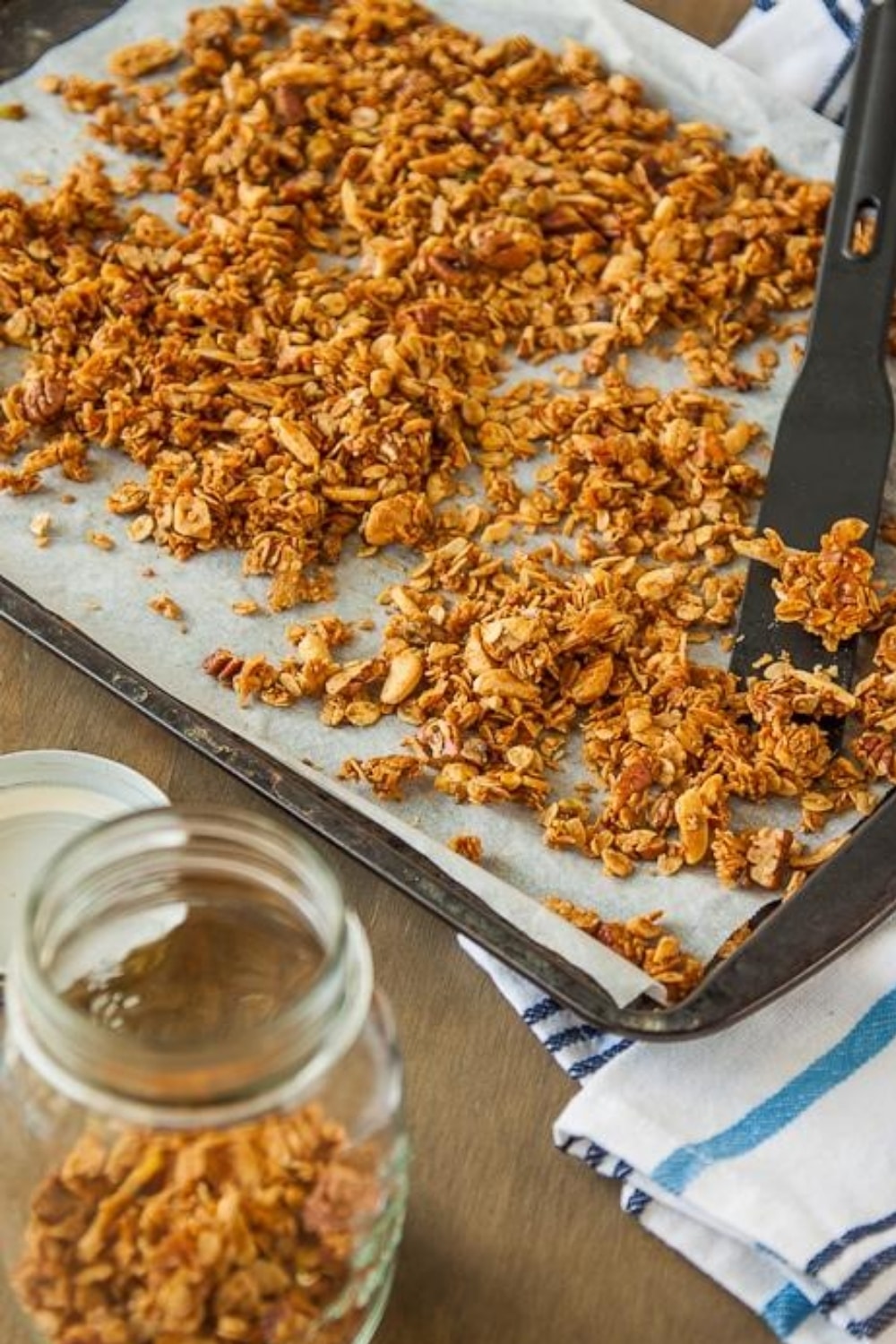 Recipe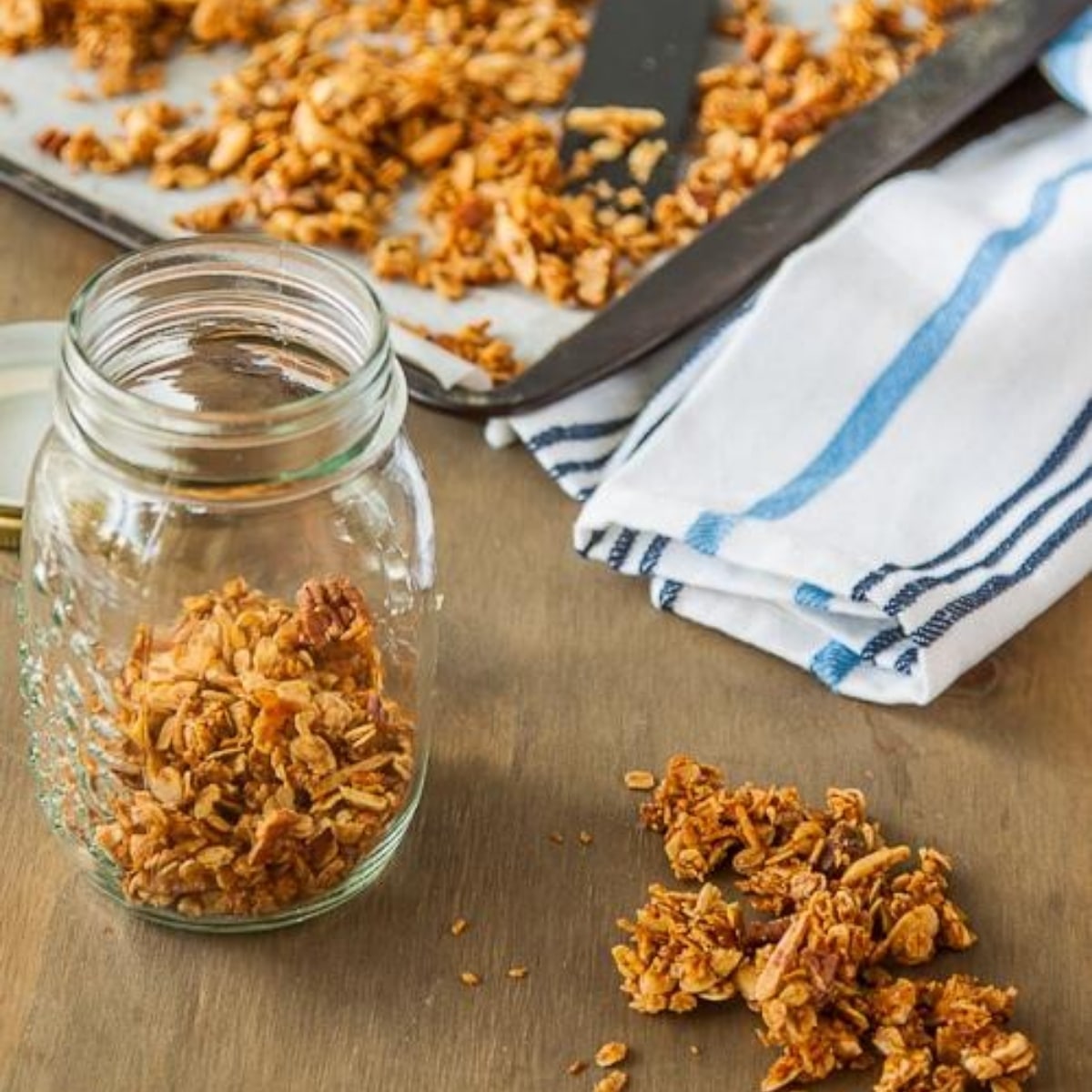 Ingredients
1

cup

of rolled oats

⅓

cup

of shredded coconut

3

tbs

of pecans

roughly chopped

2

tbs

of pistachios

roughly chopped

2

tbs

of slivered almonds

3

tbs

of cashews

roughly chopped

¾

tsp

of ground cinnamon

¼

tsp

of ground nutmeg

¼

tsp

of sea salt flakes

⅓

cup

of honey

1 ½

tbs

of olive oil

1

tsp

of boiling water
Instructions
Preheat the oven to 120 Celsius (250 Fahrenheit) and place the oats, coconut, nuts, salt flakes and cinnamon in a bowl. Toss to combine. Combine the honey with the boiling water and then add to the oat mixture along with the oil. Stir well making sure everything is coated.

Spread out on a tray lined with baking paper and bake for 1 hour, stirring every 20 minutes or so to ensure the mixture browns evenly. When golden leave to cool and store in air tight jars.
Notes
Play around with the ingredients and come up with your perfect granola. Try adding sunflower seeds, dried cranberries, walnuts or whatever else you prefer.
Nutrition
Calories:
213
kcal
Carbohydrates:
22
g
Protein:
3
g
Fat:
13
g
Saturated Fat:
3
g
Sodium:
76
mg
Potassium:
159
mg
Fiber:
2
g
Sugar:
12
g
Vitamin A:
10
IU
Vitamin C:
0.1
mg
Calcium:
22
mg
Iron:
1.2
mg
Craving more veg-friendly recipes?
Shop our collection of vegetarian and vegan cookbooks, including our new Vegan Thanksgiving and Vegan Christmas cookbooks!