Tired of boring veggie burgers? These Chipotle Quinoa Burgers are topped with homemade Sweet Corn Relish. The recipe is super easy to make, too!
A Chris Recipe
The only reason I ever remember my wedding anniversary is because my Grandma sends Chris and me a card in the mail every year. (Thank you, Grandma!) And whenever someone asks me how long I've been married, I freak out a little bit and have to do some quick math in my head. Did we get married in 2005? Or was it 2006? (It was 2006.) What year is it now? What's 13 minus 6? OH NO WHAT'S 13 MINUS 6??? I really should just throw out a random number because how would they know, right? Also, I really should buy some flashcards and practice basic math.
So today is our anniversary! We used to use it as an excuse to get an expensive dinner, but now we don't really do anything for it. And that's okay! With both of us! I'm lucky to have married someone who is as into anniversaries and birthdays and holidays as I am. Which is to say, not at all. Anniversaries just seem kind of arbitrary to me. Like, hey, the Earth has rotated around the sun 7 times since we got married—here's a box of chocolates! I'm not really into grand gestures, you see. I'm more about the small, everyday things.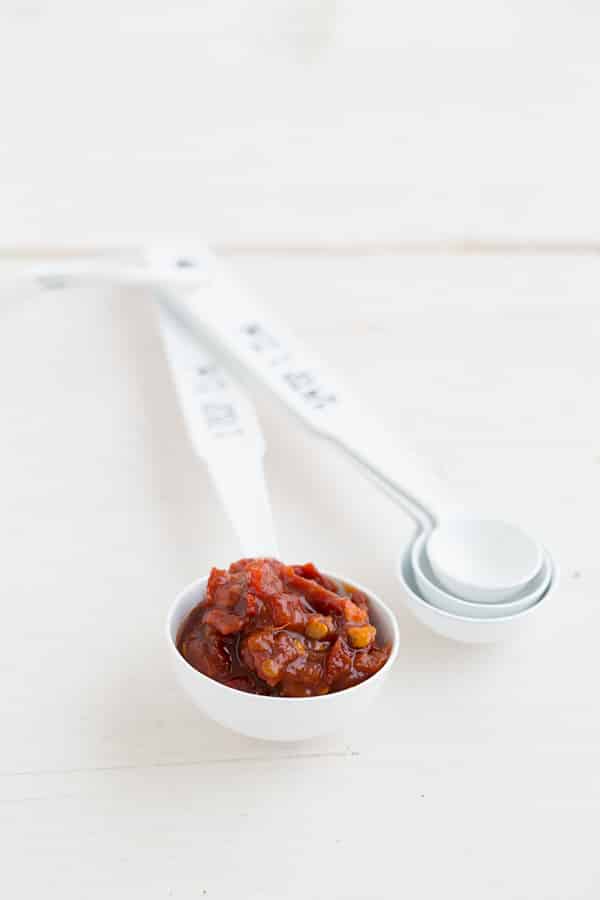 Although he tries every recipe I make for Oh My Veggies, every once in a while I will make something that I deem a Chris recipe—something I make with him in mind because I know he'll love it. These Chipotle Quinoa Burgers are definitely a Chris recipe, thanks to a healthy dose of chipotle pepper. I like chipotle, but Chris loves it. The annoying thing about cooking with chipotle peppers is that you always have leftovers. I like to puree the remaining peppers and sauce, freeze them in an ice cube tray, and use them later. I describe the whole process in my Crispy Chipotle Potato Tian post.

About the Recipe
The first time I tried making these, I wanted to put corn in the burgers, but they ended up crumbling, so I decided to do a sweet corn relish instead. (It's summer! I had to figure out some way to include corn!) The relish can be made up to two days in advance. If you want it to have a little more heat, you can substitute a hotter pepper for the jalapeño. Other good toppings for these burgers include pepperjack cheese, mayo (cashew or otherwise), salsa, grilled or caramelized onions, fresh tomatoes, and cilantro. I hate telling people what to put on their veggie burgers because really, anything goes.
Oh, and this is the third burger recipe in my summer of veggie burgers series! I posted Cauliflower Hummus Burgers with Mint Tzatziki in May and Lentil Mushroom Burgers in June. Don't feel like making your own burgers? That's okay too! Here are my favorite store-bought veggie burgers.
Recipe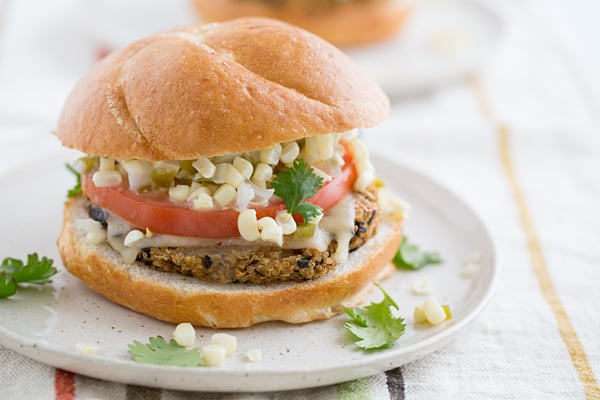 Ingredients
Chipotle Black Bean Quinoa Burgers
1 ½

cups

cooked black beans

or a 15 oz can, rinsed

½

cup

uncooked quinoa

cooked according to package directions

¼

cup

panko

2

cloves

garlic

minced

½ to 1

tbsp

minced chipotle in adobo sauce

1

tsp

onion powder

1

tsp

ground cumin
salt

to taste

1

egg

lightly beaten

buns

Sweet Corn Relish, cheese, lettuce, cilantro, onions, tomatoes, and anything else you like on your burgers
Sweet Corn Relish
2

ears corn

kernels removed

¼

cup

chopped yellow onion

1

jalapeño pepper

seeded and minced

2

tbsp

apple cider vinegar

pinch

of salt
Instructions
Chipotle Black Bean Quinoa Burgers
Preheat oven to 400ºF.

Mash half of the black beans in a large bowl. Stir in remaining black beans, quinoa, panko, garlic, minced chipotle, onion powder, and cumin. Once all ingredients are fully incorporated, add salt to taste. Fold in the beaten egg.

Line a baking sheet with parchment paper. Divide the burger mixture into 6 mounds on the baking sheet, then shape each mound into a bun-sized patty. Bake the burgers for about 20 minutes, carefully flipping halfway through baking time. They're done when they're baked through and slightly crispy on the edges. Serve with Sweet Corn relish and your favorite veggie burger toppings.
Sweet Corn Relish
Combine all ingredients in a small saucepan and bring to a boil. Cover and simmer for 10 minutes, stirring occasionally. Refrigerate up to 2 days before serving.
Notes
I tested this recipe several times and I preferred ½ tablespoon of chipotle, while Chris preferred a full tablespoon. If you're not sure, I'd start with ½ tablespoon, taste the burger mixture (before you put the egg in!), and add more from there.
Nutrition
Calories:
172
kcal
Carbohydrates:
31
g
Protein:
8
g
Fat:
2
g
Saturated Fat:
1
g
Polyunsaturated Fat:
1
g
Monounsaturated Fat:
1
g
Trans Fat:
1
g
Cholesterol:
27
mg
Sodium:
52
mg
Potassium:
361
mg
Fiber:
6
g
Sugar:
5
g
Vitamin A:
192
IU
Vitamin C:
6
mg
Calcium:
36
mg
Iron:
2
mg
Craving more veg-friendly recipes?
Shop our collection of vegetarian and vegan cookbooks, including our new Vegan Thanksgiving and Vegan Christmas cookbooks!