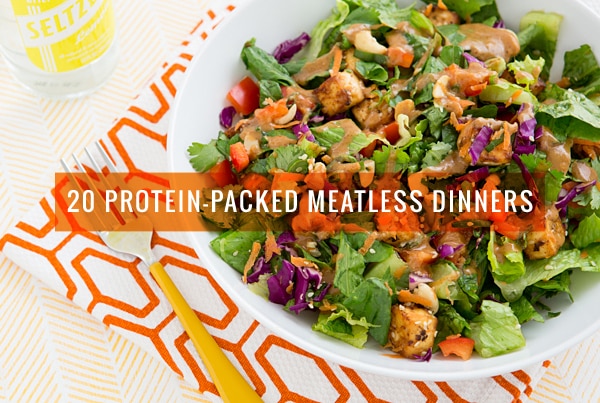 Contrary to popular belief, vegetarians can get enough protein in their diets without eating meat. Shocker! We wrote about sources of vegetarian protein earlier this year--lentils, beans, tempeh, tofu, and quinoa are all great ways to get your protein in. And if you need some ideas for how to use them, we've got those for you too. These 20 vegetarian dinner recipes all have at least 20 grams of protein per serving. Which is a lot!
Braised Lentils & Vegetables
Serve this one-pot dinner from Cafe Johnsonia with a side of crusty bread!
Brussels Sprout, Tempeh & Soba Noodle Skillet
Not all soba is created equal! Look for 100% buckwheat soba, which has 6 grams of protein per serving.
Margherita Quinoa Frittatas
These bite-sized frittatas from Kitchen Treaty are freezer-friendly. Make a double batch and keep some on hand for later!
Baked Sesame Tofu Sticks
These Baked Sesame Tofu Sticks from Kalyn's Kitchen will convert any tofu-hater! And then there's the Peanut Butter, Tahini, and Ginger Sauce that goes with them...
Peanutty Quinoa Bowls with Baked Tofu
Tofu, quinoa, and peanut butter make this dinner-for-two a great source of protein.
Lentil & Vegetable Stew with Cauliflower White Bean Puree
Instead of serving this stew over noodles or rice, Natalie from Once Upon a Cutting Board serves it over a creamy white bean puree.
Smashed White Bean and Kale Quesadillas
These easy quesadillas from Running to the Kitchen are done in 20 minutes. Hello dinner!
Tempeh Tacos
Crumbled tempeh makes the best substitute for ground beef! Add a dollop of Greek yogurt instead of sour cream to your tacos for even more protein.
Creamy Indian Lentils
These Indian-spiced lentils from Savvy Eats are perfect with a side of roasted cauliflower.
Chopped Power Salad with Baked Tofu and Almond-Miso Dressing
Don't skip the hemp seeds in this salad! They have 5 grams of protein per tablespoon.
Maple Tempeh with Herbed Quinoa
Caramelized baked tempeh is the star of this recipe from Nutrition Stripped.
Slow Cooker Lentil Chili
Start this lentil chili from Two Peas and Their Pod in the morning and have dinner ready when you get home from work!
Crispy Quinoa Cakes with Roasted Red Pepper Cashew Cream
We love serving these quinoa cakes on a big bed of greens!
Curried Red Lentil & Quinoa Bowls
Spicy curried lentils served over a big bowl of quinoa. Because everything is better with quinoa!
Chickpea-Stuffed Eggplant with Couscous & Tahini Sauce
We love this recipe from Dishing Up the Dirt because it's so versatile! Try using lentils or white beans instead of chickpeas or quinoa instead of couscous.
Sloppy Lentil Sandwiches
Lentils in sloppy joes? Yes! You can even skip the sandwiches and serve these lentils over brown rice.
Kale Caesar Salad with Tofu Croutons
Croutons are switched out for tofu in this vegetarian Caesar salad from Kitchen Treaty.
Jalapeño White Bean Burgers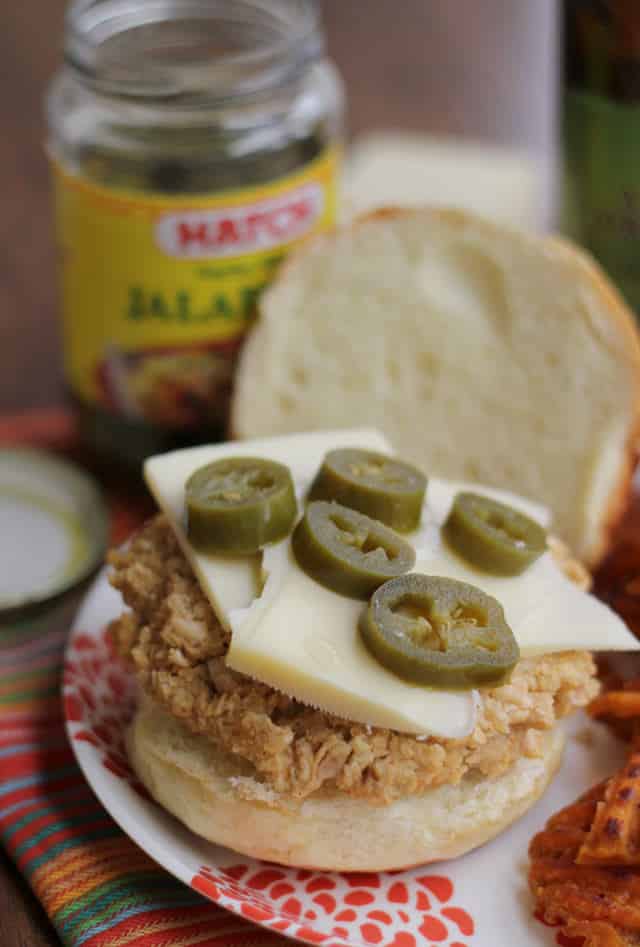 These spicy veggie burgers from Eats Well With Others will be a welcome addition to any summer barbecue.
Sweet-and-Sour Tempeh
Thinly slicing the tempeh in this recipe helps it soak up the homemade sweet-and-sour sauce.