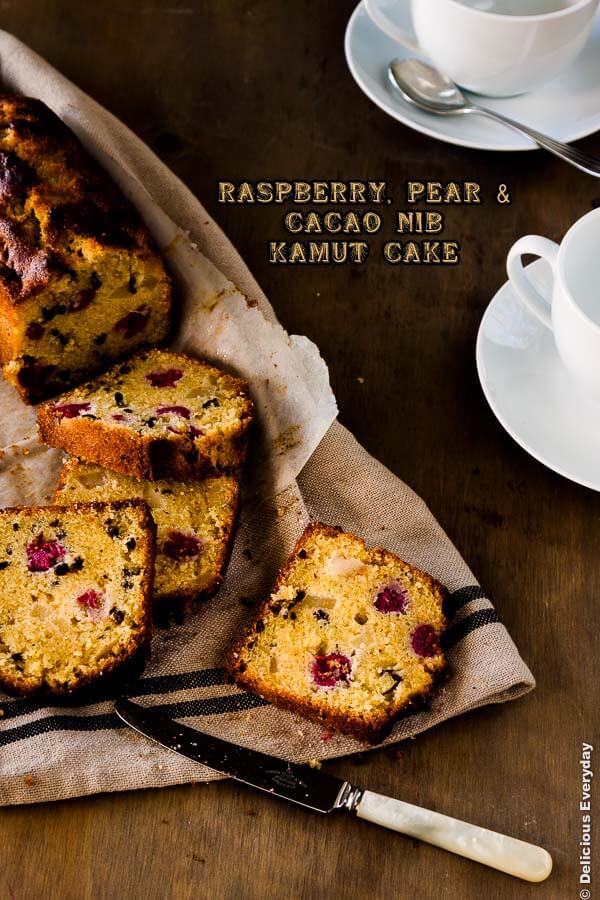 I remember my first forays into the baking world, which began with helping mum in the kitchen.
I'd stir the cake batter and help by fetching sugar or flour from the pantry. Back then I thought there were only 3 types of flour - plain, self raising and wholemeal. That's all we had in our pantry, and certainly all I remember seeing in the small, and only, supermarket in the town I grew up in.
As I got older I discovered beautiful rye and spelt flour breads along with buckwheat pancakes, and chickpea (besan) flour crepes. The cost of purchasing a lot of alternative flours is not cheap, and some of these flours need to be combined with others to ensure that the resulting cake that they are baked with is not to heavy, dry or crumbly.
Kamut (pronounced kah-MOOT) flour is one I've been wanting to try for some time because it behaves quite similarly to the regular wheat flour we all have in our pantries. So when I stumbled across bags [amazon_link id="B004O8I4D4" target="_blank" ]Bob's Red Mill Kamut Flour[/amazon_link] on sale at my local health food store I quickly snapped them up.
Kamut flour is made from Khorasan Wheat, an ancient relative to modern day wheat. It has a buttery, somewhat sweet nutty flavour and is higher in protein, b vitamins and minerals such as selenium, zinc and magnesium that modern wheat. Its also easier to digest than regular wheat.
While Kamut flour is made from Khorasan Wheat, the name Kamut is actually a trademark to guarantee certain qualities of the wheat and conditions under which it is grown. For example it it must always be organically grown, have a protein range of 12 - 18%, be 99% free of contaminating varieties of modern wheat, be 98% free of all signs of disease, contain a certain amount of selenium and not be used in products in which the use of the name is deceptive or misleading as to the content percentage.
I've made a couple of cakes now with Kamut flour, and love the buttery sweet taste and the beautiful golden hue it adds. This cake recipe uses a mix of Kamut flour and almond meal, along with pear, raspberries and cacao nibs. Its a beautiful cake to serve with a cup of tea or coffee in the afternoon, and its also wonderful toasted slathered with butter.
If you don't have Kamut flour (which you can find at health food stores or [amazon_link id="B004O8I4D4" target="_blank" ]online[/amazon_link]) you can substitute regular flour, however I do think its really worth tracking down and giving it a try.
Have you baked with kamut flour before? What is your favourite kamut flour recipe?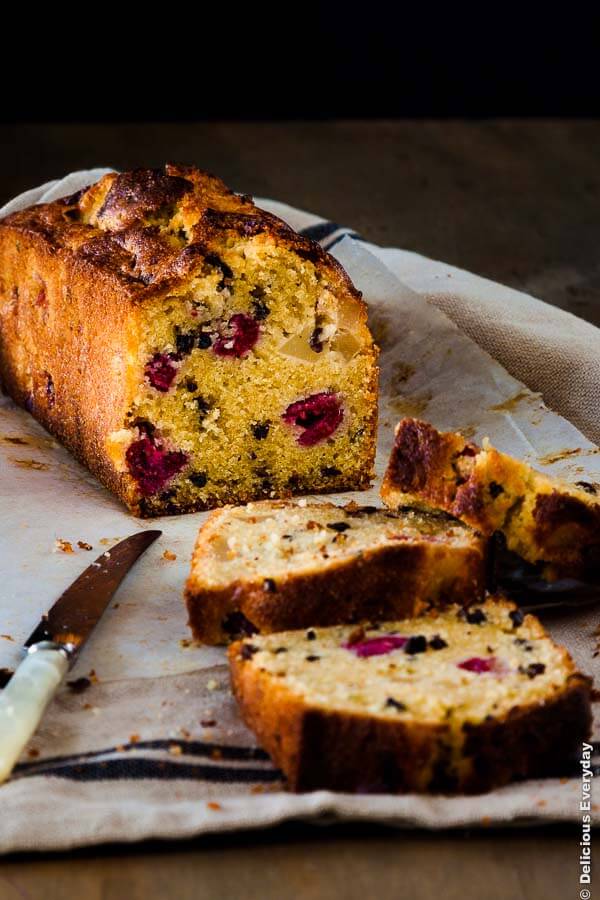 Recipe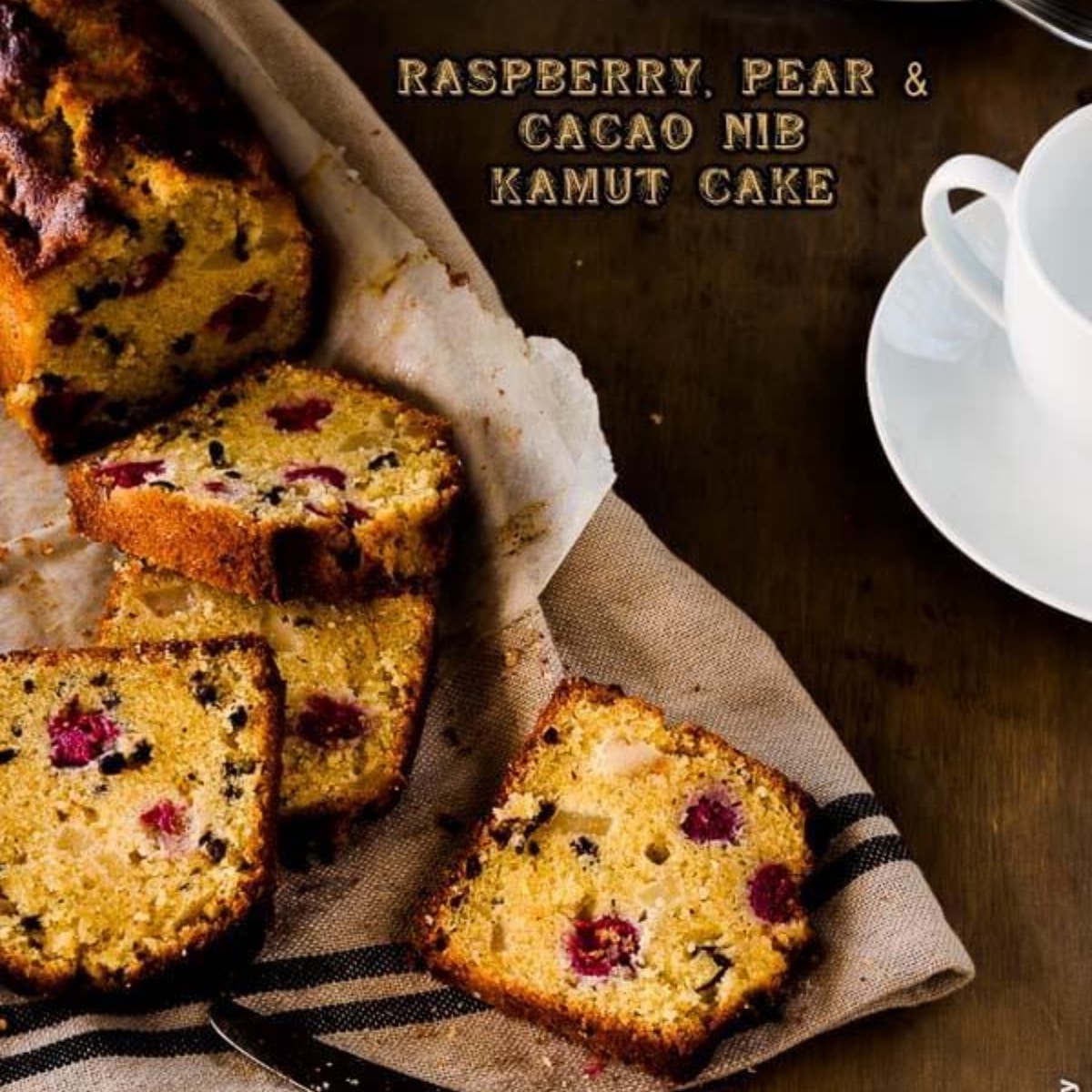 Ingredients
100

g

Kamut flour

⅔ cup

50

g

almond meal

½ cup, almond flour

165

g

sugar

¾ cup

¾

tsp

baking powder

¼

tsp

salt

3

large eggs

at room temperature

185

g

unsalted butter cut into cubes

at room temperature, 6.5 oz

⅓

cup

cacao nibs

1

pear

peeled, cored, and cubed

¾

cup

raspberries
Instructions
Place a rack in the lower third of the oven and preheat the oven to 180 celsius (350 fahrenheit). Line a 23cm (9 inch) by 9cm (3.5 inch) [amazon_link id="B001TO3CN8" target="_blank" ]loaf pan[/amazon_link] with parchment paper.

Sift the flours, sugar, baking powder, and salt into the bowl of an electric mixer fitted with a paddle attachment.

Place the eggs in a bowl and whisk to combine. Add the butter and eggs to the flour and mix on a medium speed until just combined. Add the cacao nibs and fold through with a rubber spatula.

Place ⅓ of the mixture into the loaf pan and scatter with ⅓ of the pear and raspberries. Repeat with the remaining mixture. Make sure the raspberries and pears you have scattered on top are pushed into the mixture otherwise they will burn.

Bake for 50 to 60 minutes or until a wooden skewer or toothpick inserted in the center of the cake comes out cleanly. If the cake is browning too quickly, cover with foil. Cool the cake in the pan on a rack for about 10 minutes, then remove loaf from the pan and cool completely on the rack.
Notes
If you don't have Kamut flour you can use regular plain flour instead.
Nutrition
Calories:
393
kcal
Carbohydrates:
36
g
Protein:
6
g
Fat:
26
g
Saturated Fat:
14
g
Cholesterol:
111
mg
Sodium:
262
mg
Potassium:
174
mg
Fiber:
3
g
Sugar:
24
g
Vitamin A:
665
IU
Vitamin C:
3.9
mg
Calcium:
56
mg
Iron:
1.2
mg
Craving more veg-friendly recipes?
Shop our collection of vegetarian and vegan cookbooks, including our new Vegan Thanksgiving and Vegan Christmas cookbooks!