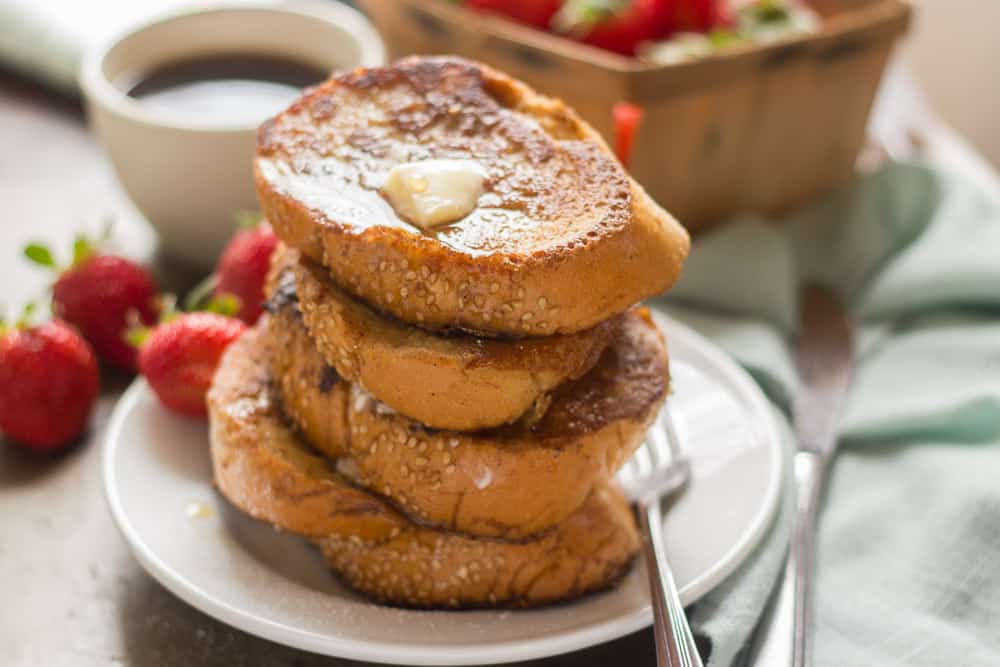 Even though I was never a fan of eggs, I used to always tolerate them in French toast. Why? Because everything else about French toast is absolutely amazing. Crusty bread that's dipped in batter, pan-fried, and covered in maple syrup? I wasn't going to let a little egg hold me back from that. And that's saying a lot, because I really disliked eggs.
One of the biggest and best revelations to me when I started to dabble in vegan cooking is that you don't actually need eggs to make French toast. In fact, there are tons of ingredients you can use to whip up a batter that behaves pretty darn close to the classic eggy French toast batter. Things like bananas, pumpkin, and non dairy milk all work. And those are things I love, so as you can imagine, I was pretty darn happy to swap them out for eggs.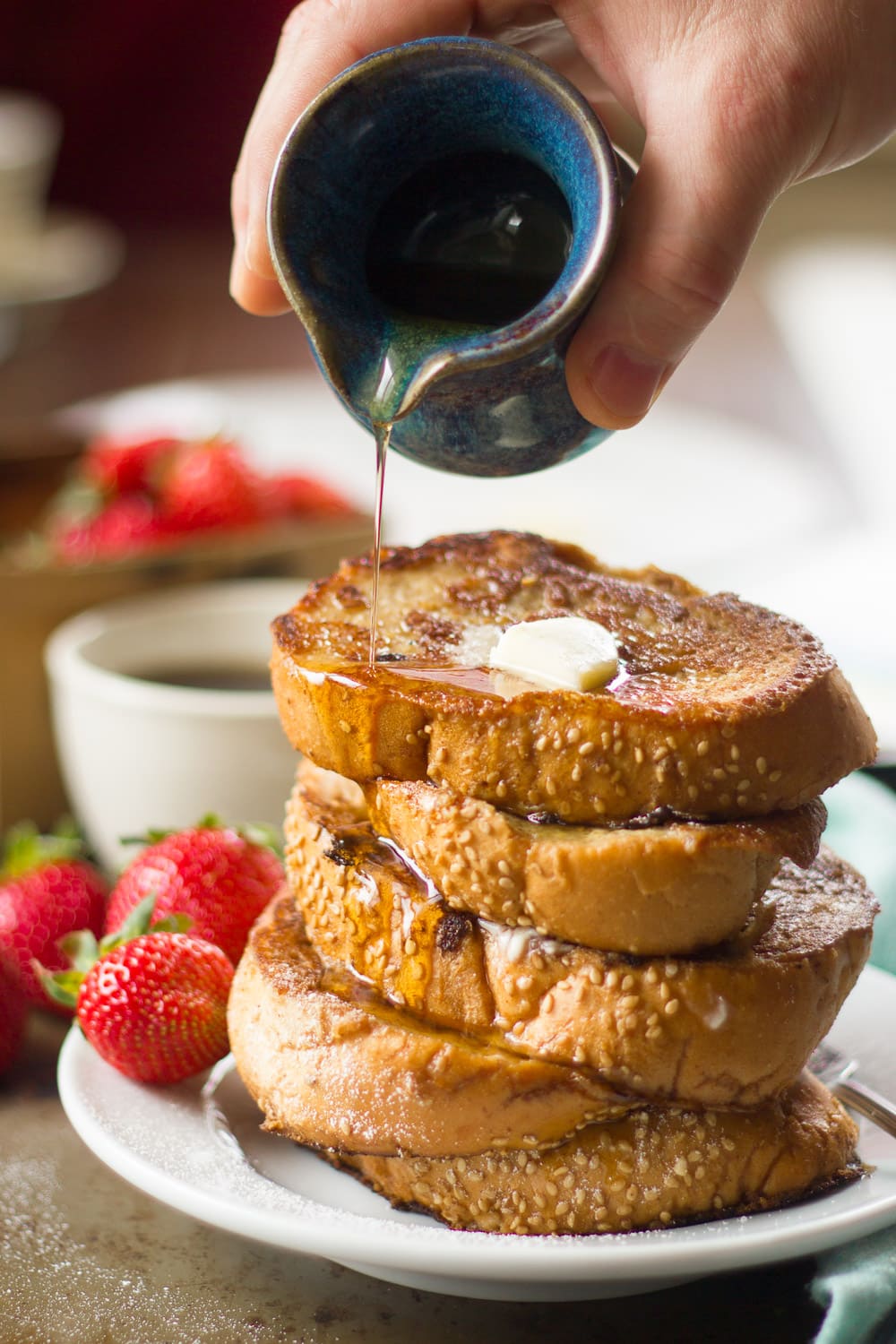 Coconut milk is probably my favorite ingredient for creating vegan French toast batter. It adds a nice richness and a touch of coconutty flavor. Also, because it's shelf-stable, I usually have a couple of cans in the pantry, which means I'm ready to whip up some vegan French toast at any time.
The trick to turning coconut milk (and the other ingredients mentioned above, for that matter) into something that cooks up like regular French toast batter is to add just a bit of thickener. I used cornstarch here, but flour works too. This helps the batter solidify just enough to take on an eggy texture when you cook it up.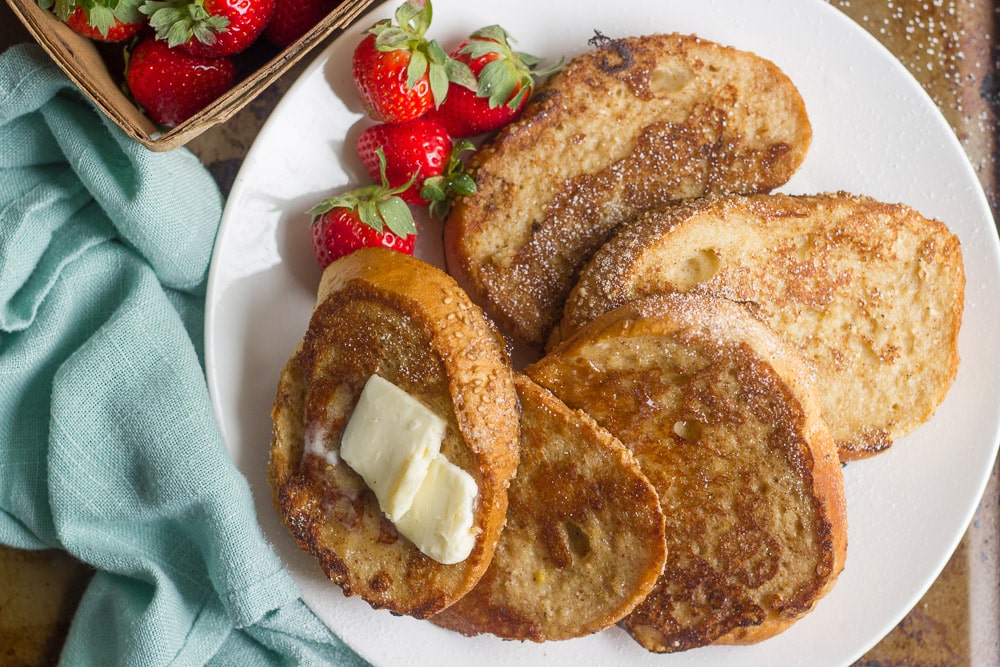 In addition to experimenting with different batters, I like to try different ways to season up my vegan French toast. For this batch I went with a blend of spices that's pretty similar to what you might find in a chai latte, because I love pretty much chai everything, and when paired up with coconut milk, you actually get something that tastes a bit like a chai latte. Feel free to experiment and try this out with your favorite spices though!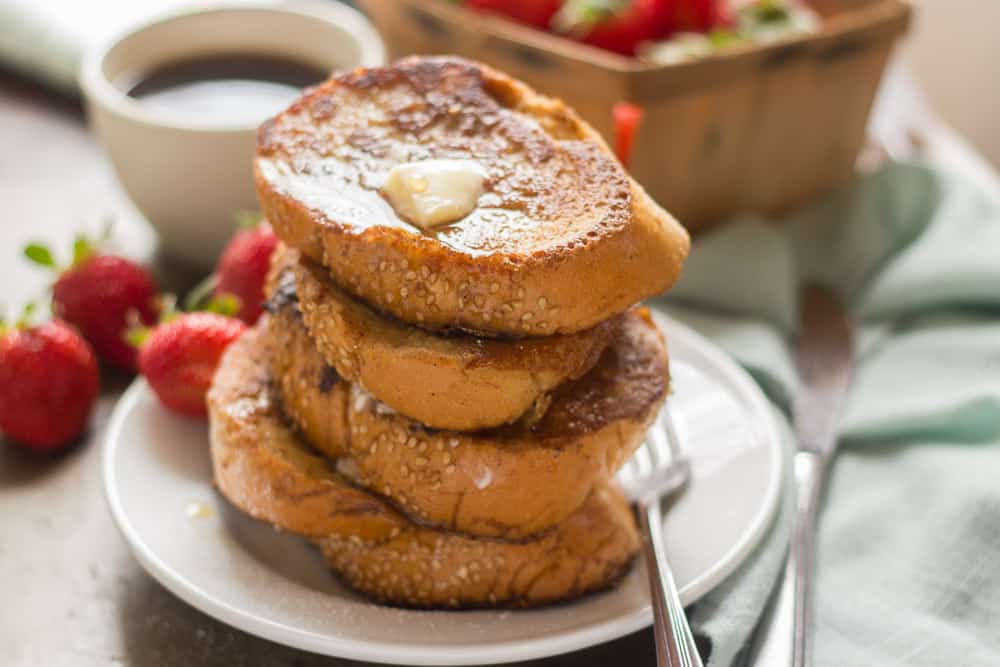 Ingredients
½

cup

full-fat coconut milk

½

cup

unflavored soy or almond milk

2

tablespoons

cornstarch

1

tablespoon

maple syrup

1

teaspoon

vanilla extract

1

teaspoon

ground cinnamon

¼

teaspoon

powdered ginger

¼

teaspoon

ground cardamom

¼

teaspoon

ground nutmeg

Pinch

ground cloves

Pinch

salt

Cooking spray or vegetable oil

About 8 thick slices of crusty bread

preferably a day old
For serving:
Maple syrup

Powdered sugar

Vegan butter
Instructions
In a shallow dish, whisk together the coconut milk, soy or almond milk, cornstarch, maple syrup, vanilla, cinnamon, ginger, cardamom, nutmeg, cloves, and salt.

Oil or spray the bottom of a nonstick skillet and place it over medium heat.

Grab a bread slice and dip each side into the batter to generously coat it. Do not submerge the bread or it might fall apart. Immediately transfer the bread to the skillet. You can dip and add a few more bread slices to the skillet if there's room, but avoid crowding the skillet, and work in as many batches as are needed. Cook each piece for about 4 minutes on each side, until lightly browned, then transfer them to a plate. Add a bit of oil to the skillet between batches to prevent sticking.

Divide the French toast onto plates and serve with maple syrup, vegan butter and/or powdered sugar.
Nutrition