Sourdough French Toast has that delicious, stand-out sourdough flavor in each decadent bite. Top your toast with some fresh berries and a drizzle of syrup, and dive in!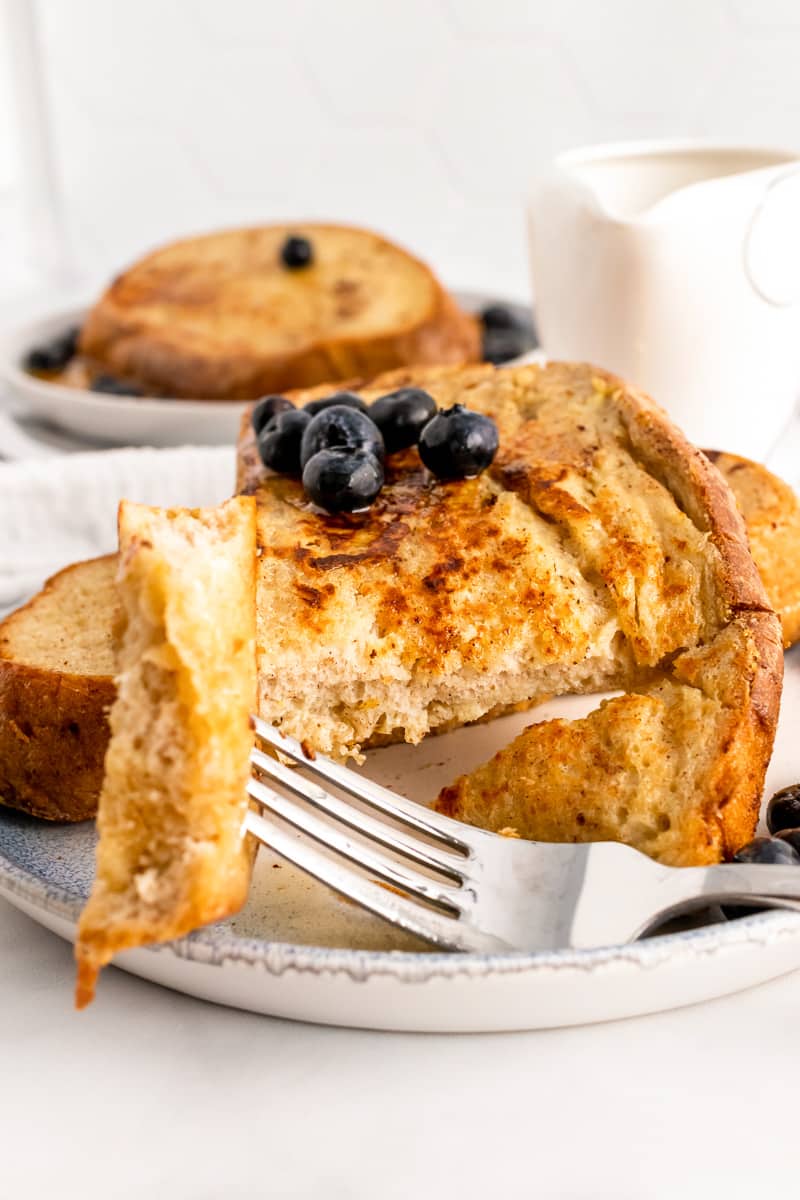 Jump to:
Sourdough is a very fluffy and spongy bread, so it soaks up all the egg custard mixture and cooks perfectly in your skillet.
Pair these meal-prepped French toast slices with some Make-Ahead Breakfast Quesadillas or a No-Bake Breakfast Cookie. If you've really got a sweet tooth, go ahead and add a Dark Chocolate Banana Breakfast Muffin to your weekly meal prep menu.
This Sourdough French Toast recipe is...
Vegetarian
Made with 7 ingredients
Freezer-friendly
Easily made gluten-free
How to Make Sourdough French Toast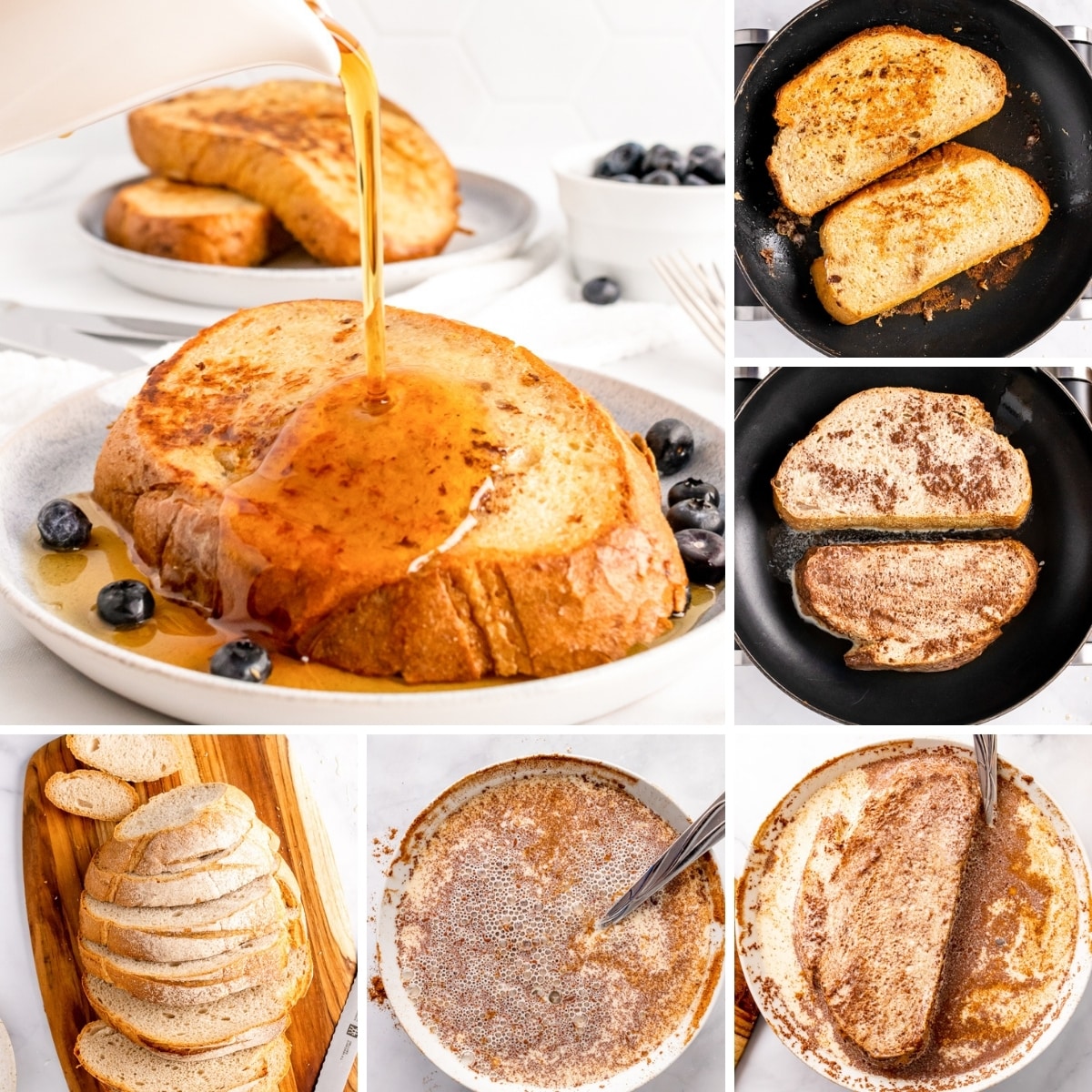 Start by slicing your sourdough into thick slices. Then whisk up your egg mixture as directed.
Heat some butter in your skillet.
Dip the bread into the egg mixture, and then place in the skillet.
Cook for around 2–3 minutes, then flip and repeat until all your French toast is done.
Serve with some maple syrup and a handful of fresh berries.
Full directions on how to make Sourdough French Toast are in the printable recipe card below.
Tips & Tricks for Sourdough French Toast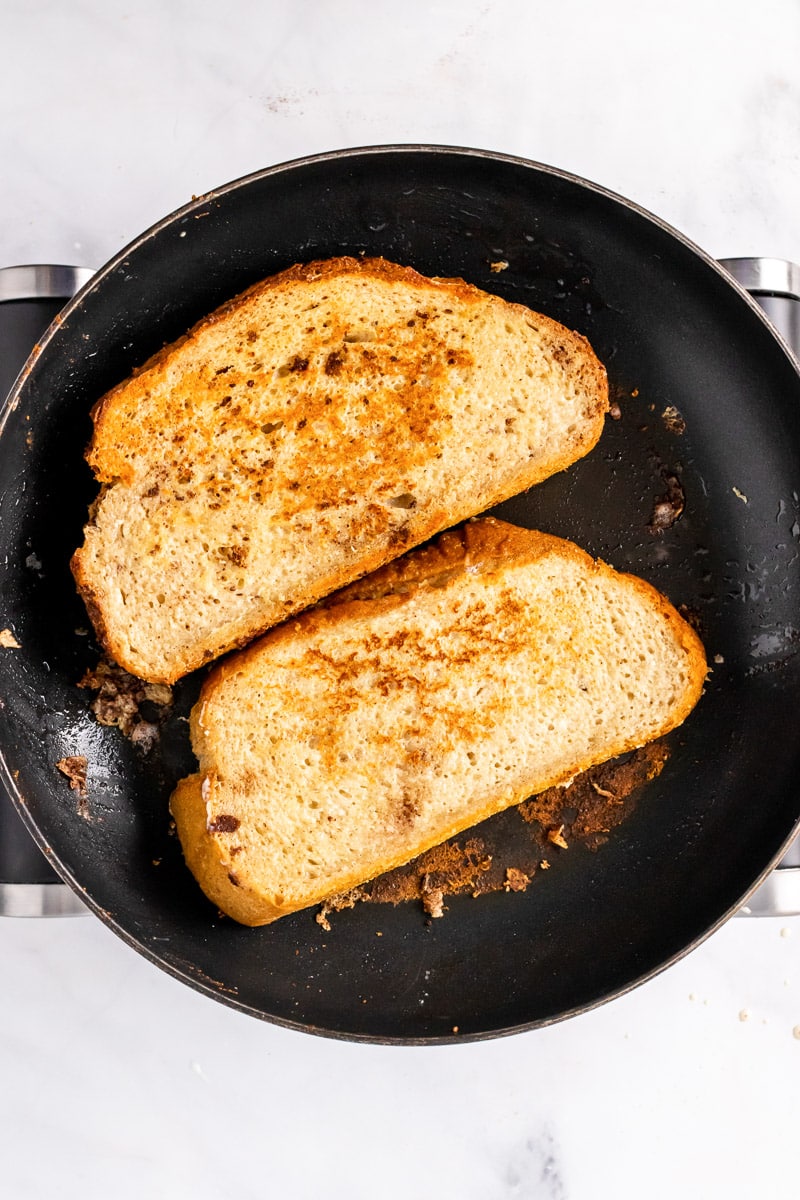 Thick Slices of Bread
It is very important to use thick slices of bread when making French toast. If your bread is too thin, it can become too soggy and fall apart when you try to cook it.
Stale Bread
Don't be afraid to let your bread get stale before you make your French toast. Stale bread actually soaks up the egg mixture even better than fresh bread! When using stale bread, your French toast will have a fluffy texture without a wet center.
Heavy-Duty Skillet
Make sure to use a high-quality skillet that is very heavy duty. You need a good skillet so your toast gets an even layer of heat when cooking. Some cheaper skillets create hot spots and cook your toast unevenly.
Whisk in Cinnamon
Between each time you dip a slice of bread, whisk the egg mixture again. The cinnamon in the mixture tends to rise to the top, so if you don't whisk between dips, you will have a few slices of toast with extra cinnamon and a lot with no cinnamon at all. As you can see, whisking between each slice of bread is important! Additionally, you can always add in extra cinnamon as you go.
Variations to Sourdough French Toast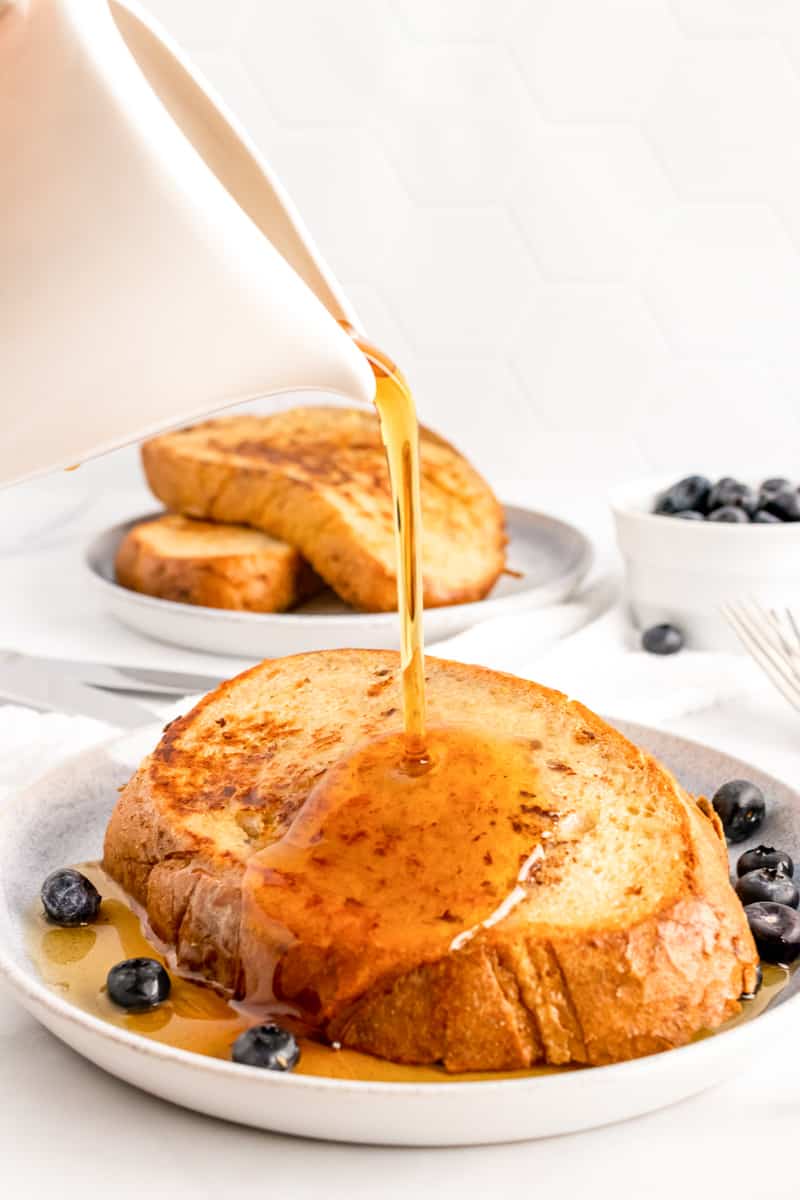 Bread
If you do not want to use sourdough, you can reach for any other variety of bread. Challah and Brioche are two very popular varieties of bread that are used when making French toast.
Almond Extract
Instead of vanilla, try whisking in some almond extract. The almond extract will transform the flavor of the French toast. It gives your breakfast a sweet nutty flavor that can't be beat!
Sourdough French Toast FAQs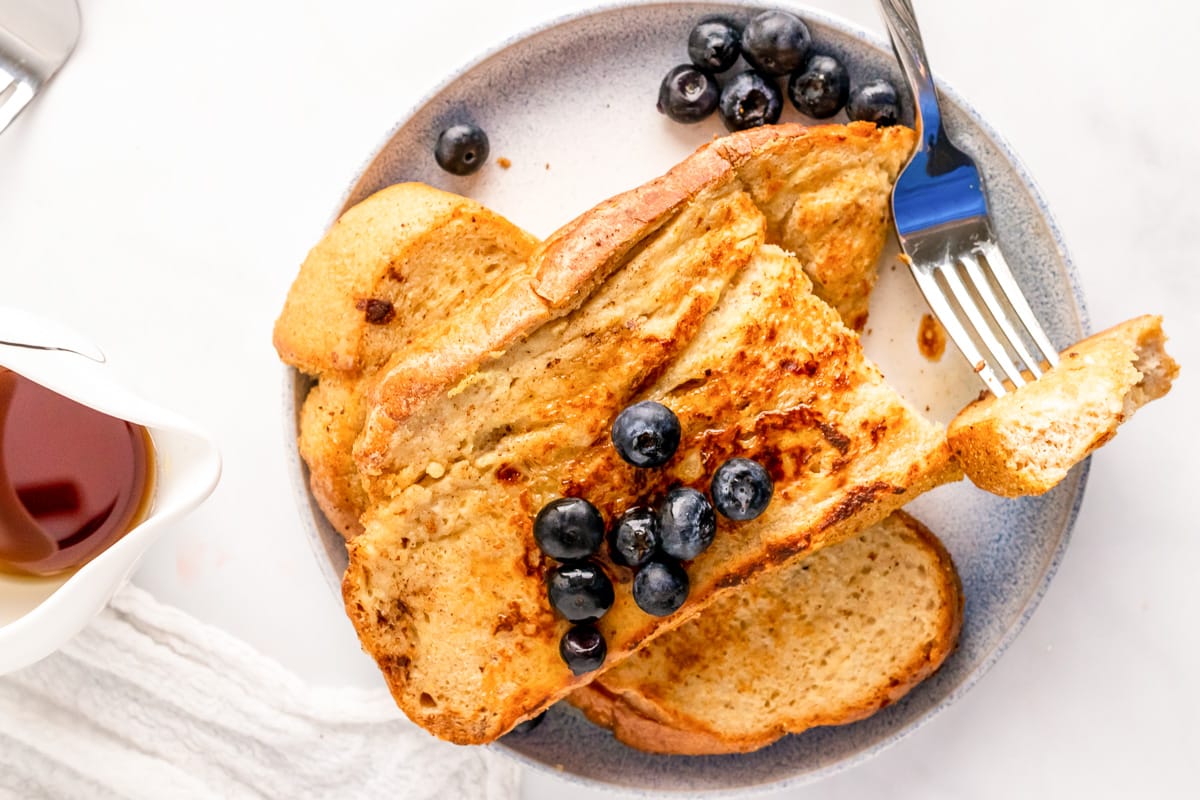 Why did my French toast get soggy?
If your French toast gets soggy, there could be a few reasons why. If you oversoak the French toast, it may hold too much of the wet mixture to cook through. Another reason for soggy French toast is that your bread may not have been firm enough to begin with. 
How do you store leftovers? 
If you don't eat all your toast right away, store in the fridge for 3–4 days. When you're ready to eat your toast again, reheat it in the microwave, toaster, or a pan on the stove until warmed through. Then enjoy!
Can you freeze French toast?
Yes, French toast freezes well. This is a wonderful meal prep recipe for a reheat-and-go breakfast. Frozen French toast is great for busy mornings, a quick snack, or even brunch!
Recipe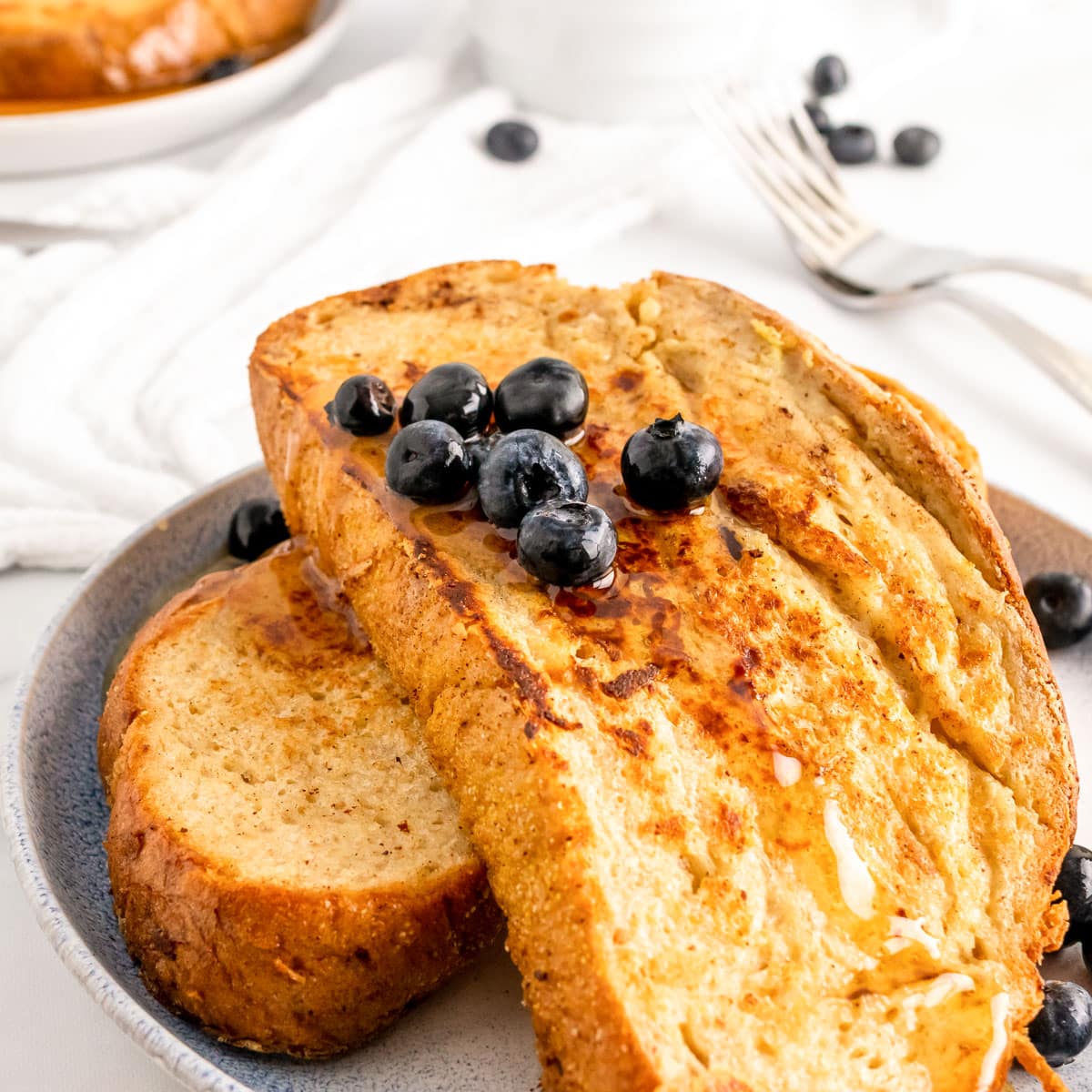 Ingredients
1

small round loaf of sourdough bread

or 8 thick slices

4

eggs

1

cup

half and half cream

1

cup

milk

1

tsp

vanilla extract

1

tsp

ground cinnamon

2

tbsp

butter
Instructions
Slice bread into thick slices, then set aside.

In a wide-bottom bowl or a casserole dish, whisk together the eggs, cream, milk, vanilla, and cinnamon.

Melt some of the butter over medium heat in a large skillet (enough butter to cover the entire bottom of the pan).

Dip the bread slices into the egg mixture, allowing them to sit for a couple minutes to really soak up the liquid.

Then carefully transfer the soaked slices to the heated pan.

Cook slices for about 3 minutes in the prepared pan, then flip and cook on the other side. Both sides should be golden brown before serving.

Repeat until all bread has been dipped and cooked. You may need to add more butter between batches.

Serve toast warm with berries and maple syrup.
Notes
Whisk the mixture right before dipping the bread, otherwise the cinnamon will float to the top and completely clump onto a couple slices of bread.
You want the frying pan hot, but you also don't want the butter to burn, so don't heat your stove higher than medium heat.
Stale bread works best; it can absorb more of the milk mixture.
If slicing the bread yourself, try and make sure the slices are even thicknesses so they cook properly.
I used blueberries, but any fruit would be delicious paired with this toast.
Keep the finished French toast on a baking sheet in the oven at 200°F while you cook the rest of the slices.
Nutrition
Calories:
257
kcal
Carbohydrates:
35
g
Protein:
11
g
Fat:
8
g
Saturated Fat:
4
g
Polyunsaturated Fat:
1
g
Monounsaturated Fat:
2
g
Trans Fat:
1
g
Cholesterol:
96
mg
Sodium:
351
mg
Potassium:
189
mg
Fiber:
1
g
Sugar:
3
g
Vitamin A:
282
IU
Vitamin C:
1
mg
Calcium:
110
mg
Iron:
2
mg