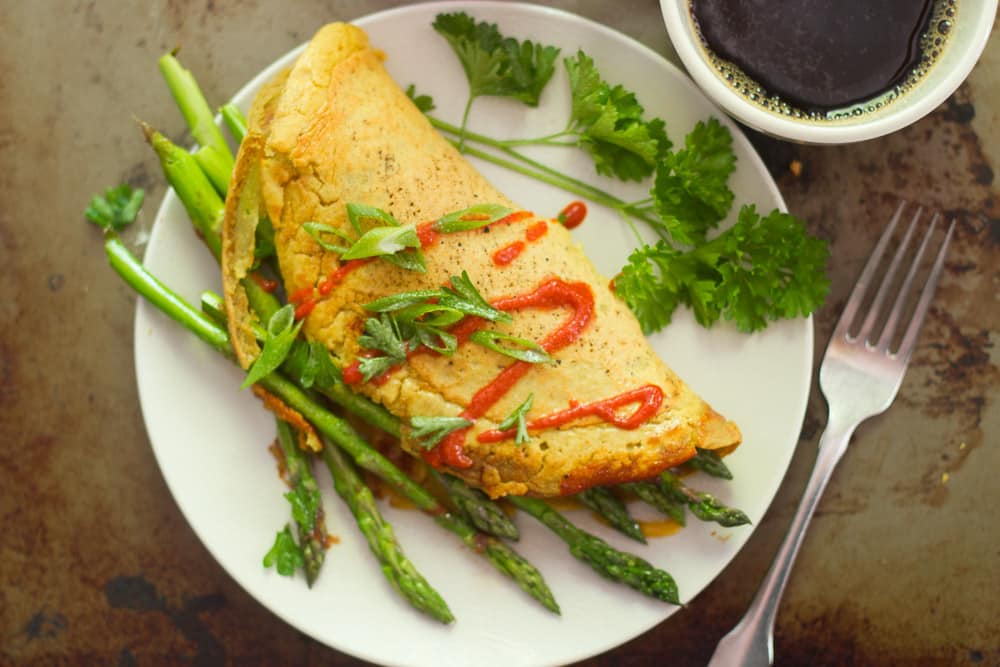 Jump to:
Ah, the elusive savory vegan breakfast. For a while I thought such a thing wasn't possible. What's left without eggs? Pancakes and waffles are great, but every now and then I want something hearty that doesn't taste like dessert.
As it would happen, vegan savory breakfasts are not just possible, but they're pretty darn easy. And among the easiest is the vegan omelet! I know what you're thinking: how? It's actually pretty darn easy, just as easy, in fact, as an egg-based non-vegan omelet.
Vegan omelets are one of my favorite quick breakfasts to throw together, and most of the time I don't even follow a recipe. That's why I decided not to post a recipe for a vegan omelet, but a quick guide to show you how to throw one together with a few simple ingredients.
Ingredients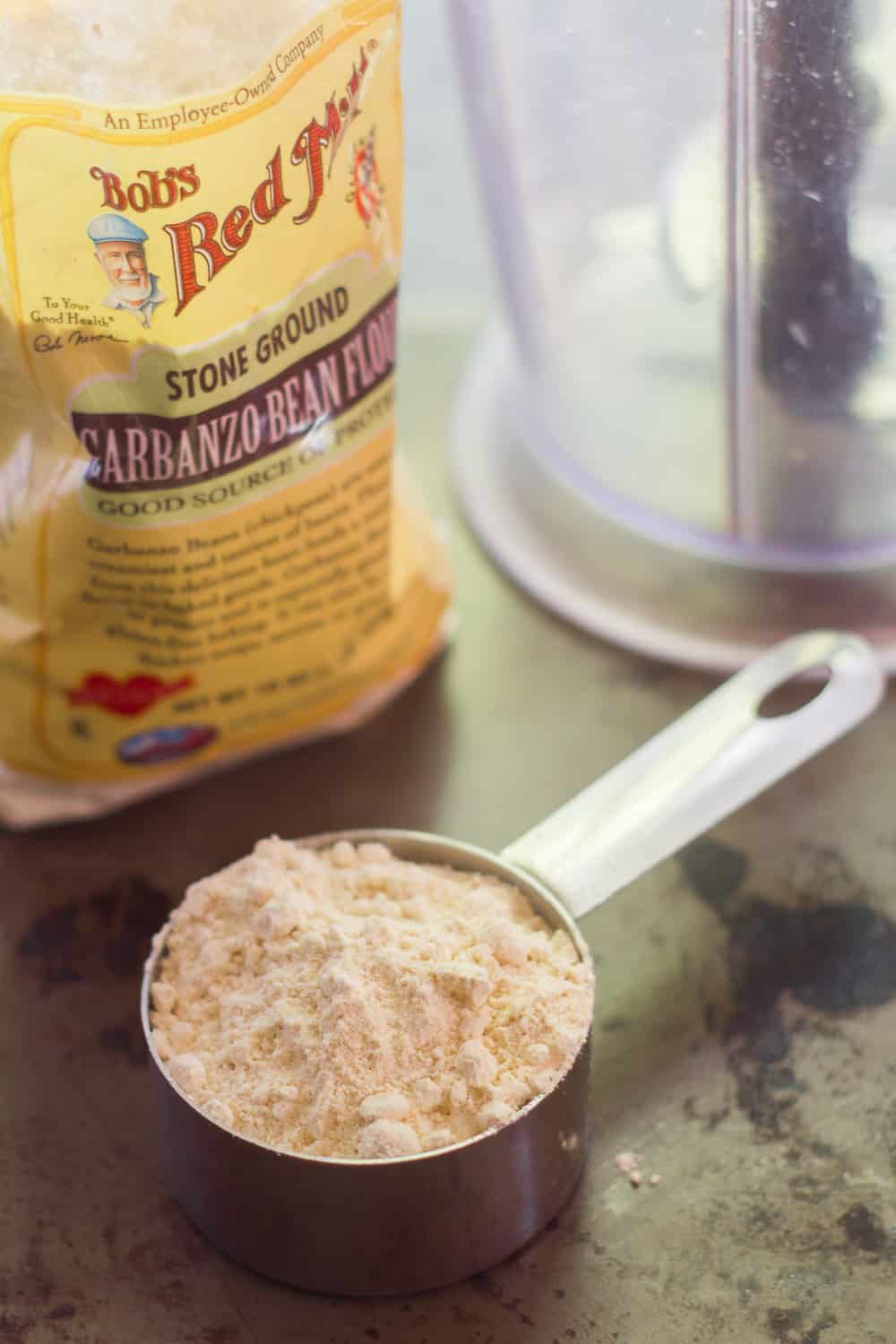 The main ingredient I always keep on hand is chickpea flour. I went on a bit about why chickpea flour is awesome in this post, and among those reasons is the fact that it makes a great vegan omelet.
Chickpea flour has a slight nutty, savory taste, and when you season it up just right, it can taste pretty eggy. It's also got the pale yellow color going for it, and the fact that it cooks up spongier than wheat-based flours. All of these things are great when you're trying to replicate the flavor and texture of eggs.
Can you use other legume based flours? Possibly. I ground up some red lentils to a flour when I was in a pinch one time and it worked. Others I'm not sure about, but you can have some fun experimenting.
Another optional ingredient: tofu. Tofu adds density, protein, and an eggy texture to your omelet. Silken usually works best, but I've used everything from silken to extra firm and gotten good results. The only downside to using tofu is that you have to put everything in the blender, so I usually only include it when I have some time.
Here are the basic ingredients you'll need for one big omelet that will feed one or two people:
Chickpea flour - ½ cup
Water or milk - ½ to ¾ cup. Stick with the lesser amount if you're also including tofu. Add more if you're skipping the tofu.
Tofu - ¼ cup (optional)
Baking powder - ¼ teaspoon (optional — use it if you like a fluffy omelet)
While those ingredients will give you something that looks and feels like an omelet, it won't taste like much, so you'll need to add some seasonings as well. How much and what you use is up to you.
I like to mix everything up in a blender if I'm using tofu, or just in a bowl with a whisk if not, and then start adding seasonings as I taste test. Here's what I use:
Nutritional yeast - 2 to 3 tablespoons. This gives the omelet a cheesy flavor.
Turmeric - just a pinch. This one is optional, but it gives the omelet a nice yellow eggy color.
Soy sauce - 1 to 2 tablespoons. This adds some savory and salty flavor.
Kala Namak - a few dashes. Also known as black salt, this one is optional too. Kala namak contains sulfur and will add some serious eggy flavor and smell to your vegan omelet.
You can also add any other seasonings you might include in a regular omelet. So if you want a southwestern flavor, throw in some cumin and chili powder. If you like Indian flavors, throw in some curry powder or garam masala. Try some variations and see what you like!
Making the Vegan Omelet Batter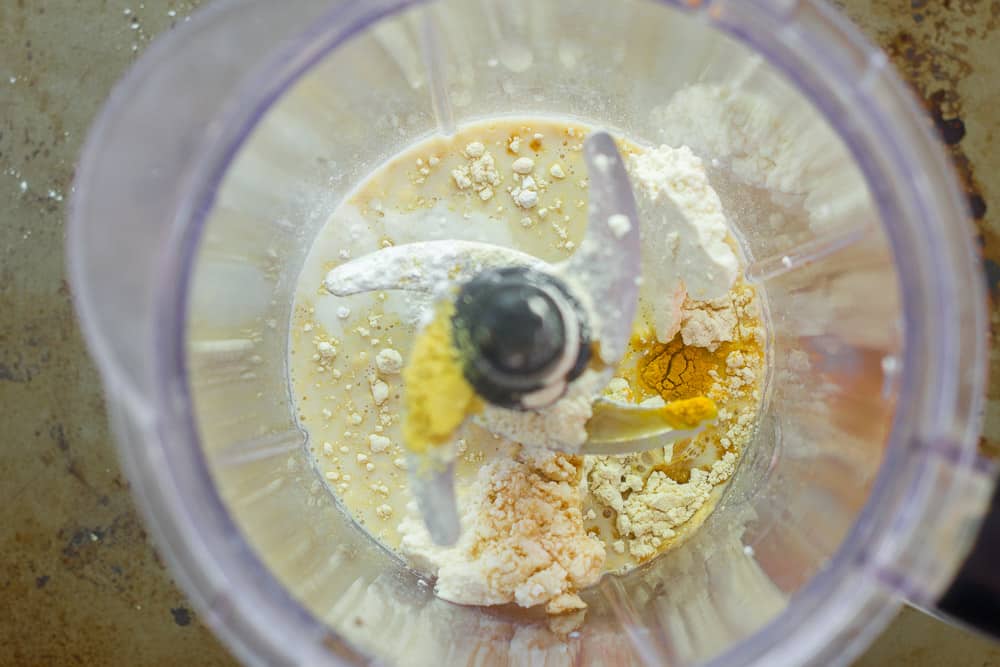 You'll want your batter to be somewhere between pancake and crepe batter in terms of thickness. Too thick, and you'll have something more like a savory pancake. Too thin and your vegan omelet will fall apart. Blend or whisk until the consistency seems right, adding more liquid or chickpea flour to adjust the thickness.
Cooking the Vegan Omelet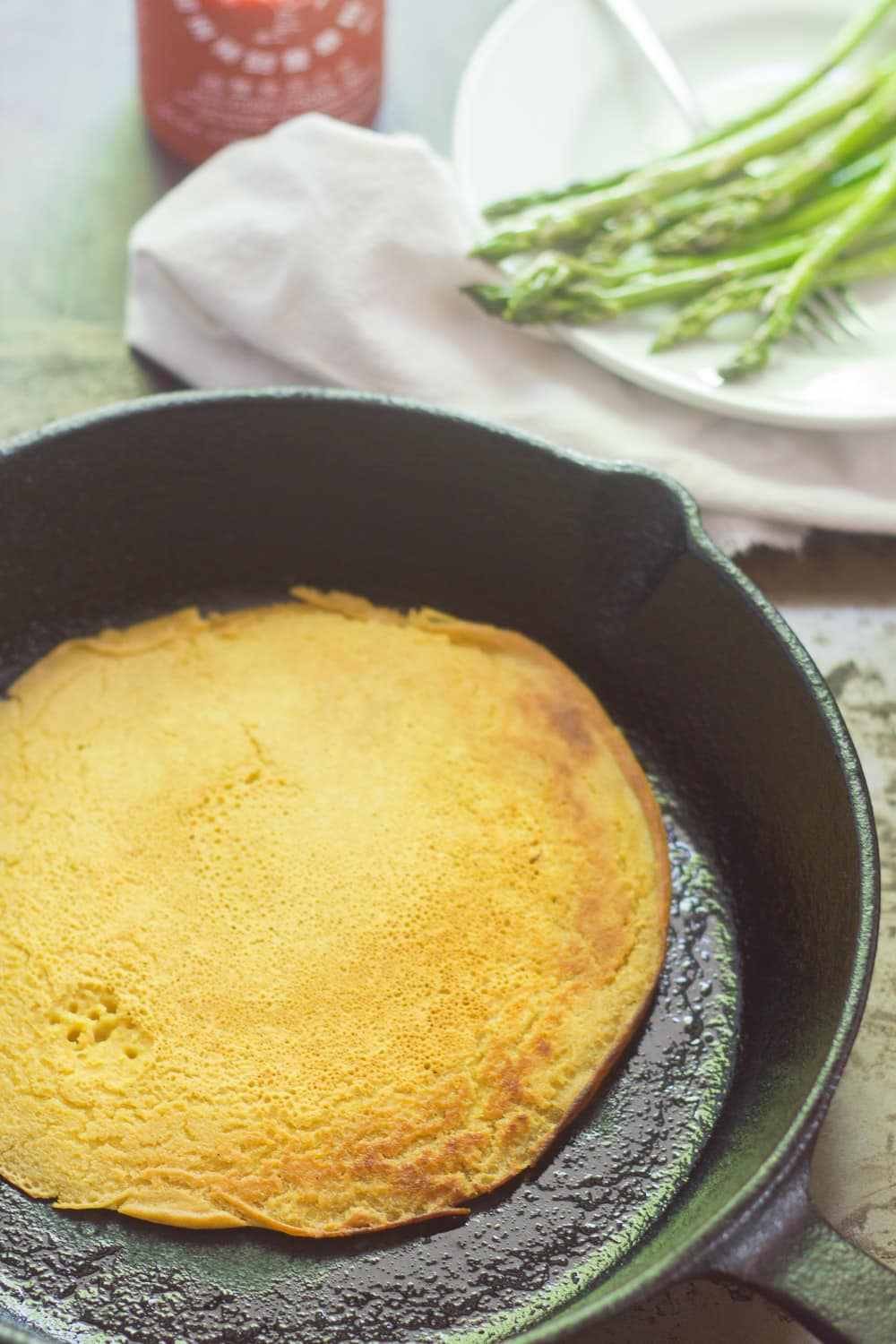 Lightly oil the bottom of a medium-sized skillet and place it over medium heat. Once it's hot, pour in your batter. From there, the process is much like cooking a traditional omelet.
After a few minutes you should see some bubbles in the middle of your omelet and/or browning around the edges. Test it with a spatula to see how sturdy it is, and when you're ready, gently flip it and give it a minute or two to cook on the other side.
Stuffing the Vegan Omelet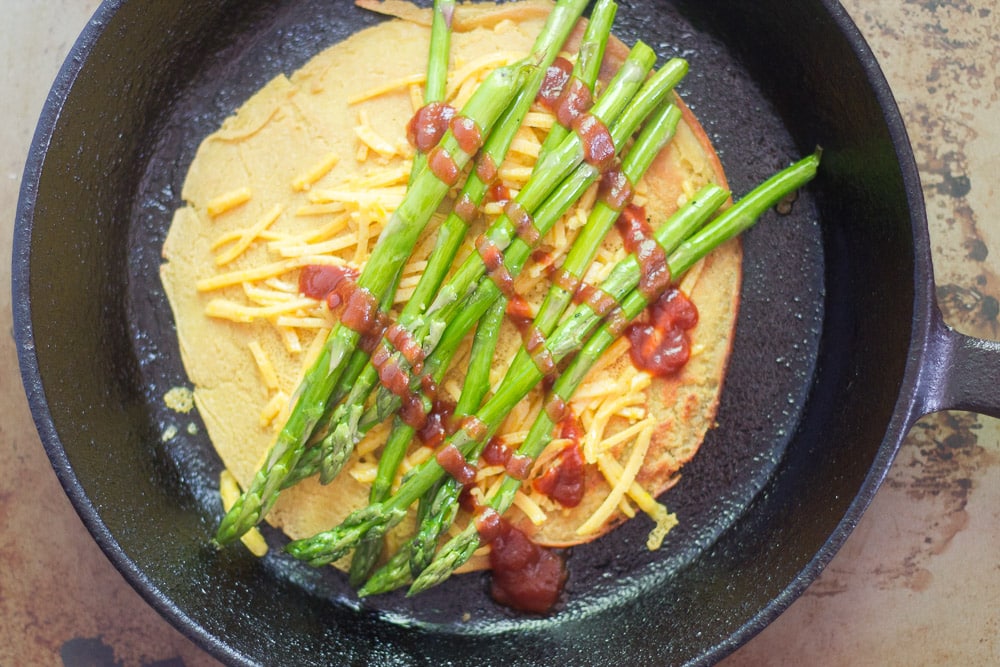 This is the easy part. I threw some vegan cheese shreds and seared asparagus into my omelet, and then topped everything off with hot sauce, but feel free to experiment with different fillings. (This omelet with tamari mushrooms is another of my favorites!)
Transfer the omelet to a plate (or plates — there's plenty for two!), serve, and enjoy.
Recipe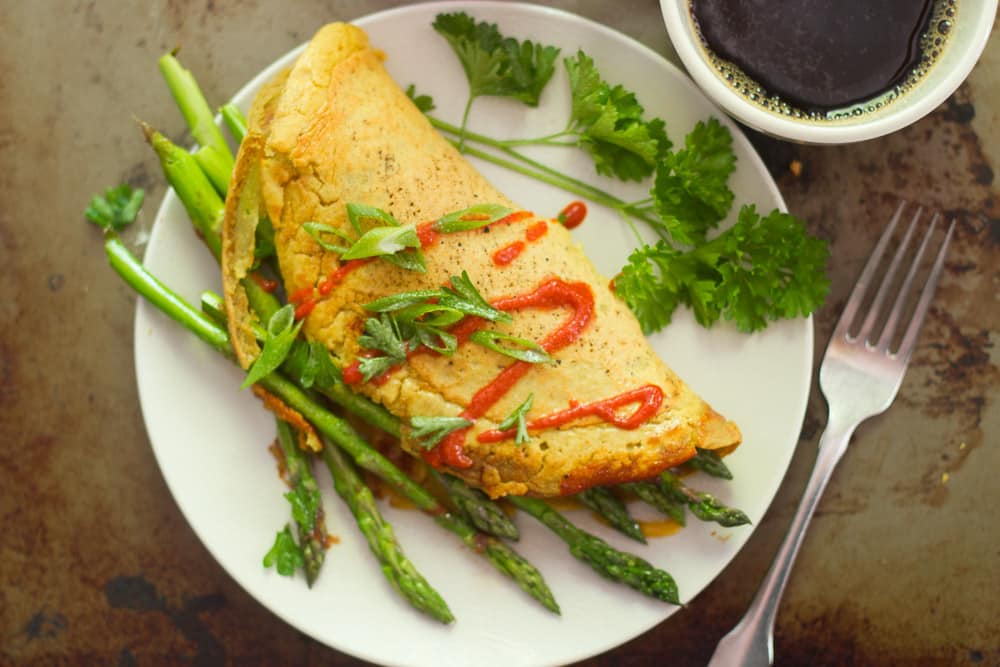 Ingredients
Vegan Omelet Fillings/Toppings
8

stalks

asparagus

lightly seared

⅓

cup

vegan cheese

shreds

or any vegan toppings of your choice
Instructions
Combine all ingredients in a food processor high speed blender, and blend until combined.

The thickness of the batter should be somewhere between pancake and crepe batter. Adjust by adding more water/milk or more chickpea flour, until desired consistency is reached.

Lightly spray a medium skillet with cooking spray and heat over medium heat.

Pour in the batter. Cook for a few minutes until you see bubbles in the middle of the omelette, then gently flip. Cook for 1-2 minutes on the other side.

Add your toppings to the omelet - I used the vegan cheese shreds and seared asparagus. At this point, you can fold the omelet in half or leave it flat.

Serve hot. I recommend topping with hot sauce!
Nutrition
Calories:
501
kcal
Carbohydrates:
59
g
Protein:
31
g
Fat:
16
g
Saturated Fat:
3
g
Polyunsaturated Fat:
4
g
Monounsaturated Fat:
2
g
Sodium:
2194
mg
Potassium:
1233
mg
Fiber:
15
g
Sugar:
10
g
Vitamin A:
992
IU
Vitamin C:
7
mg
Calcium:
317
mg
Iron:
8
mg
Craving more veg-friendly recipes?
Shop our collection of vegetarian and vegan cookbooks, including our new Vegan Thanksgiving and Vegan Christmas cookbooks!