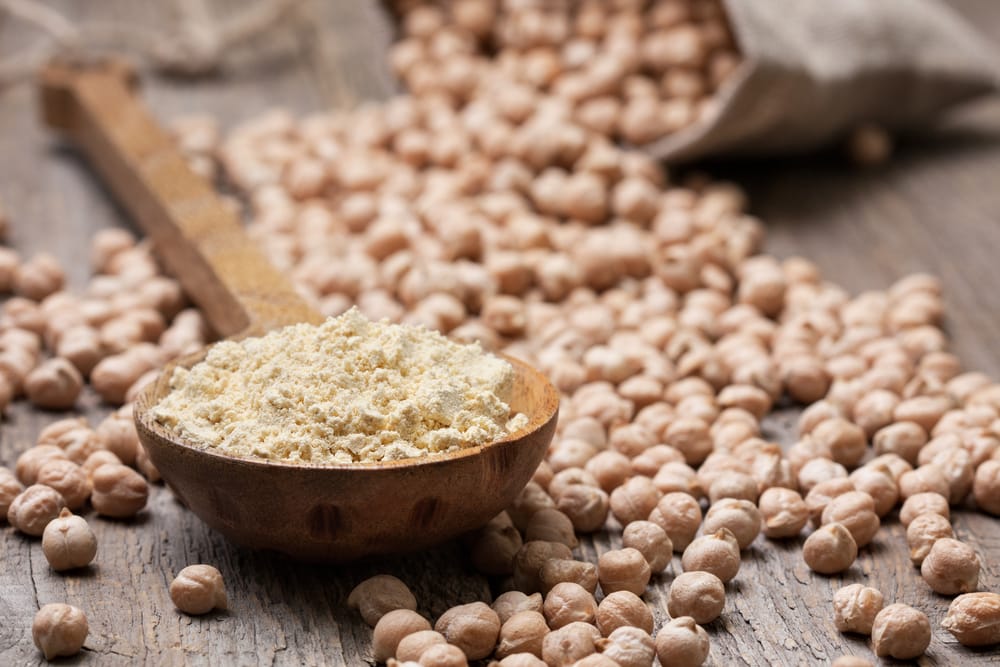 Chickpea flour is having a moment, especially with us folks that are into vegetarian, gluten-free, grain-free, and generally healthy cooking. And with good reason! This increasingly popular pantry staple is extremely versatile, it's loaded with fiber and protein, and adds a unique savory flavor to any dish that it's used in. It's also pretty darn easy to cook with!
Flour made from chickpeas has been popular in the cuisine of other cultures for years (particularly Indian and Middle Eastern), but it's just beginning to gain momentum in American and western diets. These days you should be able to find a bag at most well stocked supermarkets—check the baking aisle as well as the international foods section, and keep your eyes peeled for products labeled garbanzo bean flour, gram flour or besan flour, a few common names it often goes by.
What is it?
Just like wheat flour is made from finely ground up wheat, chickpea flour is made from finely ground up chickpeas. You can even make it yourself! Just place some dried chickpeas into a high-power food processor and grind them to a fine powder.
What does it taste like?
Chickpea flour has a subtle nutty flavor to it, which is why I find it works best in savory recipes. If you do use it in a recipe for a sweet baked good, you may want to cut it with a more neutral-flavored flour (as many commercial gluten-free all-purpose flours do).
How do you store it?
Like other types of flours, chickpea should be stored in a sealed container to keep out moisture as well as insects and other critters. It normally has a shelf-life of about 6 months, or even longer if you keep it in the fridge or freezer.
How do you use it?
You've got so many options!
To get started, try swapping out a quarter or so of the flour in your favorite baked good recipe with chickpea flour. If all works out, increase the amount next time. (You can find more baking tips in our guide to gluten-free baking.)
You can also make a basic chickpea crepe by creating a thin batter with chickpea flour, water, and whatever seasonings you like. A slightly thicker batter with the right seasonings can be cooked up whole to create a vegan omelet, or scrambled to create a vegan spin on scrambled eggs.
It also works great as a binder for falafel, veggie burgers and fritters.
Chickpea Flour Recipes
Here are some chickpea flour recipes to get you started:
Spinach & Chickpea Spoon Fritters
Vegan Breakfast Sandwiches with Cholula Cashew Cheese
Incredible Chickpea Flour Chocolate Chip Cookies - Oatmeal with a Fork
Veggie-Stuffed Vegan Omelet - Connoisseurus Veg
Middle Eastern Spiced Chickpea Fries
Chickpea Flour French Toast - Karl Cooks
Socca with Sautéed Chard and Parmesan
Sauerkraut Chickpea Flour Ravoili - Strength and Sunshine
Chickpea Flour Crepes - Making Thyme for Health
Savory Spinach and Mushroom Chickpea Scramble - Connoisseurus Veg
Carrot Fritters with Cumin Lime Cashew Cream
Chickpea flour image via Shutterstock.