Our vegan meal plans are 5-day menus that serve a family of 4 — or less if you don't mind leftovers! Click on each of the meal links below to get printable recipes, then print the meal plan and shopping list at the bottom of this post.
Here's this week's vegetarian meal plan:
Monday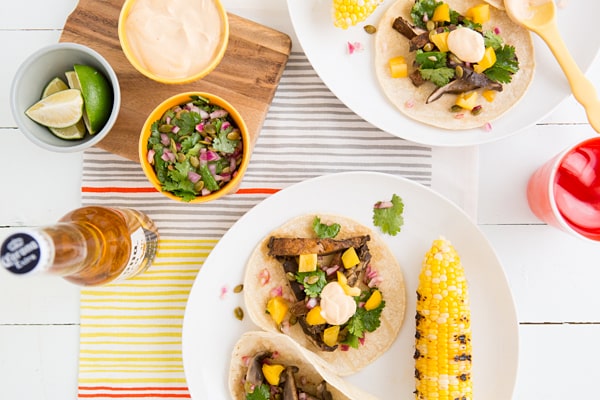 Beer Marinated Grilled Mushroom Tacos with Pepita Relish & Chipotle Crema // Marinating portabella mushrooms in beer and a mix of Mexican spices makes for an incredibly flavorful taco filling.
Tuesday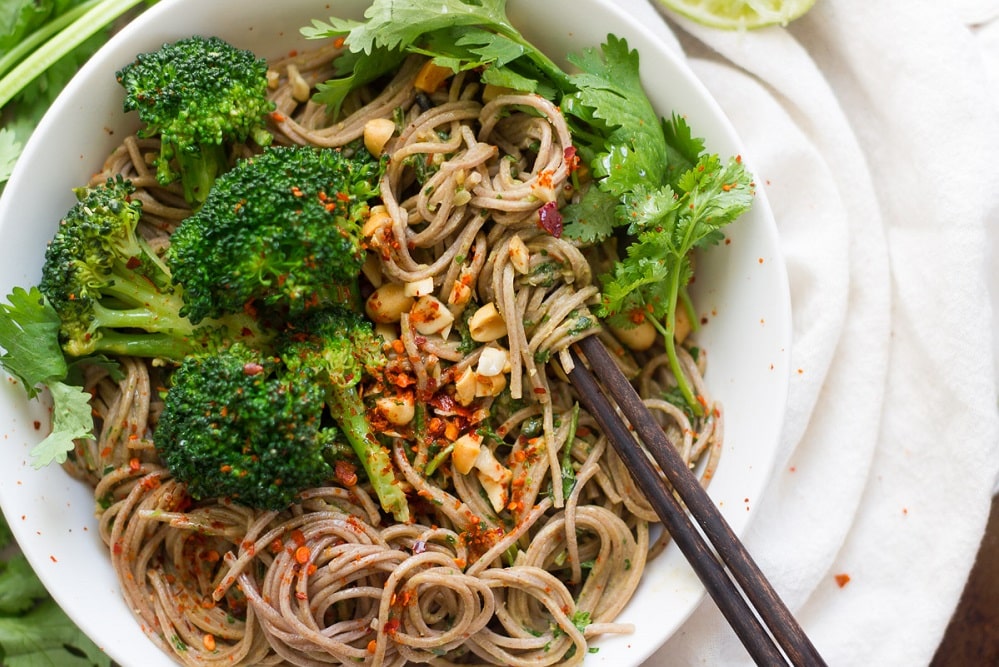 Cilantro Peanut Soba Noodles // Noodles and broccoli cook up in the same pot and are then drenched in peanut sauce to make this easy meal.
Wednesday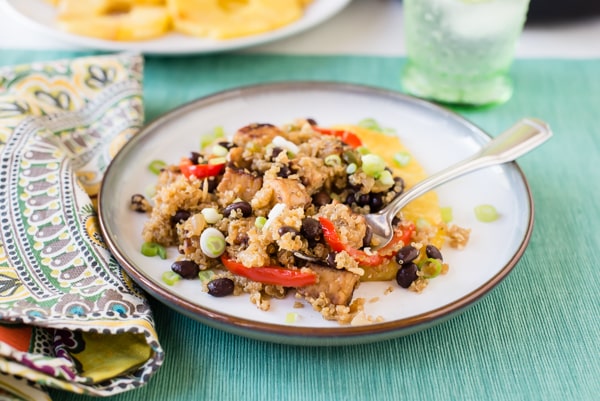 Cuban Fried Quinoa with Black Beans and Smoky Tempeh // If you're a fan of fried rice you'll definitely want to try this Cuban-inspired fried quinoa.
Thursday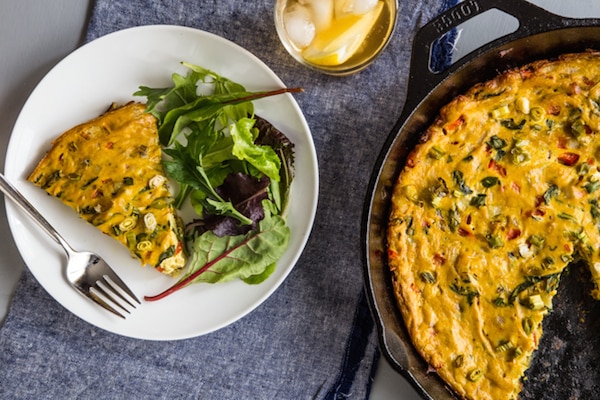 Tofu Frittata with Spinach and Peppers // Blended up tofu stands in for the eggs in this veggie-packed vegan frittata.
Friday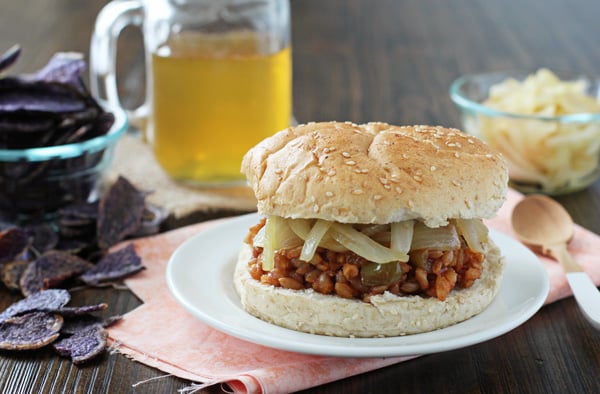 Chipotle Peach BBQ Farro Sandwiches // Farro is simmered up in smoky barbecue sauce made with peach preserves to make these summery barbecue sandwiches.
Printable Meal Plan & Shopping List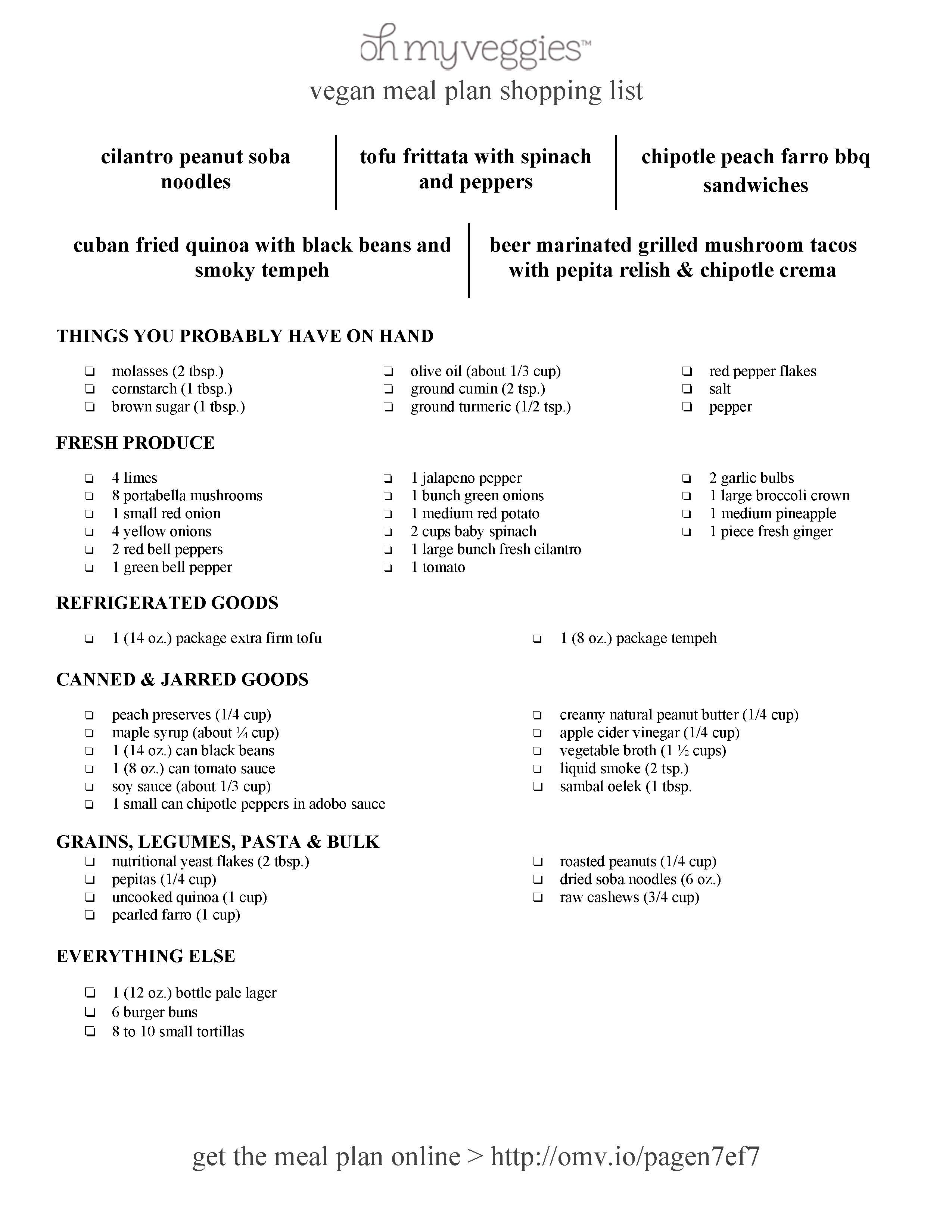 Tips for This Week's Vegan Meal Plan
The mushrooms for Monday's tacos can be grilled on an outdoor grill, indoor grill, or in a grill pan on the stove. If none of those options work for you, feel free to cook them up in a skillet.
Don't forget to start soaking the cashews for Monday's tacos starting 4 to 8 hours in advance. And if you do forget, you can also boil them for about 15 minutes instead.
The sambal oelek for Tuesday's noodles can be found in the international foods sections of most supermarkets. Or you can leave it out for a milder version of the dish.
You should have some chipotle peppers and adobo sauce left at the end of the week. If you don't have another use for them right away, seal them up and freeze them for later.
You'll probably have some leftovers when you make Friday's sandwiches. Wrap them up for weekend lunches!
Click here for a printable version of this week's vegan plan and shopping list.
Find more dinner ideas from our Meatless Meal Plan.