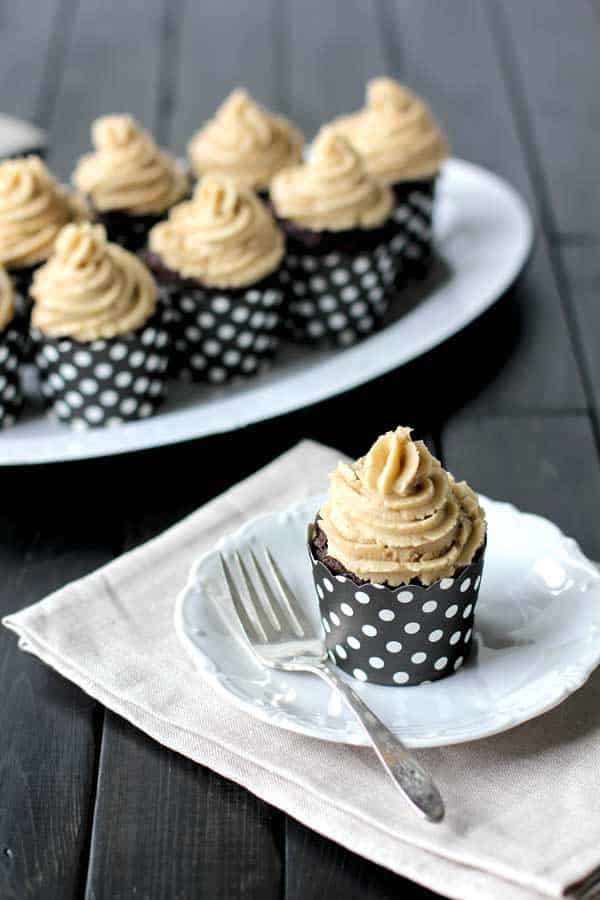 Photos by Meg van der Kruik
There are some blogs that you just can't help getting excited about because the recipes they post are so innovative and unique. There are blogs you read, and blogs you devour and Fork and Beans has always been on my devour list.
Last summer, Cara and I were both working on cookbooks, so Cara tested some of my recipes and I tested some of hers. And now Cara's cookbook is out -- woo hoo! Decadent Gluten-Free Vegan Baking: Delicious, Gluten-, Egg- and Dairy-Free Treats and Sweets
is much like Fork and Beans in that it's full of remakes of classic recipes and junk food favorites. There's an entire chapter devoted to vegan and gluten-free versions of Girl Scout cookies. An entire chapter! You'll also find recipes for homemade Pop-Tarts, Fig Newtons, Cheez-Its, and more cakes, cupcakes, and pies than you can shake a stick at. (I have no idea what that means. Why would you shake a stick at cupcakes? They're delicious.)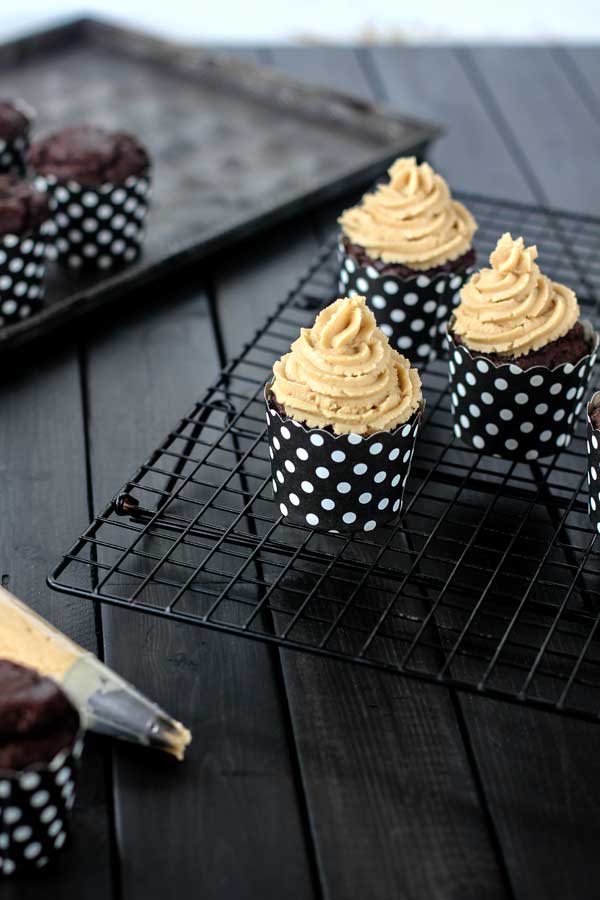 And speaking of cupcakes! When asked to choose a recipe to share from Cara's cookbook, I decided on the Peanut Butter Chocolate Cupcakes. The deciding factor was obviously the Nutter Butter Frosting, which I would happily pipe straight into my mouth because I'm classy like that.
If you'd like to see what else this cookbook has in store, you can purchase it on amazon.com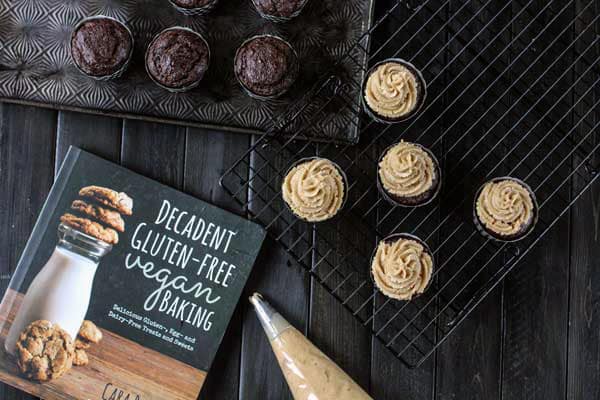 Ingredients
Dry
1 ½

cups

Cara's All-Purpose Blend

¾

cup

cocoa powder

½

cup

lightly packed brown sugar

½

cup

granulated sugar

2

teaspoons

baking powder

½

teaspoon

baking soda

1

teaspoon

xanthan gum

½

teaspoon

salt
Wet
1

cup

nondairy milk

½

cup

hot water

½

cup

vegetable oil

2

tablespoons

flaxseed meal plus 6 tablespoons water—thickened for 5 minutes

1

tablespoon

apple cider vinegar

or lemon juice

½

teaspoon

vanilla extract
Nutter Butter Frosting
½

cup

vegan butter

softened

¼

cup

creamy peanut butter

3

cups

powdered sugar

3

tablespoons

nondairy milk

1

teaspoon

vanilla extract
Instructions
Make the cupcakes
Preheat oven to 350°F. Grease or line a muffin pan.

In a large bowl, whisk together the dry ingredients. In a medium bowl, combine the wet together until well mixed. Pour the wet ingredients into the dry ingredients and stir with a wooden spoon until just combined.

Pour into the muffin pan and bake for 17 to 20 minutes. Remove cupcakes from pan and allow to cool on a wire rack. Frost with Nutter Butter Frosting and drizzle with melted nondairy chocolate. Feeling even crazier? Top with chocolate-covered peanuts.
Make the frosting
With an electric mixer, cream the vegan butter on medium speed until fluffy. Beat in the peanut butter, and then gradually add in the powdered sugar. Add the nondairy milk and vanilla extract until light and fluffy.
Notes
CARA'S TIP: If you desire, you can switch to almond butter for this recipe, or if you are allergic to nuts, you can use a nut-free spread like SunButter instead.
Disclosure: I received a review copy of Decadent Gluten-Free Vegan Baking from the publisher.