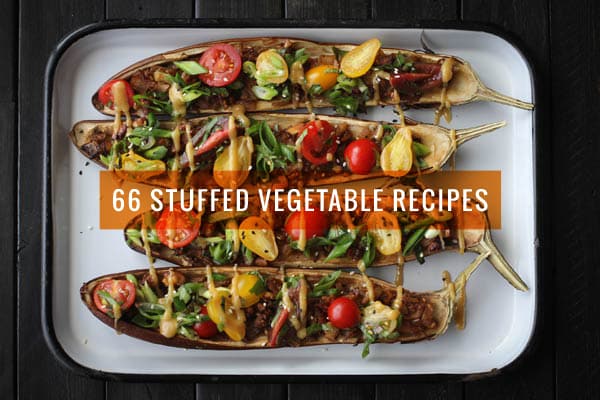 Vegetables are great on their own, but you know what makes them even better? Stuffing them full of cheese, grains, nuts, beans and, of course, plenty of other vegetables.
Stuffed, baked vegetables are a comforting cold-weather staple, and they're easy to throw together with whatever you have around the kitchen.
We've rounded up 66 stuffed-veggie recipes (from simple stuffed potatoes to crazy creative ideas) that showcase all that simple, savory goodness.
Hot Peppers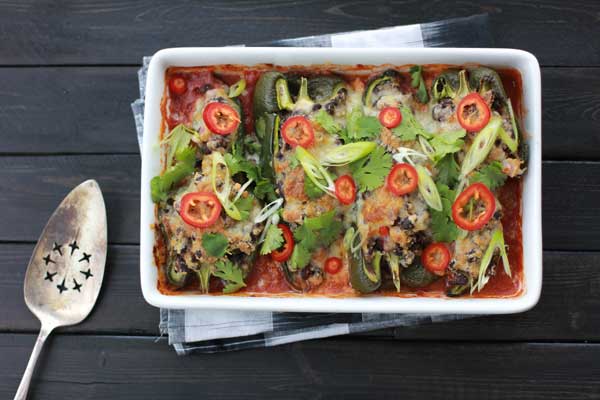 Black Bean and Pepper Jack Stuffed Poblano Peppers
Black Bean Jalapeño Poppers
Bell Peppers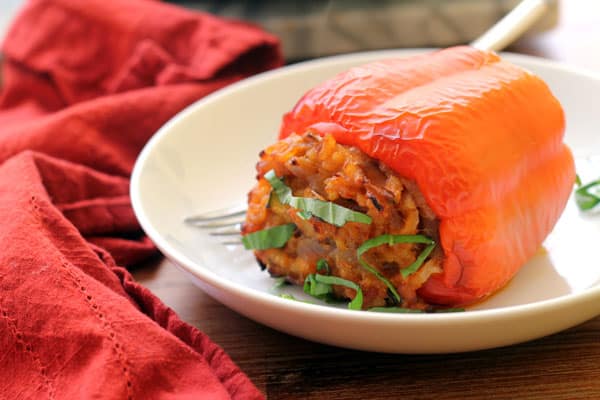 Thai Stuffed Peppers
Quinoa Stuffed Red Peppers
Paella-Stuffed Mini Bell Peppers
Vegetarian Crockpot Stuffed Peppers [Blue Ridge Babe]
Cajun Stuffed Bell Peppers [Strength & Sunshine]
Tuscan White Bean, Spinach & Quinoa Stuffed Red Peppers [Destination Delish]
Healthy Hummus Stuffed Peppers [Peas and Crayons]
Broccoli and Cheese Stuffed Peppers [Diethood]
Sweet Potatoes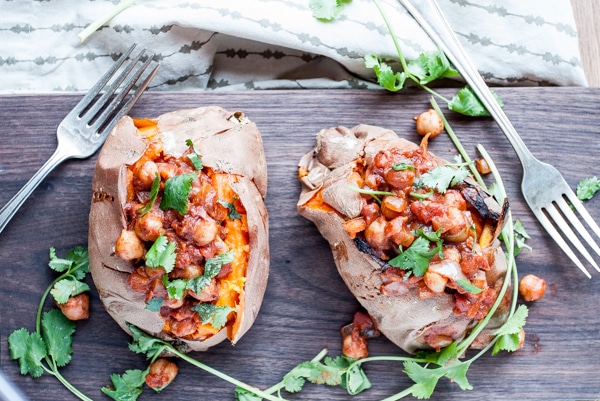 Chana Masala Stuffed Sweet Potatoes
Falafel Spiced Chickpea Stuffed Sweet Potatoes [Connoisseurus Veg]
Mexican Stuffed Sweet Potato Skins [Gluten Free Vegan Pantry]
Red Curry Stuffed Sweet Potatoes [Delish Knowledge]
Kale and Cranberry Stuffed Sweet Potatoes [Green Evi]
Spicy Black Bean Stuffed Sweet Potatoes with Creamy Avocado Sauce [Dishing Up the Dirt]
Braised Collard Greens Stuffed Sweet Potatoes [Busy in Brooklyn]
Mushrooms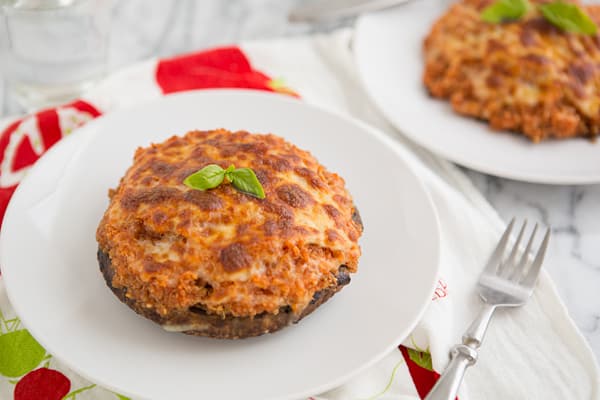 Pizza Quinoa Stuffed Portabella Mushrooms
Kale-Stuffed Portabella Mushrooms
Pesto and Olive Stuffed Mushrooms [Green Evi]
Nut-Stuffed Mushrooms [VegKitchen]
Tempeh Bacon Stuffed Mushrooms [Connoisseurus Veg]
Vegan Cashew Stuffed Mushrooms [The Culinary Life]
Mediterranean Stuffed Mushrooms [Aggie's Kitchen]
Acorn Squash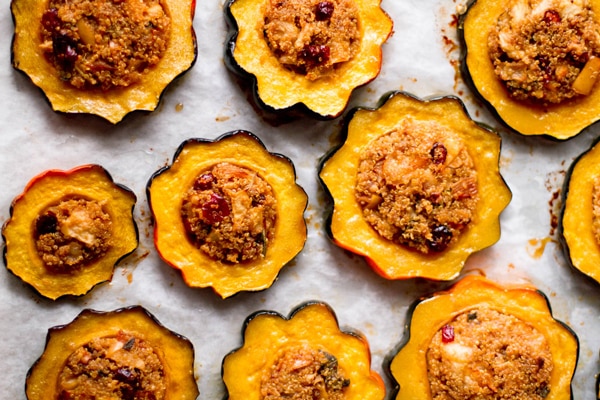 Quinoa Stuffed Acorn Squash Rings
Millet and Sage Stuffed Acorn Squash
Chili Stuffed Acorn Squash [She Likes Food]
Red Curry Stuffed Acorn Squash [Connoisseurus Veg]
Rice-Stuffed Delicata Squashes [VegKitchen]
Lentil Stuffed Acorn Squash [The Muffin Myth]
Spaghetti Squash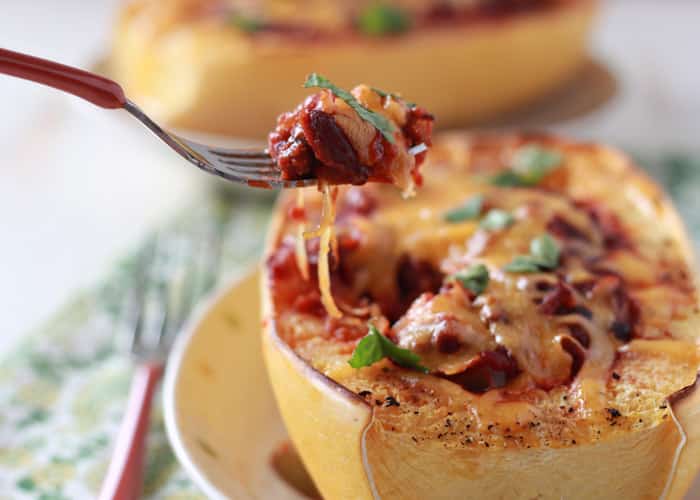 Chili Cheese Stuffed Spaghetti Squash [Kitchen Treaty, pictured]
Caprese Stuffed Spaghetti Squash [Cookie Monster Cooking]
Moroccan-Spiced Stuffed Spaghetti Squash [Floating Kitchen]
Thai Peanut & Broccoli Stuffed Spaghetti Squash [Connoisseurus Veg]
Pizza Stuffed Spaghetti Squash [Yup, It's Vegan]
Delicata Squash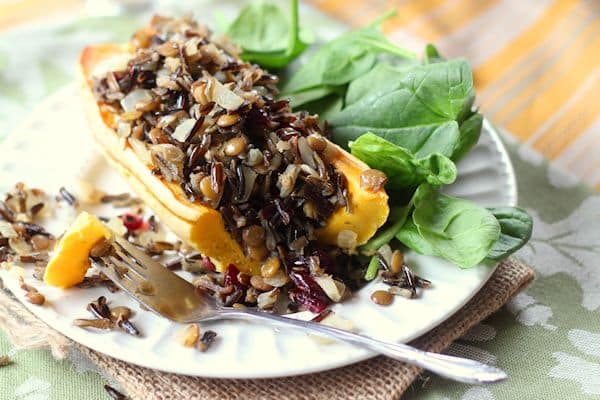 Wild Rice, Lentil & Cranberry Stuffed Delicata Squash
Rice-Stuffed Delicata Squashes [VegKitchen]
Roasted Apple and Quinoa Stuffed Delicata Squash [Connoisseurus Veg]
Quinoa Enchilada Stuffed Delicata Squash [Kristine's Kitchen]
Potatoes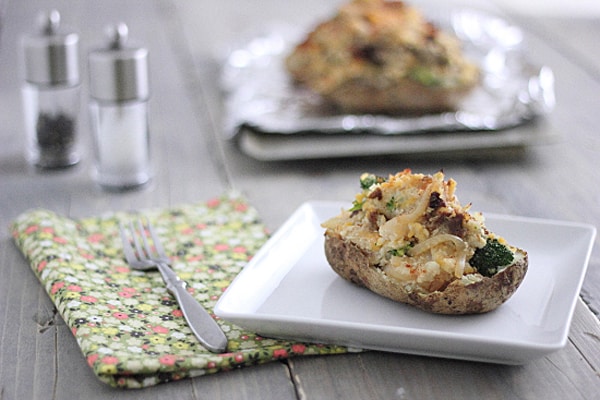 Over-Stuffed Smoked Cheddar Twice-Baked Potatoes
Vegan Stuffed Mexican Potato Skins [Veganosity]
Buffalo Chickpea Stuffed Potatoes [Connoisseurus Veg]
Cabbage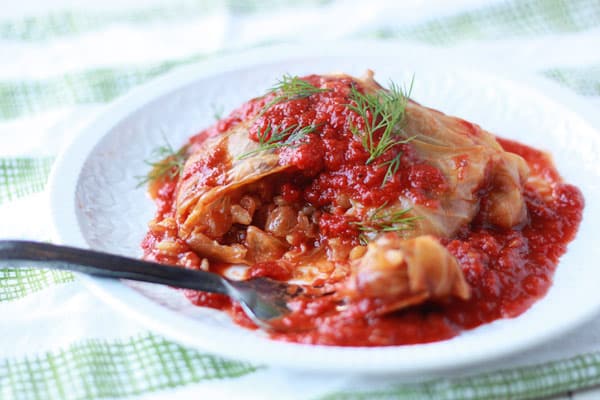 Slow Cooker Mushroom Lentil Stuffed Cabbage Rolls
Moroccan Spiced Cabbage Rolls [Hello Little Home]
Slow Cooker Mushroom-Lentil Stuffed Cabbage Rolls 
Mushroom Stuffed Cabbage Rolls [Vanilla and Bean]
Eggplant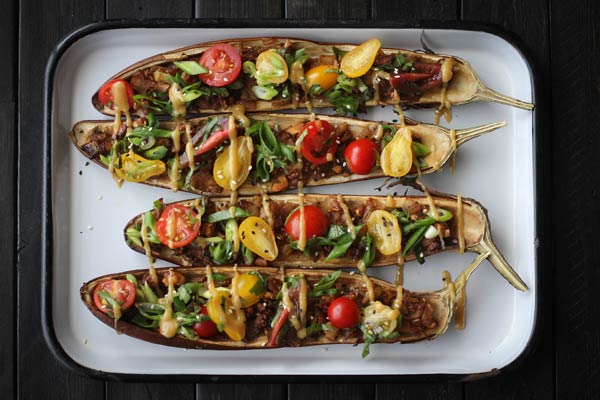 Miso Stuffed Eggplant
Stuffed Eggplant Provencal [Cilantro and Citronella]
Barley, Chickpea and Date Salad Stuffed Eggplant [Coconut and Berries]
French-Style Stuffed Eggplants [Happy Kitchen.Rocks]
Garlic & Tomato Stuffed Eggplant [Kittenhood]
Summer Squash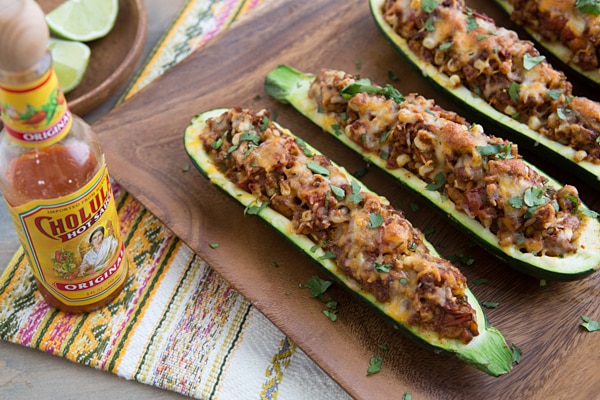 Taco Stuffed Zucchini
Stuffed Pattypan Squash with Quinoa and Fresh Corn
Stuffed Zucchini with Cheesy Breadcrumbs
Spinach Stuffed Zucchini [Can Caramelo]
Grilled Corn Stuffed Zucchini Boats [The Veg Life!]
Stuffed Zucchini with Brown Rice and Black Beans [Kalyn's Kitchen]
Other Stuffed Vegetables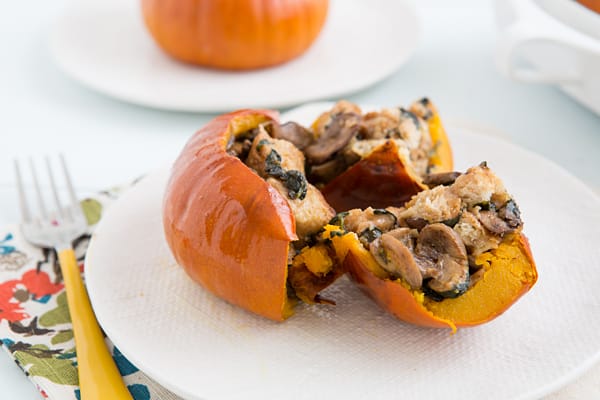 Baked Pumpkins with Spinach, Mushrooms and Cheese
Stuffed Squash Blossoms with Cherry Tomato Zucchini Ragout
Stuffed Kohlrabi Two Ways [Where Is My Spoon?]
Provencal Style Stuffed Onions [The View From Great Island]
Artichokes Stuffed With Breadcrumbs, Olives & Parmesan [An Avocado a Day]