I admit it, I'm a cabbage roll newbie. So I welcomed the challenge of coming up with a vegetarian stuffed cabbage roll recipe, especially one made in a slow cooker. I would learn the ropes of cabbage-roll-making while--hopefully--also cranking out a decent recipe for them!
It took a few tries to get it right, but I'm pretty happy with these Slow Cooker Mushroom-Lentil Stuffed Cabbage Rolls. Based off of this recipe from Real Simple, my version swaps out the meat for lentils and mushrooms. I also opted for brown rice over white, and regular green cabbage (you know, the big round heads we've all seen) instead of Savoy cabbage. Green cabbage was, for me, easier to find--and sturdy enough to hold up well.
Like, I said, I'm new at this cabbage roll business. As it turns out, though, the actual rolling is pretty easy. Just put your filling in the middle of the leaf, and fold the stem-end up by about one-third.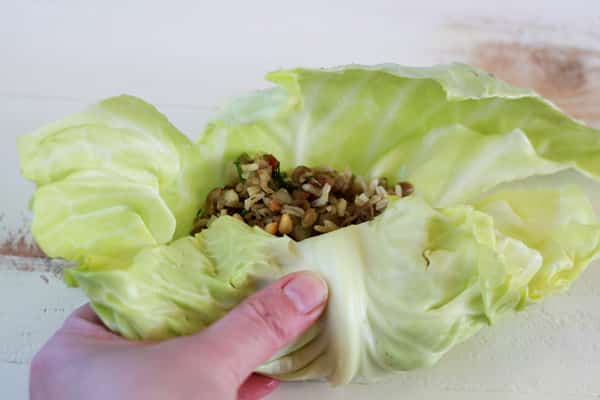 Fold in the sides, and then...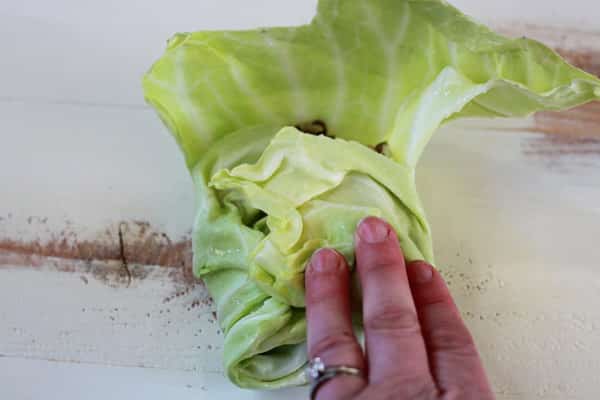 Finish rolling. Voila! The occasional roll may suffer a tear or two, but don't worry -- they'll stay intact in the slow cooker.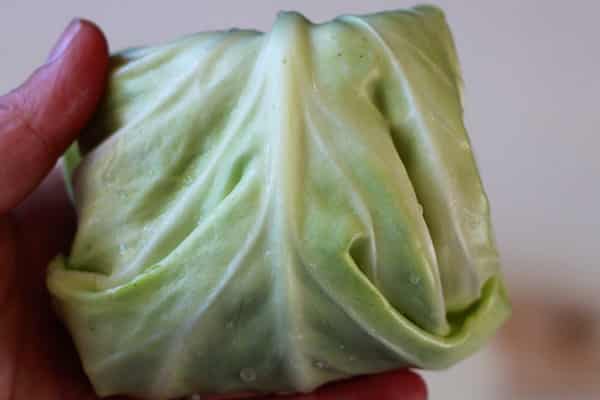 This recipe is really easy to make, and especially convenient if you go with the store-bought jar of marinara sauce. Yes, you do need to cook the lentils and rice first (trust me, I really wanted to put them in raw, but the recipe just didn't work that way). But otherwise, it's a cinch to put together--and definitely a tasty, comforting meal to come home to.
Me, I'm officially a cabbage roll convert. And--dare I say--newbie no more!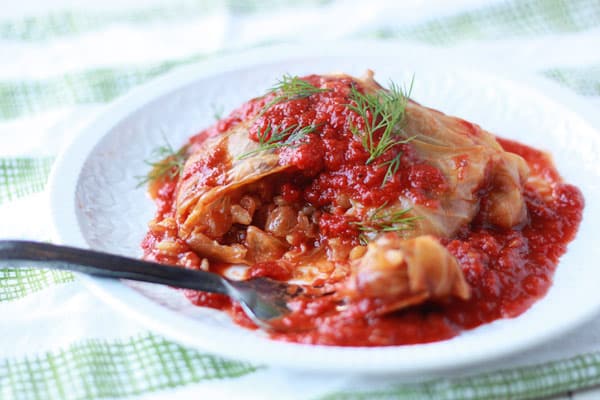 Ingredients
1

head green cabbage

large outermost leaves removed

1

cup

cooked brown lentils

about ½ cup uncooked

1

cup

cooked long-grain brown rice

about ⅓ cup uncooked

½

cup

diced onion

about ¼ medium onion

2

ounces

cremini mushrooms

diced (3-4 mushrooms, about ¾ cup diced)

¼

cup

toasted pine nuts*

¼

cup

golden raisins

2

cloves

garlic

minced

2

tablespoons

minced fresh dill + more for serving

1

tablespoon

olive oil

½

teaspoon

kosher salt

1

24-ounce jar marinara sauce (or 3 cups of your favorite homemade marinara sauce)

¼

cup

water
Instructions
Bring a large pot of water to a rolling boil. Carefully drop the cabbage into the pot and let it boil for about 5 minutes. Put the cabbage in a colander set over a large bowl to drain and cool slightly. Remove the outermost layers of leaves, until you reach leaves that aren't pliable. Repeat the boiling and draining process until you have 8 cabbage leaves. Pat the leaves dry with paper towels and set aside.

To a medium bowl, add the lentils, rice, onion, mushrooms, pine nuts, raisins, garlic, dill, olive oil, and salt. Stir gently until well-combined.

Add the marinara sauce and ¼ cup water to a 3-quart or larger Crock Pot. Stir to combine.

Set a cabbage leaf on a working surface, outer side down, and scoop about ½ cup of the mushroom-lentil mixture into the middle. Fold the stem end up about ⅓ of the way, then fold in the sides. Continue rolling semi-tightly until completely rolled up. Lay roll seam-side down on top of the marinara sauce. Repeat with remaining cabbage leaves, piling each into the slow cooker in one or two layers, right on top of one another.

Cook on high for 4-5 hours or on low for 8-10 hours.

To serve, scoop out a little marinara and spread it on a plate. Carefully remove cabbage rolls one at a time and transfer to the plate. Ladle an additional spoonful or two of the marinara sauce from the slow cooker over the top of each roll and top with a few sprigs of fresh dill, if desired.
Notes
* To toast the pine nuts, place a medium saute pan over medium heat and add the pine nuts. Cook, stirring frequently, until toasted and just beginning to get fragrant, 4-5 minutes. Watch closely and stir constantly toward the end of the toasting process, as they can burn easily!
Nutrition
Serving:
2
rolls
Calories:
297
kcal
Carbohydrates:
46
g
Protein:
11
g
Fat:
10
g
Saturated Fat:
1
g
Polyunsaturated Fat:
4
g
Monounsaturated Fat:
4
g
Sodium:
340
mg
Potassium:
809
mg
Fiber:
12
g
Sugar:
15
g
Vitamin A:
246
IU
Vitamin C:
86
mg
Calcium:
122
mg
Iron:
4
mg