Southwestern flavors are all the rage these days, and it's no mystery why. But the best part about it? Tex-Mex cuisine lends itself to endless vegetarian variations! From zesty sweet-potato-stuffed taquitos to creamy vegan enchiladas to zippy roasted veggie fajitas, we can't get enough.
Here are 20 especially mouth-watering vegetarian Tex-Mex recipes that are sure to spice up your dinner rotation.
Spring Veggie Tacos With Avocado Cream
These hearty (and vegan!) tacos from Nutrition Stripped are filled with a spicy walnut, sweet potato, and chickpea mix. The added rainbow of sauteed veggies sends them over the top.
Gluten-Free Breakfast Tostadas
The Minimalist Baker shows us how to take a tasty break from tacos and taco salads with crispy, gluten-free breakfast tostadas made with baked brown rice tortillas, over-easy eggs, fresh veggies, salsa, sour cream, and cheese.
Shredded Hearts of Palm Tacos
Fork and Beans brings us this innovative take on barbacoa, with hearts of palm standing in for the typical shredded beef. Go ahead and pile on the toppings for one epic taco!
Black Bean Enchiladas with Roasted Red Pepper Cashew Cream
Sure to impress even the most steadfast meat eaters at the table, these enchiladas are filled with hearty black beans, tender zucchini, and crunchy corn. But the best part? They're smothered to the nines in a wonderfully smoky cashew cream sauce. More, please!
Poblano Chilaquiles Casserole
Tart. Tangy. Spicy. This casserole brings some serious flavor to the table. Tortilla chips are layered with smoky black beans, sautéed veggies, and roasted tomatillo salsa, then baked with zesty jalapeno Jack cheese until melted to perfection. We love this one for game day, but it also makes for a super-quick weeknight dinner, too.
Tofu and Mango Vegan Tacos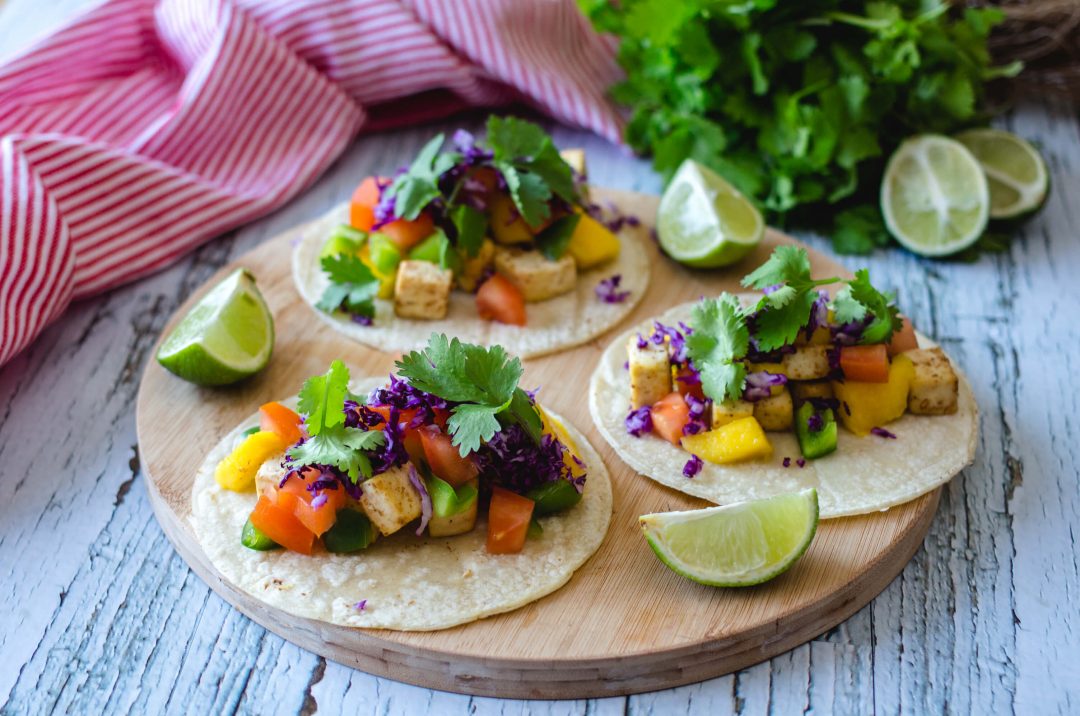 These Tofu and Mango Vegan Tacos are colorful, delicious, and perfect for summer!
Sweet and Spicy Mango Fajitas (Homemade Seasoning Mix)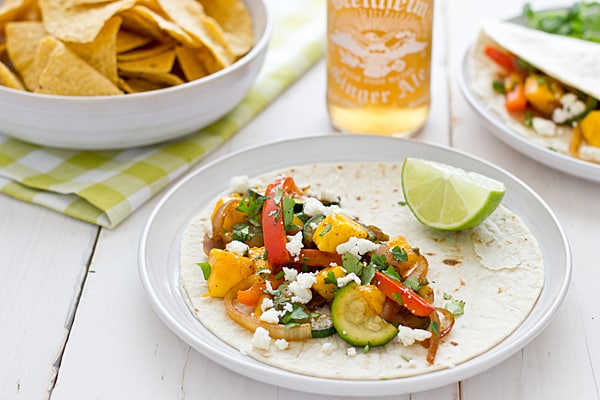 These Sweet and Spicy Mango Fajitas make a quick Meatless Monday dinner. Serve with cilantro, lime wedges, queso fresco and your other favorite fajita toppings.
Tex-Mex Potato Skins with Pomegranate Salsa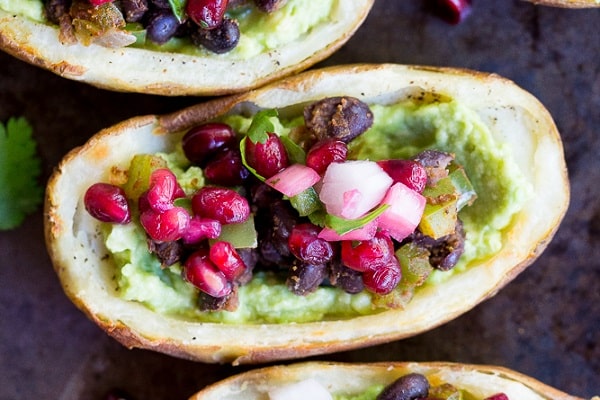 These delicious vegan potato skins are packed with Tex-Mex flavor and are perfect for a party snack or appetizer!
Roasted Sweet Potato & Black Bean Tacos
Black beans and sweet potatoes are a classic Southwestern flavor combination -- and for good reason! When you bring them together, you really can't go wrong. Bonus: these tacos come together quickly, making them a perfect choice for weeknight dinners.
Mexican Frittata
We love the versatility that frittatas bring to the table, and this one from The Faux Martha packs in the flavor too. With hearty black beans, chipotle peppers, sweet potatoes, and cilantro, we'd be happy with this one any time of the day.
Citrus, Avocado, and Quinoa Salad with Cilantro-Lime Vinaigrette
This colorful salad from Cafe Johnsonia is light, refreshing, and packed full of Southwest flavor. Cooked quinoa is tossed with a bright cilantro-lime vinaigrette, and then topped with oranges, red peppers, and avocado. It doesn't get any fresher than this!
Black Bean Flautas with Avocado Dipping Sauce
These crispy flautas are filled with refried black beans and red onion relish, then pan-fried until crispy. Serve 'em up with creamy avocado dipping sauce for a memorable meal in less than 30 minutes.
Lunchbox-Friendly Mexican Cauliflower Rice Salad
An easy and healthy Tex-Mex inspired lunchbox favorite. This one's especially perfect to prep on Sunday for no-fuss lunches during the week.
Quick Black Bean Quesadilla
Think of the humble quesadilla as Mexican comfort food. This vegan version from Pure Ella is fast, easy, and satisfying. And it's baked instead of pan-fried -- a healthier option that doesn't sacrifice flavor.
Southwestern Veggie Wraps
Sweet potatoes and smoky black beans make these vegetarian wraps both filling and delicious. Plus, they're quick and easy to make -- perfect for a little Tex-Mex on the go.
Mexican Black Bean Quinoa Skillet
Protein-rich black beans and quinoa come together in this hearty Mexican-inspired skillet from The Muffin Myth. Spoon the filling into taco shells or lettuce leaves -- or just grab a chip and start dipping!
Beer-Marinated Grilled Mushroom Tacos with Pepita Relish & Chipotle Crema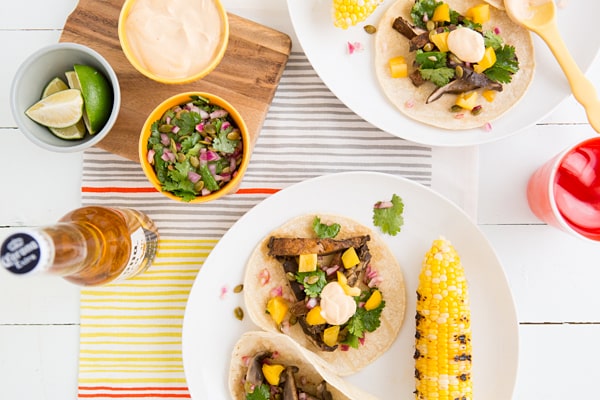 Meaty beer-marnated mushrooms are a perfect substitute for steak in this meatless version of Real Simple's Skirt Steak Tacos with Pepita Relish.
Veggie-Filled Enchilada Pasta Casserole
Get your bowls ready! This spicy enchilada pasta bake from Kitchen Treaty is made with loads of veggies. In fact, there are about as many vegetables in there as there is pasta!
Chili Polenta Pot Pie
Swap your traditional pot pie for this meatless Southwestern version! Hearty peppered polenta covers spicy fire-roasted chili in this tasty Tex-Mex take.