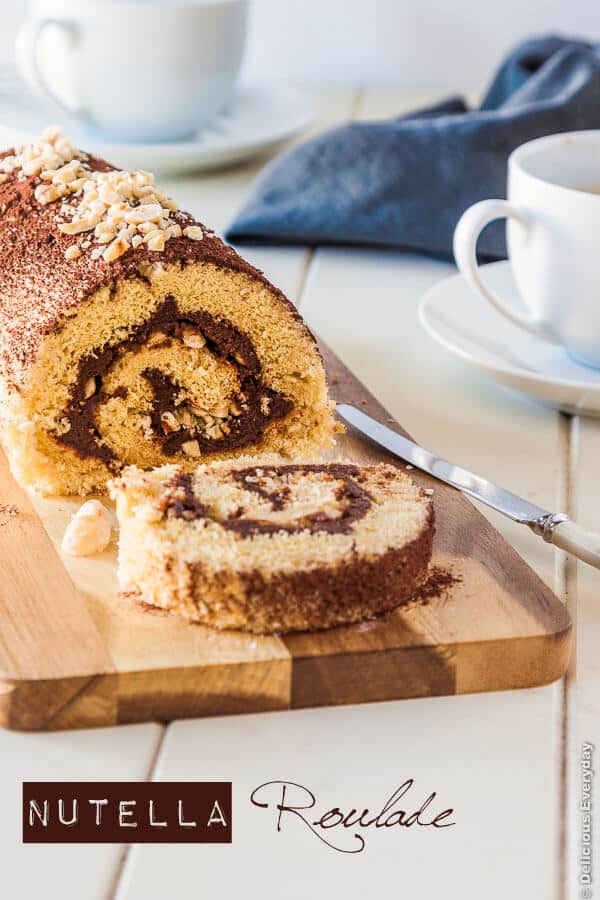 Confidence is a funny thing. There are those that have it in abundance, those that have too much of it, and there are those who are lacking. I'm definitely part of the latter group. Always have been, although, at times, I've been able to fake my way into looking like I have more than I do.
It's also a funny creature in that in those times when self doubt creeps in life has ways of boosting you up when your confidence is lacking.
A lack of confidence and self doubt has been my friend lately, for many reasons, that I won't go into. And of all places, the place where I thought it would least affect me, it has affected me most, and that has been in the kitchen and here, on the blog. Don't get me wrong, I've still been cooking, although not as voraciously, but when it comes to posting what I've cooked I'd been questioning whether everything was good enough. "Was it good enough to ask my lovely readers to spend their time reading the recipe, and perhaps even more creating it?" "Is what I write worthy enough of being read?" "Do you actually like and recreate the recipes I share?"
The longer this went on, and the more time I spent reading other food blogs, the more my doubt increased. "Who am I compared to all of these other talented people?" and "My recipes seem so boring compared to theirs."  that little voice of self doubt said. Hence the sporadic posting lately. But, as I said, life has a way of boosting you up and reassuring you when you need it, and that's exactly what happened on Friday night.
My husband, Troy, and I attended a dinner with some of his work colleagues. Some of whom I'd briefly met at another work event, but most of those I had not, and it was these people who gave me back some of that confidence, although I'm sure they have no idea that they did.
Every few weeks the teams at Troy's work take turns in catering for a morning tea for everyone, and every few weeks it is my husbands teams turn, so I bake something for him to take in. I never thought much of it, however, on Friday night, when I attended Troy's work dinner, a number of his work colleagues came up and not only thanked me for the food I send into the morning teas but raved about it. I blushed, and embarrassedly thanked them, not quite sure what to say, thinking they were just being nice. However as more of them thanked me and raved about the doughnut cupcakes or dukkah crackers and other things I'd sent in that little voice of self doubt started to release its stranglehold, and the next day it got me thinking. Thinking about how we are often our own worst enemy when it comes to confidence, and how much easier it is to believe our inner voice of self doubt, than the voices of others praising us. But really these are the voices we should listen to most, not those who put us down, our inner voices included.
Cake is something I turn to when I'm feeling low, and it is also something I turn to when I want to celebrate, so its only appropriate that I share this Hazelnut Roulade recipe with you today. This simple roulade or swiss roll cake is filled with homemade nutella and roasted chopped hazelnuts. It's delicious served with your afternoon cup of tea or coffee, or any time you're in need of cake, which for me, is right now!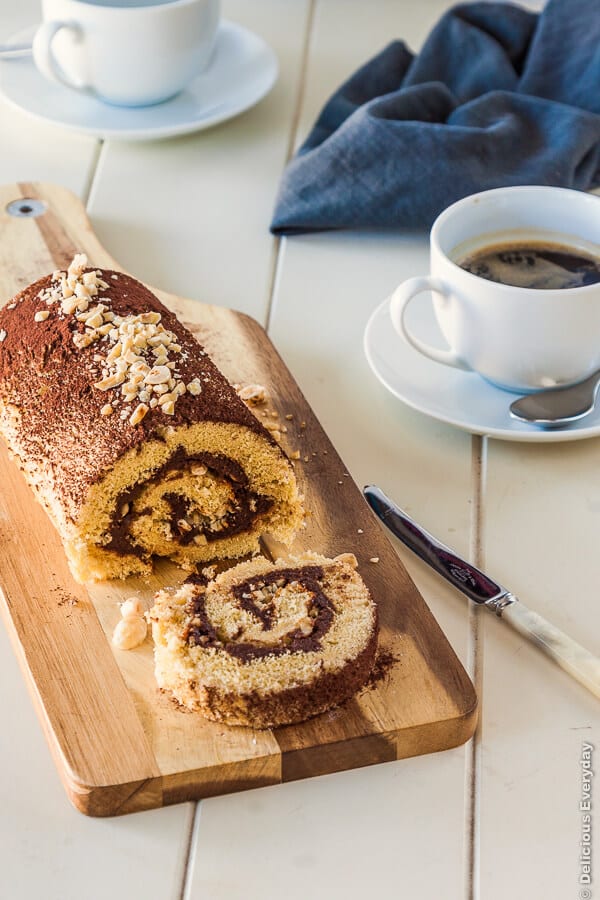 Recipe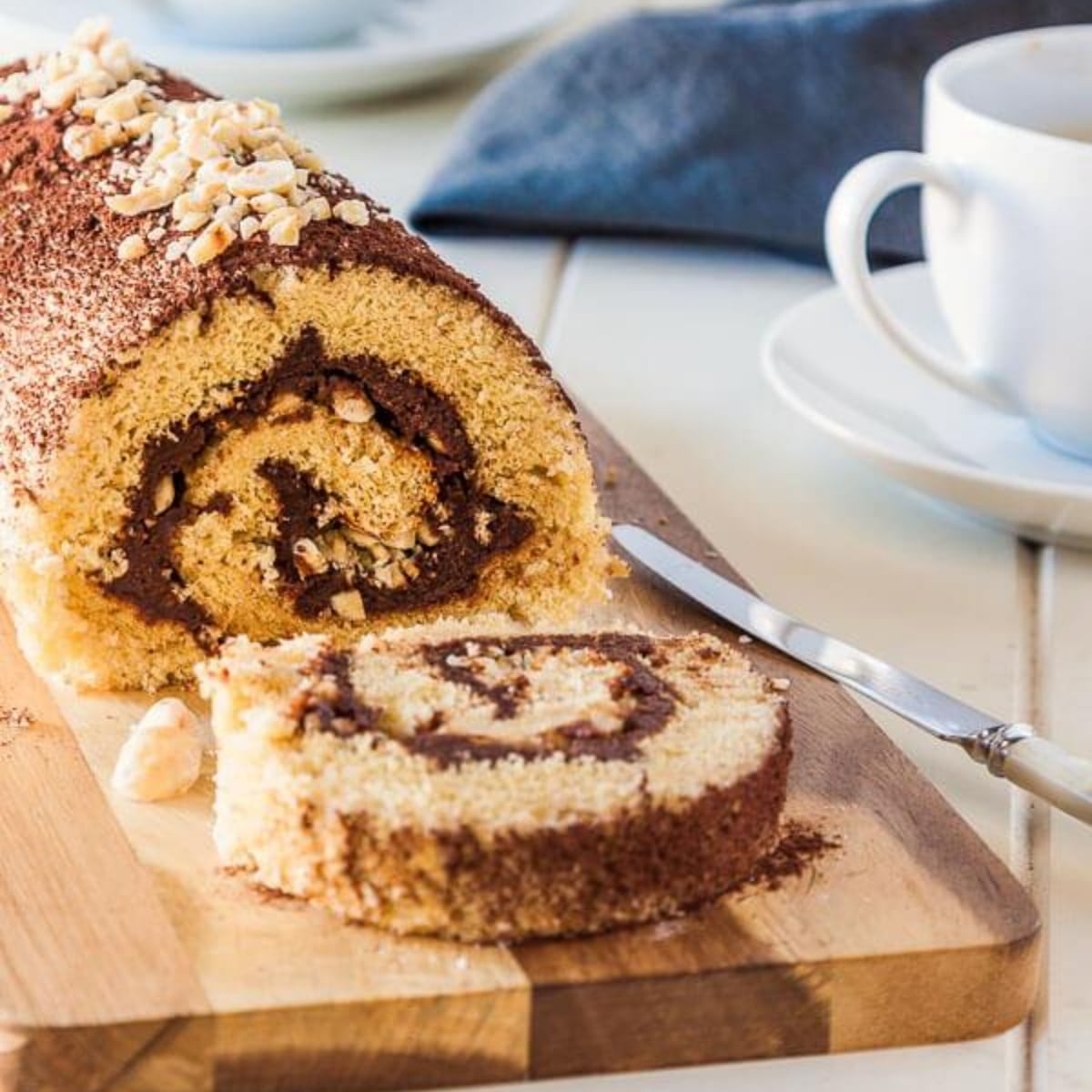 Ingredients
3

large eggs

80

g

light brown sugar

⅓ cup plus 3 tbs

1

tsp

vanilla extract

1

tbsp

vegetable oil

1

tbsp

hazelnut liqueur

optional

80

g

plain flour

⅔ cup, all purpose

pinch of salt

⅔

cup

homemade Nutella

¼

cup

toasted hazelnuts

roughly chopped

cocoa for dusting
Instructions
Preheat the oven to 180 celsius (350 Fahrenheit) and grease and line a 22cm x 33cm (9 x 13 inch) [amazon_link id="B000TT7B86" target="_blank" ]swiss roll tin[/amazon_link] with baking paper.

Place the eggs, brown sugar and vanilla extract in a large bowl and whisk with an electric mixer until the mixture is extremely pale, thick and creamy, around 5 minutes. The mixture should look almost mousse like in consistency.

Add the oil and hazelnut liqueur (if using) and gently fold through with a metal spoon or spatula. Sift in the flour and salt and fold through gently, being careful not to knock too much air out of the whisked eggs. Once incorporated pour the mixture into the prepared tin and tilt to distribute evenly. Bake for 10 to 15 minutes, or until the cake has shrunk back a little from the sides and springs back when touched.

While the cake is in the oven dust baking paper generously with cocoa and when the cake is done remove it from the oven and immediately turn out onto the cocoa dusted baking paper. Remove the baking paper from the back of the cake and immediately, beginning at the narrow end of the cake, roll into a tight roll. Place on a [amazon_link id="B0001MS3DI" target="_blank" ]wire cooling rack[/amazon_link], seam side down, and leave to cool completely.

Carefully unroll the cake and spread the Nutella over the cake, making sure to go right to the edges. Sprinkle with ⅔ of the chopped hazelnuts and carefully re-roll. Lightly dust with extra cocoa and serve.
Notes
The cake is best eaten the day its made but will last 2 to 3 days in a covered container.
Nutrition
Calories:
141
kcal
Carbohydrates:
18
g
Protein:
3
g
Fat:
5
g
Saturated Fat:
2
g
Cholesterol:
61
mg
Sodium:
26
mg
Potassium:
72
mg
Sugar:
10
g
Vitamin A:
90
IU
Vitamin C:
0.2
mg
Calcium:
23
mg
Iron:
1
mg
Craving more veg-friendly recipes?
Shop our collection of vegetarian and vegan cookbooks, including our new Vegan Thanksgiving and Vegan Christmas cookbooks!