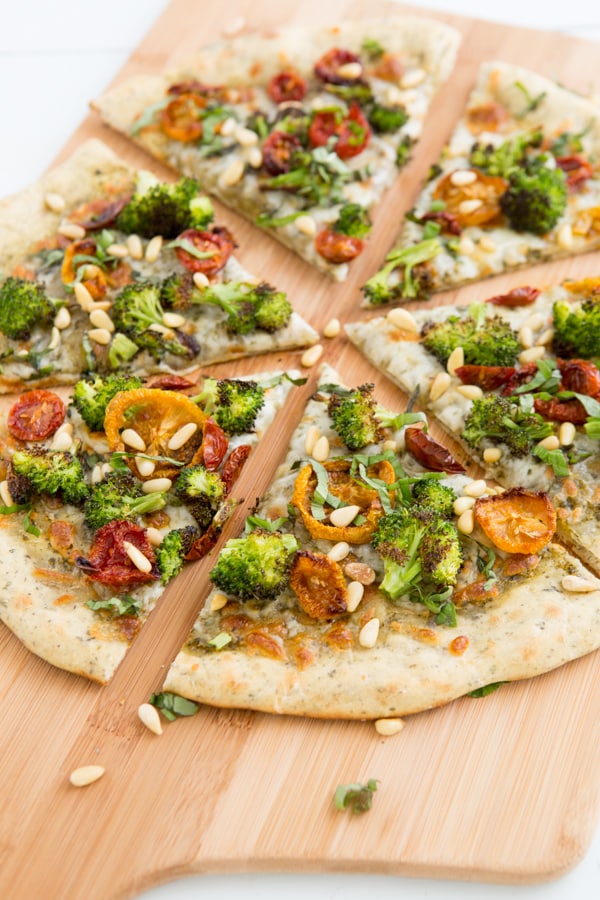 I occasionally make my own dough for pizza crust, but I'm one of those people who tries to avoid working with yeast whenever possible. For a pizza, it seems especially silly — pizza dinners should be easy and starting them 2 hours in advance kind of defeats the purpose, yes? I'm not opposed to spending 2 hours on a dinner once in a while, but there are other times when you just need to get food in you. There's nothing wrong with that!
Having tried just about every store-bought pizza crust option on the market, I've finally found the Holy Grail: Trader Joe's Garlic & Herb Pizza Dough. Because pre-made crusts are okay in a pinch, but let's be real, they're mostly just a delivery mechanism for melted cheese, sauce, and toppings. And a lot of the refrigerated pizza doughs have a better texture than the prepared crusts, but they're still pretty bland in the flavor department. This dough, which is sold in the refrigerator case with the cheeses and such, isn't bland (because: garlic! herbs!) and while it takes a little more effort than a pre-made pizza crust, it's much easier than making your own crust from scratch. I'm sure I'm the last person on the planet to buy this, but in case I'm not: try this dough.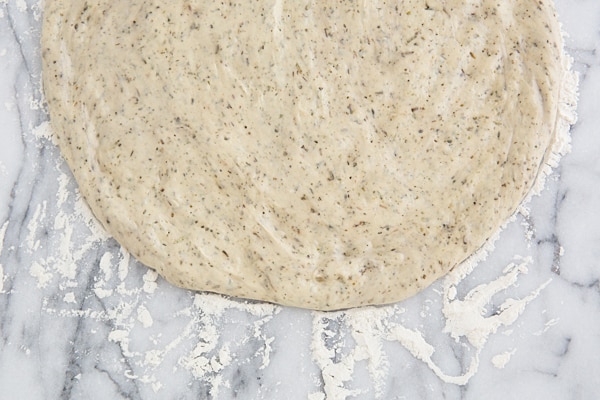 When you're working with refrigerated pizza dough, the most important thing to remember is this: don't overwork it! And that's something I've learned from experience. If you over-knead your dough or have to roll it out more than once, you'll end up with a tough pizza crust. I suggest lining a baking sheet or pizza stone with parchment paper and rolling out the dough directly on there instead of rolling it on a work surface and transferring it — whenever my crust ends up over-worked, it's always because I couldn't transfer it to my pizza stone without it crumpling up. I have no pizza transferring skills. This method will save you some time on clean-up too. If you don't have a rolling pin, you can stretch and pat the dough into shape with your hands.
This particular dough needs 20 minutes to rest before rolling it out, which is perfect because the roasted broccoli topping takes 20 minutes in the oven. If you're wondering why I don't top the pizza with the broccoli and then bake it, it's because broccoli can burn pretty easily in the oven; since different brands of dough and crusts bake at different temperatures, roasting the broccoli separately helps make sure it's not under- or over-cooked.
I used homemade sun-dried tomatoes on this pizza — they can be made in big batches and stored in the freezer, so I usually have a bag of them on hand to throw on pizzas, burgers, and pasta — but the kind you buy in bags or jars will work just fine.
This pizza might involve a few shortcuts, but who cares when it tastes so good!
Recipe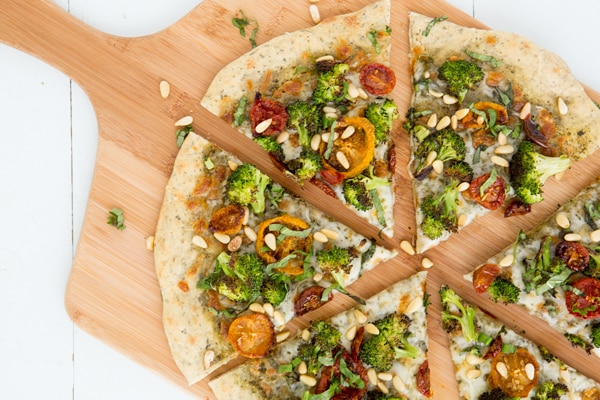 Ingredients
1

crown broccoli

broken into florets

1

teaspoon

olive oil

Salt and pepper to taste

1

pound

refrigerated pizza dough

2-3

tablespoons

prepared pesto

1

cup

shredded mozzarella cheese

½

cup

sun-dried tomatoes

1

tablespoon

pine nuts

toasted

3

tablespoons

basil chiffonade

optional
Instructions
Preheat oven to 400ºF.

Place the broccoli on a rimmed baking sheet and drizzle with olive oil; toss to coat. Season with salt and pepper and bake for 15-20 minutes, or until the broccoli is just beginning to brown. Remove from oven and adjust the oven to the temperature indicated on the pizza dough package.

Line a pizza stone or baking sheet with parchment paper. Roll out the dough to form a 12-inch circle. Spread pesto onto the crust, leaving a 1-inch margin on all sides, and sprinkle cheese over the pesto. Bake for 10-12 minutes, or time indicated on pizza dough package, until the cheese is just beginning to brown.

Remove the pizza from the oven and top it with the roasted broccoli, sun-dried tomatoes, pine nuts, and basil. Cut into slices and serve.
Nutrition
Calories:
505
kcal
Carbohydrates:
73
g
Protein:
22
g
Fat:
16
g
Saturated Fat:
5
g
Polyunsaturated Fat:
2
g
Monounsaturated Fat:
3
g
Cholesterol:
23
mg
Sodium:
1150
mg
Potassium:
992
mg
Fiber:
8
g
Sugar:
15
g
Vitamin A:
1487
IU
Vitamin C:
141
mg
Calcium:
243
mg
Iron:
6
mg
Craving more veg-friendly recipes?
Shop our collection of vegetarian and vegan cookbooks, including our new Vegan Thanksgiving and Vegan Christmas cookbooks!