This week, we're all about healthy balance. It's the tail-end of asparagus season, so we're packing it in while we can with a Cream of Asparagus Soup on Monday and a Balancing Buddha Bowl on Tuesday, followed by meaty Cabernet Portabella Burgers on Wednesday. The week ends with a simple Mediterranean Quinoa Salad - you'll probably have lots of leftovers, which are perfect for quick weekend lunches. From soup and salad to burgers and bowls, we cover all of our nutritional bases. And as always, everything is easy to make. Enjoy your week in food!
Monday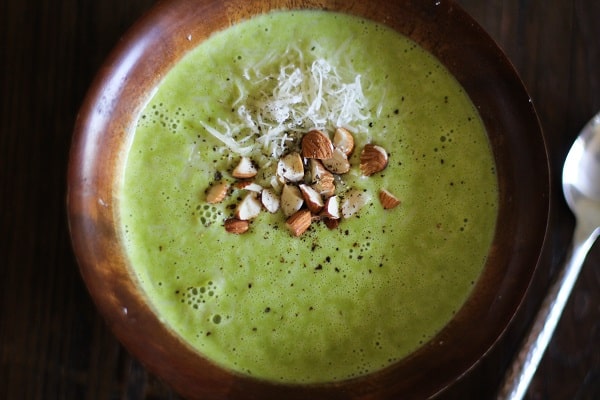 Cream of Asparagus Soup from Kitchen Treaty // This springy soup can be eaten piping hot or served chilled like a vichyssoise, which is perfect for this time of year when the weather can be unpredictable. The soup is light, refreshing, and full of flavor. I served it hot with shredded Parmesan cheese and chopped almonds, but you can also serve it with toasty bread or a side salad.
Tuesday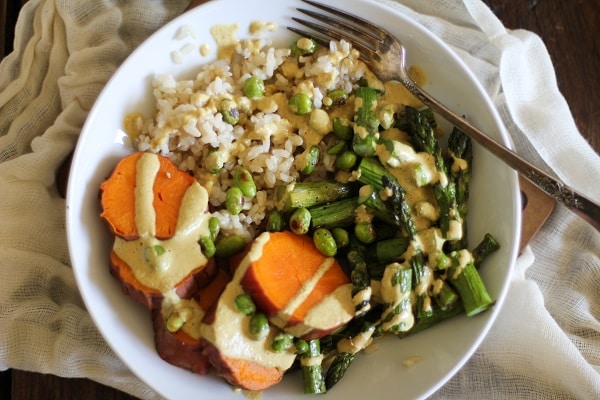 Balancing Buddha Bowls with Curry Pecan Dressing from Clean Wellness // These well-balanced bowls are fun to put together and even more fun to eat. Better yet, you can prepare the rice, sweet potatoes, edamame, and dressing days ahead of time, making this dinner a cinch. The roasted edamame is optional, but I think it adds a little something extra, so I chose to add it. I ended up using the dressing and some of the leftover rice on some green salads later on –- proof positive this is a great recipe for mixing and matching with other meals.
Wednesday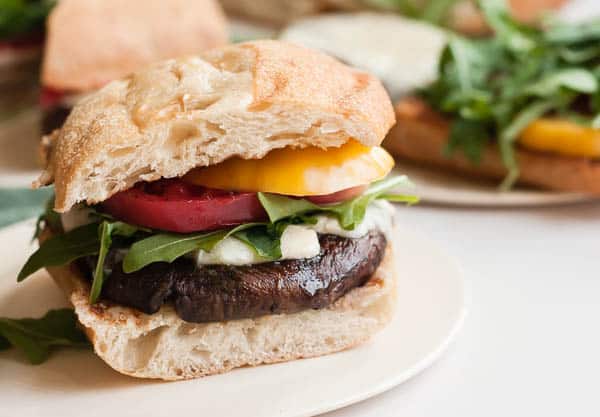 Cabernet Portabella Burgers from Oh My Veggies // Nothing gets you past your hump day better than a flavorful and hearty cabernet portabella burger! Kiersten hit a home run with these burgers, as they are so easy to prepare and so very satisfying. I always enjoy my burgers with gobs of avocado, so you can throw an extra avocado in the shopping cart if you're the same. There's no need to add additional sauces to the burgers -- the mushrooms are enough all on their own.
Thursday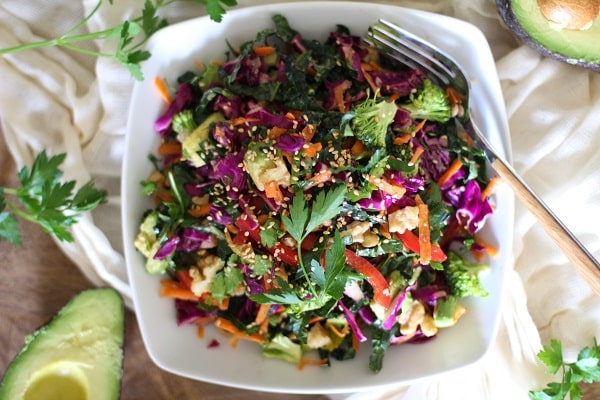 Detox Salad with Lemon Dressing from Homemade Levity // This salad is packed full of healthy vegetables, and the lemon dressing is so easy and tasty. I like that this recipe is well-balanced, with healthy fats from the avocados and protein from the walnuts. For additional protein, add tofu, tempeh, or a hard-boiled egg.
Friday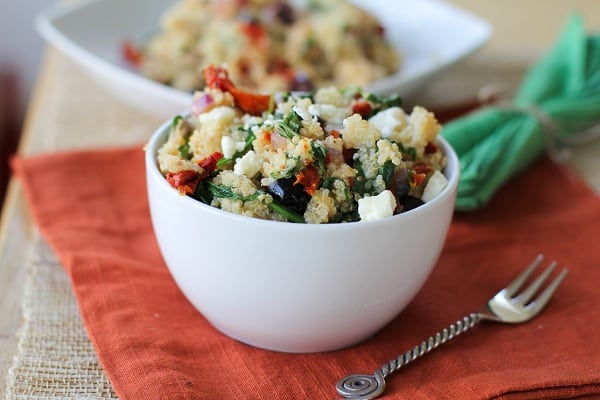 Mediterranean Quinoa Salad from The Roasted Root // Quinoa salads that are chock-full of flavor and goodies are a staple in my house. This one fits the bill, as it's packed with sun-dried tomatoes, kalamata olives, and feta, making every single bite a flavor-blasted Mediterranean dream. This recipe makes a large batch, so it's a perfect choice for Friday because you can enjoy the leftovers throughout the weekend.
Tips for This Week's Plan
You will have leftover cabbage and kale from the Detox Salad. You can use them in a salad for lunch the next day or replace the spinach in Friday's recipe with kale.
Feel free to add your favorite toppings to Wednesday's portabella burgers. I'm always a fan of avocado! If you've got kids in the family, you can halve the amount of cabernet sauce and make some of the burgers without it -- just brush the mushrooms with a little olive oil and sprinkle them with salt and pepper before grilling.
For the Buddha bowl recipe, you may want to replace the flaxseed oil with hemp, olive or another oil that you already have in your pantry. The recipe calls for kelp granules too, but we left those off the list.
You'll have leftover baby spinach from Friday's Mediterranean Quinoa Salad. Use it for scrambled eggs Saturday morning or throw them into smoothies!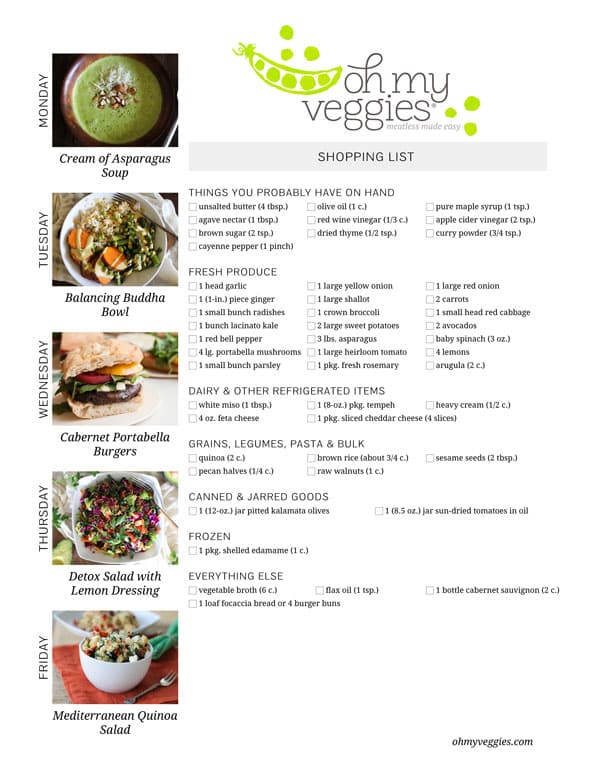 Click here for a printable version of this week's meatless meal plan and shopping list, then click on the links above to print out each recipe. Now you're set for the week!