Whether or not you're into the whole Super Bowl thing, I think we can all agree on this: snacks are good. And if you're not into football (or commercials), let's be real, snacks are the best part.
Although Super Bowl snacks are synonymous with bacon, wings and other meaty foods, that doesn't mean you have to be a carnivore to enjoy game day snacking.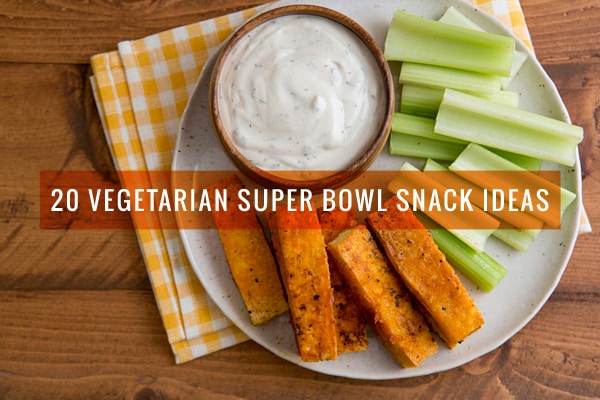 These 20 vegetarian Super Bowl snacks are perfect for those of us who prefer our wings to be of the tofu variety!
Football Cupcakes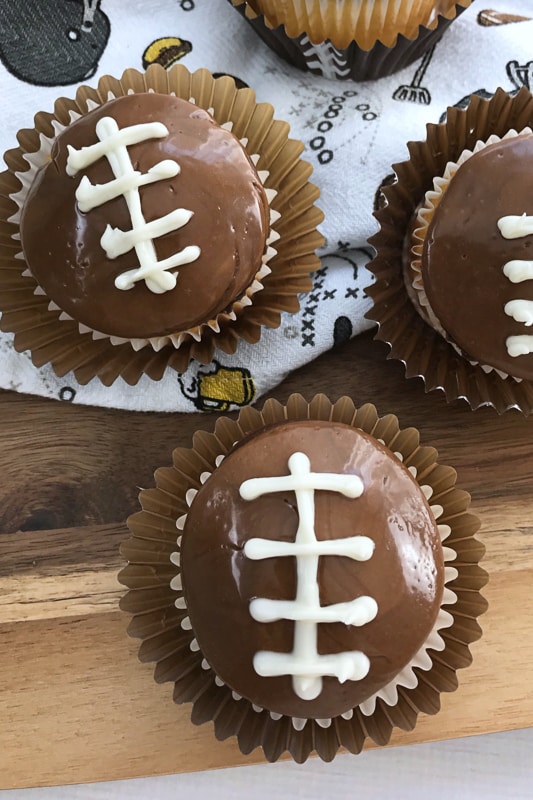 These adorable football inspired cupcakes are crazy easy to pull together - and they taste delicious too!
Cauliflower Bites with Honey Sriracha Sauce
Who needs hot wings when you can have these sweet-and-spicy cauliflower bites from Julie's Eats and Treats?
Thai Sweet Potato Nachos
Okay, so we replaced the chips with sweet potatoes and the queso with peanut sauce, but they're still nachos, right?!
Vegan French Onion Dip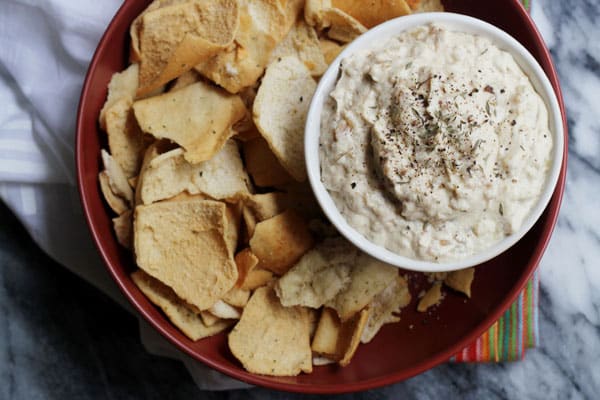 Forget the store-bought tubs of onion dip -- Savory caramelized onions are blended with creamy raw cashews and silken tofu in this rich and flavorful vegan French onion dip.
Baked Ginger-Mushroom Wontons with Sesame Dipping Sauce
Do something a little different and serve these crispy baked wontons at your Super Bowl party.
Baked Cauliflower Tots
Get your sauces ready because these not-tater tots from The Veg Life were made for dipping!
Black Bean Flautas with Avocado Dipping Sauce
Description: These flautas work as a meal or as an appetizer--and they can be baked or fried!
Roasted Red Pepper Feta Stuffed Potato Skins
Cheese, bacon and sour cream? Yawn. Running to the Kitchen shares a recipe for potato skins that fills them with roasted red pepper and feta.
Jalapeño Cheddar Crackers
Impress your guests with these cheesy homemade crackers!
Buffalo Baked Blooming Onion
Taste Love and Nourish makes a baked version of the restaurant favorite.
Baked Root Vegetable Chips with Buttermilk-Parsley Dipping Sauce
Bake your own colorful root vegetable chips and serve them with this tangy homemade dip.
Oven-Baked Pickle Chips
Description: We love these crispy baked pickle chips, served with a spicy Horseradish Chipotle Sauce, from Melanie Makes.
Sweet-and-Sour Tempeh Meatballs
What's a party without sweet-and-sour meatballs? This vegan version is just as good as the original!
Vegan Jalapeño Poppers
The cheesy filling in these jalapeño poppers from Connoisseurus Veg is made with sweet potatoes. Mind. Blown.
Better-Than-Trader-Joe's Edamame Hummus
Serve this hummus with fresh veggies for a lighter snack option.
Homemade Vegan Doritos
Leave it to Fork & Beans to come up with a recipe for DIY Doritos!
Buffalo Tofu Wings with Creamy Ranch Dip
Description: Crispy, chewy buffalo wings--made with tofu! Serve with store-bought ranch or our homemade vegan version.
Jalapeño Cheddar Soft Pretzel Bites
Have you ever seen such beautiful little pretzel bites? No, you haven't, so go get the recipe from Cookie Monster Cooking!
Sriracha Beer Queso
Throw a veggie nacho party for Super Bowl Sunday, starring our Sriracha Beer Queso.
Southwestern Quinoa Bites
Tasty Yummies brings us these crispy little quinoa balls, served with an avocado sauce for dipping.
Baked Sriracha Potato Chips
We love homemade potato chips, especially when they're baked with sriracha.
If you love these vegetarian Super Bowl Recipes, be sure to check out these vegan Super Bowl recipes too!