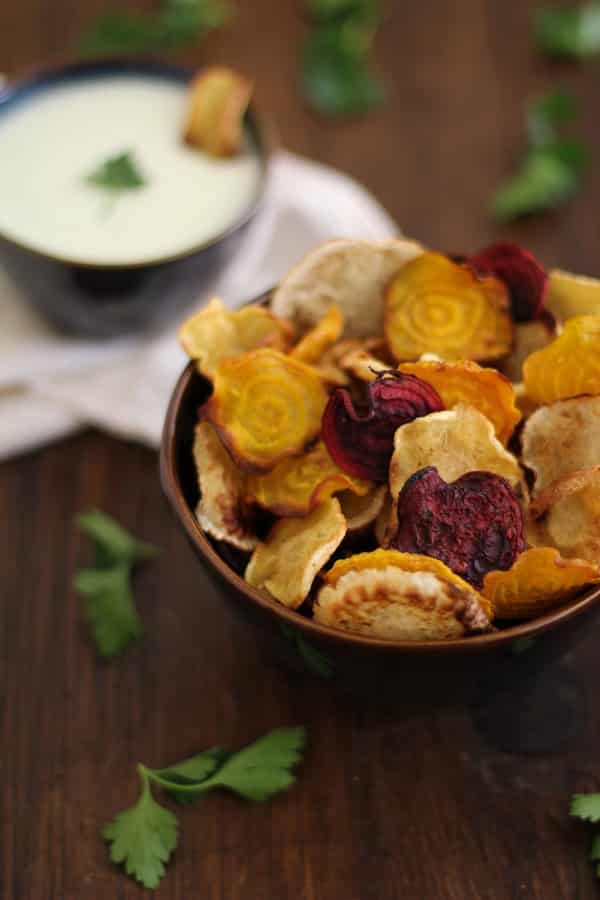 I've often wondered if root vegetables have an underground society, where they discuss top secret vegetable-y things. Those little ninjas. There's something very mysterious and covert about root vegetables, as though they know something we don't. Given the option, I would love to be a fly on the wall at a clandestine Root Club meeting. The first rule of Root Club is you do not talk about Root Club. (Just kidding.)
If you remember my Guide to Root Vegetables, you have already unearthed my deep-seated desperate love for roots. They are not as intimidating as one would think, and as it turns out, they make great chips!  Snacks, anyone?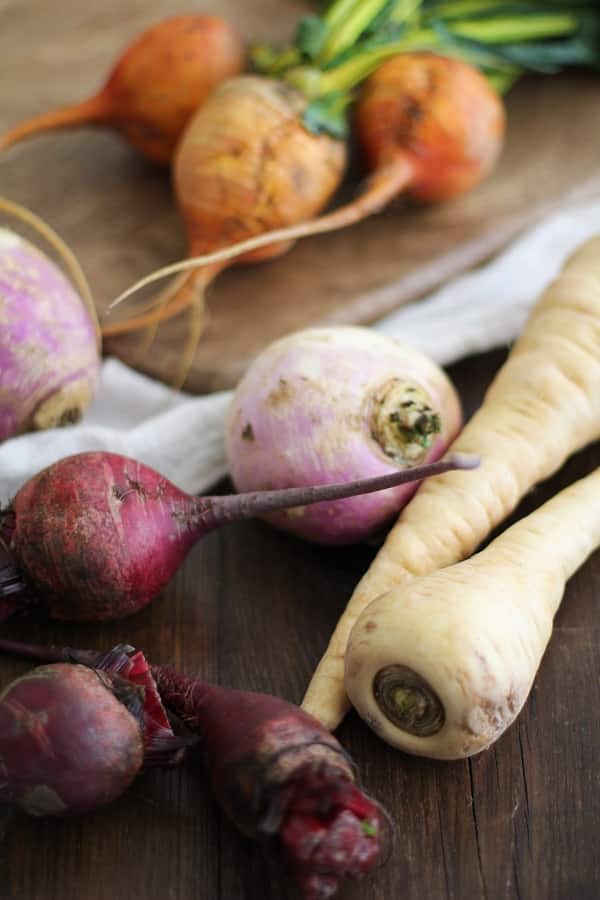 Baked root vegetable chips are a healthy alternative to your average store-bought tortilla or potato chip. It may seem like a lot of work to peel and slice vegetables, but I promise it goes quickly, especially if you use a mandoline slicer. And it's so worth it!
Here are a few tips and tricks for perfect root chips:
Use a mandoline slicer for quick and even slicing.
Lightly coat each vegetable slice (including the edges) with oil. Too much oil will cause the roots to get soggy.
Sprinkle with your favorite spices such as garlic powder, onion powder, ground cumin, chili powder, Cajun seasoning, salt, and pepper.
To get a nice crispy chip, bake the slices on top of a wire rack. This allows much of the moisture to evaporate from the roots.
Serve with a dipper, such as Roasted Cauliflower Hummus, Roasted Red Pepper Cashew Cream,  Sweet Corn Guacamole, or a dipping sauce...
Mmmmyeeeeesss, about that dipping saaaauce (said like Smithers from The Simpsons). I made buttermilk-parsley dipping sauce for these root chips, which is essentially a souped-up version of ranch dressing. But way better because this version is mayo-free. And if there's one thing you should know about me, it's that I ha ha ha haaaate mayonnaise! But I loooove me some buttermilk-parsley dipping sauce!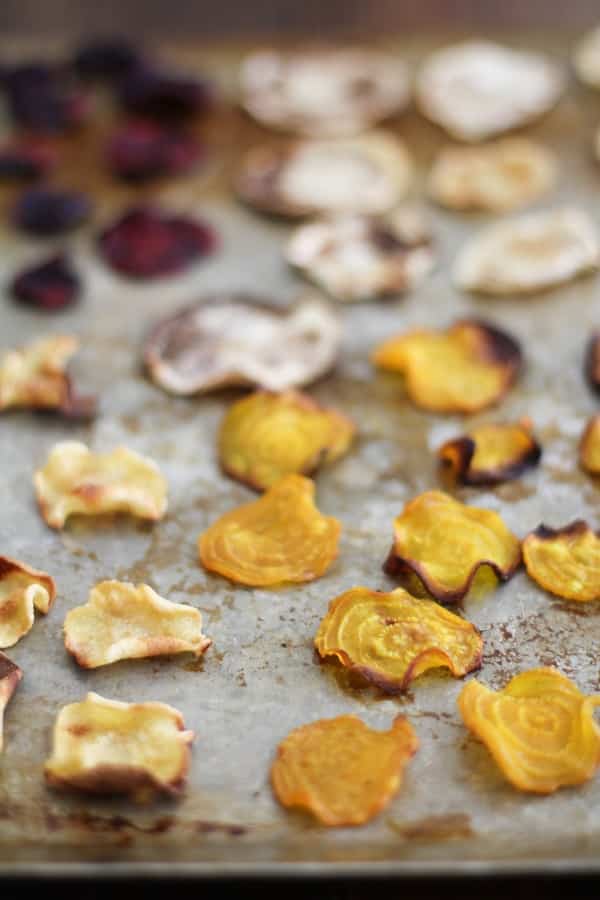 Do note that since these chips are not deep-fried or made using a dehydrator, they won't get quite as crispy as store-bought root veggie chips. You'll want to eat these right out of the oven when they're still warm--these aren't the kind of chips you can store and eat later because they'll get soggy!
Recipe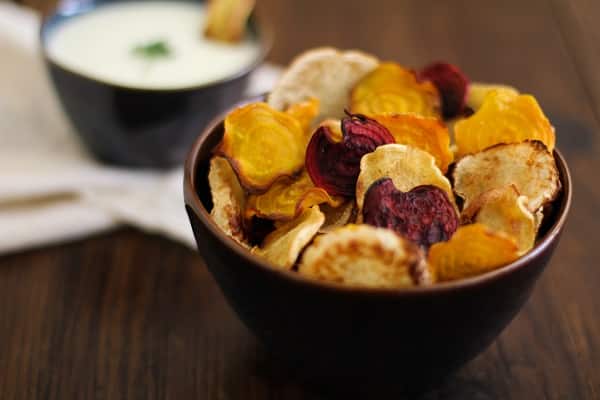 Servings:
2
cups of chips
Ingredients
For the Buttermilk-Parsley Dipping Sauce:
1

7-ounce cup

2% Greek yogurt

6

tablespoons

buttermilk

2

tablespoons

minced parsley

2

cloves

minced garlic

1

teaspoon

lemon zest

1

teaspoon

honey

Salt to taste
For the Root Vegetable Chips
1

medium turnip

1

large parsnip

1

medium golden beet

1

medium red beet

2

tablespoons

olive oil or grapeseed oil

½

teaspoon

dried thyme

1

teaspoon

garlic powder

½

teaspoon

ground cumin

¼

teaspoon

kosher salt + more to taste
Instructions
To Prepare the Buttermilk-Parsley Dipping Sauce:
In a small bowl, whisk all ingredients for the dipping sauce together until combined. Cover and refrigerate until ready to use.
To Prepare the Root Chips:
Preheat the oven to 400ºF.

Whisk together the oil, dried thyme, garlic powder, ground cumin and salt in a small bowl.

Peel all of the root vegetables and use a

mandoline slicer

to slice them ⅛-inch thick. (You can also slice them thinly using a sharp knife, but be very careful, as roots tend to be difficult to cut.)

Use a brush to lightly coat both sides of each chip with oil, then place the slices on an oven-safe wire rack, making sure the slices do not overlap. Place the wire racks on 2 baking sheets. (If you don't have enough wire racks or baking sheets, you can make the chips in 2 batches.)

Place the baking sheets in the oven and bake the roots until golden-brown and crispy. Check on the roots every few minutes once they have been baking for 20 minutes; remove any chips that are brown and crisp and return the rest to the oven until they're all done baking.

Serve fresh out of the oven with buttermilk-parsley dipping sauce.
Nutrition
Calories:
287
kcal
Carbohydrates:
34
g
Protein:
5
g
Fat:
16
g
Saturated Fat:
3
g
Polyunsaturated Fat:
2
g
Monounsaturated Fat:
11
g
Cholesterol:
5
mg
Sodium:
456
mg
Potassium:
802
mg
Fiber:
8
g
Sugar:
17
g
Vitamin A:
455
IU
Vitamin C:
38
mg
Calcium:
135
mg
Iron:
2
mg
Craving more veg-friendly recipes?
Shop our collection of vegetarian and vegan cookbooks, including our new Vegan Thanksgiving and Vegan Christmas cookbooks!