These Vegan Salted Caramel Granola Bars taste similar to Payday candy bars, but they're much healthier—egg- and dairy-free!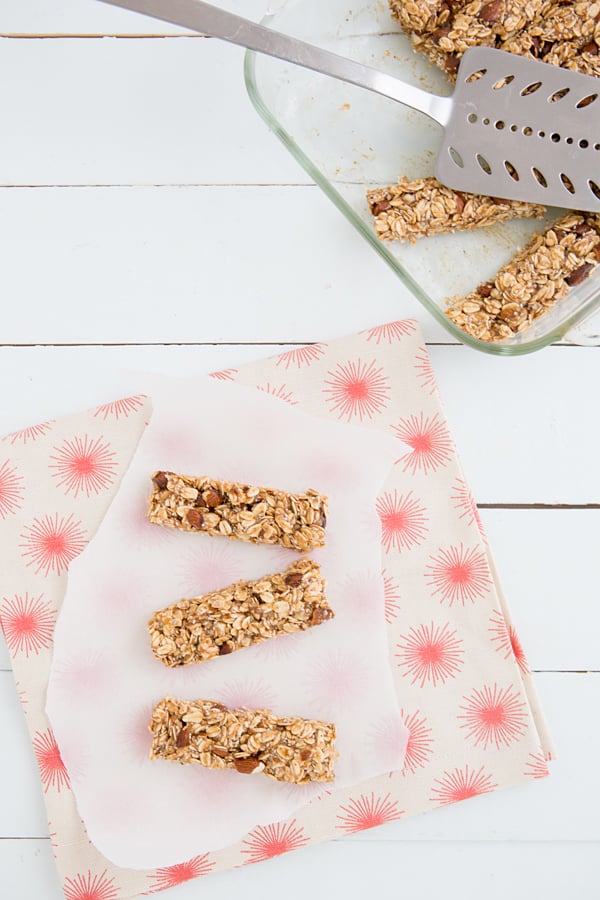 I've always felt like I tackled food blogging differently than other food bloggers. I'm not really a writer; I'm not going to make you teary-eyed with poignant descriptions of the first time I ate a rutabaga.
Blogging about myself usually makes me feel uncomfortable and while I love to cook, spending more than an hour on a single meal drives me a little bit crazy.
So why do I have a food blog? Because I love problems and solutions. Eating a different diet than your friends and family can be full of problems and it's satisfying to come up with solutions.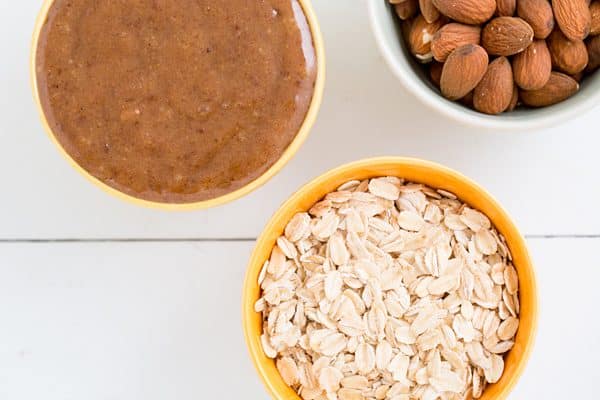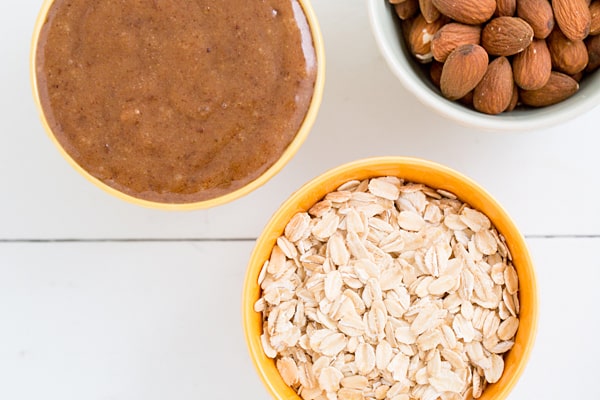 About the Recipe
Speaking of problems and solutions, here's one for you.
Problem: I want to eat candy for breakfast, but I also want to be a respectable adult.
Solution: Salted Caramel Granola Bars.
Superlatives give me hives, so believe me when I tell you these are the best granola bars I've ever eaten.
I have made and devoured several batches of Nutrition Stripped's raw caramel and I thought I could tweak it a little bit to make it a good glue for a granola bar recipe.
I reduced the amount of oil to make it stickier and took out the honey to make it vegan-friendly.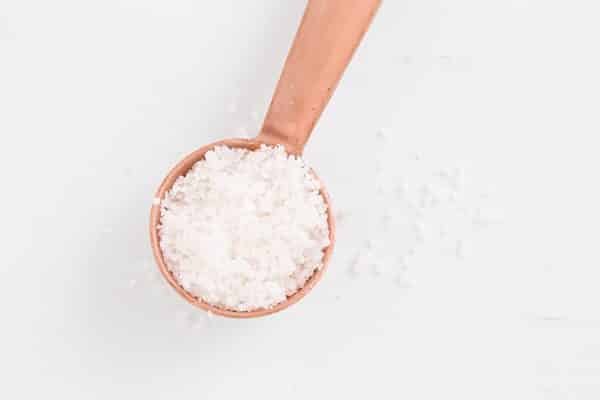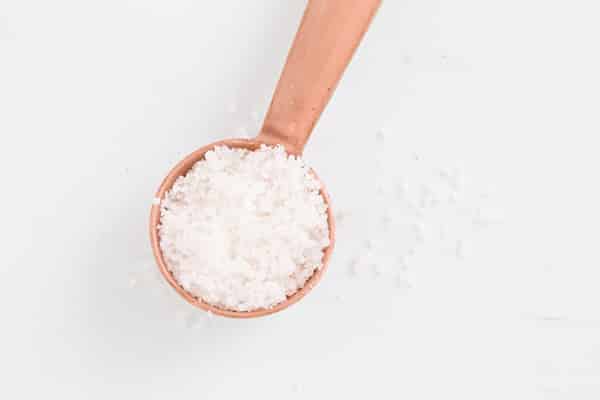 These granola bars are a little bit like Payday candy bars, if Payday candy bars were made with dates and almond butter and maple syrup. They're chewy, gooey, nutty, and packed with caramel flavor.
I've made these with almonds, chia and hemp seeds, and I've also made them with raw cashews and sunflower seeds—we loved them both ways.
Any nuts you have on hand will work in this recipe and if you'd like to add in chocolate chips or dried fruit, that will work too. As long as you keep the proportions the same, you will have no regrets.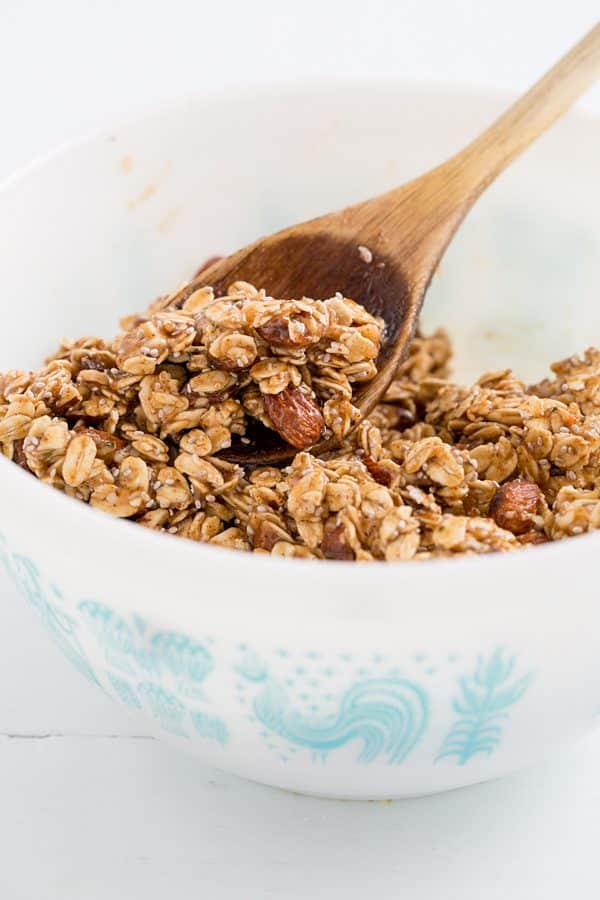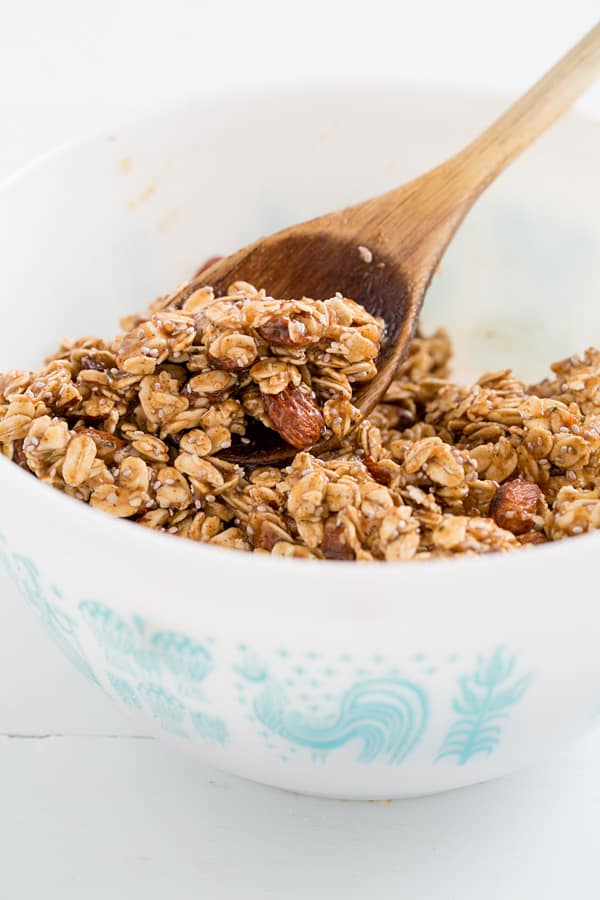 And if you love these salted caramel granola bars, check out these other tasty ideas:
Recipe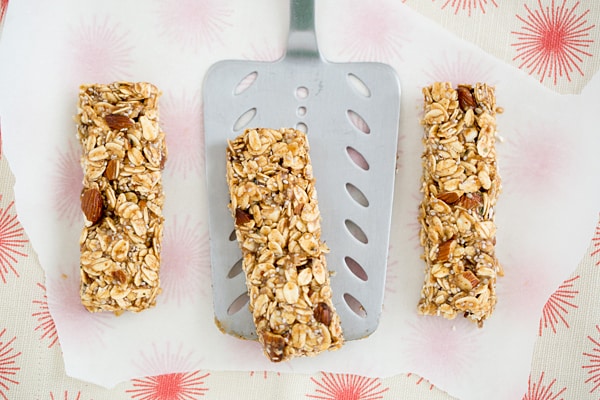 Servings:
12
granola bars
Instructions
Combine the maple syrup, almond butter, coconut oil, dates, and vanilla extract in the small bowl of a food processor. Process until completely smooth; the mixture should resemble caramel when it's finished.

Stir together the remaining ingredients in a medium bowl. Pour the caramel mixture over the top and use a wooden spoon (or your hands) to combine.

Grease a small square baking dish with coconut oil. Press the granola bar mixture into the dish and cover it with plastic wrap or foil. Refrigerate the granola bars for about 2 hours, or until set. Once set, cut the bars into 12 equal pieces. Store the bars in the refrigerator for up to a week or freeze them for up to 2 months.
Notes
If you're using a different type of salt, start with a smaller amount and add more to taste. Because fleur de sel flakes are larger than table salt crystals, using table salt will result in a much saltier granola bar.
You can use a combination of different ingredients for the ¼ cup of add-ins. I've made these with 2 tablespoons of hemp seeds and 2 tablespoons of chia seeds, and also with ¼ cup of sunflower seeds. As long as the amount totals ¼ cup, you're good.
Because these bars are held together with caramel, they need to be stored in the refrigerator or freezer so they don't fall apart.
Nutrition
Calories:
211
kcal
Carbohydrates:
23
g
Protein:
5
g
Fat:
12
g
Saturated Fat:
4
g
Polyunsaturated Fat:
3
g
Monounsaturated Fat:
5
g
Trans Fat:
1
g
Sodium:
197
mg
Potassium:
204
mg
Fiber:
4
g
Sugar:
11
g
Vitamin A:
8
IU
Vitamin C:
1
mg
Calcium:
85
mg
Iron:
1
mg
Craving more veg-friendly recipes?
Shop our collection of vegetarian and vegan cookbooks, including our new Vegan Thanksgiving and Vegan Christmas cookbooks!