This show-stopping vegan baklava is sure to satisfy any sweet tooth. Layers of crispy phyllo dough are packed with pistachios and walnuts, and drizzled with a sticky sweet syrup. And the whole thing comes together in just one hour!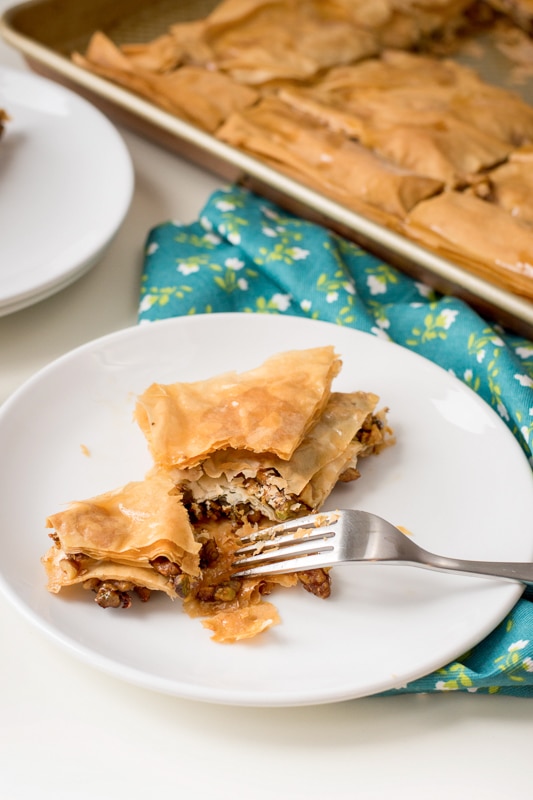 Hopefully by now you've had a chance to check out some of my other vegan Greek recipes on the blog. As I've shared, I had the chance to take a wonderful trip to Greece last year for the purpose of researching the cuisine of the region.
I'm in the process of putting together a full series of vegan Greek recipes. I've already shared this vegan moussaka and these baked zucchini fritters. And this vegan baklava is the newest recipe in the collection!
Baklava has always been one of my favorite desserts. I love the lightly sweet flavor and the crispy phyllo dough texture. But of course, traditional baklava is loaded with honey and butter, and therefore not vegan. So I set out to make my own plant-based version here.
This vegan baklava is:
100% plant-based, vegetarian, and vegan-friendly
dairy-free. no butter here!
drizzled in a sticky-sweet syrup
perfectly crunchy with a rich, nutty flavor
What is Baklava?
Each region has put its own spin on the dessert, but at it's core, baklava is a sweet pastry made with layers of phyllo (or filo) dough, chopped nuts, and a sweet syrup.
Besides being one of the most fabulous desserts on the planet, baklava is a dish with a long history.
People disagree on whether its of Turkish, Persian, or Mongolian origin. But it's possible the dessert originated in Istanbul, and was served during Ramadan, a Muslim religious month of daytime fasting.
But it's also possible the inspiration for baklava originally came from a Roman, Turkish, or Persian cake. People still aren't sure.
Today, it's a popular dish throughout the Middle East as well as Greece, which is the country most of us associate it with.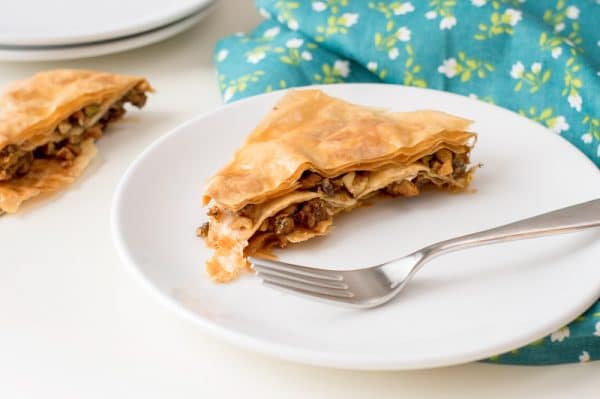 Is baklava vegan friendly?
Not traditionally. Most baklava recipes baste the phyllo dough layers in butter, egg wash, or a combination of the two. And it's typically topped with a honey-based syrup.
That's why I created this vegan baklava recipe - we'll use olive oil to coat our phyllo dough and give it a perfectly crunchy texture. And we'll make a delicious sweet syrup with maple syrup as the star!
Is baklava gluten free?
Nope, sorry. Commercially prepared phyllo dough almost always contains gluten. But you could try your hand at making your own gluten-free phyllo dough. If you do - please let me know how it turns out!
Tips for Perfect Vegan Baklava
Shelling the pistachios is literally the hardest part of this dish. I strongly recommend purchasing these already shelled pistachios to make your life 10,000 times easier.
Most of the phyllo dough you'll find at the grocery store is vegetarian and vegan friendly, but be sure to check the label.
You will need to coat each sheet of phyllo dough with olive oil as you assemble the vegan baklava. You will want to use the olive oil in a spray can to make this easier on yourself.
You can make this vegan baklava in a glass baking dish or on a simple baking sheet, which is what I did.
Use a good quality maple syrup for the best flavor. If you don't care for maple syrup, you can try agave syrup as a substitute.
Be sure to slice the baklava into pieces BEFORE you bake it. Once you bake it, it's much too crispy to cut without breaking the baklava into pieces.
How to Make Vegan Baklava
Start by preheating the oven to 350 degrees Fahrenheit.
Gather together your ingredients and get ready to start chopping.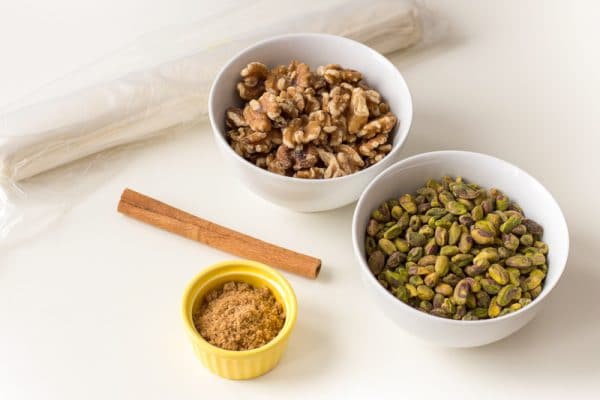 If you buy shelled pistachios, you're going to have to un-shell them. I suggest buying the shelled kind to save yourself this step.
Then, place your pistachios and walnuts on a cutting board and start chopping.
Make sure the knife you use is nice and sharp so you don't have any accidents!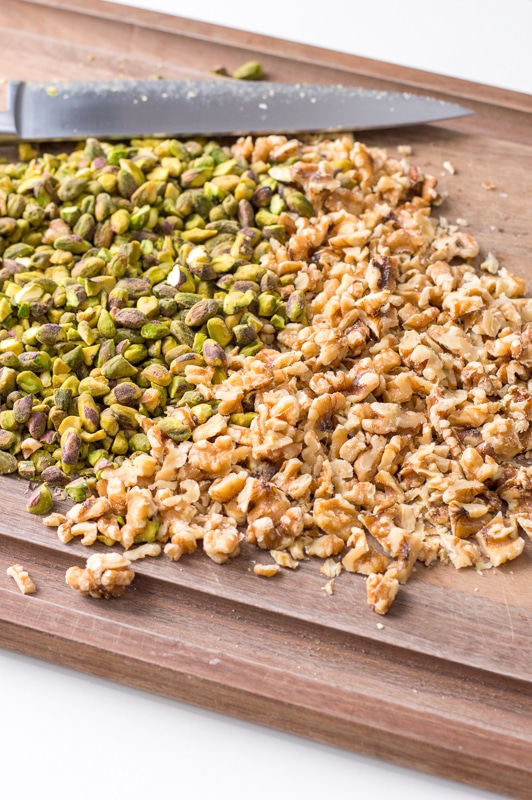 Once your nuts are chopped small, mix them in a large bowl with maple syrup, cinnamon, nutmeg, and ground cloves.
Set this aside for later.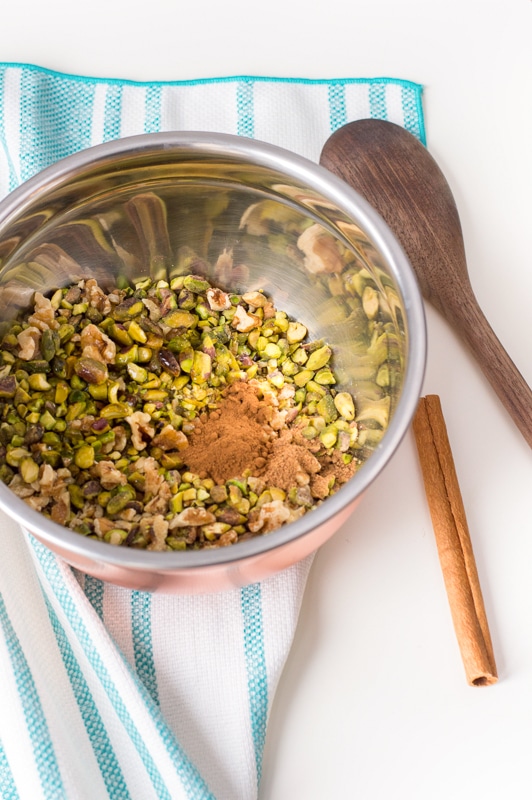 Next, grab a large 9" x 13" inch baking dish or baking sheet. If you want your vegan baklava to be extra thick, I suggest using a deeper dish over a baking sheet.
Spray the baking sheet with olive oil, and lay one sheet of phyllo dough on the dish. Then lightly spray that layer with olive oil and top that sheet with another sheet of phyllo dough.
Then spray that layer with olive oil.
You get the idea.
Repeat that process until you have 5 layers of phyllo dough.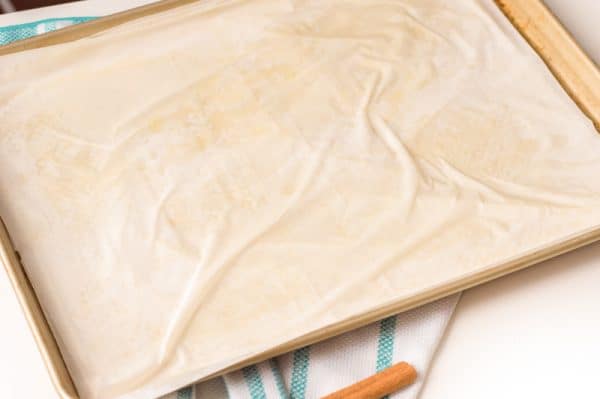 Spraying the phyllo dough with olive oil will help the vegan baklava stick together and make the layers nice and crispy. Trust me, it's good.Next, you're going to take your nut mix and spread a thin layer over the phyllo dough.
And then you get to lay down more phyllo dough like before. Use the spray then layer technique until you have 5 more layers of phyllo dough.
Repeat the process until you've used all the nut mixture.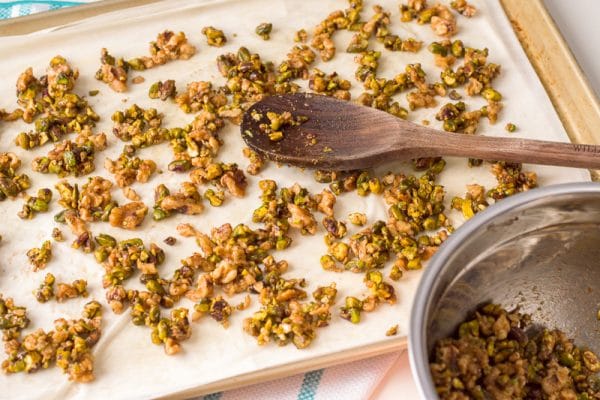 Make sure you top everything with 5 layers of phyllo dough.
Next, cut the baklava into squares or triangles. I suggest triangles because vegan baklava is delicious, but it's also super rich, so sometimes a triangle is all you can handle. And use that sharp knife again!
Please don't forget this step! The baklava, once baked, is too difficult to cut.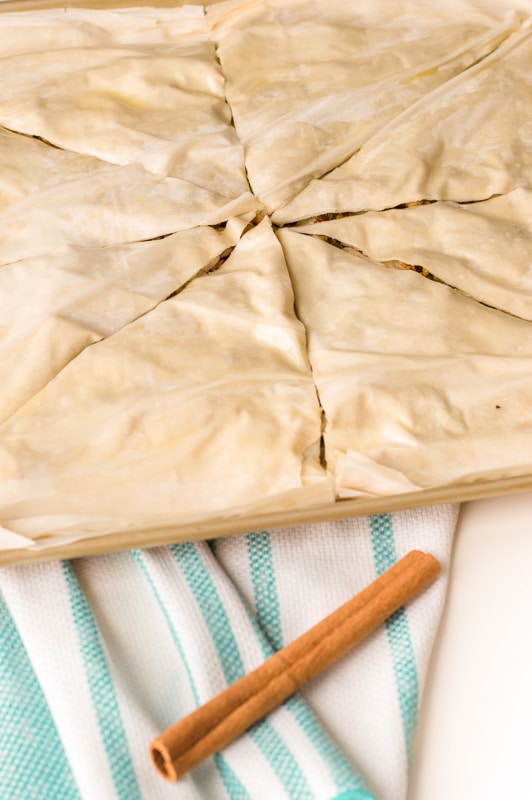 Then pop the baklava in the oven for 35 to 45 minutes.
It's done when the top is lightly browned.
While it's baking, you can make the syrup that will be poured over the baklava.
In a small saucepan, combine all the syrup ingredients (maple syrup, brown sugar, water, cinnamon stick, zest of a lemon) and bring it to a boil on medium heat.
Once it's boiling, turn the heat down to a simmer for 5 to 10 minutes. It will be thick.
At this point, take out the cinnamon stick and let the syrup cool.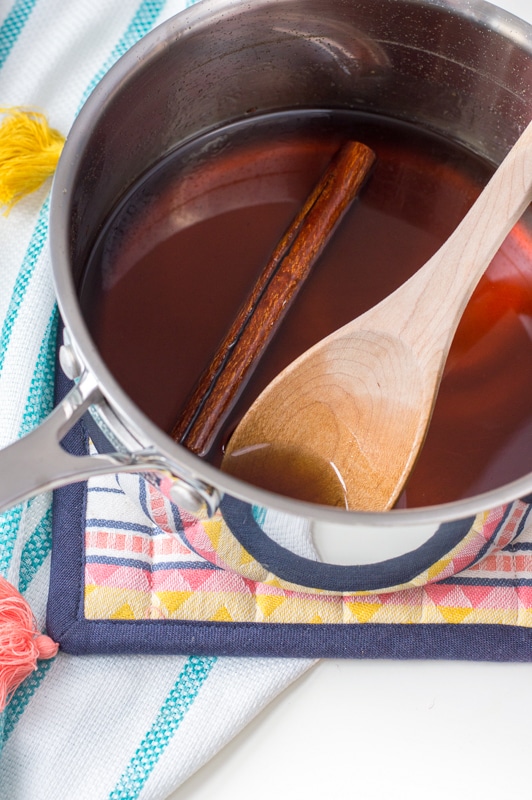 Once the baklava is out of the oven, pour the syrup you made over the tops of the pieces.
The baklava will absorb the syrup. Make sure you don't over saturate any of the pieces, or they'll get soggy. It's okay to have leftover syrup.
Cool your vegan baklava for 3 to 4 hours, and serve at room temperature.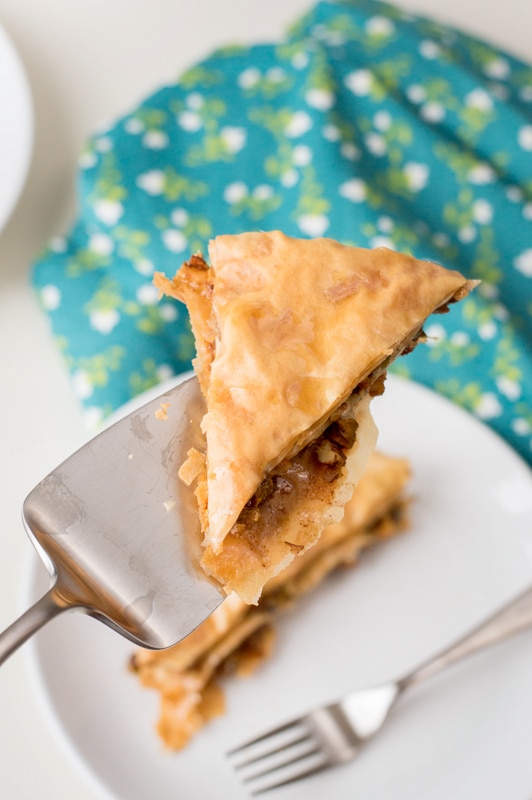 And there you have it. A little taste of Greece!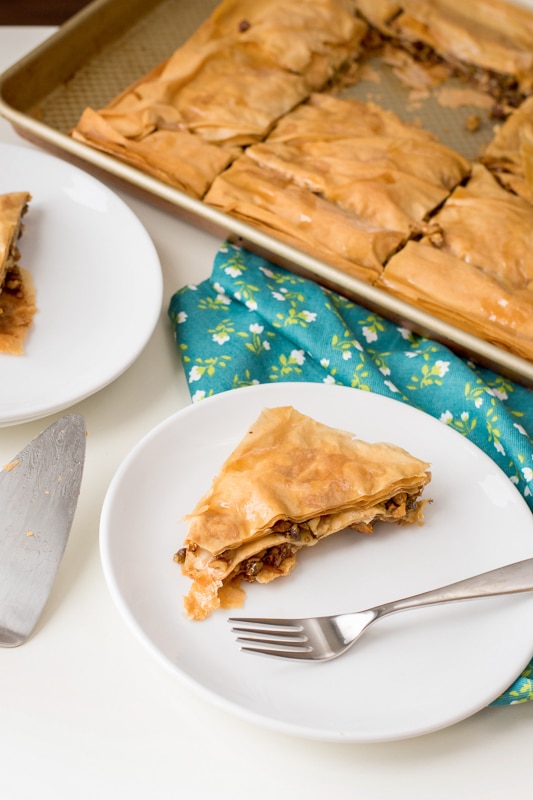 Recipe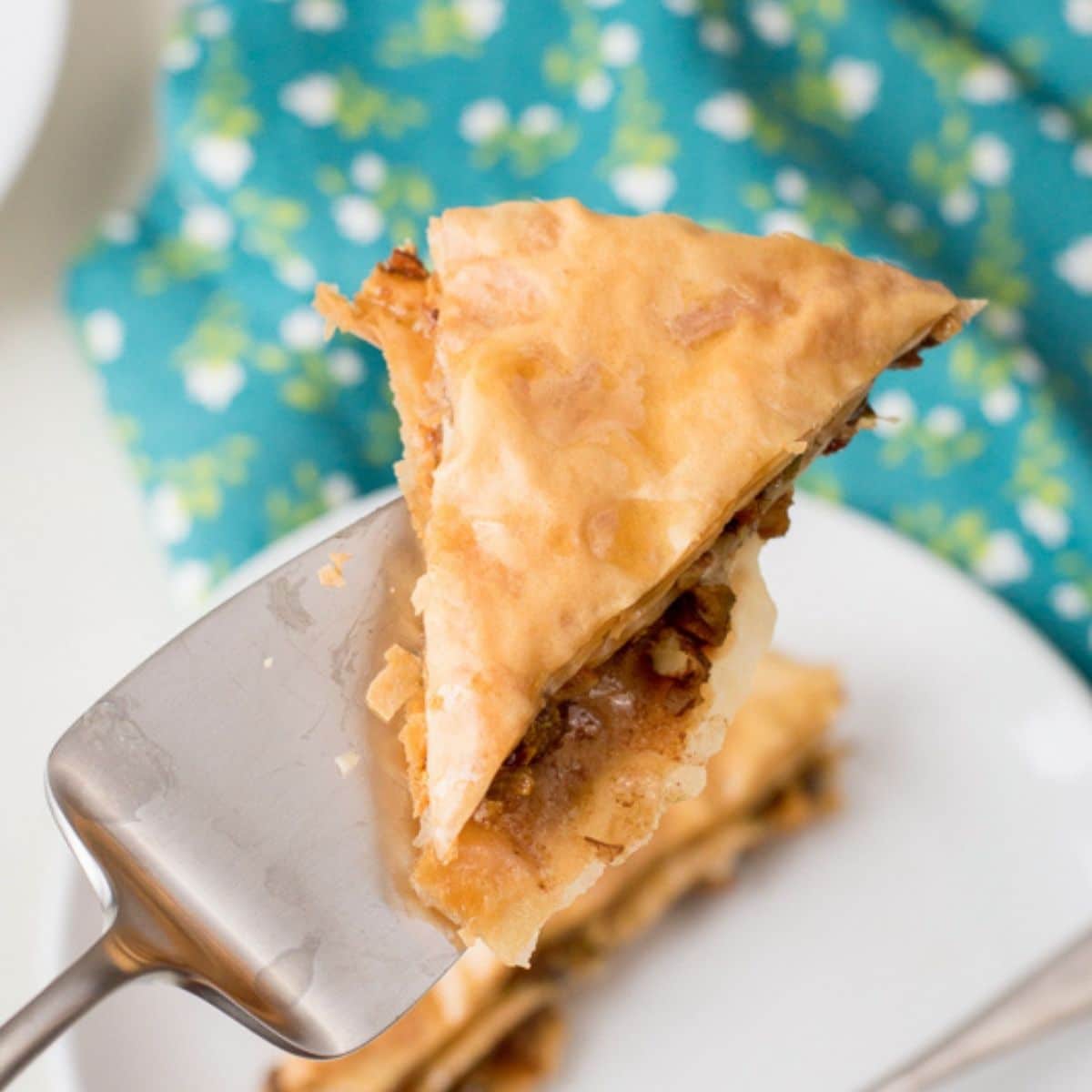 Ingredients
Instructions
Preheat oven to 350 degrees F.

In a large bowl, mix all of the filling ingredients. Set aside.

Spray the bottom of a 9x13 baking dish with olive oil.

Lay one sheet of phyllo dough on the bottom of the baking dish. Spray lightly with olive oil. Top with another sheet of phyllo dough. Spray with olive oil. Repeat until you have layered 5 pieces of phyllo dough.

Spread a thin layer of the nut mixture on top of the phyllo dough.

Top with another five sheets of phyllo dough – spraying each with olive oil in between layers. Repeat until you have used all the nut mixture, reserving five sheets of phyllo for the top.

Cover the top layer of nuts with the final five sheets of phyllo dough.

Use a sharp knife to cut the baklava into squares or triangles. Once it is baked, the crust will be too difficult to cut!

Bake for approximately 35-45 minutes, until the top begins to brown.

While the baklava is baking, prepare the syrup. In a small saucepan, combine all of the syrup ingredients and bring to a boil over medium heat.

Reduce heat and simmer for 5-10 minutes, until a thick syrup is formed. Remove the cinnamon stick and set syrup aside to cool.

When baklava is done baking, remove from oven and pour the syrup over top of the baklava pieces. Pour the syrup very slowly, allowing it to absorb into the baklava. Do not oversaturate the baklava pieces, or they will be come soggy. (There may be leftover syrup!)

Cool for 3-4 hours before serving at room temperature.
Nutrition
Calories:
554
kcal
Carbohydrates:
78
g
Protein:
9
g
Fat:
24
g
Saturated Fat:
2
g
Sodium:
194
mg
Potassium:
454
mg
Fiber:
4
g
Sugar:
48
g
Vitamin A:
85
IU
Vitamin C:
1.4
mg
Calcium:
119
mg
Iron:
2.8
mg
Craving more veg-friendly recipes?
Shop our collection of vegetarian and vegan cookbooks, including our new Vegan Thanksgiving and Vegan Christmas cookbooks!