These Vegan Biscotti are simple to make and packed with flavor from apricots and walnuts. They're perfect for dunking in coffee and make beautiful foodie gifts!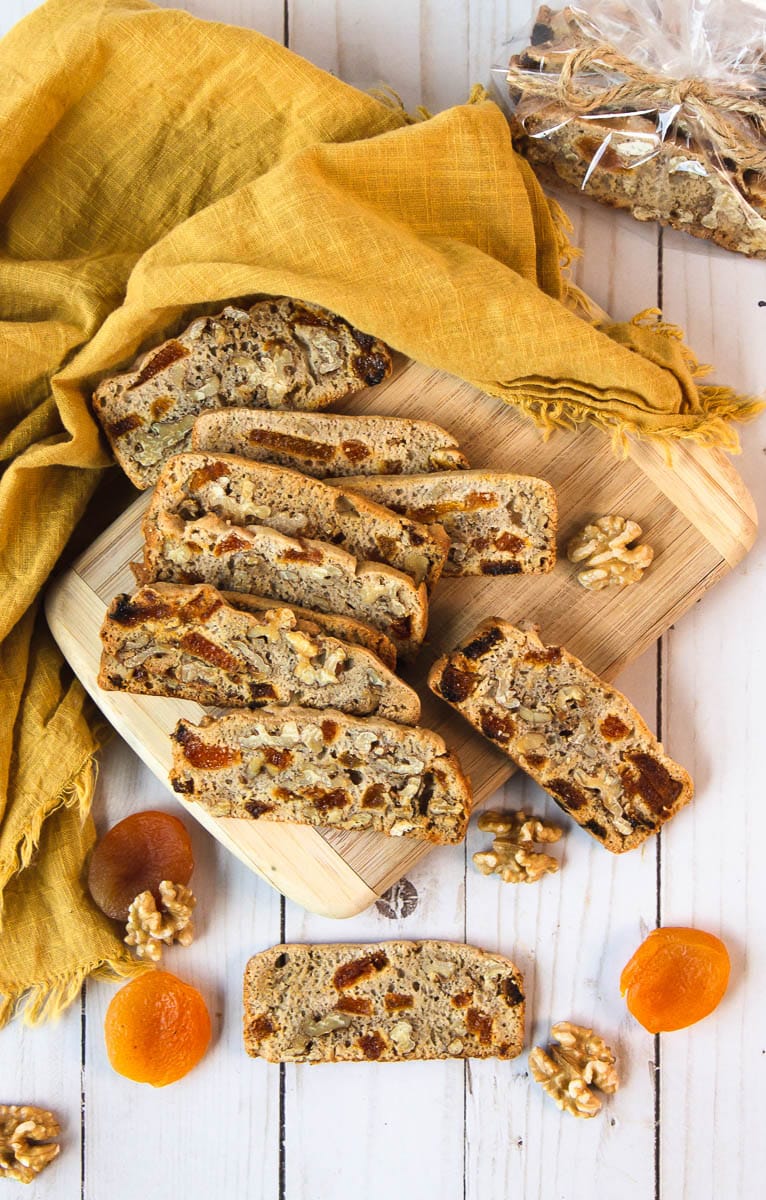 Jump to:
Growing up, biscotti were always one of my favorite treats. I know—weird treat for a kid, huh? I'll blame that one on my Italian upbringing.
But until recently, I had never tried to make them myself. I am happy to tell you that it's not nearly as hard as you think to make your own homemade biscotti!
I think these are going to be my new favorite vegan cookies.
These biscuits remind me a lot of the popular Almondina brand biscotti—but they're made with fresh ingredients from scratch.
And better yet—they've been veganized so everyone can enjoy this special dessert. So grab yourself a coffee (like this whipped coffee) and let's dig in!
This Vegan Biscotti recipe is:
100% plant based
vegetarian
oil-free
dairy-free
egg-free
These biscotti also make for great holiday gifts. Just put a few in a bag and tie it closed with a decorative ribbon.
If you love vegan baking, make sure you grab a copy of my free vegan baking cheat sheet while you're here. It's packed with all my favorite plant-based substitutions to help you vegan-ize any recipe!
How to Make Vegan Biscotti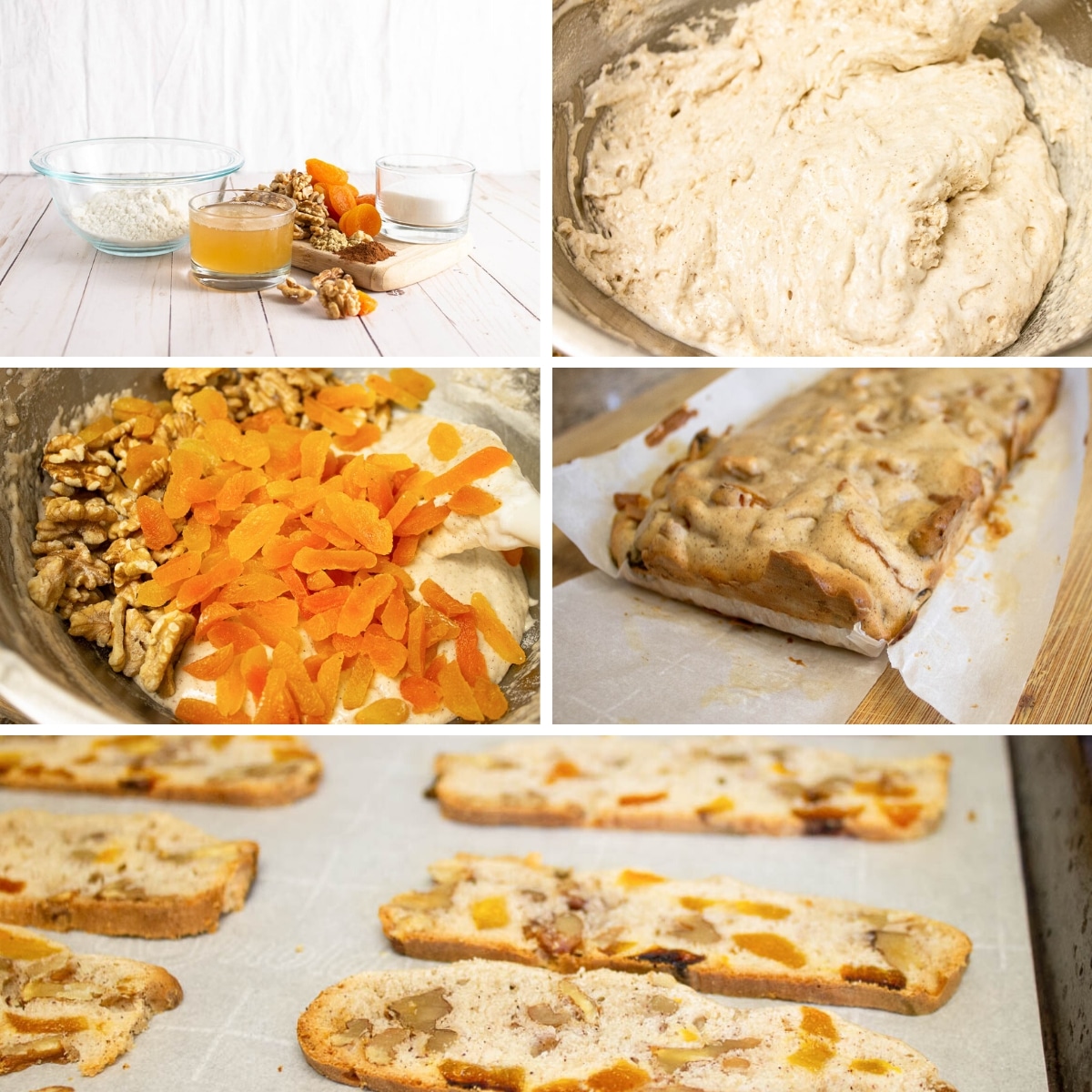 Preheat the oven and line a loaf pan with baking parchment paper.
Combine flour, ginger, and cinnamon in a small bowl. Set aside.
In another bowl, whisk aquafaba until it's foamy. Add salt and whisk until soft peaks form. Add sugar to the aquafaba and beat until it forms stiff peaks.
Sift flour into the aquafaba and fold to combine.
Fold in the walnuts and apricots.
Scrape the dough into a loaf pan and bake.
Cool and slice into thin slices.
Bake the slices until the cookies are crisp.
Cool ane enjoy!
Scroll down for the full recipe with measurements and detailed instructions.
Tips & Tricks
Cooking with Aquafaba
Aquafaba is a thick water that you can find in a can of chickpeas, and other canned beans. It's a thick and viscous liquid - but it is like gold for vegan baking.
It works well for whisking into a thick base for this biscotti dough. But it's also great for other vegan recipes—like this Vegan Chocolate Mousse or this Vegan Wellington.
Use Raw Walnuts
For this recipe, you'll want to use raw walnuts, so that the walnuts don't get overcooked during the second bake.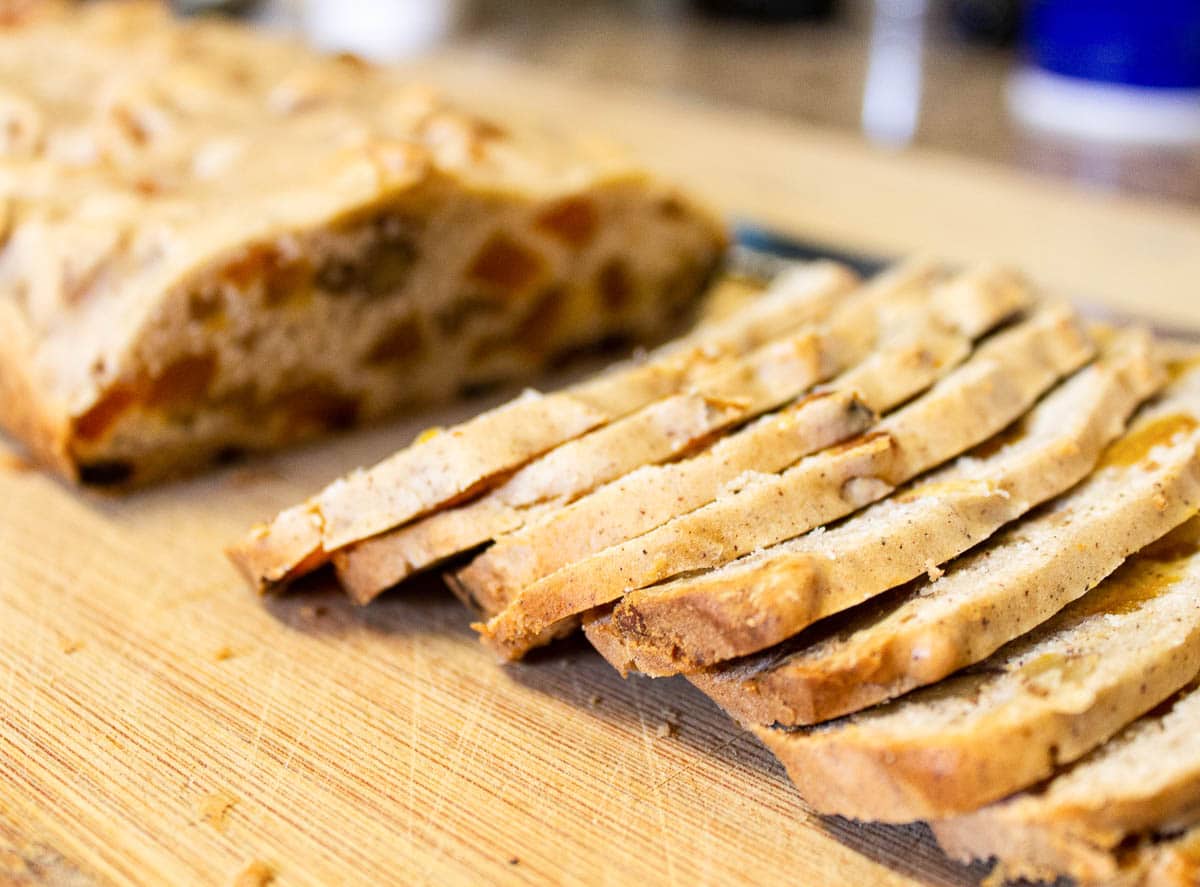 Variations
Chocolate Dipped Biscotti
Once you've baked your biscotti the second time and then let them cool, you can dip them into melted chocolate. Just grab some dark chocolate chips, put them in a small bowl, and microwave in 30 second increments until melted. Then dip away!
After dipping the vegan biscotti, place them on wax paper and put them in the freezer to harden. When you store them, just make sure it's in a place that's room temperature or cooler so that the chocolate doesn't melt.
Add a Flavor Extract
To add extra flavor to your biscotti, you can add a drop or two of flavored extract for flavor. Some extract flavors you might try are orange, mint, almond, vanilla, or lemon.
Mix Up the Nuts & Fruits
You can substitute the walnuts and apricot for other nuts and dried fruits of your choice. The classic biscotti, Almondina, for instance uses almonds and raisins.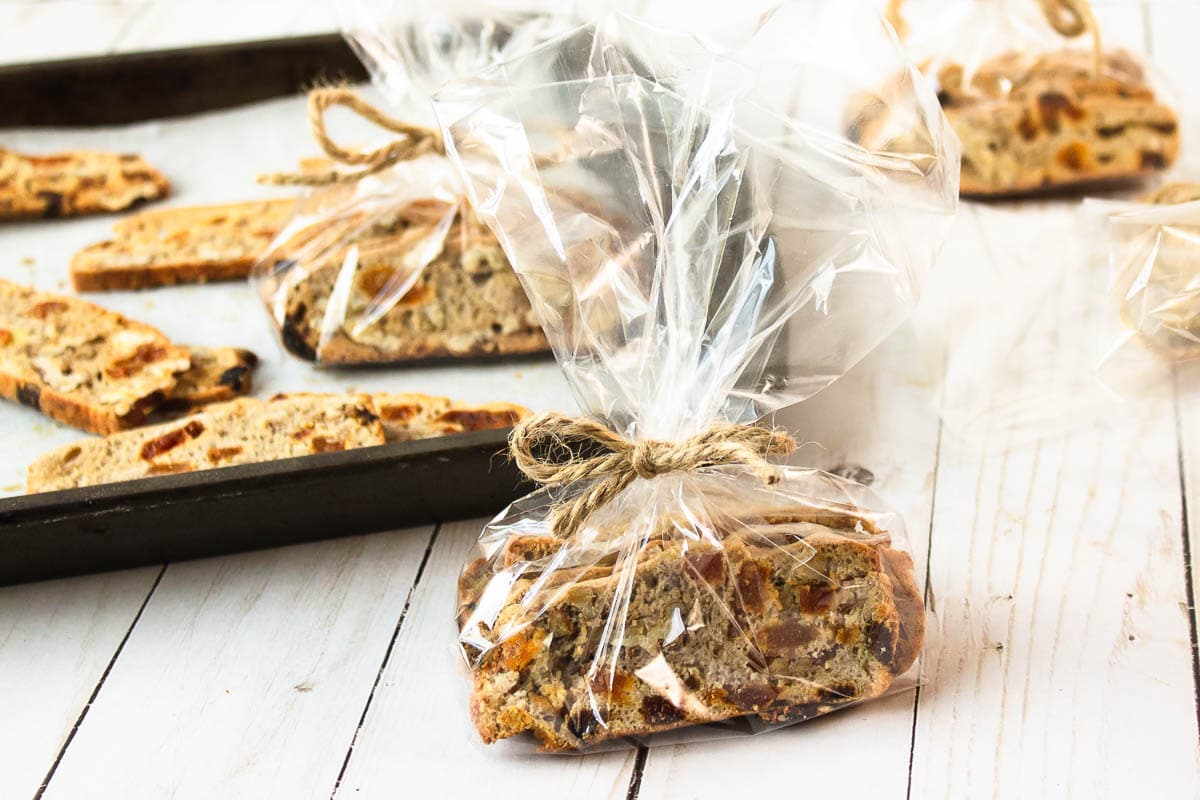 Vegan Biscotti FAQs
What is the difference between biscotti and cantucci?
Cantucci are Italian almond cookies and biscotti is the general term for "cookies" in Italian. They are made similarly, but cantucci are distinctly made with almonds. The cookies commonly referred to as biscotti come in more variations.
How do I make biscotti harder?
If you want to make your biscotti harder, just keep them in the oven for a bit longer. But watch them so they don't burn! You want the to cook evenly on both sides.
How do I soften biscotti? 
If your biscotti are too hard after baking, just pop them into the microwave for up to 30 seconds before eating them. 
Are you supposed to dip biscotti in coffee?
Yes! Biscotti are designed to fit into your mug. They're crunchy, but soften when dipped into coffee. I've been enjoying me with dalgona coffee recently.
Do biscotti go bad?
Because you bake them twice, no liquid remains in the cookies. So there are no worries about mold. Store them in a cool place, or you can refrigerate or freeze them. They will stay fresh for up to 1 month in an airtight container. 
More Vegan Desserts
If you love these vegan biscotti cookies, be sure to check out these other delicious vegan desserts.
And don't forget to grab a copy of my free vegan cheat sheet too! It's packed with my favorite easy substitutions to help you make just about any recipe vegan!
Recipe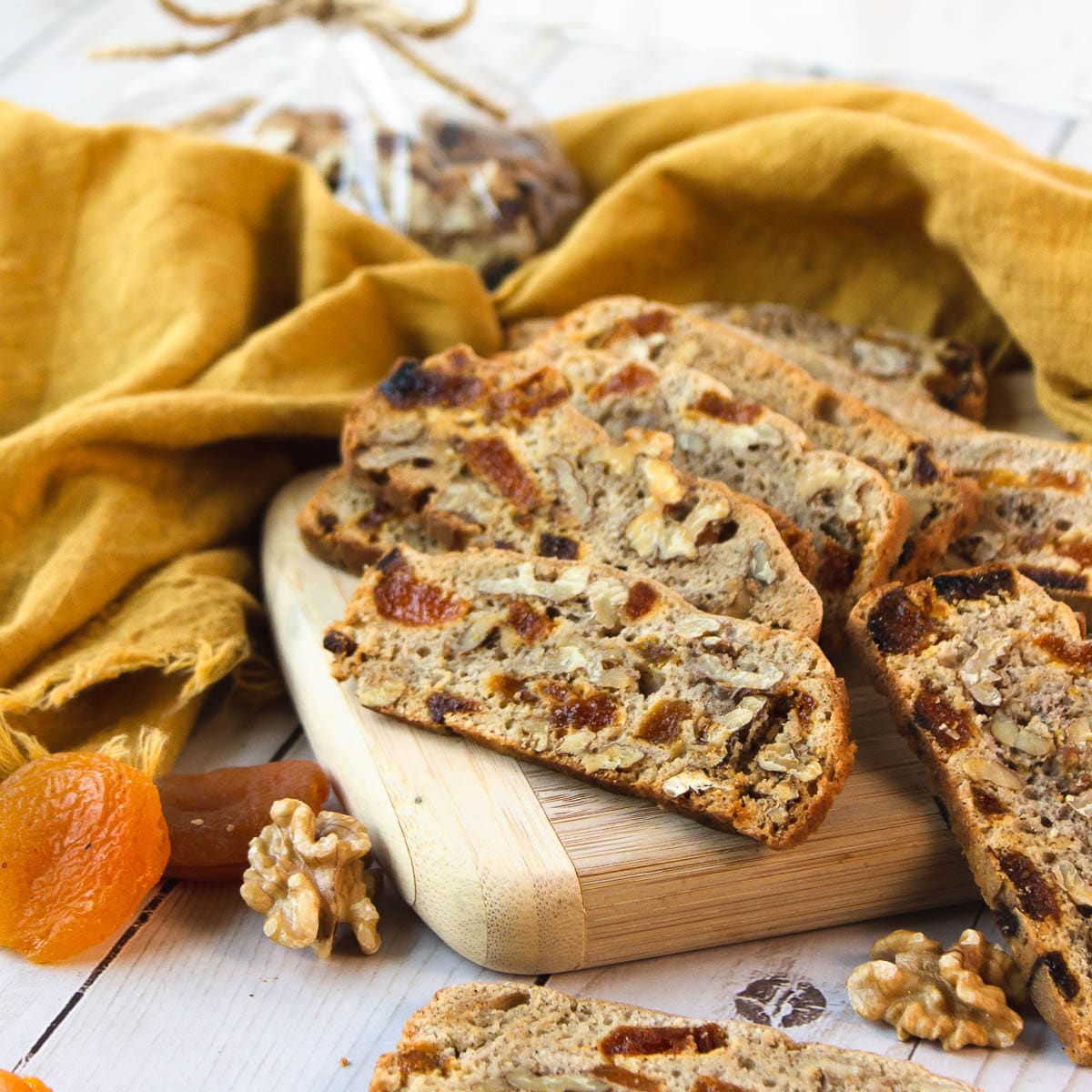 Instructions
Preheat oven to 350°F/180°C. Line an 8" x 4"/20 cm x 20 cm loaf pan with parchment paper.

Combine flour, ginger, and cinnamon in a small bowl. Set aside.

Using a stand mixer with a whisk attachment, whip the aquafaba on medium speed until it becomes foamy. Add salt and continue whipping until soft peaks form (should take about 5 minutes).

Add sugar 1 tbsp at a time to the aquafaba, mixing well after each addition. Once all the sugar is incorporated, switch to high power and beat until stiff peaks form (an additional 30 seconds to 1 minute.)

Sift ⅓ of the flour mixture into the whipped aquafaba. Gently fold into the aquafaba in a circular motion, maintaining as much of the volume as possible.

Add the remaining flour mixture in 2 more batches (always sift the flour in), folding after each addition. Fold until no flour pockets remain.

Fold the chopped walnuts and apricots into the batter until they are well distributed. Gently scrape the biscotti batter into a prepared loaf pan, and level out with a spatula.

Bake for 35–40 minutes until it begins to brown, and a toothpick inserted comes out clean.

Remove from oven and allow the loaf to cool in the pan for at least 10 minutes. Remove from the pan and allow to cool completely, at least 2 hours or overnight.

Preheat oven to 250°F/120°C. Line two baking sheets with parchment paper.

With a sharp serrated knife, carefully cut ¼" (6mm) thick slices crosswise from the loaf. Do not exert too much pressure at the top of the loaf. Use a gentle sawing motion to start each slice, to avoid tearing.

Place the slices on the parchment lined baking sheets, arranged so that they do not touch.

Dry out the biscotti in the oven for 25–35 minutes until a slight hint of color is present on cookies and they are crisp. Flip ½ way through for a more even browning. Do not allow the biscottis to get too golden brown on top or they will be burnt underneath.
Notes
See article above for tips, tricks, and variations.
Nutrition
Calories:
58
kcal
Carbohydrates:
9
g
Protein:
1
g
Fat:
2
g
Saturated Fat:
1
g
Sodium:
19
mg
Potassium:
56
mg
Fiber:
1
g
Sugar:
5
g
Vitamin A:
110
IU
Vitamin C:
1
mg
Calcium:
6
mg
Iron:
1
mg
Craving more veg-friendly recipes?
Shop our collection of vegetarian and vegan cookbooks, including our new Vegan Thanksgiving and Vegan Christmas cookbooks!