This homemade tomato sauce is made with fresh tomatoes, garlic, and , herbs. It smells amazing, tastes delicious, and you won't believe how simple it is to make with just a handful of fresh ingredients.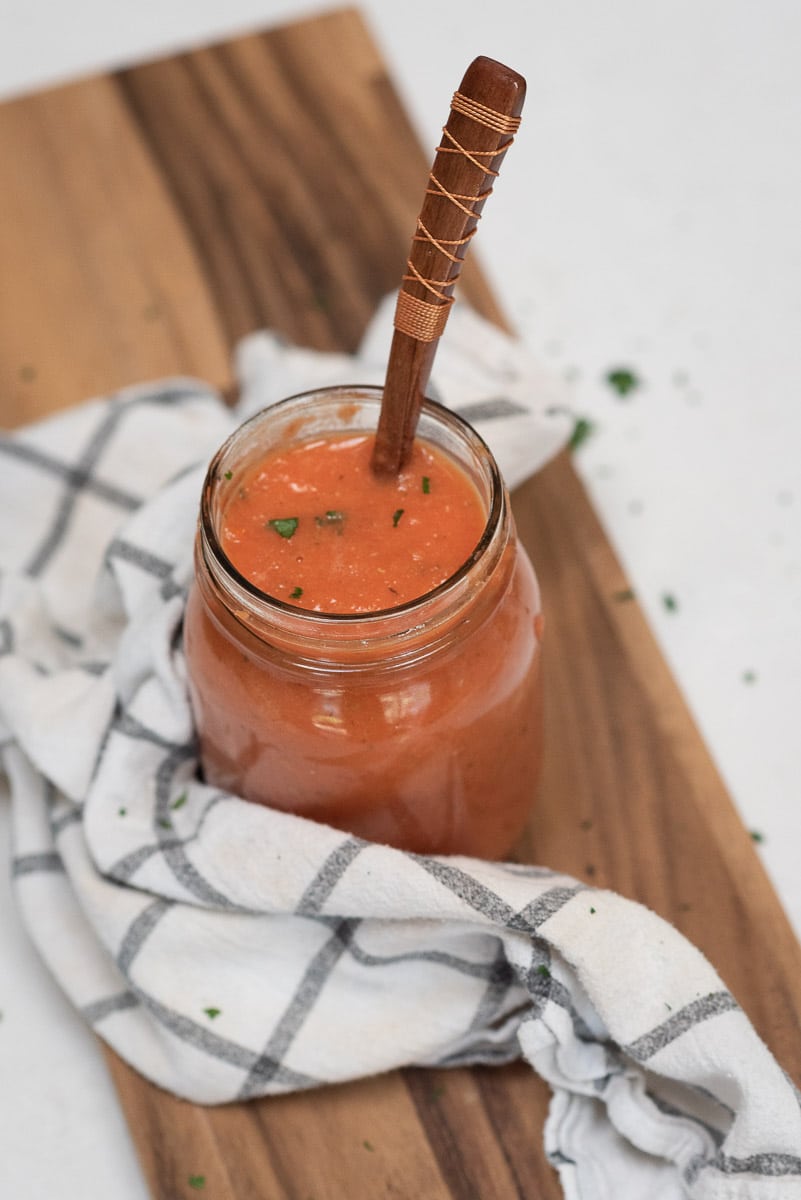 Jump to:
I've been wanting to post a tomato sauce recipe for quite some time. Growing up in an Italian family, I've made more than my share of pasta and marinara sauce.
But my own recipe is more or less - throw things in the pot until it tastes good. And those are not instructions that I thought you all would appreciate. 😉
So when I had the chance to review this new cookbook by Angi Schneider of ScheniderPeeps.com, I jumped at the chance to share her incredible freezer-friendly homemade tomato sauce.
If you have any interest at all in gardening or canning or preserving food, I highly recommend checking out her book, The Ultimate Guide to Preserving Vegetables.
I am far from any kind of homesteader, but I also hate seeing food go to waste, so I love all her simple and delicious ways to prepare veggies and herbs so they can be enjoyed for weeks and months!
This homemade tomato sauce is:
Fresh and flavorful
Simple to make with fresh tomatoes and a handful of herbs!
Perfect paired with your favorite pasta
Makes a great homemade pizza sauce too!
While you're here, be sure to grab our FREE 5-Day Meatless Meal Plan. It's packed with tasty recipes to make vegetarian cooking easy and delicious!
How to Make Homemade Tomato Sauce with Fresh Tomatoes
Toss tomatoes, onion, garlic, olive oil and herbs on a baking sheet.
Roast for 45 minutes.
Let cool, and peel off tomato skins.
Blend until smooth.
Due to product availability in our grocery store at the moment, I made a few adaptations from Angi's original recipe when preparing this sauce for myself.
I had to leave out the onion. And I also substituted dried herbs instead of fresh, simply reducing the quantity a bit to account for the concentrated flavor of dried herbs. This worked just fine, so feel free to do the same!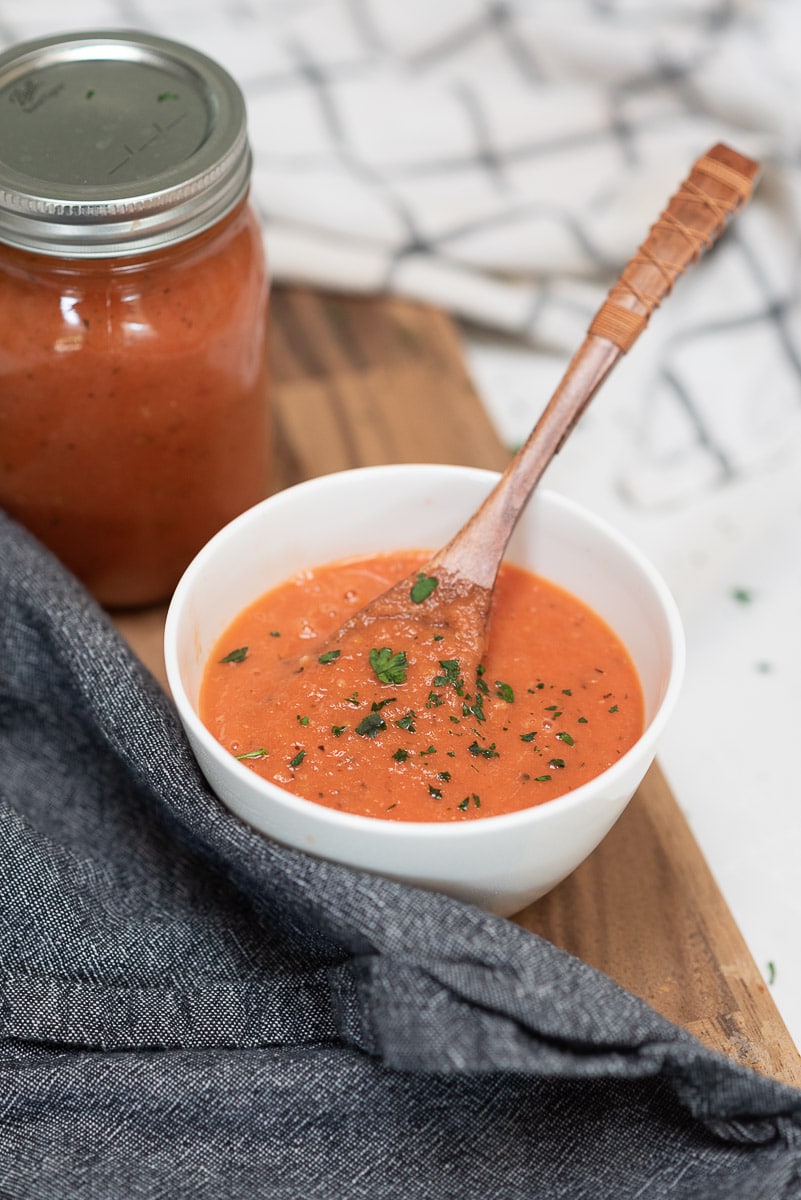 Tips and Tricks
Use the right tomatoes.
You'll want to use paste tomatoes for making your homemade tomato sauce. There are many varieties out there, but I used simple Roma tomatoes which are easy to grow and available at most supermarkets.
Paste tomatoes have more flesh and less seeds than other types of tomatoes, which is why they are perfect for making marinara sauce.
How to Peel Tomato Skins
Peeling tomatoes might seem like a tough task, but it's actually really simple. The trick is to roast the tomatoes before peeling. When the tomatoes come out of the oven, the skins will be mostly separated from the tomato flesh already - and you just pull it right off with your fingers.
Peeling the garlic cloves.
I always thought peeling garlic cloves was super annoying, until I learned this trick. Take the flat side of a kitchen knife and press down on the garlic clove, crushing it slightly. The skin will crack (don't worry if the garlic cracks somewhat too), and then the skin peels right off!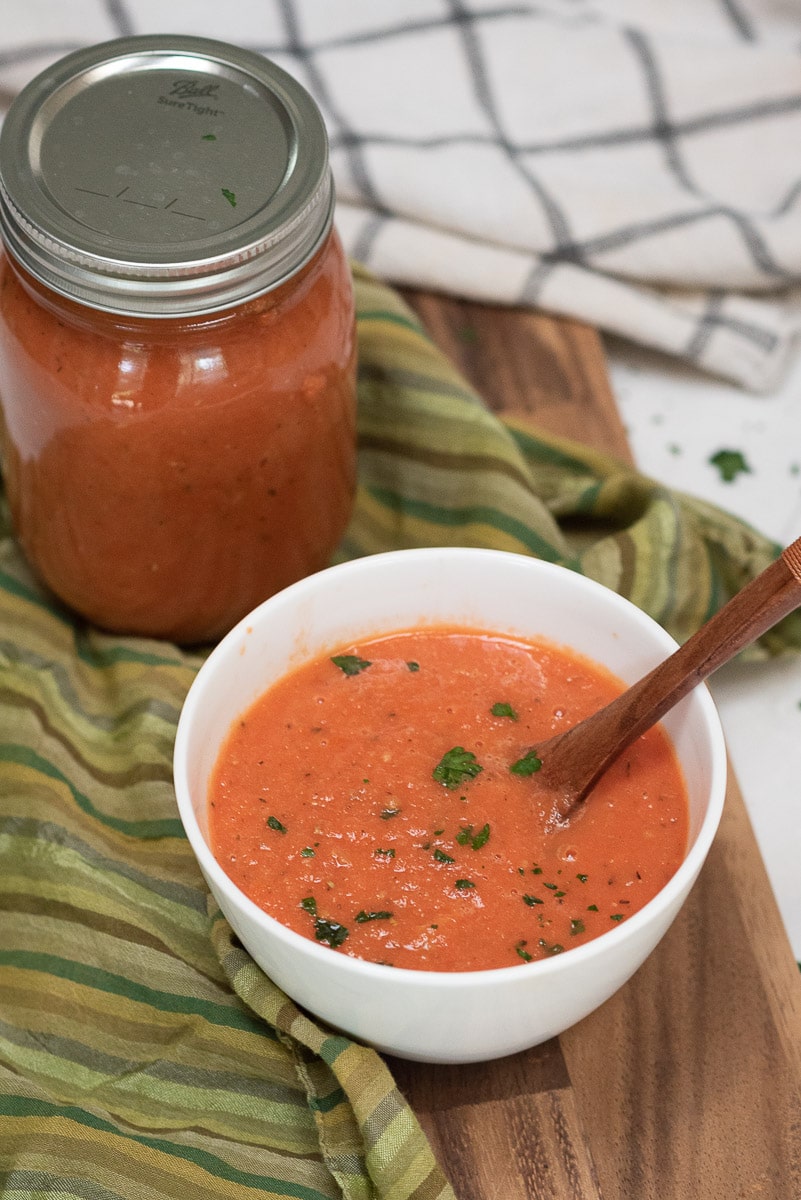 FAQs
How do you store homemade tomato sauce?
Store the sauce in an airtight container in the refrigerator for 3-5 days. Or freeze, where it will stay fresh for a year.
Can you freeze homemade tomato sauce?
Yes. Simply store in a freezer-friendly, airtight container. It will stay fresh for up to a year!
Can I substitute dried herbs for fresh herbs?
Yes. The flavor of dried herbs will be stronger, so reduce the quantity by half. I actually used dried herbs myself when I made this recipe, as we have been having trouble getting fresh herbs at the supermarket these days.
Recipe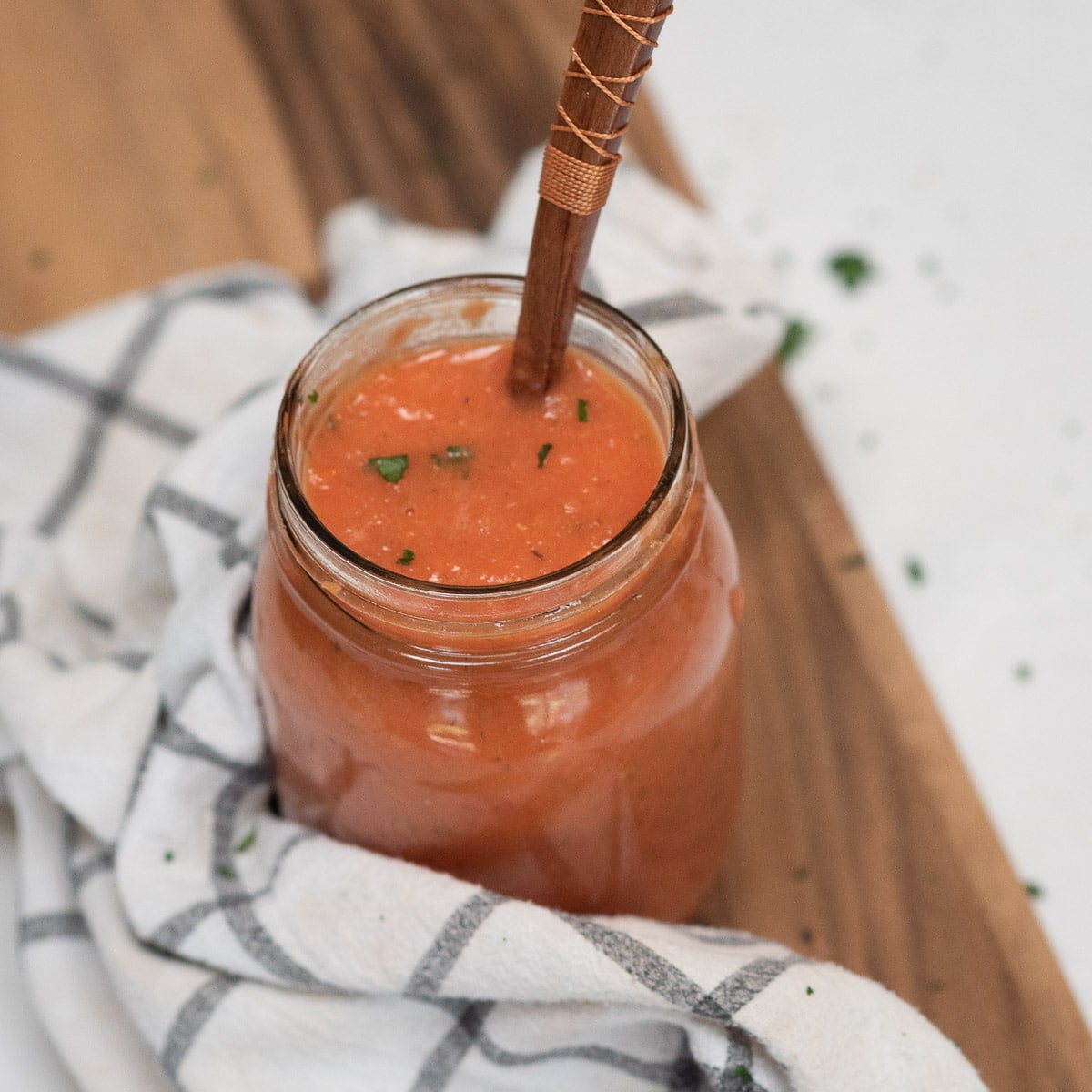 Servings:
3
half pint jars
Instructions
Preheat oven to 350F (177C).

On a baking sheet, toss the tomatoes, onion, garlic, and herbs with olive oil.

Roast in oven for 45 minutes.

Allow to cool. Gently peel off the tomato skins, and discard.

Transfer to a blender, and blend until smooth.

Season to taste with salt - I used 1 tsp.
Notes
This recipe is used with permission from the cookbook, The Ultimate Guide to Preserving Vegetables, with minor modifications. Due to current produce availability, I omitted the onion and used dried herbs instead of fresh. Feel free to do the same, as it was delicious! 
Nutrition
Calories:
192
kcal
Carbohydrates:
24
g
Protein:
5
g
Fat:
10
g
Saturated Fat:
1
g
Sodium:
26
mg
Potassium:
1158
mg
Fiber:
7
g
Sugar:
14
g
Vitamin A:
3814
IU
Vitamin C:
68
mg
Calcium:
77
mg
Iron:
2
mg
Craving more veg-friendly recipes?
Shop our collection of vegetarian and vegan cookbooks, including our new Vegan Thanksgiving and Vegan Christmas cookbooks!