This week, we're fighting heat (summer) with heat (delicious spiciness)! Okay, so maybe that's a stretch. But either way, prepare yourselves for a bit of burn with this week's meal plan. We've got an incredible grilled fruit and quinoa salad with smoky chipotle dressing. And then there are the spicy buffalo chickpea cups. Plus, there's a luscious African peanut soup with a bit of a kick, too. Not to worry, though -- a couple of cooling breaks help round out the week: A simple, scrumptious portabella pesto burger, plus summer-perfect stewed eggplant over polenta.
Here's this week's meatless meal plan:
Monday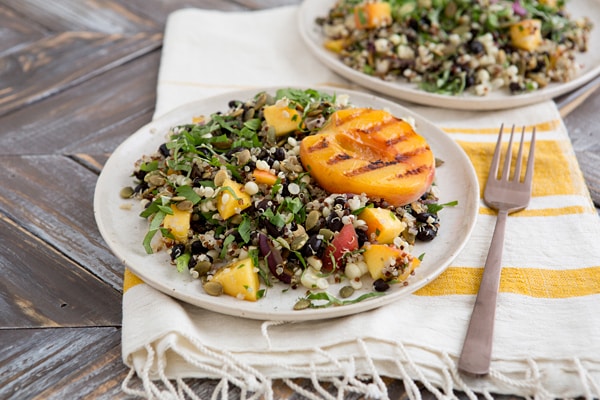 Fiery Fruit & Quinoa Salad from Oh My Veggies // Grilled veggies and fruit, chia chipotle dressing, quinoa, and black beans make up this protein-packed powerhouse of a salad. Bonus: It's pretty too!
Tuesday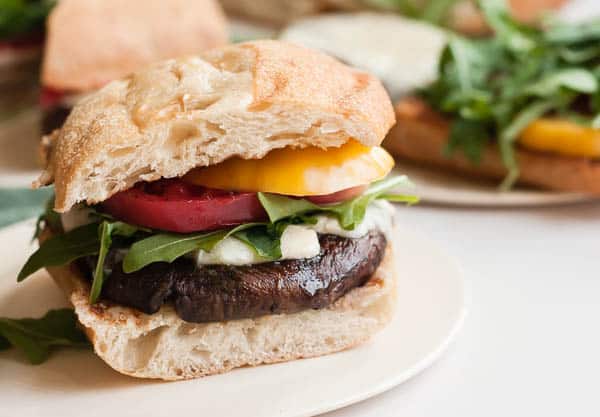 Cabernet Portabella Burgers from OhMyVeggies.com // Plain portabella burgers are good, but there's so much more you can do with them to take them up a notch. When I saw this Napa Valley Cabernet Burgers recipe from Bon Appétit, I knew I could translate that idea to a grilled portabella burger. It was simple to do.
Wednesday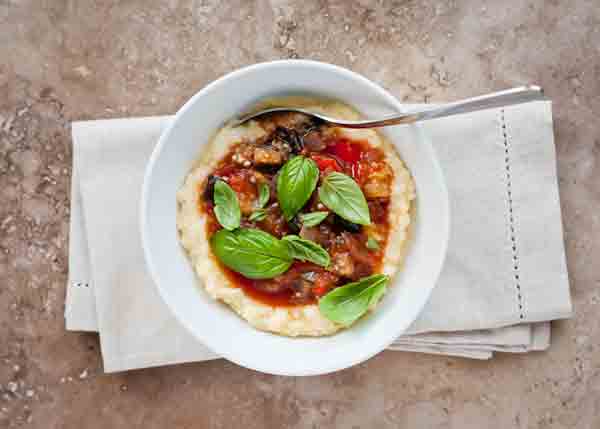 Stewed Eggplant and Tomatoes with Polenta from Cafe Johnsonia // Eggplant season is in full swing, and this simple stewed recipe makes it the star of the show. Eggplant in the spotlight -- right where it belongs! Creamy polenta is the perfect accompaniment.
Thursday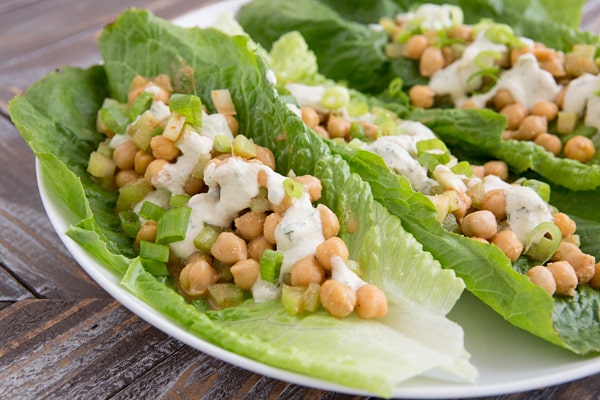 Buffalo Chickpea Wraps with Cool Ranch Dressing from The Sweet Life // Ahh, buffalo sauce. Is there anything it can't make delicious?! This recipe spices up chickpeas (brilliant!) and cools them back down with lettuce and creamy ranch dressing.
Friday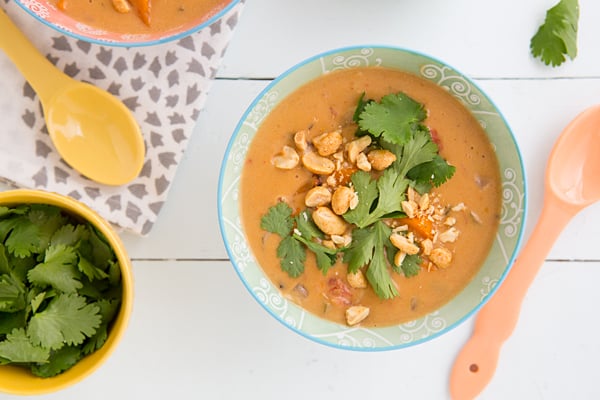 African Peanut Soup from Oh My Veggies // This rich, satisfying soup boasts tender sweet potato chunks in a creamy peanut base. A sprinkle of peanuts and fresh cilantro complete the picture. Best of all, it comes together in less than 30 minutes.
Tips for This Week's Plan
If you don't grow your own herbs, you might end up with some leftover this week. Use them up in a big batch of homemade vegetable broth or use them to make this French Lentil Salad for lunch -- extra artichoke hearts and sun-dried tomatoes would be a perfect addition to it!
To save yourself some time, you can skip the homemade polenta for Wednesday's recipe and opt for the store-bought kind instead. Slice it and pan-fry it and ladle the stewed eggplant over it.
You'll have some leftover black beans and chickpeas if you follow the salad and wrap recipes exactly. I just threw the spare beans in with the rest of the ingredients and it worked out just fine.
The wraps call for vegan mayo. Not being a fan of mayo, I just used a little bit of the ranch dressing instead, so if you either don't like mayo or don't have it on hand, that works!
Add a pint of cherry tomatoes to your shopping list, whip up a quick vinaigrette, and you have an easy side for the Portabella Burgers.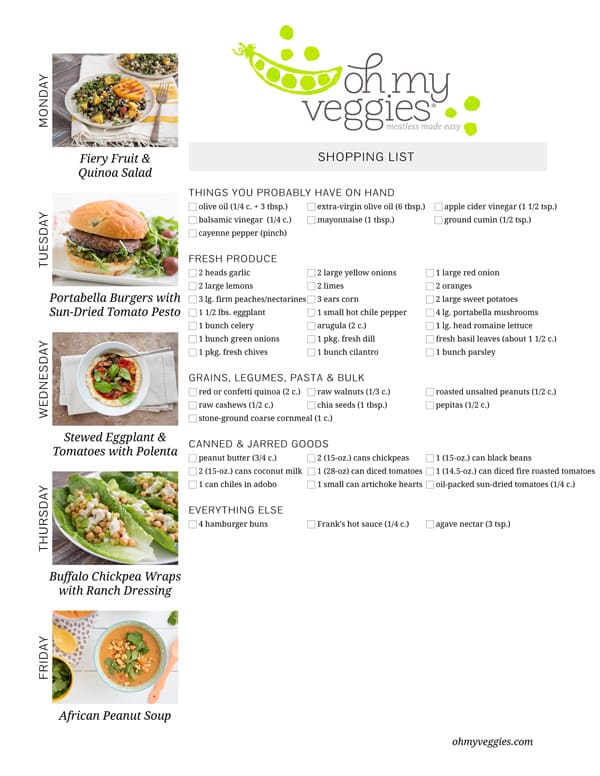 Click here for a printable version of this week's meatless meal plan and shopping list, then click on the links above to print out each recipe. Now you're set for the week!
Find more dinner ideas from our Meatless Meal Plan archives.