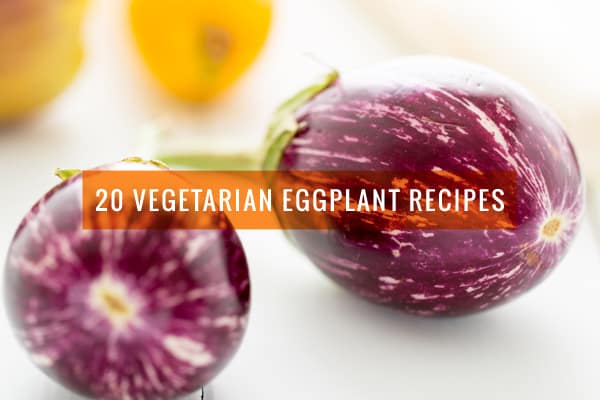 Eggplant season is in full swing, and we couldn't be happier about it! These glossy purple beauties are a food-lover's dream, and especially for vegetarians since eggplant boasts a "meaty," toothsome vibe that can make meatless meals especially hearty.
So how do we love our eggplant best? Let us count the ways -- 20 of them, to be exact. Bring on the aubergines! Here are 20 of our favorite vegetarian eggplant recipes.
Stuffed Miso Eggplant
It doesn't get much better than miso-seasoned walnuts served up in perfectly ripe eggplant boats. The topper (literally)? A colorful cherry tomato salad. Summer bliss.
Eggplant Bolognese
We know, we know -- you see "bolognese" and all you can think of is meat, meat, and more meat. Not so fast! Eggplant is a terrific hearty substitute for this beefed-up (but without beef) sauce from Greatist.
Marinated Eggplant
Not quite convinced eggplant is for you? This may just be your gateway recipe. A Healthy Life For Me presents these delicious-yet-simple marinated slices that, along with a nice loaf of crusty bread, make up the ideal summer dinner. Bonus: you can make it ahead of time.
Thai Eggplant Tempura with Spicy Garlic-Soy Dipping Sauce
When Faith over at An Edible Mosaic picked up some tiny Thai eggplants on a whim, she settled upon making them into tempura magic. And we are grateful. Bonus: the tempura is made with chickpea flour, so the recipe is gluten-free!
Caramelized Onion and Eggplant Puff Pastry Tart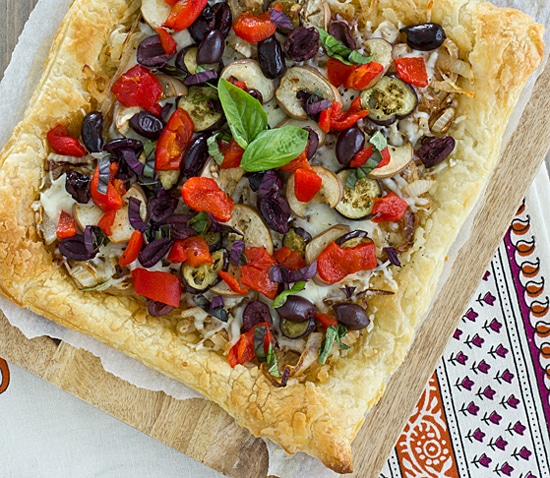 This vegetarian Caramelized Onion and Eggplant Puff Pastry Tart recipe is finished with Kalamata olives, roasted red peppers, basil, and cheese. Yum!
Roasted Eggplant Dip
This creamy dip is reminiscent of classic baba ghanoush, but it's made with a tangy twist -- yogurt! Running To the Kitchen brings us this addicting appetizer. We love the hint of green thanks to the handful of fresh parsley thrown into the mix.
Lightened-Up Eggplant Parmesan Stacks
Yearning for a good Eggplant Parmesan but dreading the heaviness? Look no further! These summertime stacks are a fresh -- and healthier! -- take on the classic.
Grilled Eggplant and Chickpea Sephardic Salad
What Jew Wanna Eat brings us charred eggplant, fresh mint, juicy tomatoes, and Middle Eastern spices -- all tossed with chickpeas and served up with pita chips. Perfection in a bowl.
Baked Eggplant Penne Pasta
Comfort food, eggplant style. Diethood brings you this creamy and cheesy eggplant pasta dish complete with more summer standbys like basil and tomatoes. Dig in!
Turkish Stuffed Eggplant
Allspice, cardamom, and fresh herbs elevate this stuffed eggplant from The View From Great Island to new heights. Oh, and it's topped with pistachios, too. Yes, please.
Grilled Ratatouille Tartine
Traditional ratatouille veggies -- summer squash, zucchini, tomatoes, and of course, eggplant -- grilled and then spilled onto an open-faced sandwich? We think this is utter summer brilliance from Taste, Love, and Nourish.
Eggplant Noodles
You've heard of zucchini noodles, no doubt, but what about noodles made with eggplant? It's a thing -- a delicious one! Know Your Produce shows you how.
Roasted Eggplant & White Bean Soup
Roasted eggplant pureed with cannellini beans along with onion, garlic, and a pinch of red pepper flakes for heat. Sometimes a nice, warm bowl of soup -- such as this one from Dishing Up the Dirt -- is in order, even in the midst of summer.
Panko-Crusted Baked Eggplant Fries with Curried Cashew Aioli
Fast food, aubergine style! Okay, so this isn't really fast food, but because they're fries, you can pretend. These are certainly perfect for dipping and snacking -- plus, they're vegan, too!
Eggplant Rollatini Quinoa Casserole
This casserole from Cookie Monster Cooking has got it all. Quinoa? Check. Eggplant (duh)? Check. Cheese? Check, check, and check.
Miso-Glazed Eggplant
Roasted eggplant brushed generously with a miso glaze, and then broiled until caramelized? Count us in. Busy In Brooklyn has the scoop.
Eggplant, Chard & Tomato Quinoa Gratin
Packed with veggies, this gratin from Cafe Johnsonia makes quick work of summer veggies. A hit of protein thanks to quinoa makes it the perfect one-dish dinner -- plus, it's vegan and gluten-free, to boot.
Vegetarian Eggplant Tajine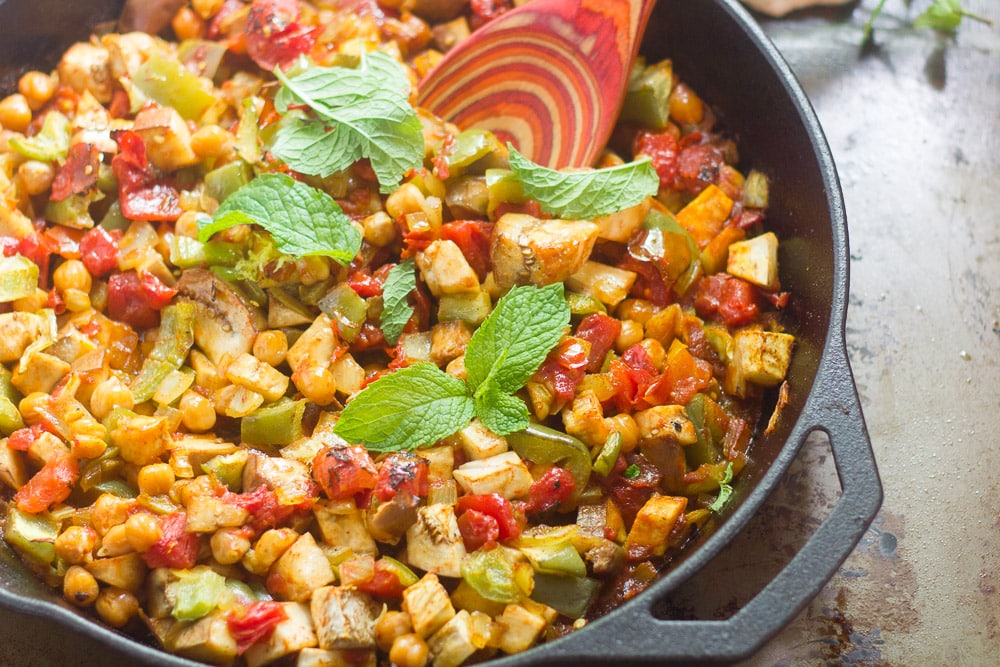 This Moroccan spiced stew features tender chunks of eggplant, tomatoes, and peppers, served over couscous with a sprinkle of fresh mint.
Eggplant Burgers with Honey Beer-Glazed Caramelized Shallots
Toothsome eggplant is a refreshing change from legumes in veggie burgers -- and this version from Eats Well With Others is no exception. Plus, those boozy caramelized shallots?! Swoon-worthy.
Caramelized Onion & Eggplant Puff Pastry Tart
So much tastiness in one tart! Caramelized onions, kalamata olives, roasted red peppers -- and, of course, incredible roasted eggplant. And it's piled on golden, butter puff pastry, too.