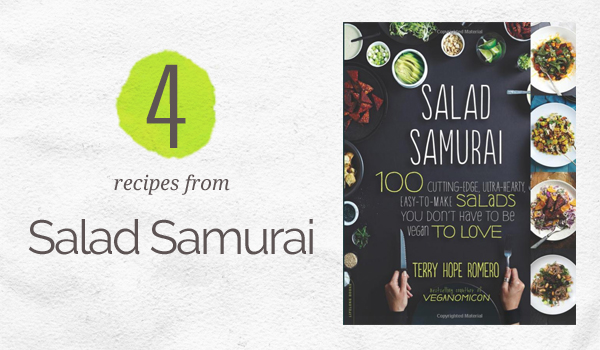 Instead of doing typical book reviews, we're sharing 4 recipes we've made from vegetarian (and vegetarian-friendly) cookbooks. Because anyone can review a cookbook, but the real test is — do the recipes work out? And do they taste good? We'll let you know!
The Book
Terry Hope Romero's Salad Samurai: 100 Cutting-Edge, Ultra-Hearty, Easy-to-Make Salads You Don't Have to Be Vegan to Love
is pretty much what it says it is -- a cookbook full of creative, meal-worthy vegan salads. I received a review copy from the publisher, but before it came out, it popped up on my recommended list on Amazon and my interest was piqued. I love the heck out of a good salad, but there's nothing I hate more than a bad salad.
Well, I love this cookbook. Every time I make a salad from it, I love it a little bit more. Most of the salads are easy to put together -- the ones that aren't usually involve extra components like baked tofu or glazed nuts, which can be subbed out or omitted. In the age of food blogs, I really want my cookbooks to offer me something unique, that I can't find anywhere else, and Salad Samurai
is full of those kinds of recipes. I shared a Fiery Fruit & Quinoa Salad last month, but here are 4 other salads I've made from the book:
The Recipes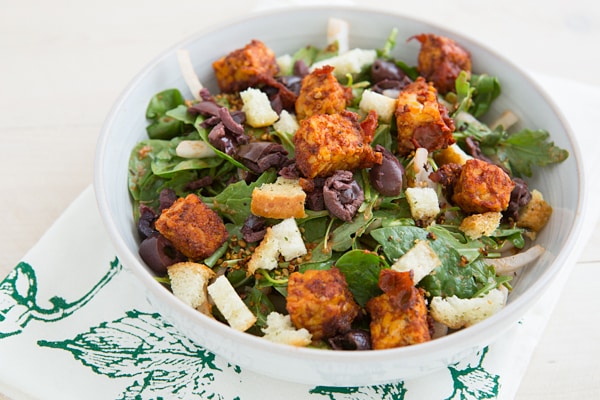 Pepperoni Tempeh Pizza Salad // This is as good as it sounds. I would eat this for days. Like most of the recipes in this book, we got more servings than suggested for this -- we got 4 meal-sized salads out of it. Which, to me, is a good thing, but if you're just cooking for yourself, you might want to make everything in half. This salad has a zesty tomato dressing (isn't zesty a fun word?), croutons (I used bakery croutons to save time), kalamata olives, and marinated tempeh -- pepperoni tempeh!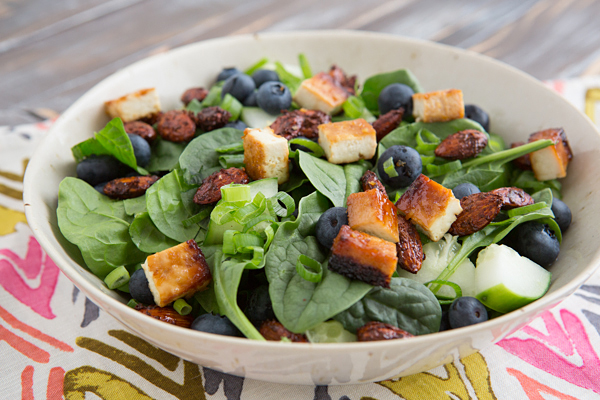 Blueberry Tamari Greens Bowl // I was tempted to skip the 5 Spice Tamari Almonds to cut down on prep time, but I'm glad I didn't because they were the best part of this salad. It also has baked Lemongrass Tofu, a sweet tamari dressing, and lots of fresh blueberries. This photo is pre-dressing, by the way.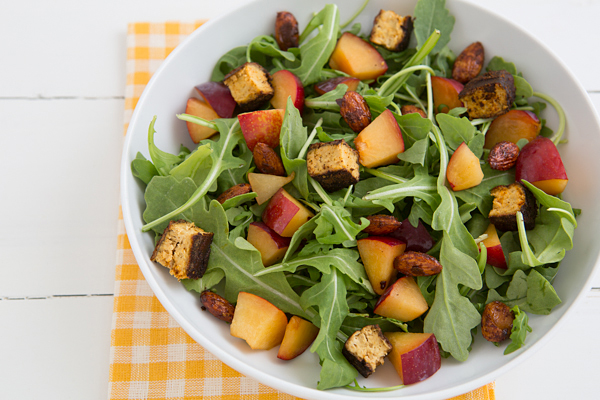 Plums Love Arugula Salad // I decided to make this one because I had leftover 5 Spice Tamari Almonds, a package of baked tofu on hand in the fridge, and a big tub of tahini in the fridge that needed to be used. Score! I wasn't sure how a tahini dressing would work with plums, but it was a delicious combination.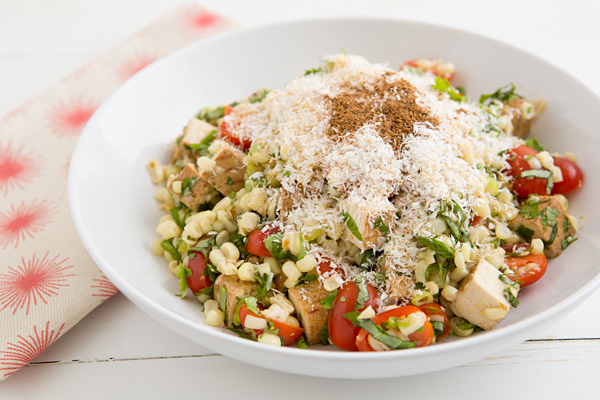 East-West Roasted Corn Salad // This recipe calls for coconut flakes and I used the shredded kind instead, which probably wasn't the best idea. The cashew-based ranch dressing for this salad has a few different variations and I chose to go with a mango chutney version, which made this a little… weird. Not weird by itself (it was delicious by itself), but weird in this particular salad. I should have stuck with the original ranch!
Buy It on Amazon