I have a very distinct memory of being in pre-school and coloring something blue and having the crayon ripped out of my hand by a boy yelling, "Blue is for booooys!" Ha ha, pre-schoolers, right? It's a good thing we all grow up and discard crazy ideas like that.
Except that we don't. Because what's the ultimate test for a vegetarian recipe? Very often, it's "would a man eat this?" I mean, duh, men eat steak! Vegetarian food is for ladies. If a man would eat a veggie burger, then you know it's good.
This seems to be doubly true with salads. Why can't a man like a salad? What makes salad a feminine food? Is the belief that men don't eat salad any less ridiculous than that 4-year-old boy who wouldn't let me color with a blue crayon? Salad is for everyone! Except people who hate salads! And salad haterism knows no gender!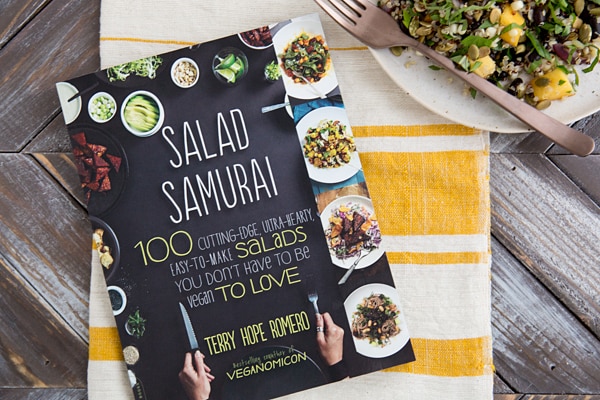 I happen to be a reformed salad hater, but now that I like salads, I really like salads. I try to plan a salad dinner at least once a week, and sometimes more often now that it's summer and I hate having big heavy dinners when it's hot out. When I received a review copy of Terry Hope Romero's Salad Samurai
, I was pretty darn giddy because there are 100 salad recipes in this book -- 100 salad recipes that are creative, easy, and substantive. These are not anemic little side salads!
I've made the Pepperoni Tempeh Pizza Salad and the Blueberry Tamari Greens Bowl, both of which knocked my socks off. (I mean, pizza salad. Need I say more? Pizza. Salad.) Then, because it's summer and I can't get enough peaches or corn, I made the Fiery Fruit & Quinoa Salad, which I'm sharing below. Corn, red onions, and peaches are grilled to perfection, then tossed with quinoa and a Chia Chipotle Dressing. Although the recipe says it serves 2, we got 4 decent-sized servings out of it when I made it. NEED a copy of this book so you can get your hands on all these amazing salad recipes? Purchase it on amazon.com
.
Recipe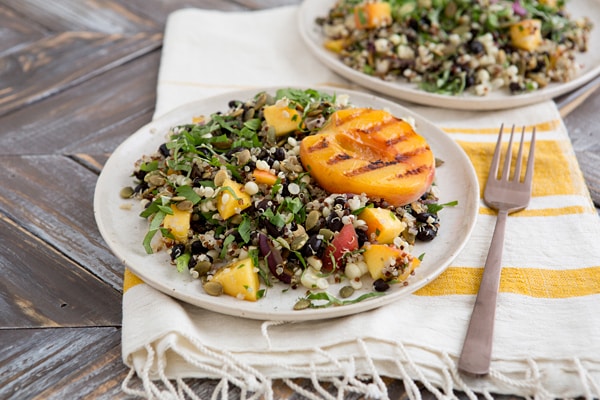 Ingredients
Chia Chipotle Dressing
½

cup

freshly squeezed or store-bought orange juice

3

tablespoons

freshly squeezed lime juice

2

tablespoons

olive oil

1

tablespoon

chopped chipotle chiles in adobo sauce

2

teaspoons

agave nectar

1

tablespoon

chia seeds

1

clove

garlic

minced

½

teaspoon

ground cumin

½

teaspoon

salt
Salad
2

cups

cooked

chilled red or confetti quinoa

1

cup

cooked black beans

drained and rinsed

1

cup

lightly packed

chopped flat-leaf parsley or cilantro

½

cup

lightly packed

chiffonaded fresh basil leaves

1

large red onion

sliced into rings

3

large

firm peaches or nectarines, halved and pitted

3

ears of corn

husks and corn silk removed

½

cup

toasted pumpkin seeds
Instructions
Whisk together all of the dressing ingredients in a glass or plastic measuring cup. Cover and chill for 10 minutes or overnight to plump up the chia seeds.

Pour the quinoa, beans, and fresh herbs into a large mixing bowl. Keep this mixture chilled while you grill the remaining ingredients.

Preheat a cast-iron grill pan over medium-high heat, or heat an outdoor grill as per manufacturer's directions. Rub the fruit and veggies with a thin coating of olive oil and sprinkle with a pinch of salt. Grill the onions until browned, about 3 minutes; set aside. Grill the peaches on each side for about 2 minutes, until the outside is hot and slightly charred; set aside. Grill the ears of corn until the kernels are lightly charred, turning the cobs occasionally, 3 to 4 minutes. Cool the vegetables and fruit just enough to be handled safely, then dice into bite-sized pieces. Use a knife with a thin blade to slice the corn kernels off the cobs.

Transfer the chopped fruit and veggies to the bowl with the quinoa, add the pumpkin seeds, and then pour on the dressing and toss thoroughly. Serve at room temperature or chilled.
Notes
From Salad Samurai by Terry Hope Romero. Reprinted with permission from Da Capo Lifelong, © 2014
Nutrition
Calories:
432
kcal
Carbohydrates:
42
g
Protein:
23
g
Fat:
21
g
Saturated Fat:
4
g
Polyunsaturated Fat:
5
g
Monounsaturated Fat:
9
g
Trans Fat:
1
g
Cholesterol:
41
mg
Sodium:
1044
mg
Potassium:
788
mg
Fiber:
8
g
Sugar:
12
g
Vitamin A:
819
IU
Vitamin C:
41
mg
Calcium:
67
mg
Iron:
4
mg
Craving more veg-friendly recipes?
Shop our collection of vegetarian and vegan cookbooks, including our new Vegan Thanksgiving and Vegan Christmas cookbooks!