I went raw for a week last year and I had two big takeaways:
1. I like raw food! There are a lot of creative raw recipes out there and while raw Pad Thai never really tastes like Pad Thai, it's still delicious in its own right. Raw food doesn't mean you're subsisting entirely on salads.
2. While I do enjoy raw food, I also enjoy cooked food. I actually worried that after this week of raw eating, I'd feel so fantastic and love it so much that I would want to go 100% raw. That didn't happen! Even though I enjoyed the raw foods, I found myself craving warm things — I missed the feeling of eating warm food.
So after this week of raw food, I started incorporating more raw food into my diet. The nice thing about this is that because I'm not strict in my definition of raw, it gives me a little more flexibility when I'm eating raw foods — I can add cooked quinoa to my salad and not feel like a failure. I'm a big believer in moderation and I think when you get too dogmatic about the way you eat, it can be a little dangerous. Taking a looser approach and upping the raw foods in your diet while still eating food that's been cooked is a more realistic approach for most people than all-raw, all-the-time.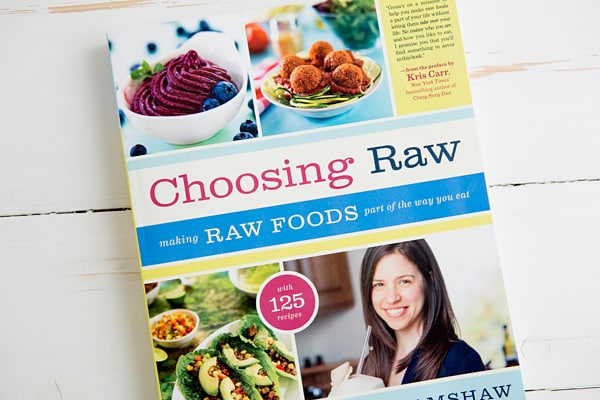 This is why I love Gena Hamshaw's blog Choosing Raw. It has both raw and cooked recipes because Gena believes in the value of both. Because so many of the raw cookbooks out there tend to be all-or-nothing types of things, I was super excited to hear that Gena was working on a cookbook and even more excited to get my hands on it!
Choosing Raw: Making Raw Foods Part of the Way You Eat
is a hefty cookbook — nearly half of it is information about health and the raw diet (and meal plans!), but there are also 125 recipes in the book. Just like with Gena's blog, while the recipes skew raw, they're not only raw, so they're perfect for those of us who like raw foods, but don't adhere to a strict raw lifestyle.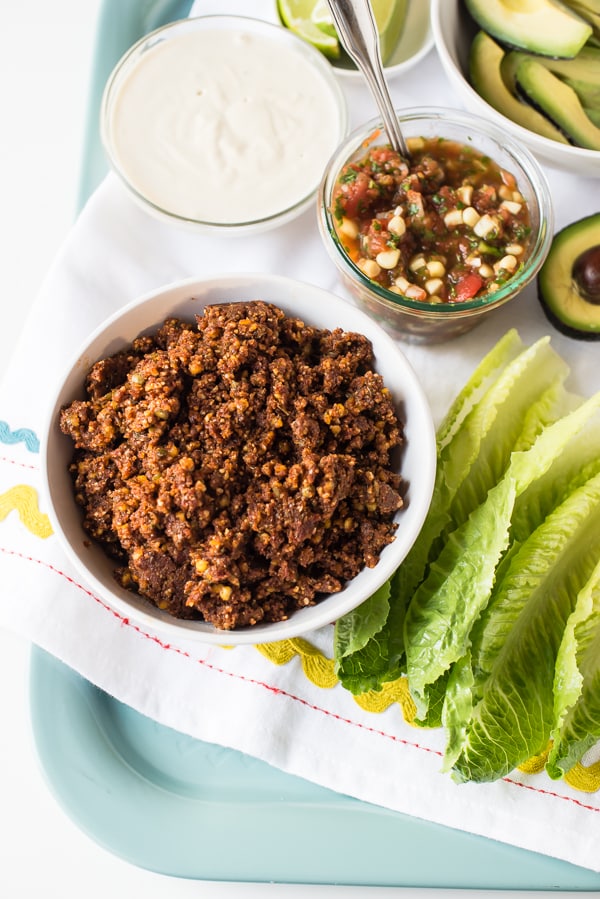 These Heat-Free Lentil and Walnut Tacos are made with cooked lentils, but the recipe is served chilled or at room temperature. They are amazingly simple to whip up and perfect for a hot summer night when you don't want to turn on the oven. I added a few pinches of cayenne to mine to make the taco "meat" spicy and topped them with corn salsa, cashew cream, avocado slices, and a squeeze of fresh lime juice.
Find  Choosing Raw: Making Raw Foods Part of the Way You Eat
online at amazon.com.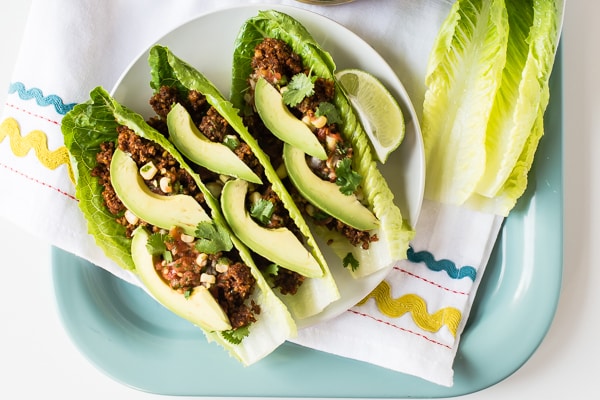 Ingredients
Serving Ingredients:
8

large romaine leaves

cabbage, radicchio, and butter lettuce leaves also work well

1

cup

salsa of choice

1

avocado

pitted and sliced
Instructions
Place the walnuts and sea salt in a food processor and pulse to break the nuts down until crumbly.

Add the tomatoes, spices, and lentils to the processor. Pulse until the mixture is well incorporated. Check for Seasoning, and add additional salt, cumin, or chili as needed. Add a few tablespoons of water, if needed, to bind the mixture together.

Divide the filling into the romaine leaves. Top each with 2 tablespoons of salsa and a few avocado slices. Serve.
Nutrition
Calories:
479
kcal
Carbohydrates:
31
g
Protein:
15
g
Fat:
37
g
Saturated Fat:
4
g
Polyunsaturated Fat:
22
g
Monounsaturated Fat:
9
g
Sodium:
776
mg
Potassium:
1159
mg
Fiber:
14
g
Sugar:
8
g
Vitamin A:
5396
IU
Vitamin C:
12
mg
Calcium:
107
mg
Iron:
5
mg
Craving more veg-friendly recipes?
Shop our collection of vegetarian and vegan cookbooks, including our new Vegan Thanksgiving and Vegan Christmas cookbooks!
Disclosure: I received a review copy of Choosing Raw and I decided to write a full post about it because I love it! I wasn't compensated for this post, but the links to amazon.com are affiliate links.