Murphy's Law of food blogging dictates that the second you need an ingredient for a recipe, it is nowhere to be found. So it went with these squash blossoms. They were nowhere to be found — not in the five supermarkets near my apartment, not at the biggest farmers market in Manhattan. Not even at the sidewalk stands that sell the most esoteric of produce. I have a feeling this is is probably an NYC-specific anomaly rather than a nationwide shortage, though.
In fact, I wouldn't be surprised if sellers at your local farmers market are practically giving these away because they have so many of them! Make sure you stock up next time you stumble across them, because you are going to want to eat these goat-cheese stuffed and cornmeal-coated squash blossoms at least once this summer.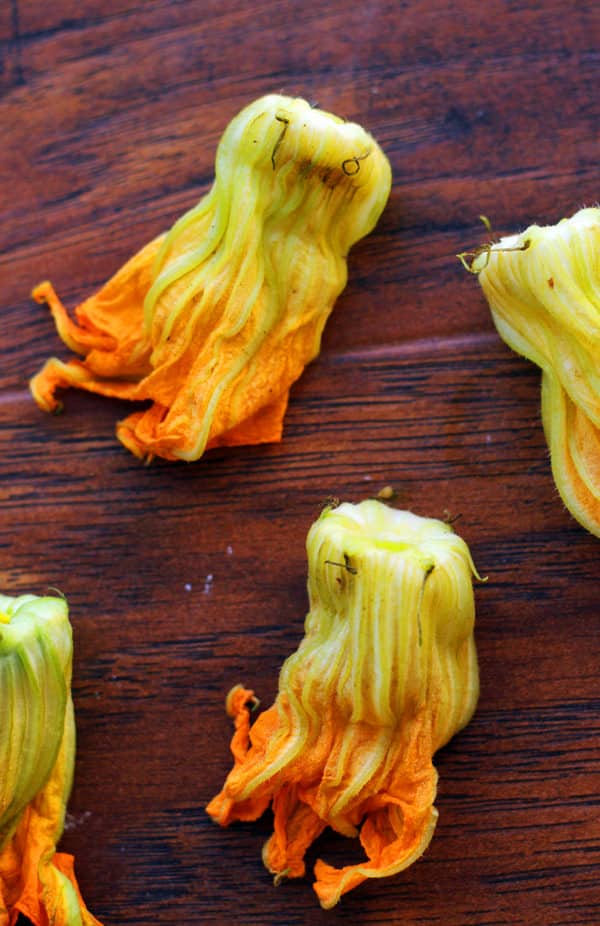 Squash blossoms (or zucchini flowers, as they are called depending on which summer squash variety they come from) are the brightly hued and delicate flowers that bloom on zucchini plants before they give rise to an actual zucchini. Both male and female plants can grow them. But if you pick the female flowers, no zucchini will grow in their place. If you want to have an actual zucchini harvest, it is best to pick the male flowers, which won't give rise to zucchini anyway. Occasionally, you can also find small zucchini or squash at the markets with the flowers still attached. These flowers, though they will be smaller, will have more of the zucchini flavor to them.
Zucchini flowers wilt fairly quickly and therefore must be used the same day they are picked, which is why you are more likely to find them at a farmers market versus a supermarket. If you absolutely must store them, they will keep up to 48 hours after picking if laid out on a paper towel-lined plate and refrigerated.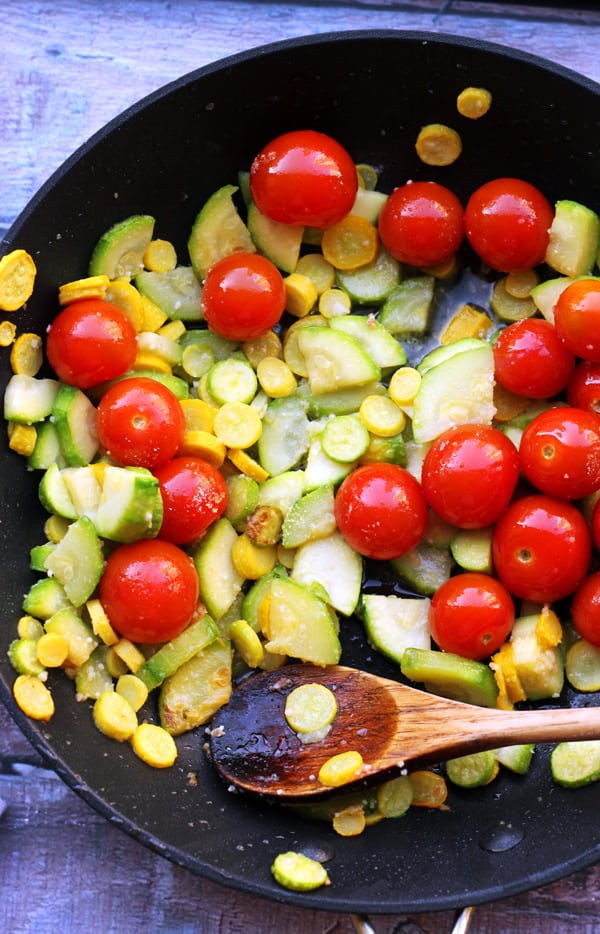 Squash blossoms are most often served battered, fried and stuffed with a gooey cheese mixture, but since standing over a vat of scalding oil gives me heart palpitations, I chose to bake them instead! This not only makes them healthier than their fried counterparts, but also greatly reduces the risk of losing a layer of skin to inevitable oil splashes. Personally, I like those odds.
Here, I've stuffed the squash with a goat cheese mixture that has a touch of egg in it to prevent it from oozing out all over your pan in the oven. After stuffing, the squash are then double-dipped in a cornmeal-based batter and baked at a high temperature, giving you a crispy outside and a creamy inside. And because one cannot live on stuffed squash blossoms alone, I served them over a bed of garlicky cherry tomatoes and zucchini that were quickly sautéed until slightly tender.
These make for a great light lunch or dinner, but if you want to add a little bit more staying power to them, you can always serve them over a bowl of creamy polenta or your favorite grains.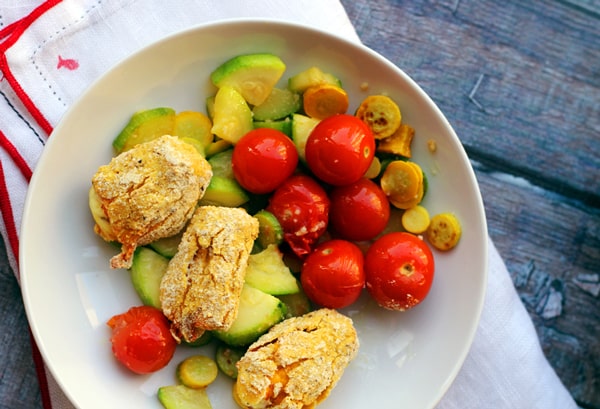 Ingredients
4

oz

goat cheese

room temperature

2

large eggs

divided

¼

cup

milk

½

cup

cornmeal

½

teaspoon

salt

plus more to taste

¼

teaspoon

freshly ground black pepper

plus more to taste

12

squash blossoms

cleaned

2

tablespoons

olive oil

1

medium zucchini

quartered lengthwise and then sliced horizontally

1

medium summer squash

quartered lengthwise and then sliced horizontally

1

tablespoon

minced garlic

1

pint

cherry tomatoes
Instructions
Preheat the oven to 400ºF.

In a small bowl, whisk together the goat cheese and one of the eggs until thoroughly combined. Set aside.

In one shallow plate, whisk together the milk and remaining egg. In a second shallow plate, whisk together the cornmeal, salt, and black pepper.

Stuff each of the squash blossoms with about 1 ½ teaspoons of the goat cheese mixture. Dip each in the milk mixture and then dredge in the cornmeal mixture, so that the entire outside of the blossom is coated with it. Dip in the milk again, and then dredge in the cornmeal again to add a second layer of cornmeal coating. Place all of the squash blossoms on a parchment-lined baking sheet and bake for 15 minutes, until lightly browned and crispy.

Meanwhile, heat the olive oil in a large skillet over medium-high heat. Add the zucchini, summer squash, and garlic to the pan along with a large pinch of salt and sauté, stirring frequently, until the veggies are tender and starting to brown, 6-8 minutes. Add in the cherry tomatoes and cook until they are just starting to burst, 2-3 minutes more. Season to taste with salt and black pepper.

Serve the squash blossoms atop the zucchini and tomato ragout.