Chia seeds aren't just for smoothies! This Roasted Chia Cauliflower recipe from Health Warrior is a tasty way to incorporate chia into your diet.
In case you haven't noticed, I've been on a little bit of a chia kick lately. I put those crazy little seeds on and in just about everything. Did you know that Aztec warriors ate chia seeds before battle? If they can fuel warriors in battle, surely they can fuel me while I stand around in the kitchen doing the robot while waiting for onions to caramelize. (Onions take a long time to caramelize!)
My favorite way to use chia seeds is to throw them in a smoothie or juice, but you can do so many other things with them too. Use them as an egg substitute! Put them in homemade granola bars! Make chia pudding! Stir them into oatmeal for breakfast! And they also make a nice crunchy topping to this Roasted Chia Cauliflower.
About the Recipe
I make roasted cauliflower all the time, so when I saw this recipe from Health Warrior, I knew it was kismet. Chia and cauliflower? Together? This recipe was made for me. Cauliflower is healthy, but chia seeds add an extra boost of nutrition. As a vegetarian, I don't eat fish, so I have to get my Omega-3 fatty acids from non-fishy sources; I used to use flax seeds, and while I still like those, I've switched almost entirely to chia seeds because, unlike flax, chia doesn't need to be ground in order to get the nutritional benefits from it. Chia also has protein, fiber, and magnesium. All good things!
Before roasting the cauliflower, you make a chili-infused oil by heating olive oil with a pinch or two of red pepper flakes. This gives the cauliflower a little bit of a kick. After tossing the florets in the oil, you sprinkle them with chia seeds. Don't just dump them on there or they won't stick! The seeds get crispy as they roast in the oven. Roasted cauliflower was always one of my go-to side dishes, but now I'm going to be adding chia to it whenever I make it. I served these with some homemade peanut sauce on the side. Delicious!
About Health Warrior
If you're still not ready to jump onto the throwing-chia-seeds-in-everything-you-make train, Health Warrior makes tasty little 100 calorie Chia Bars too. (And you can win some on the Marketplace this month!) Remember a few years ago when 100 calorie snacks were all the rage? But you'd eat them and it would be completely unsatisfying because they were just sugar and artificial flavors and preservatives? Um yeah, these are not that kind of 100 calorie snack. They're made with real, whole food ingredients, including 4 grams of protein and fiber. We brought them in the car with us on our road trip to Atlanta and instead of stopping for junk food, we ate Chia Bars. (I bet Aztec warriors ate Chia Bars on their road trips too.)
If you like Health Warrior on Facebook, you can vote for the next flavor for their Chia Bars! And when you vote, you'll be entered to win a year's supply of Chia Bars and seeds, plus 3 months with a health coach.
Recipe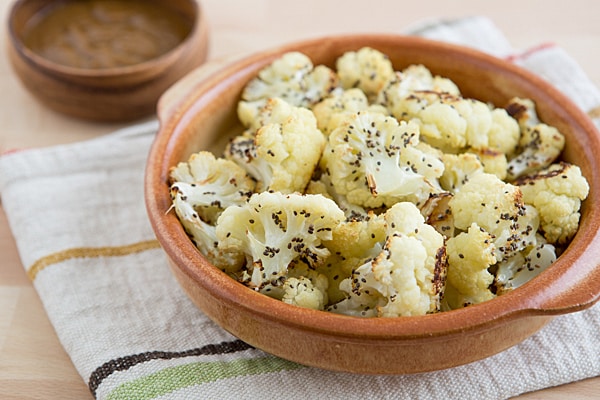 Instructions
Preheat oven to 400°F.

Heat olive oil and pepper flakes in a small saucepan over medium heat for about 3 minutes to infuse the flavor of the pepper into the oil. Set aside.

Line a rimmed baking sheet with foil. Transfer cauliflower to the baking sheet and drizzle with infused olive oil. Toss with tongs to coat. Sprinkle chia seeds over the cauliflower and add salt and pepper to taste.

Bake cauliflower for 20–30 minutes, or until softened and just beginning to brown.
Nutrition
Calories:
81
kcal
Carbohydrates:
8
g
Protein:
3
g
Fat:
5
g
Saturated Fat:
1
g
Polyunsaturated Fat:
1
g
Monounsaturated Fat:
3
g
Trans Fat:
1
g
Sodium:
44
mg
Potassium:
442
mg
Fiber:
4
g
Sugar:
3
g
Vitamin A:
2
IU
Vitamin C:
69
mg
Calcium:
51
mg
Iron:
1
mg
Craving more veg-friendly recipes?
Shop our collection of vegetarian and vegan cookbooks, including our new Vegan Thanksgiving and Vegan Christmas cookbooks!
Disclosure: Health Warrior compensated me for my time making and photographing this recipe. I'm thrilled to work with them because I was already a fan of their products. (You know, the whole chia kick I'm on right now.)