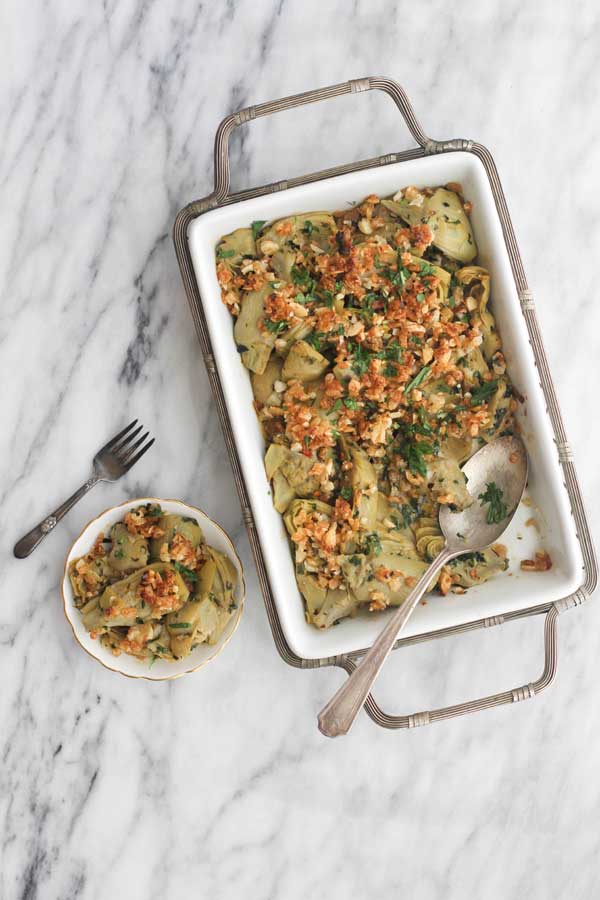 A few weeks ago I was watching a rerun of Everyday Italian with Giada De Laurentiis while I prepped our dinner for the evening. I love watching Giada effortlessly cook meals with all of her hair perfectly in place and her big, bright, beaming smile! Her passion for food is contagious and you can really feel her enthusiasm about every single ingredient she describes as she cooks.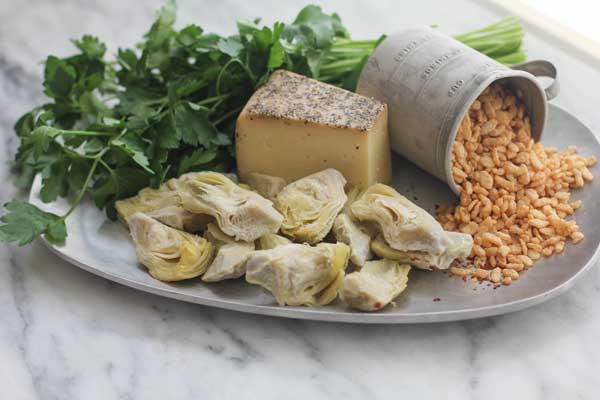 On this particular episode she was making artichoke gratinata featuring frozen artichokes. I was immediately intrigued by the simplicity of the dish and the fact that she pulled it together in around 25 minutes. I decided that with a few tweaks I could make a pretty amazing gluten-free, vegetarian version for my artichoke-loving family and we too could enjoy a simple weeknight side dish like this one.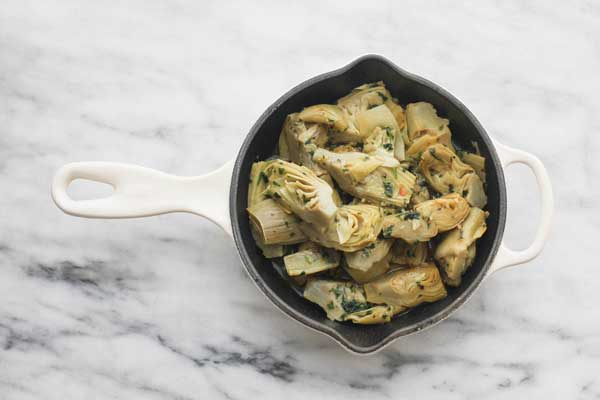 Giada's version of artichoke gratinata called for chicken broth which was an easy swap, although I do suggest using homemade vegetable broth if at all possible. It really adds a rich depth of flavor that you just can't achieve using store-bought broth. Giada also used bread crumbs in her version, which are off limits to us since we eat a gluten-free diet here in our home. I figured that I could pulse a few slices of gluten free bread in the food processor and toast the crumbs, but for me that was just one more step to add to the prep time. So I simply subbed in crispy brown rice cereal that I crushed by hand instead. The last little tweak that I made was to add chopped blanched almonds to the topping mixture. Almonds taste great and are good for you too, so I try to work them into my family's meals whenever possible.
The evening that I made this gratinata for my family I served it alongside gluten-free pasta tossed with fresh spinach, lemon juice, and Parmesan cheese. It was the perfect dinner for a busy weeknight!
Artichoke Gratinata
Serve this artichoke gratinata as a side dish or toss it with pasta to make it a meal!

Ingredients
3 tablespoons olive oil
1 garlic clove, minced
1 pound frozen artichoke hearts, thawed and drained well
2 tablespoons chopped fresh parsley leaves, plus more for garnish
3/4 teaspoon salt
1/4 teaspoon freshly ground black pepper
1/8 teaspoon red pepper flakes
1/2 cup vegetable broth
1/4 cup Marsala wine
2 tablespoons butter
1/3 cup brown rice cereal, crushed (or panko if you're not gluten-free)
1/3 cup grated Parmesan cheese
1/4 cup blanched almonds, chopped
Instructions
Preheat the oven to 450ºF.
Warm the olive oil in a heavy bottomed skillet over medium-high heat. Add the garlic and cook for 30-45 seconds, until it starts to soften. Add the thawed artichoke hearts, parsley, salt, pepper, and red pepper flakes and cook until the artichoke hearts are starting to brown at the edges, about 3 minutes. Add the vegetable broth and Marsala wine to the skillet and simmer for 3 minutes. Transfer the artichoke mixture to a 2-quart rectangular baking dish.
Melt the butter in the same skillet you cooked the artichokes in. In a small bowl, mix the melted butter with the crushed brown rice cereal and chopped almonds. Stir in the Parmesan and top the artichokes with the crumbs. Bake until the top is golden, approximately 8-10 minutes.
Sprinkle additional chopped parsley over the top of the dish and serve immediately.