It's asparagus time! We've been working on planning posts for April and just about every idea we've had involves asparagus in some way, shape, or form. Of all the vegetables that are in season during spring, asparagus is the one I get most excited about and I guess I'm not alone. So when I saw asparagus at the store last weekend, I had to grab a bunch and put it to use in this week's meal plan—first asparagus of the season! Let's celebrate with a Curried Quinoa & Asparagus Salad…
Monday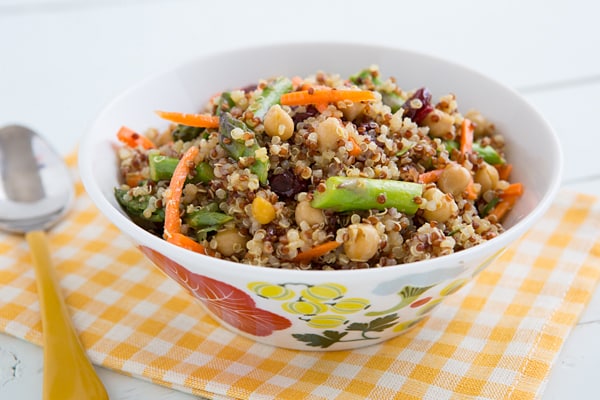 Curried Quinoa & Asparagus Salad from The Clever Carrot // This salad is a great way to welcome spring! Although it only calls for a cup of asparagus, I used a whole bunch in it and it worked out just fine. Leftovers make a great chilled lunch salad too.
Tuesday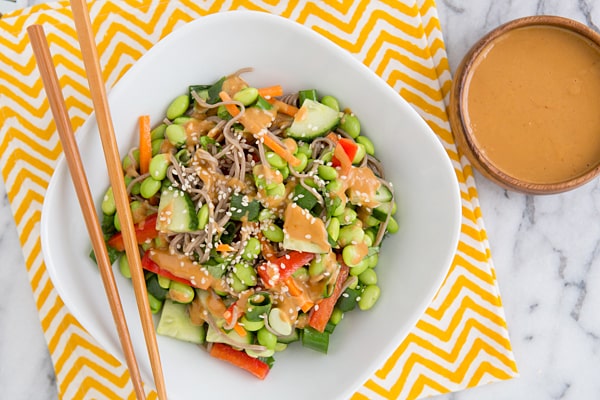 Thai Peanut Empowered Noodle Bowl from The Oh She Glows Cookbook (via Oh My Veggies) // Warmer weather makes me crave lighter meals like this Noodle Bowl from Oh She Glows. Packaged baked tofu would make a great addition to this recipe if your grocery store sells it; you can also double the soba noodles and the dressing and stretch this out to 6 servings. It's versatile like that!
Wednesday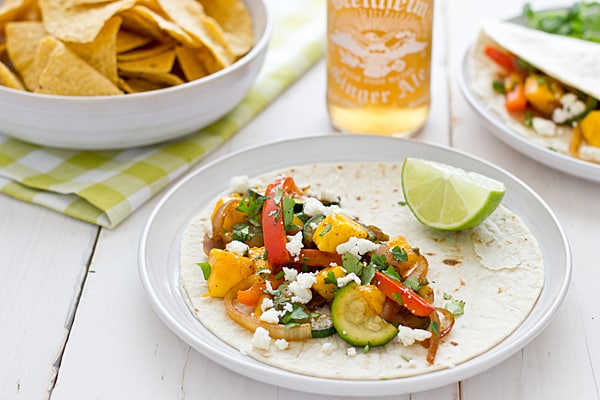 Sweet & Spicy Mango Fajitas from Oh My Veggies // You know how pineapple is unexpectedly delicious in a lot of savory dishes? The same is true with mango. I added our favorite fajita fixings to the shopping list (salsa, queso fresco, and lime!), but feel free to customize these with any toppings you like.
Thursday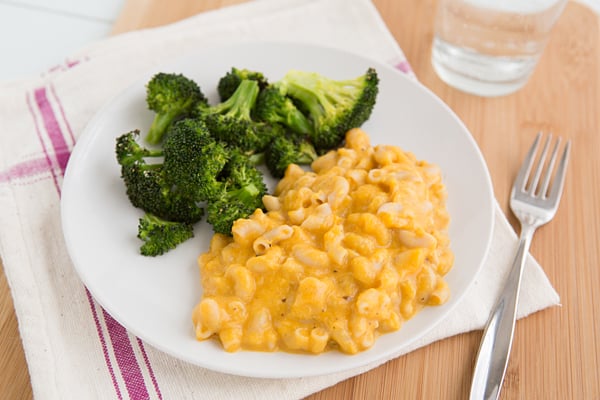 Healthy Mac & Cheese from Pinch of Yum + Roasted Broccoli // I love a good bowl of mac & cheese, but it's not something I can eat on the regular, so this Healthy Mac & Cheese is the perfect solution. It's made with butternut squash! I served roasted broccoli on the side—to make it, break your broccoli crowns into florets, put them on a baking sheet, spray them with an oil mister (or toss them with 2-3 teaspoons of oil) and sprinkle them with salt and pepper, then bake them for 15-20 minutes at 400ºF.
Friday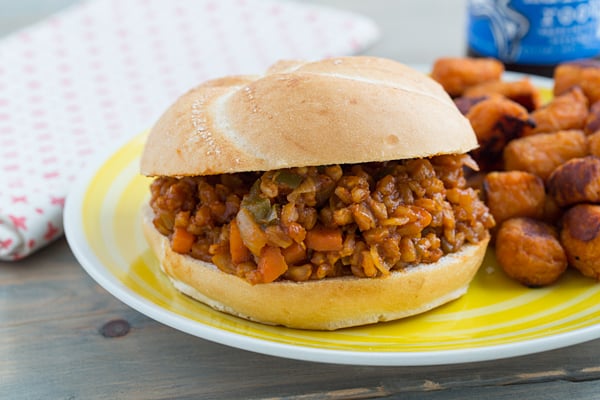 Farro Sloppy Joes from Cookie Monster Cooking + Sweet Potato Tots or Fries // Farro is a chewy, delicious whole grain form of wheat and it makes a fantastic substitute for ground beef in these Sloppy Joes. I wanted to serve these up with an easy side dish (am I the only one who loses steam when Friday afternoon rolls around?!), so I made frozen sweet potato tots—chips, baby carrots, a salad, or any other frozen side would work too.
Tips For This Week's Plan
I halved the amount of oil in the Curried Asparagus & Quinoa Salad, so if you'd like your salad to be lighter, you might want to do that too. I've also left the optional apple off of the shopping list.
The Sweet & Spicy Mango Fajitas can be made into a fajita bowl too! Just substitute cooked rice for the tortillas. Leftover green onions from the Empowered Noodle Bowl can be used as a garnish too.
I left the parsley for the mac & cheese off of the shopping list to save a little money. The recipe doesn't call for a specific variety of shredded cheese, so if you have some on hand, this is a great opportunity to use it up!
I try to make all of my lists work with one weekend grocery shopping trip, but this one is cutting it a little close. If you do your shopping on Sunday or Monday, you should be good; if you do it on Saturday, make sure your broccoli for Thursday's meal and the green pepper for Friday's meal look super fresh at the store; if they don't, you might want to pick them up mid-week.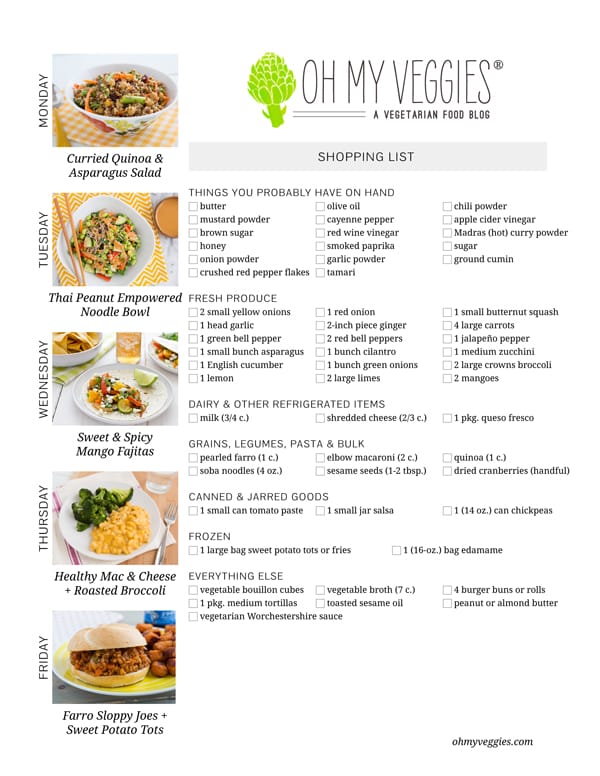 Click here for a printable version of this week's meatless meal plan and shopping list, then click on the links above to print out each recipe. Now you're set for the week!