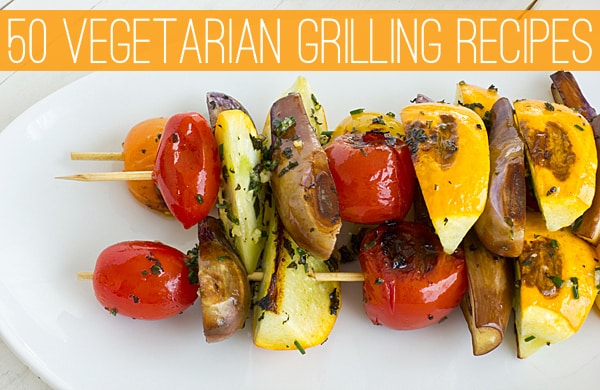 I'm pretty sure ours is the only house in our neighborhood that doesn't have a behemoth of a gas grill in the backyard. (The people behind us even have two gas grills!) I'm not sure if this is because we're vegetarian or because grilling sometimes seems like too much work and we're lazy. We do, however, have a little charcoal grill that we fire up on occasion during the summer months.
When meat eaters cook for vegetarians, frozen veggie burger patties are usually their go-to option. And don't get me wrong, I enjoy them! But if we're grilling for ourselves, it hardly seems worth all that effort for two little veggie burgers. When I grill, I want to grill something that's worth it! Well, here are 50 vegetarian grilling recipes that are totally worth it.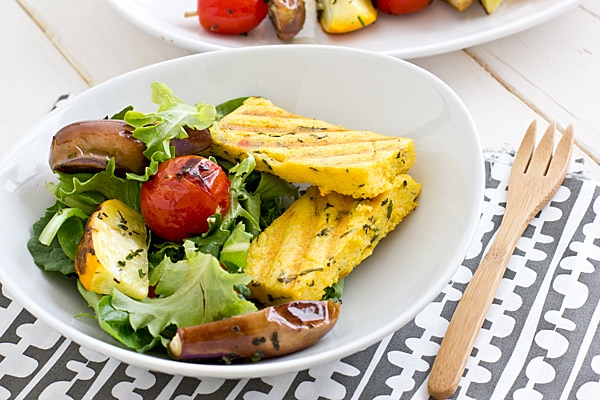 Grilled Veggie Salad with Basil Parmesan Polenta
Grilled Veggie Banh Mi Sandwiches
Grilled Summer Squash Pizza [Aggie's Kitchen]
Caramelized Grilled Asparagus [Bell'Alimento]
Hawaiian Teriyaki Shish Kabobs [Kitchen Treaty]
Tex-Mex Grilled Sweet Corn & Tomato Salad [MomFoodie]
Easy Grilled Vegetables [Gimme Some Oven]
Creamy Grilled Artichoke Dip [Food for my Family]
Grilled Ratatouille Pasta Salad [Two Peas and Their Pod]
Butter Herb Grilled Summer Veggie Packets [Sarah's Cucina Bella]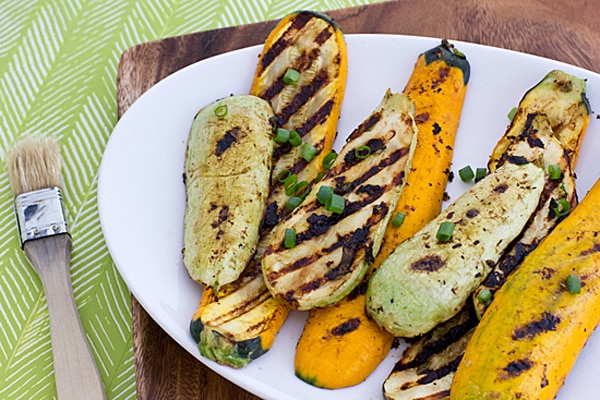 Miso Marinated Grilled Summer Squash
Grilled Caprese Naan Pizza
Mediterranean Couscous with Grilled Vegetables [Bev Cooks]
Grilled Corn Avocado Salad with Smokey Paprika Vinaigrette [A Spicy Perspective]
Grilled Vegetable Sandwiches [Foxes Love Lemons]
Grilled Cabbage Wedges with Spicy Lime Dressing [Breanna's Recipe Box]
Grilled Eggplant Parmesan de breaded au natural [The Cozy Apron]
Grilled Cauliflower Steaks with Fresh Corn and Black Beans [A Couple Cooks]
Cold Grilled Vegetable Soup [The Healthy Foodie]
Black Quinoa with Grilled Vegetables, Basil and Feta [Healthy Green Kitchen]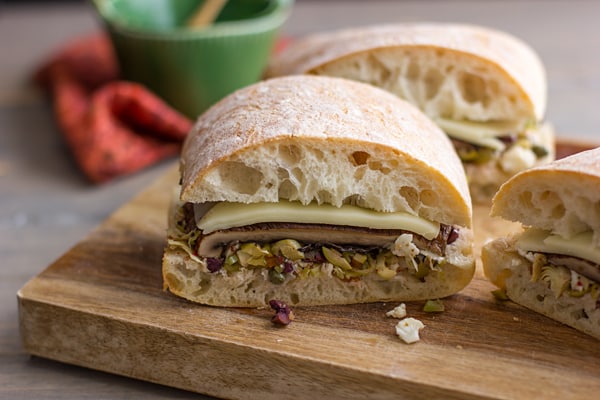 Grilled Portabella Muffuletta Sandwich
Mama Ghannouj
Grilled Avocado Tacos [Oh Sweet Basil]
Grilled Veggies with Lemon-Herb Vinaigrette [The Lemon Bowl]
Grilled Corn Quesadillas [Taste and Tell]
Grilled Fig Bruschetta [Recipe Girl]
Grilled Zucchini Goat Cheese Pesto Panini [Running to the Kitchen]
Grilled Vegetable Panzanella [Simply Scratch]
Grilled Zucchini Eggplant Parmesan [Cookin' Canuck]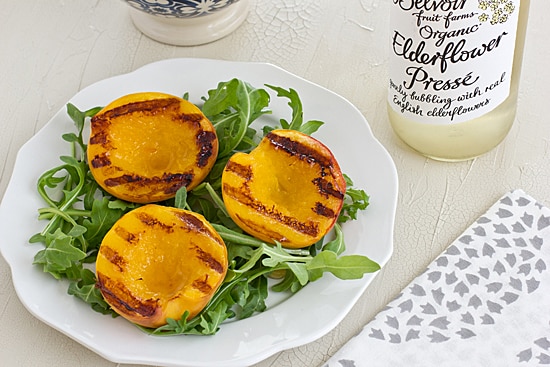 Grilled Peaches
Grilled Hummus Zucchini Crostini [Sarcastic Cooking]
Grilled Artichoke Pesto Zucchini Bites [Fifteen Spatulas]
Grilled Asparagus Tartines with Fresh Ricotta Pesto and Scallions [Panini Happy]
Grilled Corn and Tomato Fettuccine [How Sweet Eats]
Grilled Eggplant Halloumi and Pesto Burgers [Veggie Belly]
Stuffed Portabellas Stacked with Grilled Vegetables [Loaves and Dishes]
Whole Wheat Orzo and Grilled Vegetables [Kalyn's Kitchen]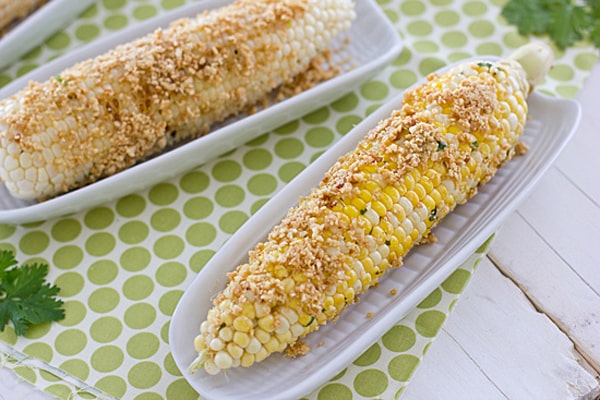 Thai-Style Grilled Corn with Roasted Peanuts
Grilled Vegetables with Yogurt Tahini Sauce [Cooking Light]
White Broccoli Pizza [Baked Bree]
Grilled Sweet Potato Wedges with Spicy Adobo Greek Yogurt Sauce [Eighty Twenty]
Pesto-Topped Grilled Summer Squash [Eating Well]
Tofu Greek Salad with Char-Grilled Vegetables, Rocket & Pistachios [Greek Vegetarian]
Grilled Potato Salad [101 Cookbooks]
Grilled Rosemary Garlic Potatoes [Virtually Homemade]
Eggplant Steak with Chickpeas, Roasted Red Peppers, Feta Cheese & Black Olives [Vegetarian Times]
Vegetarian Grilling Cookbooks!

If you're looking for more vegetarian and vegan grilling recipes, here are some additional resources:
The New Vegetarian Grill: 250 Flame-Kissed Recipes for Fresh, Inspired Meals
Grilling Vegan Style: 125 Fired-Up Recipes to Turn Every Bite into a Backyard BBQ
Grills Gone Vegan
The Complete Book of Vegetarian Grilling: Over 150 Easy and Tasty Recipes You Can Grill Indoors and Out