Macarons are the ultimate in decadence and here I've paired chocolate macarons with a smooth and creamy salted dark chocolate ganache.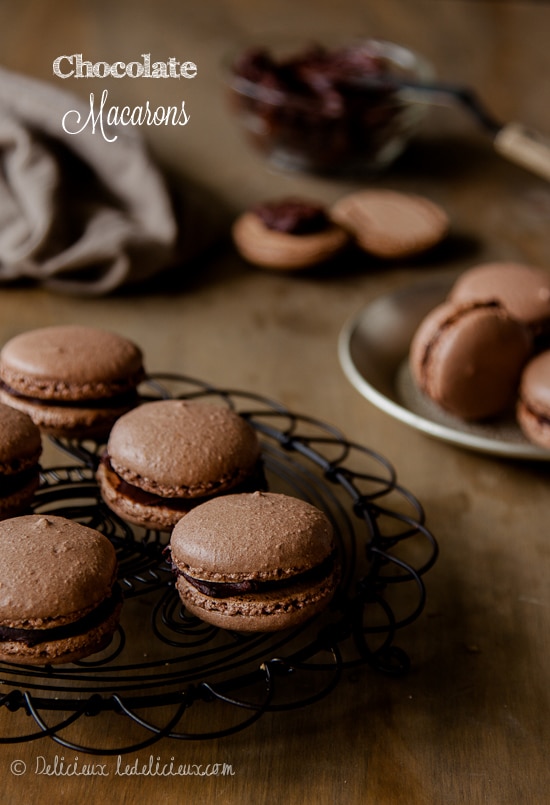 Macarons.  The mere mention can instill fear in many a baker, myself included.
I attempted to make macarons once before, and it was an unmitigated disaster. Every single one cracked.
And while I vowed not to let the disappointment get me down, and to make them again, it was another year before I did.
But recently I decided it was time to overcome my macaron fears and confront them head on by making a batch of chocolate macarons.
My chocolate macarons aren't perfect - I know they shouldn't have a visible nipple on top from piping - but hey, they aren't bad for my second attempt! I'm sure, with practice, they will only improve from here!
(P.S. I have not tried to veganize this recipe yet, although I will soon. But if you want to give it a go, be sure to grab this free printable with all my favorite vegan baking substitutions for inspiration!)
This time around I followed the brilliant tutorial from Mardi of Eat, Live, Travel, Write, who used a foolproof recipe from Stella of Brave Tart, who makes batch after batch of macarons for a living.
Who better to teach a macaron novice than an expert who makes them daily?
Thanks to both of these lovely ladies I learned macarons really aren't that scary.
There's no voodoo involved.
There's no need to pray to the macaron gods.
And that practice will make perfect.
Of course, as a chocolate addict, for my first batch of macarons, it had to be chocolate macarons.
Chocolate macarons filled with dark chocolate ganache.
After all chocolate, and especially dark chocolate is my absolute favourite treat in the whole world.
So if you've been put off making macarons in the past because they haven't been successful, it's time to try again. You'll be rewarded with a beautiful batch of this delicious French treat.
And if they crack, or don't develop feet, just think of it this way - it's another step towards success.
Besides, they're still delicious, and would be great in an Eton mess!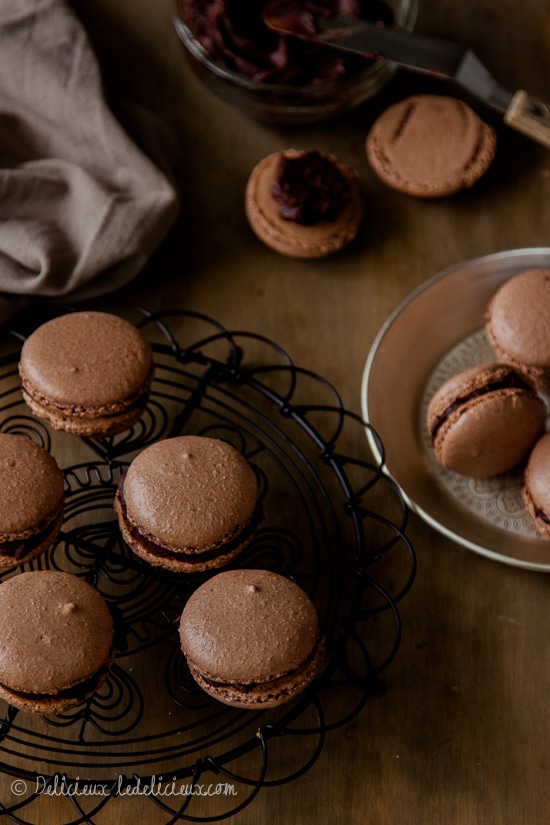 Did you make this recipe?
I'd love to see! Share your photo on Instagram and use the hashtag #deliciouseveryday for a chance to be featured or share it on my Facebook page. 
And don't forget to follow Oh My Veggies on Pinterest, Facebook and Instagram for all of the latest news and competitions.

Recipe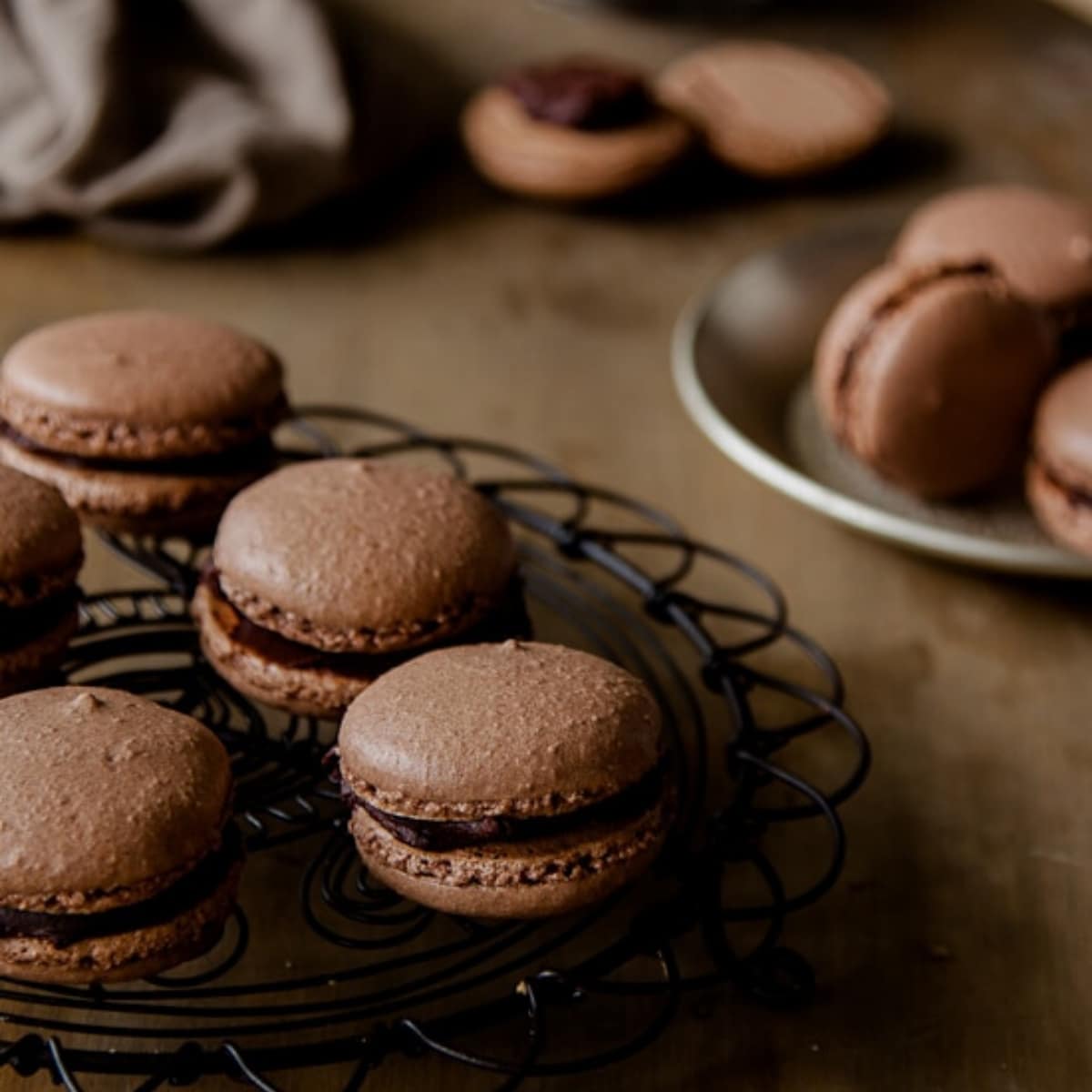 Ingredients
115

g

almond meal (also called ground almonds or almond flour)

(4 oz)

230

g

icing sugar (also called powdered sugar)

(1 ¾ cups)

15

g

cocoa powder

(2 tbsp)

144

g

egg whites

(5 oz)

72

g

caster sugar (also called superfine sugar)

(⅓ cup)
DARK CHOCOLATE GANACHE:
130

g

dark chocolate

(4 ½ oz)

130

mls

cream

(½ cup)

pinch of sea salt
Instructions
Line two baking trays with parchment paper. Keep a third tray aside as you are going to pop each lined baking tray into the third tray when you bake the macarons.

Prepare a piping bag with a round tip and place inside a tall drinking glass and roll the edges over the drinking glass so it's ready to fill with your macaron mixture.

Place the almonds, icing sugar and cocoa in a food processor, and pulse to combine. Do this around 10 times, or until all the ingredients are mixed well together. Sift in a fine mesh sieve, twice.

Place the egg whites and caster sugar in the bowl of a stand mixer fitted with a whisk attachment and whisk for 2 minutes at a low speed (KitchenAid speed four). Increase to a medium speed for 2 minutes (KitchenAid six) followed by a high speed (KitchenAid eight) for 2 minutes. The whisked egg whites should form a clump in the middle of the whisk. Remove the egg whites from the whisk and detach the bowl from the mixer before adding the almonds, icing sugar and cocoa.

Fold the dry ingredients into the whisked egg whites, pressing against the side of the bowl. The goal here is to incorporate the dry ingredients, but also to deflate the egg whites. This should take about 40 strokes. The mixture is ready to pipe when it flows in ribbons off the spatula, like lava.

Fill the prepared piping bag with half the mixture, sealing the open end with a twist.

Pipe four dots of the mixture in the corners of the tray, under the baking paper, to secure the baking paper to the tray to prevent sliding.

To pipe the macarons, hold the piping tip at an angle to the baking tray and pipe circles about 3cm in diameter.

Grab the sides of the baking tray and tap it on a hard surface (such as your kitchen bench) 3 to 4 times to remove air bubbles. Refill the piping bag and pipe and tap the second tray of macarons.

Rest the macarons for 30 minutes before baking, or until the macarons are not sticky or tacky to touch. While the macarons are resting preheat the oven to 150 celsius (300 Fahrenheit).

Place a piped tray inside the empty baking tray and bake in the middle rack of the oven for 16 minutes, rotating the tray at the 8 minute mark. Remove from oven and cool on the tray for a few minutes before removing the baking paper from the tray and allowing the macarons to cool for 30 minutes on a cool surface before placing onto a cooling rack.

While the macarons are cooling make the ganache. Place the cream in a small saucepan and bring to a boil over a medium heat. Remove from the heat and add the chocolate and leave to sit for a minute. Add the sea salt and whisk to combine. Leave to cool at room temperature until the ganache is a spreadable consistency and not too runny.

Once completely cooled fill with chocolate ganache and refrigerate, covered, for 24 hours to allow the flavours to fully develop.
Notes
Measurements provided in brackets are approximate. For best results I STRONGLY urge you to invest in kitchen scales and weigh your ingredients.
Nutrition
Calories:
78
kcal
Carbohydrates:
9
g
Protein:
1
g
Fat:
4
g
Saturated Fat:
1
g
Cholesterol:
4
mg
Sodium:
8
mg
Potassium:
37
mg
Sugar:
8
g
Vitamin A:
50
IU
Calcium:
11
mg
Iron:
0.5
mg
Craving more veg-friendly recipes?
Shop our collection of vegetarian and vegan cookbooks, including our new Vegan Thanksgiving and Vegan Christmas cookbooks!