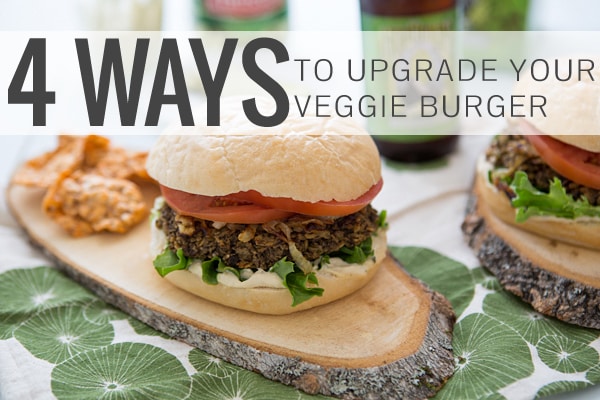 I don't know about you, but veggie burgers are a staple in my house. They're the quintessential easy vegetarian dinner—whether they're homemade ones I've stashed in the freezer for later or store-bought. (Want to know my favorite pre-made veggie burgers? I've rounded up my picks here.) But a patty with a slice of cheese and a handful of lettuce can get boring after a while! And when you find yourself getting bored, you know your veggie burgers need an upgrade. Here are 4 ways to add some variety to your next veggie burger dinner.
Cashew Mayo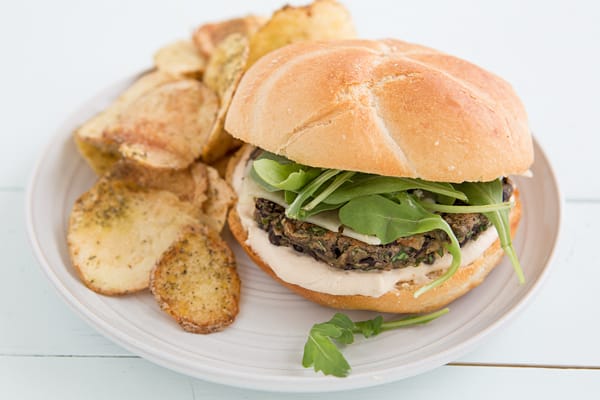 I love whipping up a batch of cashew mayo when I'm making veggie burgers. Although it's best to soak the cashews for a few hours beforehand, if you have a high-powered blender and use warm water, you can skip the soaking part and it will still work out. The best part about cashew mayo is that you can tweak the recipe and make so many variations—try adding fresh herbs, smoked paprika, curry powder or sriracha. And it doubles as a cheese substitute too!
Caramelized Onions
If you don't keep a batch of caramelized onions on hand in the freezer, you should! They freeze beautifully and they're the perfect way to add a little oomph to a store-bought burger. Don't want to bother making them yourself? A smear of onion jam on your burger bun will work too. My favorite is The Gracious Gourmet's Balsamic Four Onion Spread.
Slaw & Quick Pickles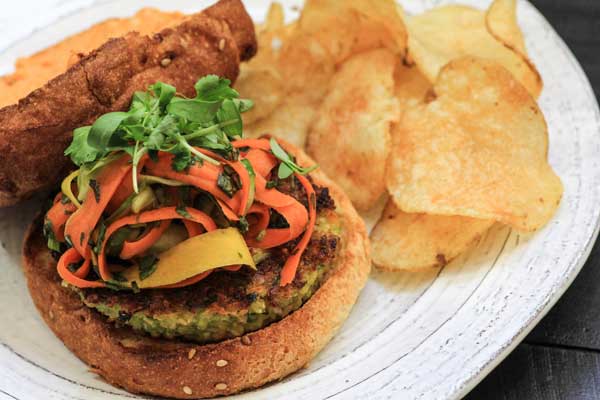 Instead of topping your burger with lettuce (yawn!), try a quick slaw instead. You can go the classic route and do shredded cabbage tossed with apple cider vinegar, oil and a pinch of sugar, or try shredded carrots, jicama, fennel and broccoli. This slaw uses Greek yogurt to add creaminess, or you can give your burger a Southwestern twist by using lime juice, oil and a pinch of cayenne. Quick pickles, like on this Thai Veggie Burger, are easy to throw together too—let the pickles marinate while you cook your burgers.
Vegetables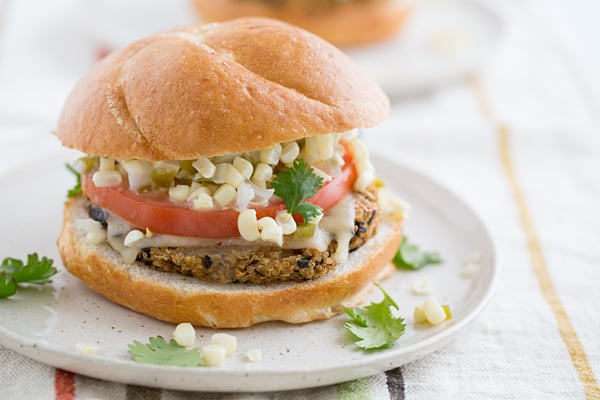 Vegetables on veggie burgers? Yes! Duxelles is one of my favorite ways to top a burger, but mushrooms sautéed in a little butter or oil with a splash of red wine are delicious too. Roasted red peppers are a great topping for a Greek-style burger, or try roughly chopped marinated artichokes. Corn isn't technically a vegetable, but I love this easy corn relish on a grilled veggie burger in the summer. Even julienned zucchini can add a little crunch and texture to a burger.