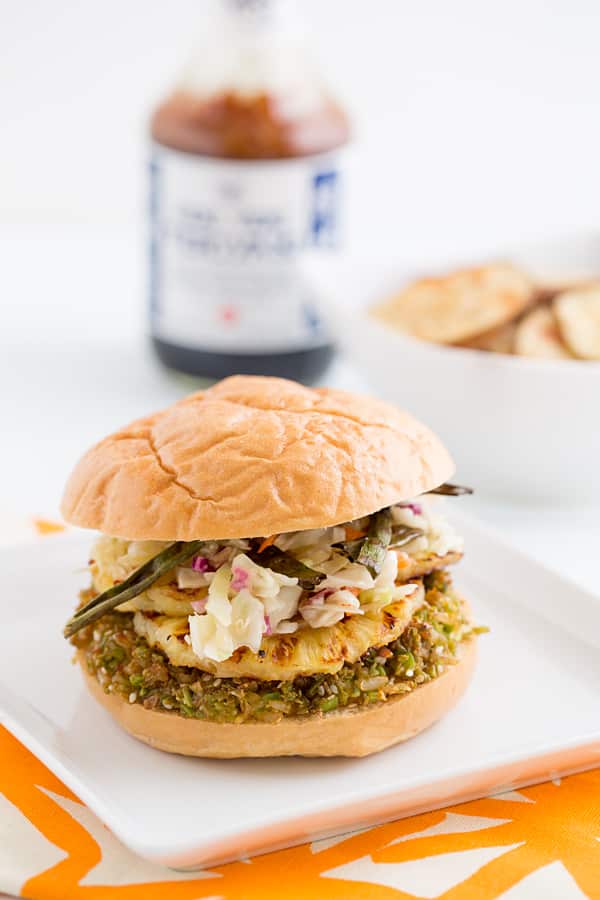 This recipe tops the Teriyaki Edamame Burgers with grilled fresh pineapple, crispy green onions, and an Asian-inspired slaw.
A Trip to Japan
A few years ago, I thought it was a good idea to go to school full-time while working full-time as a librarian and almost full-time doing contract work for a search engine. (In case you now think I live in an alternate universe with 36 hour days, you should know that both my classes and my second job were online.) I just wanted work experience! I was in a competitive field! Also, if you have two full-time jobs, if you lose one, guess what? YOU STILL HAVE A JOB!
While the schedule was just a wee bit of a drag, the bonus was that having 3 full-time incomes in a household with no children and very few expenses meant that our fun money budget was huge. So when I checked airfares to Osaka on a whim one day and found a crazy good deal, we booked ourselves some tickets and went to Japan.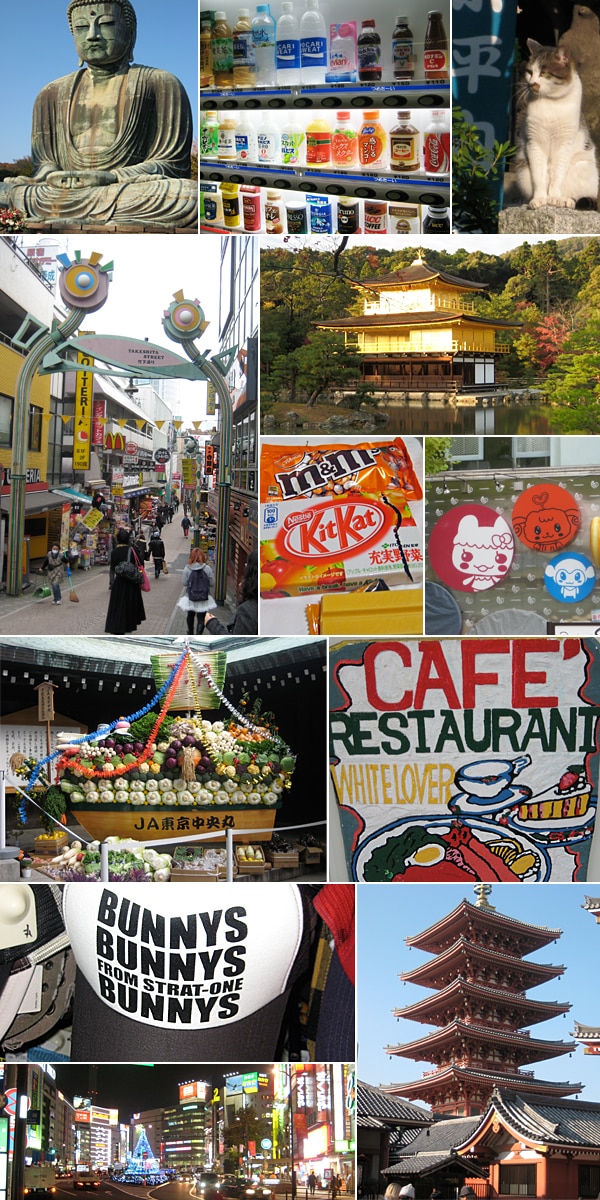 Japan! Best trip ever! I have loved Japan for as long as I can remember. I think it's because I love absurdity and the people of Japan have a deep appreciation for the absurd. Japan is a place where you can buy vegetable juice-flavored Kit Kats. It's a place where they put slices of cheesecake inside crepes. It's the homeland of Hello Kitty. Hello Kitty. Actually having the chance to go there was completely surreal and wonderful and we decided that we would go back every year.
Which, of course, didn't happen. The whole 2 full-time job thing didn't last very long because sometimes you have to put sanity ahead of money and awesome trips to Japan.
Finding things to eat in Japan presented a bit of a challenge. It's one of those countries where food that seems like it would be vegetarian often isn't. We planned most of our meals in advance with the help of Happy Cow, but sometimes that didn't work out and we ended up grabbing trays of veggie sushi at convenience stores or getting veggie burgers at fast food restaurants. And those veggie burgers were pretty good!
About the Recipe
Japan does all kinds of crazy things with burgers. The veggie burgers we had were pretty standard, but if you're more meatily-inclined, you can get burgers topped with spaghetti or squid ink ketchup. Burgers made with rice patties instead of buns are also a thing in Japan. I sat with this idea for a while and finally decided to tackle it on my blog, except I wimped out and made the rice patties the patty instead of the bun. (I think it's better this way for everyone, really. Do you really want a burger between two rice patties? No, you don't.)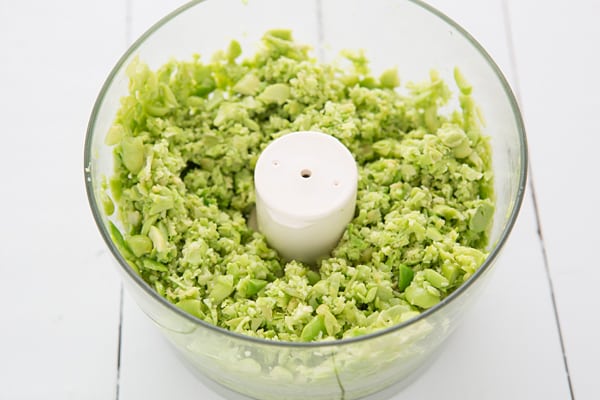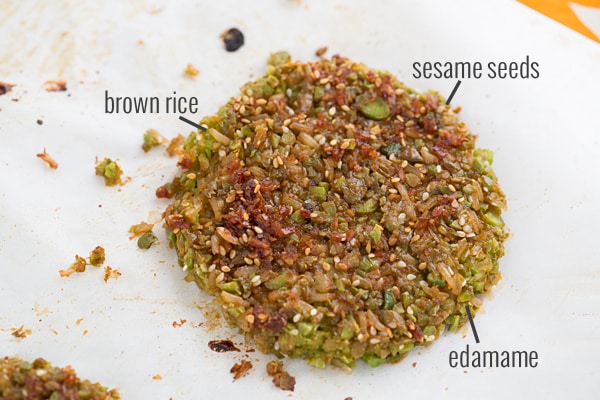 Plain rice would be pretty meh, so I threw in some edamame too. Unlike other beans, edamame doesn't form a paste when it's mashed, so these burgers do have a tendency to crumble a little bit if you're not careful when handling them. To give them a boost of flavor, I brushed them with a teriyaki glaze as they cooked. And because a burger is really only as good as its toppings, I added grilled pineapple, crispy grilled green onions, and an Asian-inspired slaw on top. Yes, there is a lot going on in these burgers! But you really shouldn't skip any of these parts because the burger reaches maximum deliciousness with all these things combined together.
This is the last burger recipe in my summer of veggie burgers series! (It was also Chris's favorite.) In case you missed any of them, here they are: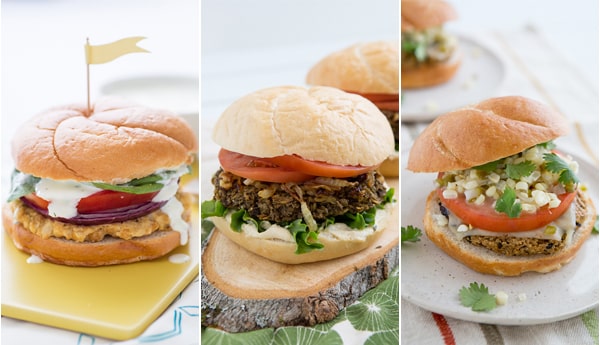 Cauliflower Hummus Burgers with Mint Tzatziki
Lentil Mushroom Burgers
Chipotle Black Bean Quinoa Burgers with Sweet Corn Relish
Did I really only do 3 burger recipes this summer? It seemed like so many more. (Should I do fall of veggie burgers too? Winter? A YEAR OF VEGGIE BURGERS?! Hmm.)
Recipe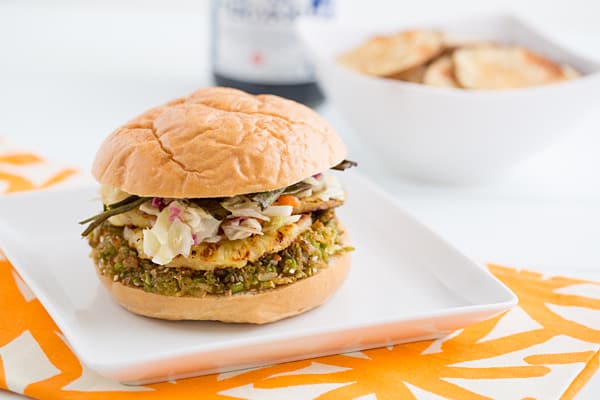 Servings:
4
big burgers or 6 smaller burgers
Ingredients
2

cups

frozen shelled edamame

thawed

1

cup

cooked brown rice

1

tbsp

sesame seeds

2

tbsp

low-sodium soy sauce or tamari

2

garlic cloves

minced

2

tsp

grated fresh ginger

1

egg

lightly beaten

¼

cup

teriyaki marinade

I like Soy Vay
oil mister or cooking spray

½

pineapple

cored and cut into ¼-inch rings

4

green onions

¾

cup

coleslaw mix

1

tbsp

rice wine vinegar

1

tbsp

toasted sesame oil

salt and pepper to taste

4

–6 hamburger buns
Instructions
Preheat oven to 350°F.

Pulse the edamame in a food processor until it's coarsely chopped. Transfer the edamame to to a large bowl. Stir in the rice, sesame seeds, soy sauce, garlic, and ginger. Fold in the egg.

Line a large baking sheet with parchment paper. Divide the burger mixture onto the baking sheet in 4–6 mounds (4 for bigger burgers, 6 for smaller ones), then press each mound into a patty. Bake the burgers for 15 minutes, then brush with the teriyaki marinade and bake for 10 minutes more.

While the burgers are baking, heat an indoor grill to Sear (or High if yours doesn't have a Sear setting; a grill pan works too if you don't have an indoor grill). Spray the grates with oil and grill both sides of the pineapple and onions until the pineapple is has grill marks and the onions are crispy. Break the onions into small pieces.

Toss the coleslaw mix with the vinegar, sesame oil, and salt and pepper to taste.

Place each burger patty on a bun, then top with grilled pineapple, slaw, and crispy green onions.
Nutrition
Calories:
416
kcal
Carbohydrates:
62
g
Protein:
19
g
Fat:
12
g
Saturated Fat:
2
g
Polyunsaturated Fat:
5
g
Monounsaturated Fat:
4
g
Trans Fat:
1
g
Cholesterol:
41
mg
Sodium:
1435
mg
Potassium:
704
mg
Fiber:
8
g
Sugar:
19
g
Vitamin A:
258
IU
Vitamin C:
67
mg
Calcium:
192
mg
Iron:
5
mg
Craving more veg-friendly recipes?
Shop our collection of vegetarian and vegan cookbooks, including our new Vegan Thanksgiving and Vegan Christmas cookbooks!