These easy vegan enchiladas with re-fried black beans are packed with Mexican flavor, and easy to make in just 30 minutes. You only need six simple ingredients for this easy vegetarian dinner. Meatless meals don't get much easier, and more delicious than this!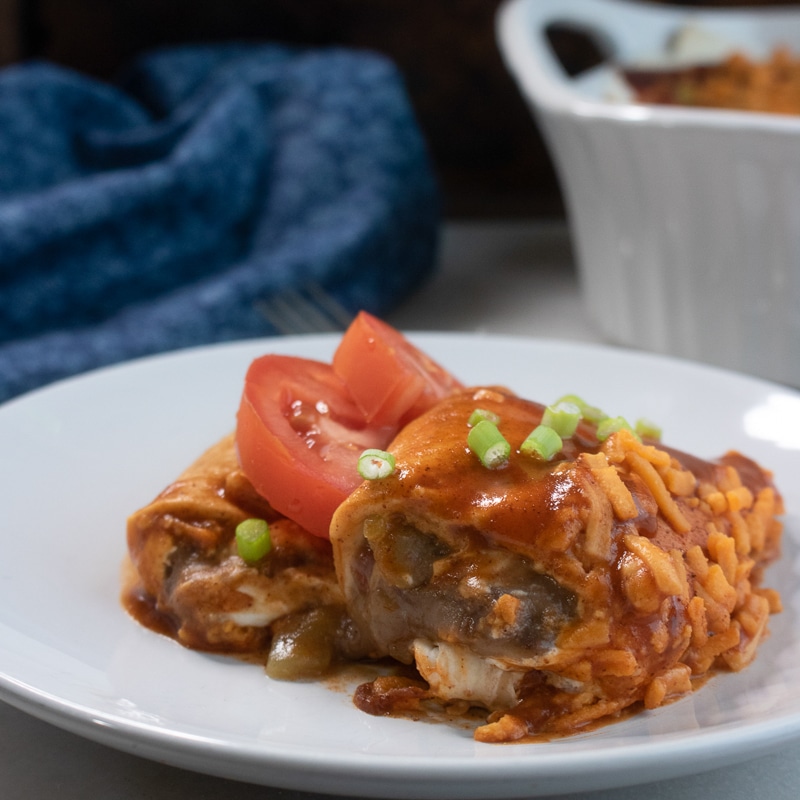 I've always had a bit of a thing for Mexican food. In fact, these Mexican Street Corn tacos and these Mexican Black Bean Salad are two of my own favorite recipes.
Oh, and don't forget these Zucchini, Black Bean, and Goat Cheese enchiladas too. Yummmmmy.
But I also wanted to create some totally plant-based, Mexican-inspired options too.
And so these vegan enchiladas were born!
And I think they came out pretty amazing. These enchiladas are:
Packed with Mexican flavor
Quick & easy to make for a weeknight dinner
Ready in just 30 minutes.
Great as a meatless entree for your veggie-minded dinner guests.
100% vegan and vegetarian friendly.
Easy to make gluten-free too with gluten-free tortillas.
Everything is so easy to put together - just a quick assembly, pop it into the oven, and you have a piping hot Mexican dinner ready to serve.
And if you're in love these flavors, be sure to check out these Vegan Burrito Bowls too!
But before you get into cooking this deliciousness, be sure to grab a copy of my free vegan cheat sheet - packed full of easy tips and tricks to vegan-ize just about any recipe! 
How to Make Vegan Enchiladas
Start by preheating your oven to 350 degrees F (190 degrees C). Then, spray a 9 x 13-inch baking dish with cooking spray and set it aside.
Lay out 5 tortillas on your counter top.
I used my favorite Mission Gluten-free Tortillas in this recipe to keep things gluten-free. But feel free to choose your own favorite brand!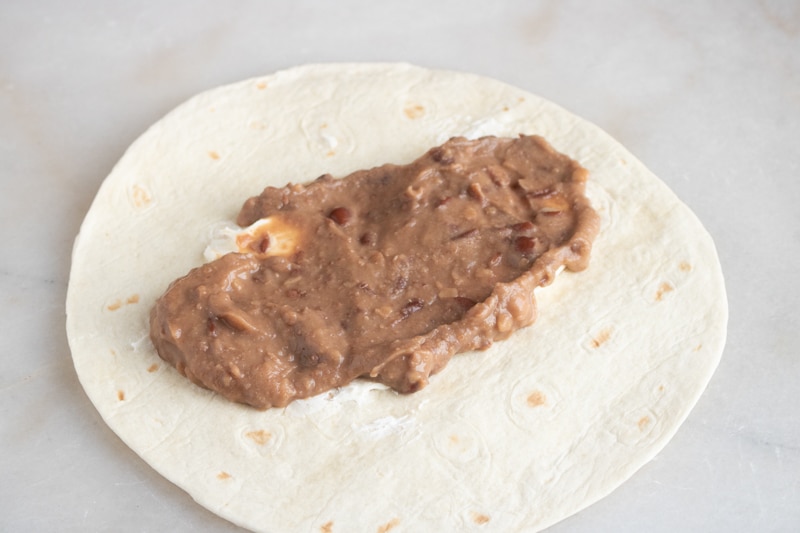 Spread a big spoonful of  vegetarian re-fried black beans and a scoop of your favorite vegan cream cheese down the center of each tortilla.
The creamy combination of beans and dairy-free cream cheese gives these vegan enchiladas authentically cheesy texture. You'd never guess they're plant based!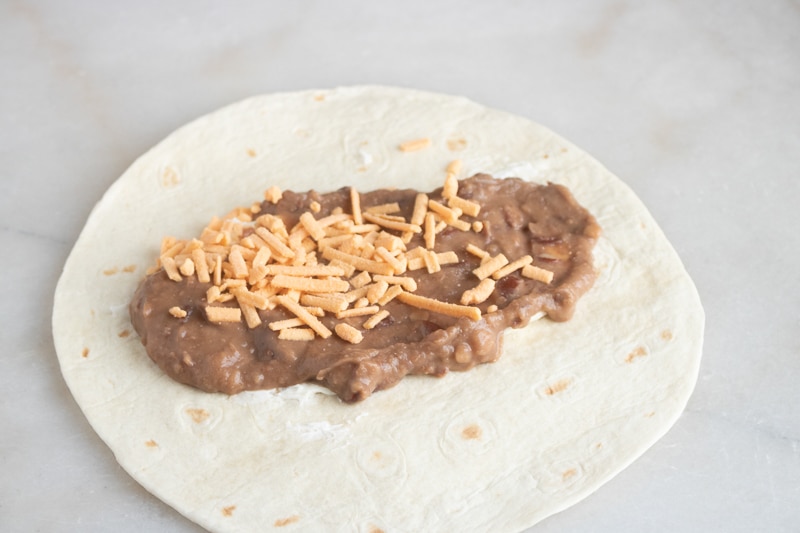 Next, add some diced tomatoes. I like to buy the canned diced tomatoes with the chilies mixed in for a bit of added spice and a nice, zesty flavor.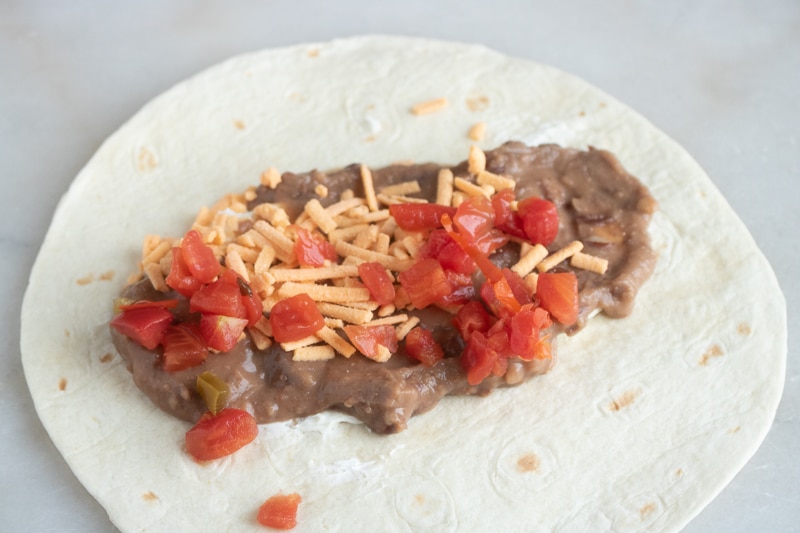 Sprinkle half of the vegan cheese over the tortillas. Roll up the tortillas around the bean mixture. It's like rolling a burrito, but there's no need to seal off the ends.
Pour a small amount of your favorite enchilada sauce over the bottom of the prepared baking dish. (If you want to try your hand at homemade enchilada sauce, check out this recipe.)
Arrange each enchilada in the baking dish, with the seam sides down so they don't open back up!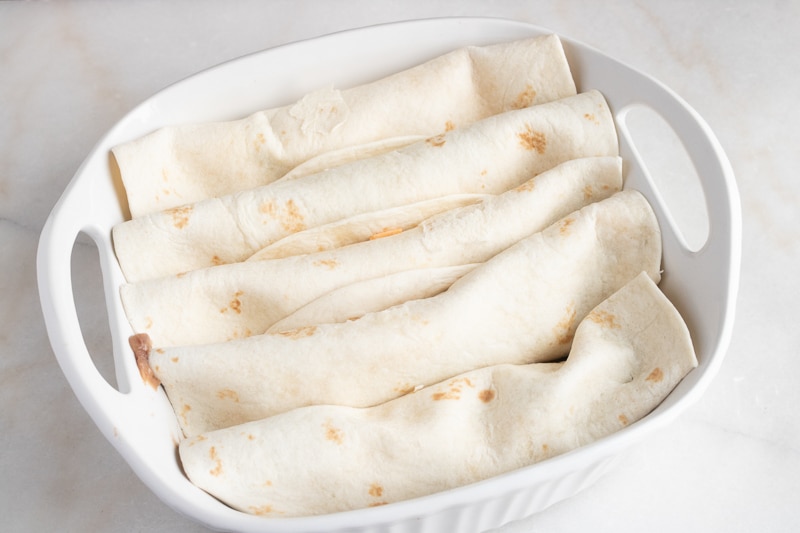 Smother a generous amount of enchilada sauce over the top of the veggie enchiladas until they are completely covered.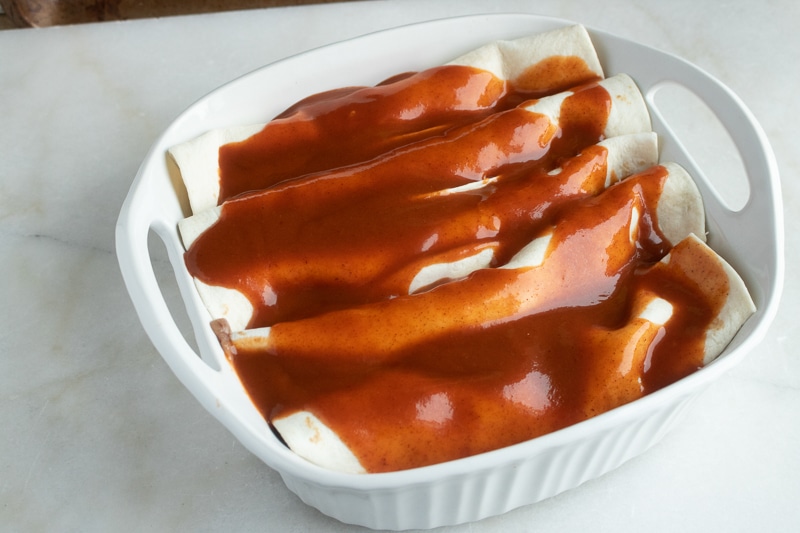 Top with more vegan cheese - until they're just cheesy enough for you. This part is subjective. 😉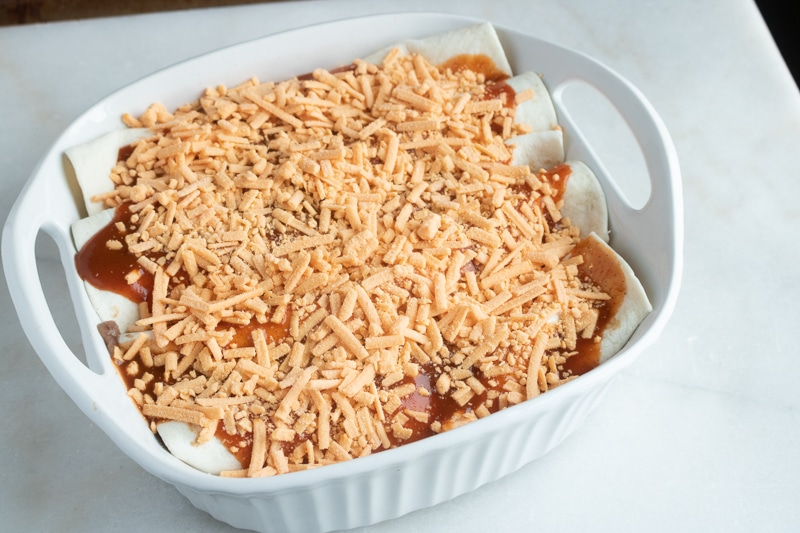 Bake uncovered until the cheese is nicely melted and the sauce is bubbly, about 20 to 30 minutes.
Remove from the oven and let the vegan enchiladas cool down for 5-10 minutes before digging in.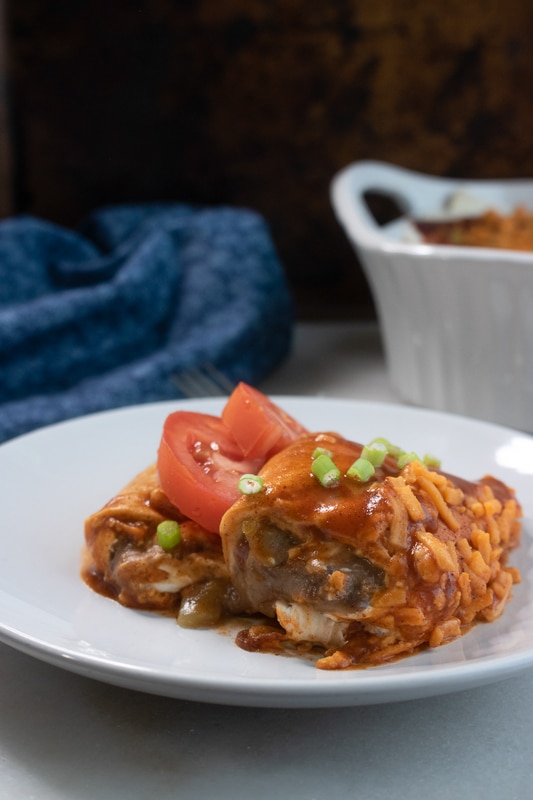 You can garnish these vegan enchiladas with some fresh cilantro or chopped scallions. Serve them with fresh tomatoes, avocados, or a dollop of dairy-free sour cream.
Enjoy!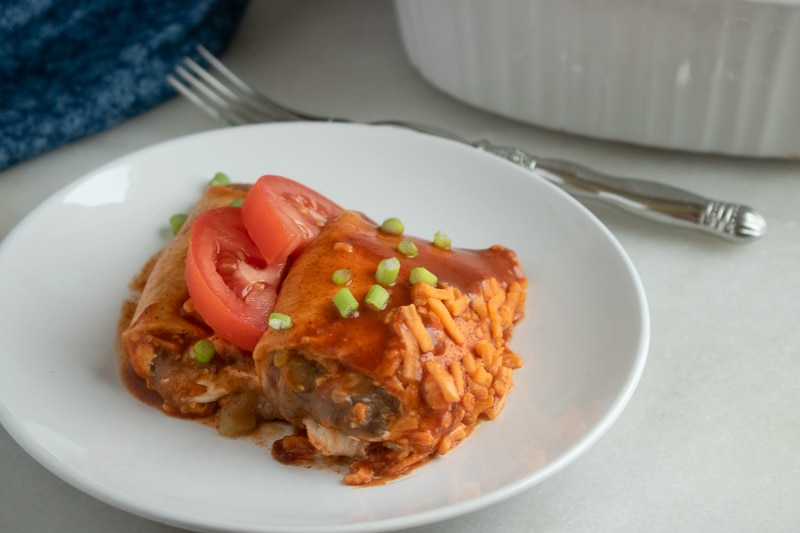 Tips for Making Vegan Enchiladas
What's the best vegan cheese to use?
There are a ton of decent vegan cheeses available these days. For this type of recipe, you'll want a brand that melts well. I've had great luck with the Follow Your Heart and Daiya brand cheeses.
Be sure to choose vegetarian re-fried beans.
Many brands of re-fried beans are not vegetarian friendly. Be sure to pick a vegan brand like Amy's to keep this recipe plant-based.
Arrange your enchiladas with the seam side down.
This is simply so they don't pop back open while they're baking!
Grab a copy of my vegan cheat sheet.
If you haven't already grabbed it, be sure to snag a copy of my free vegan cheat sheet. It's packed with my favorite tricks for making just about any recipe vegan!
Recipe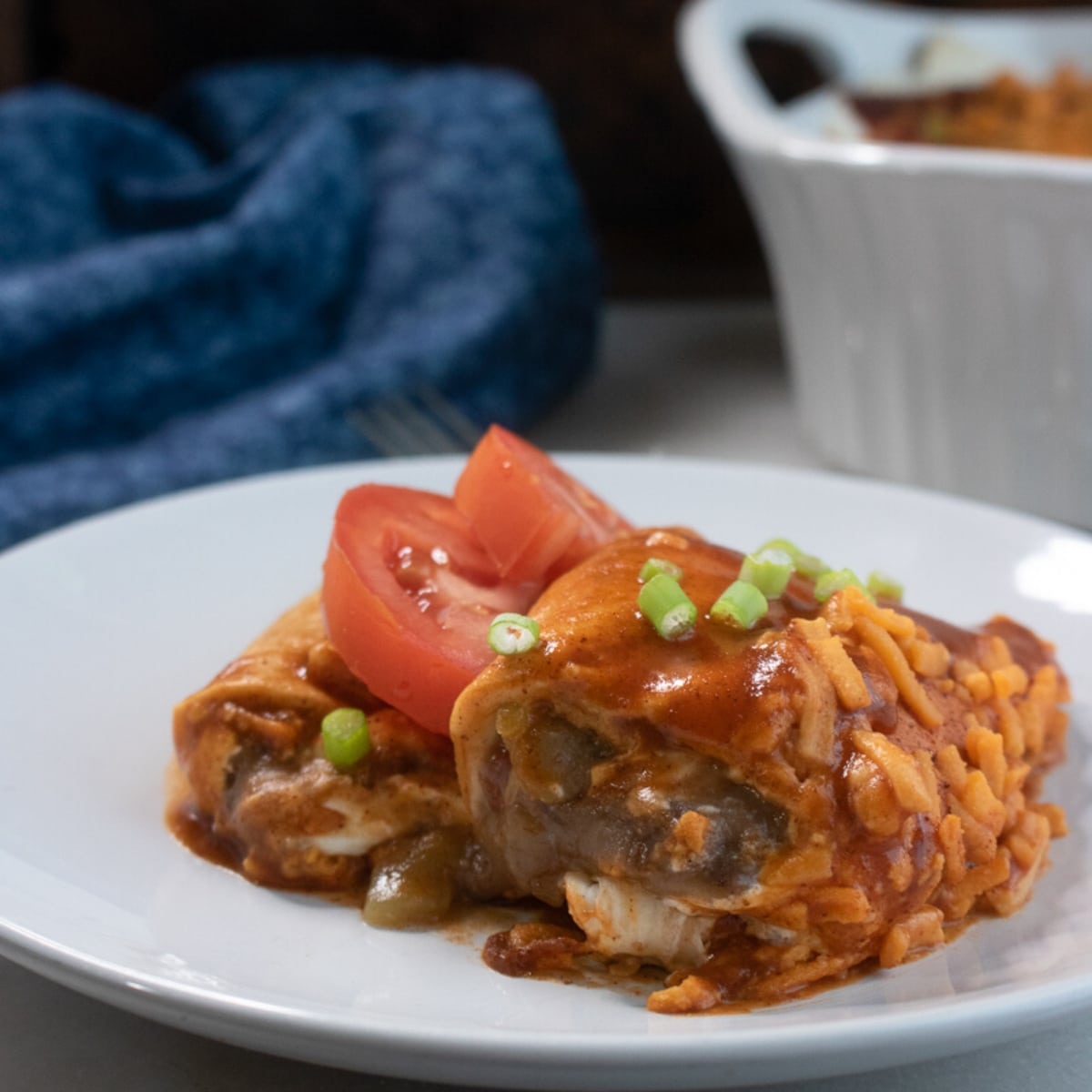 Instructions
Lay the tortillas on a flat surface. Spread a scoop of the re-fried black beans and a scoop of the vegan cream cheese, down the center of each tortilla.

Add the diced tomatoes to each tortilla, spreading on top of the black bean and cream cheese mixture. Sprinkle half of the vegan cheddar cheese over the tortillas. Roll up the enchiladas.

Pour a small amount of the enchilada sauce into the bottom of a casserole dish - just enough to cover the bottom. Arrange the rolled up enchiladas in a single layer in the baking dish, and then pour the rest of the enchilada sauce over the top of the enchiladas.

Top with the remaining cheese.
Nutrition
Calories:
618
kcal
Carbohydrates:
72
g
Protein:
19
g
Fat:
30
g
Saturated Fat:
10
g
Sodium:
2936
mg
Potassium:
269
mg
Fiber:
16
g
Sugar:
19
g
Vitamin A:
1103
IU
Vitamin C:
11
mg
Calcium:
199
mg
Iron:
6
mg
Craving more veg-friendly recipes?
Shop our collection of vegetarian and vegan cookbooks, including our new Vegan Thanksgiving and Vegan Christmas cookbooks!