This Vegan Burrito Bowl is bursting with flavor, and it's so quick easy to make! It's packed with wholesome ingredients like black beans and fresh veggies, and topped off with a creamy homemade guacamole. Plus, it's completely vegan and gluten-free.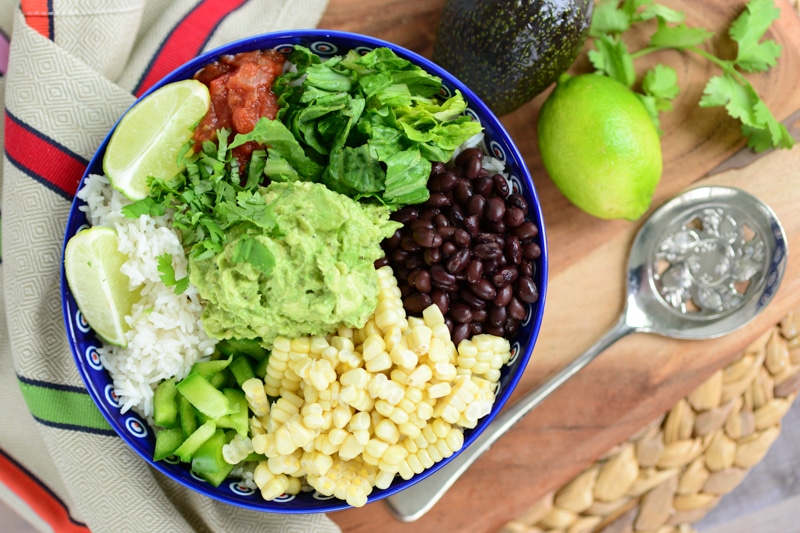 Is this even really Mexican food?
I just love Mexican food- it's something I don't cook nearly enough. But did you know that when you make Mexican food, like this vegan burrito bowl, you're probably really making Tex-Mex ?
You see, when people first started settling in Texas, they started incorporating Texan food into traditional Mexican cuisine, which was introduced to the settlers by the Tejanos (Texans who were of Mexican descent).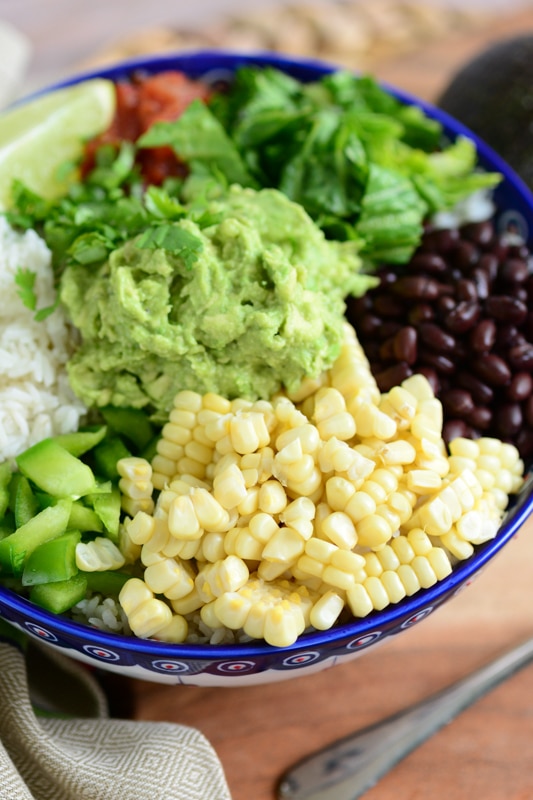 Over time, Tex-Mex cuisine became even more Americanized and people started using yellow cheese, black beans, canned vegetables (like tomatoes), and one of my favorite spices — cumin.
I just think it's so interesting how food evolves over time, to reflect the culture of the people preparing it.
But whether this vegan burrito bowl is actually Mexican food, Tex-Mex, or something in between... it's definitely 100% delicious. And even better - it's also completely gluten-free.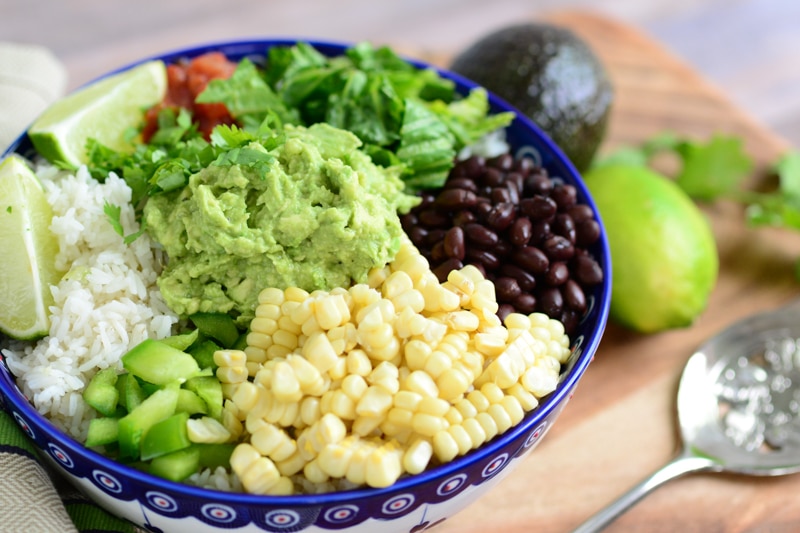 Making the Homemade Guacamole
I think the best part of this vegan burrito bowl is the homemade guacamole! I'm a sucker for avocados - so creamy and delicious. And good for you too!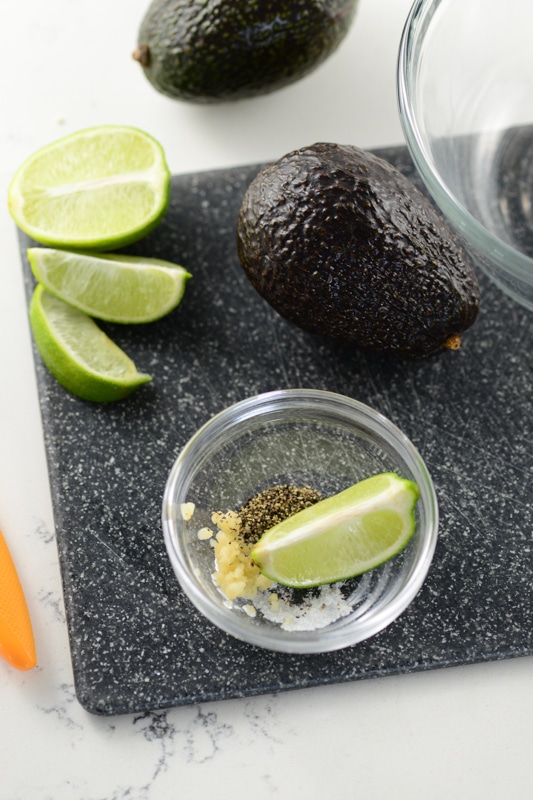 First, cut the avocados the long way around, then twist the two sides apart, and remove the pit.
Now, if you've never learned how to properly de-seed an avocado, you should definitely stop for a minute and watch this video. This stab and twist maneuver is the easiest way to go.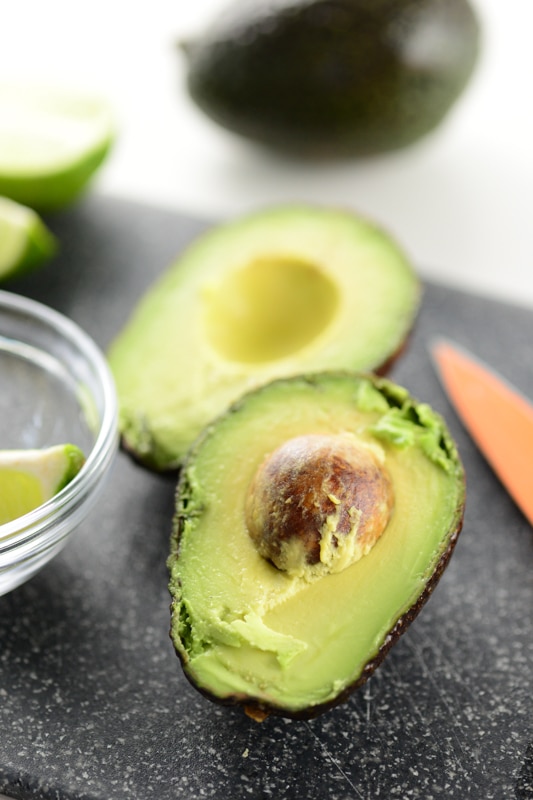 Next, scoop the avocado flesh into a bowl and add some lime juice. You can squeeze the lime juice directly onto the avocado, but watch out for seeds! We don't want those in the guacamole.
I like to stab a fork into the lime pulp as I squeeze the lime because it seems to get more of the juices out. Try turning the fork while you squeeze and watch how much more lime juice you'll get — especially if the lime is a little hard.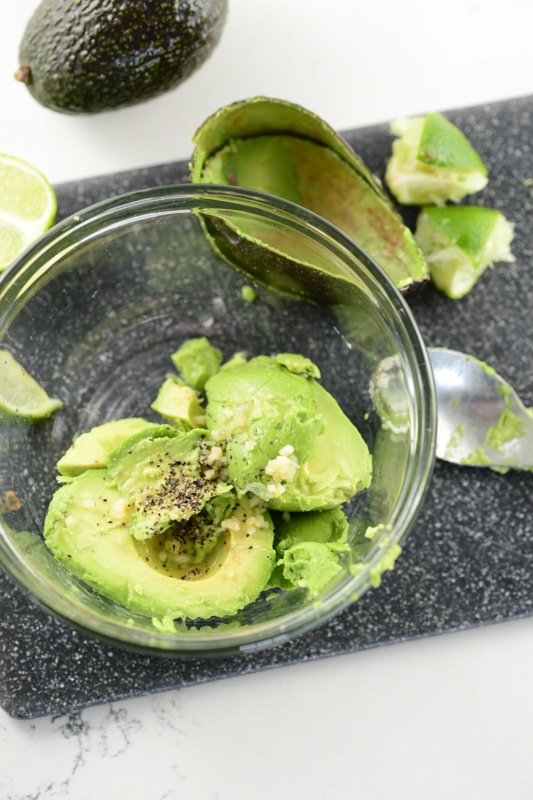 Then add the garlic, salt, and pepper - and mix everything together. You can use a food processor to get everything nice and smooth if you prefer.
But if you don't want yet another thing to wash, just go ahead and use a fork to smash the avocado. I like my guacamole a bit chunky anyway!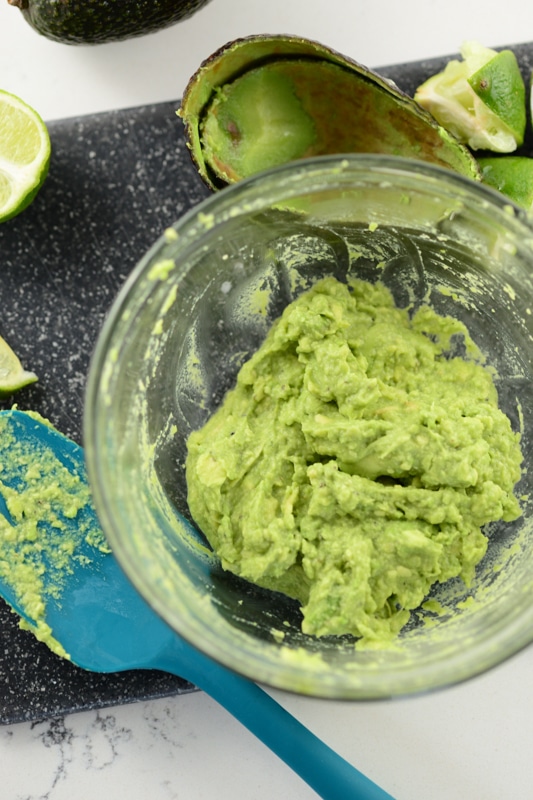 Let's Make Vegan Burrito Bowls!
There really isn't much to preparing this vegan burrito bowl- it's a super easy, quick meal to make on a weeknight.
I love it because it's one of the quickest and easiest dinner recipes I know. It's perfect for weeknight dinners, when everyone's hungry and too tired to cook.
If you have beans and rice, you can use pretty much any combination of veggies to turn it into a filling one-bowl dinner.
You can speed things up even more by making your rice ahead of time in a rice cooker or instant pot.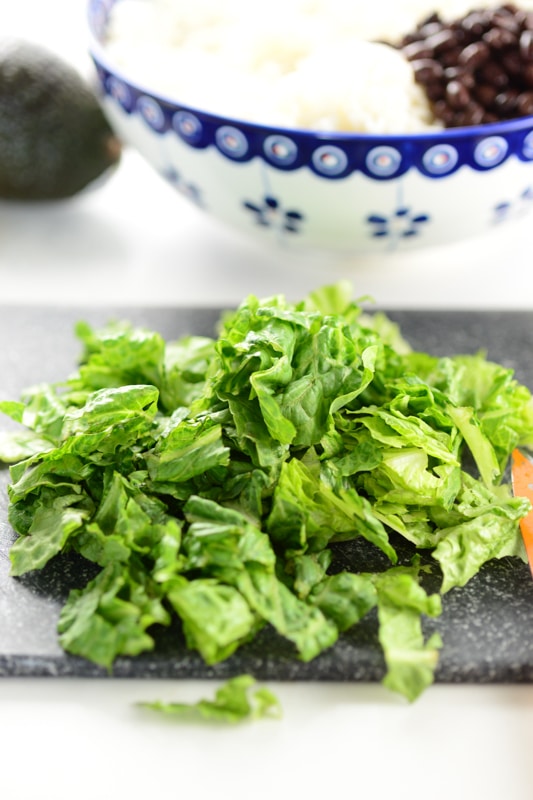 While your rice is cooking - go ahead and prep your veggies. You can use any combination of fresh veggies for this bowl, so feel free to use your favorites.
I like to use crunchy romaine lettuce, fresh corn sliced from the cob, tomatoes, and bell peppers.
Next, drain the black beans and give them a good rinse in a colander.
Once your rice is ready to go, it's simply a matter of assembling your burrito bowl.
In serving bowls, combine the rice with black beans and all your favorite veggie toppings.
Squeeze a bit of fresh lime juice over the whole bowl, and top it with a big dollop of that homemade guacamole. Yum!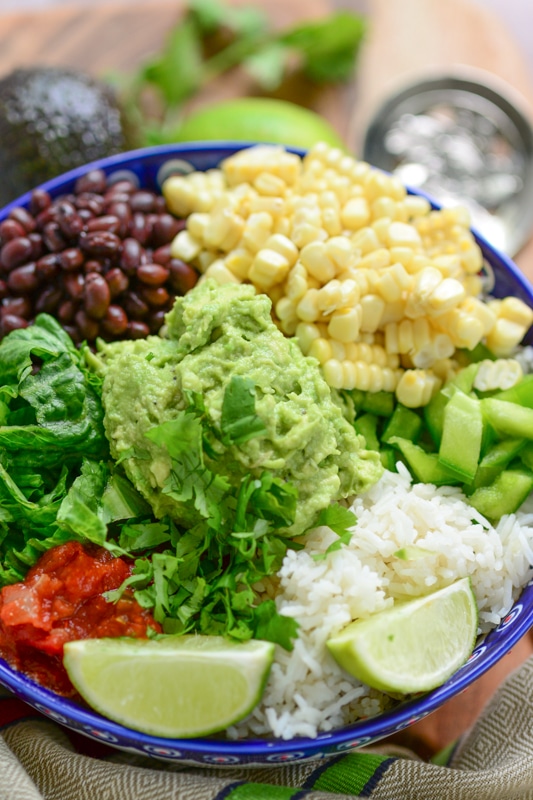 And that's it! Serve your vegan burrito bowls with a delicious drink, like this lemongrass, mint and ginger cocktail, and you're set for a great meal.
Recipe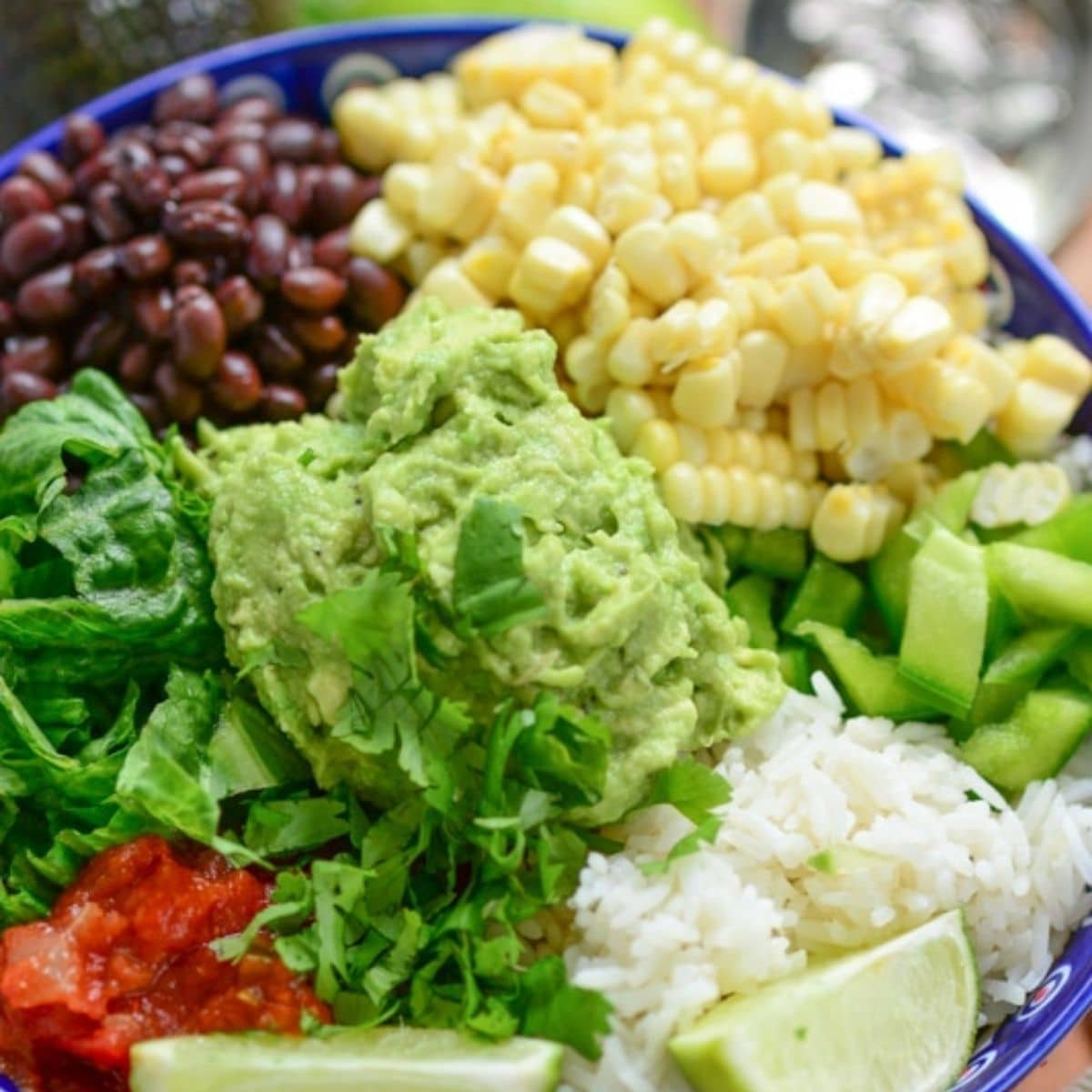 Ingredients
1

cups

rice

½

cup

corn kernels

removed from cob

1

cup

black beans

drained and rinsed

½

cup

fire-roasted tomatoes

canned

1

cup

green bell pepper

chopped

1

cup

romaine lettuce

chopped

2

cilantro

for garnish

1

lime
Instructions
Prepare the rice according to package directions.

While the rice is cooking, prepare the guacamole. Half an avocado, and remove pit.

Scoop the avocado flesh into a small bowl.

Add the juice of one lime, garlic, salt, and pepper. Mash into a chunky guacamole, combining well. Set aside.

When the rice is done cooking, assemble burrito bowls.

Add rice to serving bowls. Top with black beans, lettuce, corn, bell peppers, and tomatoes.

Squeeze juice from the remaining lime over the bowls. Top each bowl with a large dollop of guacamole, and sprinkle with cilantro. Serve
Nutrition
Calories:
701
kcal
Carbohydrates:
125
g
Protein:
19
g
Fat:
16
g
Saturated Fat:
2
g
Sodium:
776
mg
Potassium:
1212
mg
Fiber:
20
g
Sugar:
6
g
Vitamin A:
2865
IU
Vitamin C:
93.2
mg
Calcium:
118
mg
Iron:
4.6
mg
Craving more veg-friendly recipes?
Shop our collection of vegetarian and vegan cookbooks, including our new Vegan Thanksgiving and Vegan Christmas cookbooks!