This Lime & Lemon Poke Cake is like a fluffy cake and a key lime pie, wrapped up into one delicious bundle. It's packed with fruity lemon and lime flavors, with layers of soft cake and creamy pudding. Dig in!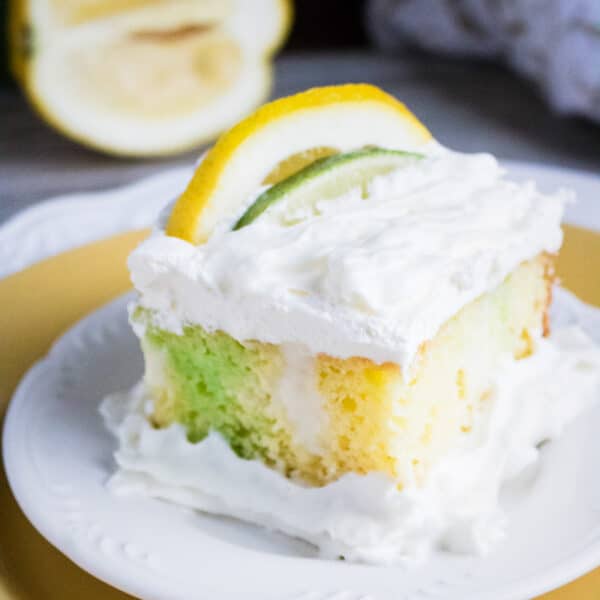 Jump to:
More poke cakes?
Yep, by now it's clear that I've caught the poke cake craze. It started with this triple chocolate poke cake, and then moved on to this festive pina colada poke cake. And most recently, this Oreo Poke Cake.
If you're still wondering what exactly a poke cake is, let me explain.
It's exactly what it sounds like - a cake that you poke holes in. Then you get to fill the holes with all sorts of delicious flavors, which turn into tasty little layers in your cake.
Today, we're going to be creating a lime and lemon poke cake using lemon pudding and key lime pie filling to pack our cake full of flavor.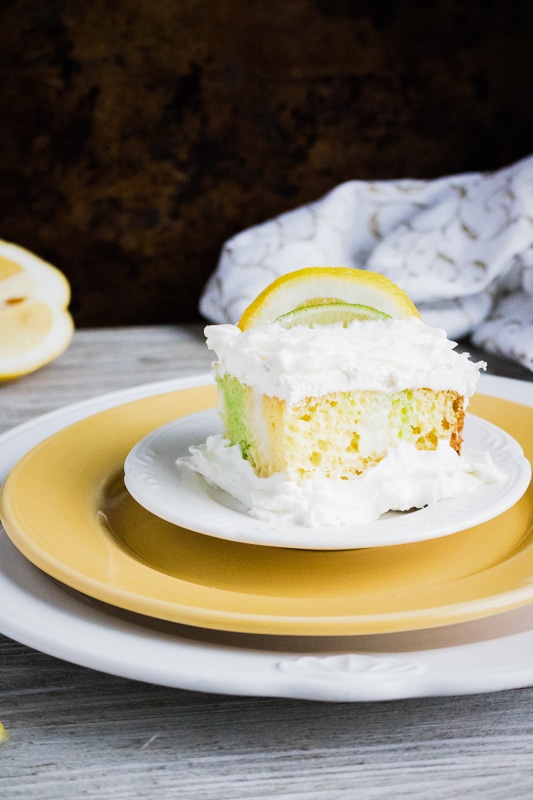 How to Make Lime Lemon Poke Cake!
This poke cake recipe is vegetarian. But if you want to try your hand at a vegan version, make sure you grab a copy of my free vegan substitution cheat sheet to get started!
Let's get baking.
First, we'll need to prepare the cake itself. The base cake is a very simple white sheet cake that I use for lots of recipes!
If you want to make this recipe a little more quickly, you can substitute a store bought white cake mix instead. Just prep it according to the package directions, and then pick up from the point where we start poking holes in it!
When your cake is finished baking, you'll want to let it cool a bit so that it's easier to handle without getting burned.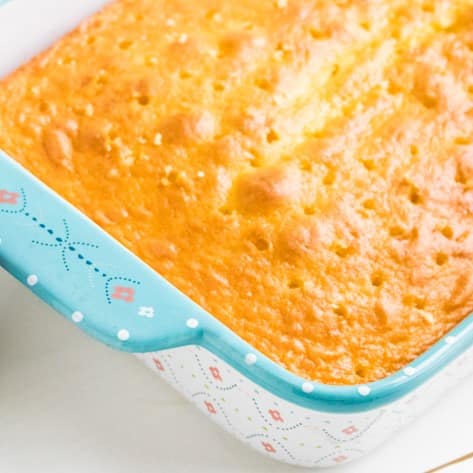 While the cake is cooling, you can go ahead and make your lime and lemon poke cake fillings.
For the lemon filling, we will use a simple lemon pudding mix. Just mix it with milk until it's nice and creamy, and set that aside. You might also find pre-mixed lemon pudding in the refrigerated section of your grocery store - feel free to use that as well.
For the lime filling, we will use a key lime pie filling. You should be able to find this in a can, in the baking section of your market. If you can't find it, look for a lime flavored pudding and use that instead.
Then, use the back of a spoon to plunge little holes all over your cake. This is where we will put all the yummy stuff!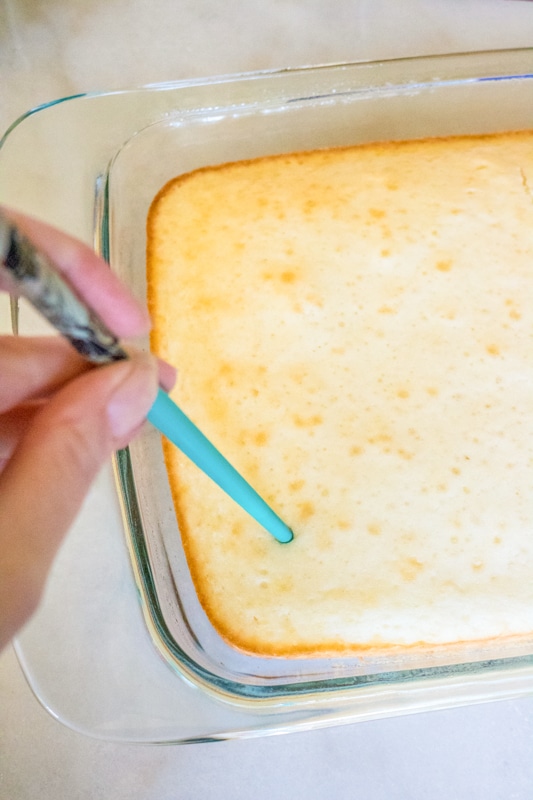 Now - for this cake we are using two different fillings - lemon and lime. So we will poke holes twice. Keep this in mind when you start poking - you only want to poke HALF the holes you need at first - so don't go overboard.
Fill the first set of poked holes with the key lime pie filling. Then repeat the process, and fill your second set of holes with the lemon pudding.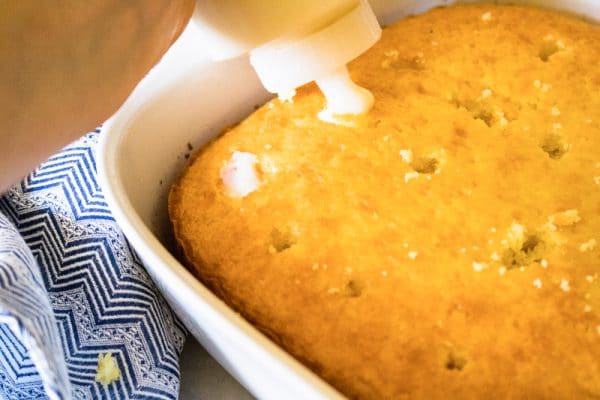 Then, spread a thick layer of whipped cream topping over the whole cake. Garnish with a bit of lemon and lime zest, and some lemon and lime slices.
Chill the whole cake for about four hours, until it's cool and firm. And dig in!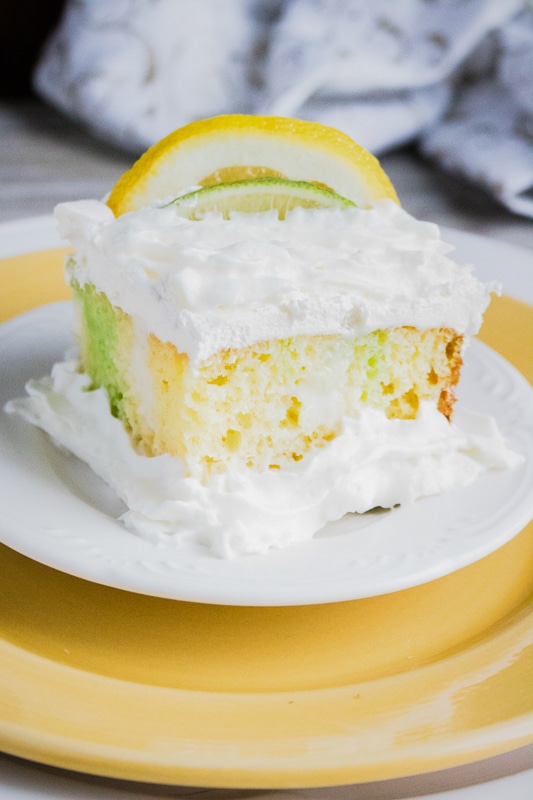 Recipe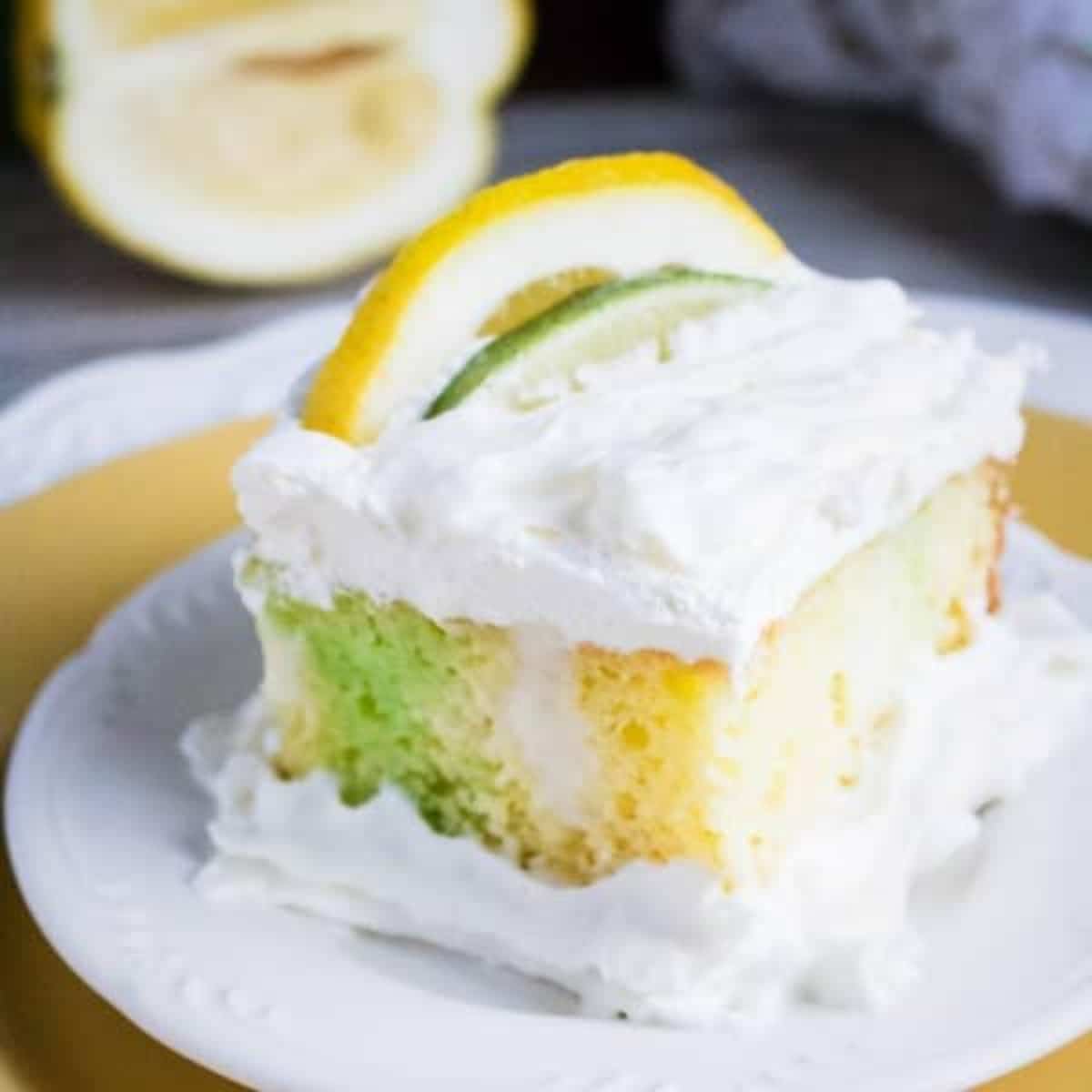 Ingredients
½

cup

key lime pie filling

3

oz

lemon pudding mix

1 ½

cups

milk

8

ounces

whipped topping

thawed

Lime and lemon zest

optional, for topping
Instructions
Preheat oven to 350 degrees.

In a small bowl, mix together the wet ingredients (butter, egg whites, milk, vanilla extract) for the white cake layer.

In a separate larger bowl, mix together the dry ingredients for the white cake layer (flour, sugar, baking powder, salt).

Mix together the dry and wet ingredients to form the cake batter. Use an electric mixer to make this easier, if you have one.


Spray a 9" x 13" baking pan with cooking spray. Pour cake batter into baking pan. Bake for 25-30 minutes, until a sharp knife inserted into the cake comes out clean.

Allow cake to cool until it can be safely handled.

Using the back of a spoon, or other utensil, poke cake all over to form holes. You will be doing this twice - once to insert the lemon pudding and once to insert the key lime pie filling. So only poke HALF as many holes as you will need at this point.


Using a spoon or a piping bag, fill the holes with the key lime pie filling. You probably will not need the full can - so don't worry if you don't use it all up.

Mix together the lemon pudding mix and milk in a small bowl, until smooth. Once again, poke holes all over the cake. Using a spoon or piping bag, fill this second set of holes with the lemon pudding.

Spread a layer of whipped topping over the whole cake.

If desired, sprinkle the cake with the zest of a lemon and lime, or decorate with lemon and lime slices.

Chill for 4 hours before serving.
Nutrition
Calories:
396
kcal
Carbohydrates:
58
g
Protein:
5
g
Fat:
15
g
Saturated Fat:
10
g
Cholesterol:
37
mg
Sodium:
242
mg
Potassium:
212
mg
Sugar:
35
g
Vitamin A:
450
IU
Calcium:
113
mg
Iron:
1.1
mg
Craving more veg-friendly recipes?
Shop our collection of vegetarian and vegan cookbooks, including our new Vegan Thanksgiving and Vegan Christmas cookbooks!