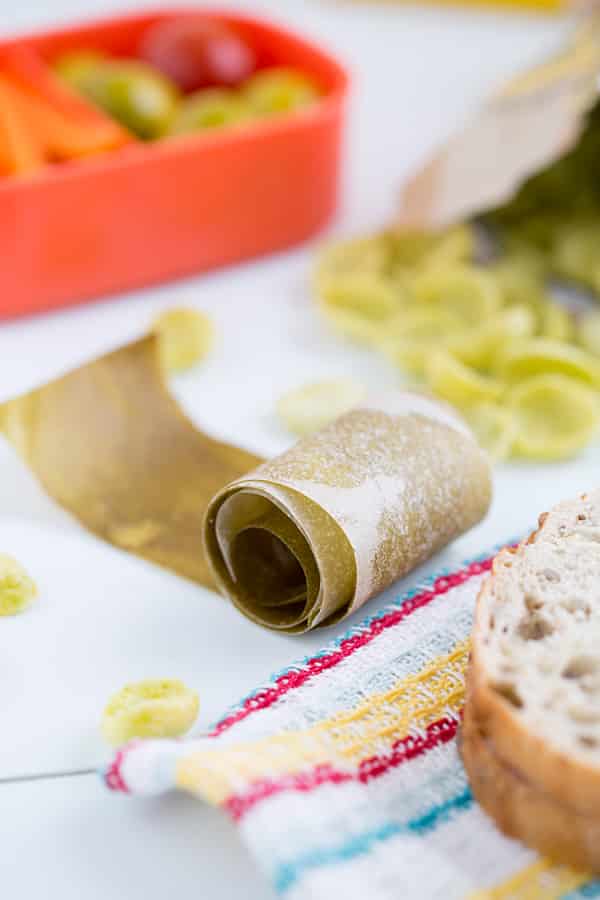 You know how sometimes you have a really good idea, but you sort of know it just won't work out? I kind of felt that way about this Sneaky Green Apple Fruit Leather recipe. I loved the idea of sneaking a little bit of spinach into apple fruit leather, but it just seemed like the idea was too good to actually work in practice. So I made it…
…and it was good! Like really, objectively good. Not good for fruit leather with spinach in it, but good good. You don't taste the spinach at all. To make sure it wasn't a fluke, I made it again and it was still tasty. I wanted to be absolutely sure it worked out, so I tried it a third time. By the time I got to the fourth trial, I knew the recipe worked, I just wanted more fruit leather.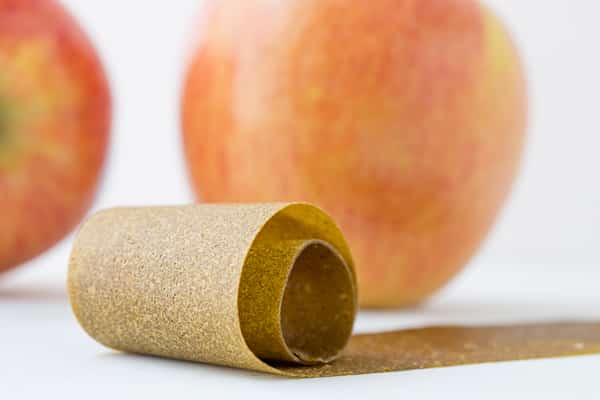 Not only does this fruit leather recipe sneak in some spinach, it's also sugar-free. A lot of fruit leather recipes will have you add a ton of sugar. But if you start with flavorful, sweet apples, you don't need any sugar at all. You can bake the fruit leather on parchment paper, cut it into strips, roll it up, and you have a healthy back-to-school lunchbox snack that's not neon green or loaded with sugar and preservatives. (Want some more healthy fruit leather recipes? I have Banana, Strawberry Banana, Mango, and Raspberry Peach too!)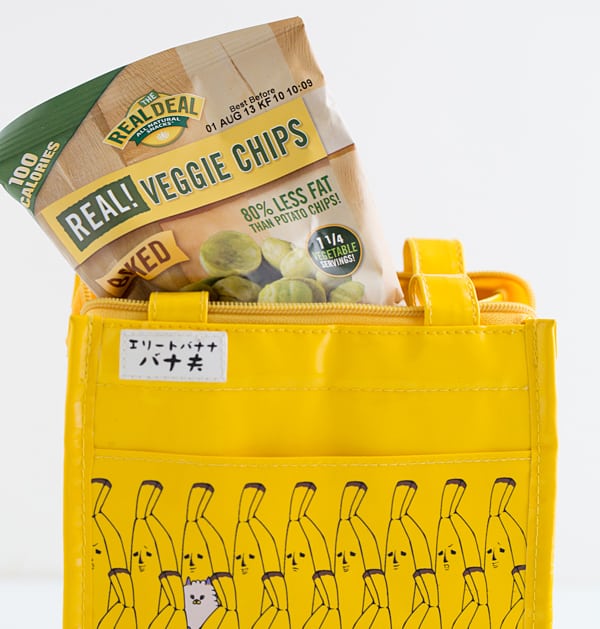 On a shallow note, I'm pretty thrilled that this post has given me the opportunity to use my Banao lunch bag again. Before I started working from home, I used to bring my lunch to work in that bag every day. (The weird looks I got from my co-workers were obviously out of jealousy. Obviously!) And not only did I bring my lunch to work in a children's lunch bag, my lunch was usually a grown-up version of what I used to eat when I was a kid too—a PB&J on whole grain bread, fruit leather, and healthy chips or crackers.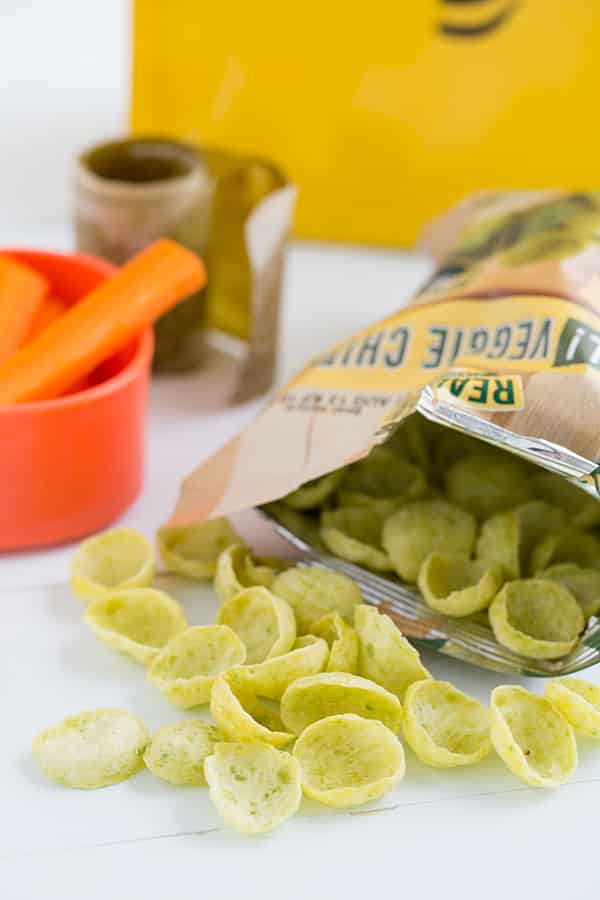 When I was a kid, if you had chips in your lunch, it was probably something that left your fingers orange and/or greasy. If your parents were really crunchy and health-conscious, maybe you'd get pretzels. Today, we have more options. Options that are healthy and tasty—imagine that! The Real Deal Baked Veggie Chips are one of my favorites. They're all-natural, vegan, gluten-free—oh, and they're made with peas. Peas! An ounce of Veggie Chips provides a serving and a half of vegetables, which is good news for those of you who struggle with kids that flat-out refuse to eat their veggies. The 100-calorie bags are perfect for sticking into lunchboxes (or Banao lunch bags), but I'm partial to the Sriracha flavor myself. I'm a complete sucker for that crispy and spicy combination and these chips have just the right amount of heat.
To find The Real Deal snacks at a retailer near you, enter your zip code into the store locator on their website. And then you'll have sneaky, tasty chips to go with your sneaky, tasty fruit leather!
Recipe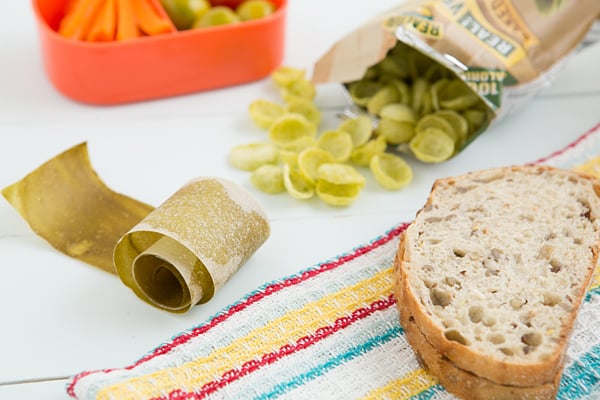 Servings:
1
baking sheet of fruit leather
Ingredients
6

small apples

about 2 pounds—I used Fuji, peeled, cored, and diced

½

cup

water

½

tsp

ground cinnamon

optional

1

cup

packed baby spinach
Instructions
Combine the diced apples, water, and cinnamon in a large saucepan. Bring to a boil, then reduce heat to low. Simmer for 30–45 minutes, until apples are softened, stirring and mashing occasionally. (I use a potato masher, but if you don't have one, you can use a big wooden spoon and crush the apples against the side of the saucepan.)

Allow the apples to cool slightly, then transfer them to a blender or food processor. Add the spinach and process until completely smooth.

Preheat oven to 175°F and line a large rimmed baking sheet with parchment paper. Pour the apple mixture onto the center of the sheet and use a spatula to evenly spread it over the paper. (If you have an offset spatula, it works well for this!)

Bake the fruit leather for 3 to 5 hours, until it's dry to the touch but still pliable. Sometimes the edges will be dry before the center—if this happens, use kitchen shears to trim off the done parts and return the rest to the oven. It's hard to give an exact time for baking fruit leather, so be sure to check on it every 20–30 minutes so it doesn't overcook!

Once the fruit leather is finished baking, remove it from the oven and let it cool, then use kitchen shears to cut it into strips. (Keep the parchment paper backing—this will keep it from sticking!) Roll the strips and store them in a plastic bag or airtight container.
Nutrition
Calories:
577
kcal
Carbohydrates:
153
g
Protein:
4
g
Fat:
2
g
Saturated Fat:
1
g
Polyunsaturated Fat:
1
g
Monounsaturated Fat:
1
g
Sodium:
41
mg
Potassium:
1340
mg
Fiber:
27
g
Sugar:
114
g
Vitamin A:
3406
IU
Vitamin C:
59
mg
Calcium:
109
mg
Iron:
2
mg
Craving more veg-friendly recipes?
Shop our collection of vegetarian and vegan cookbooks, including our new Vegan Thanksgiving and Vegan Christmas cookbooks!
Disclosure: The Real Deal compensated me for the time spent developing and photographing this recipe. Sponsored Recipes are a once-a-month feature on Oh My Veggies--my sponsors help make this blog possible!