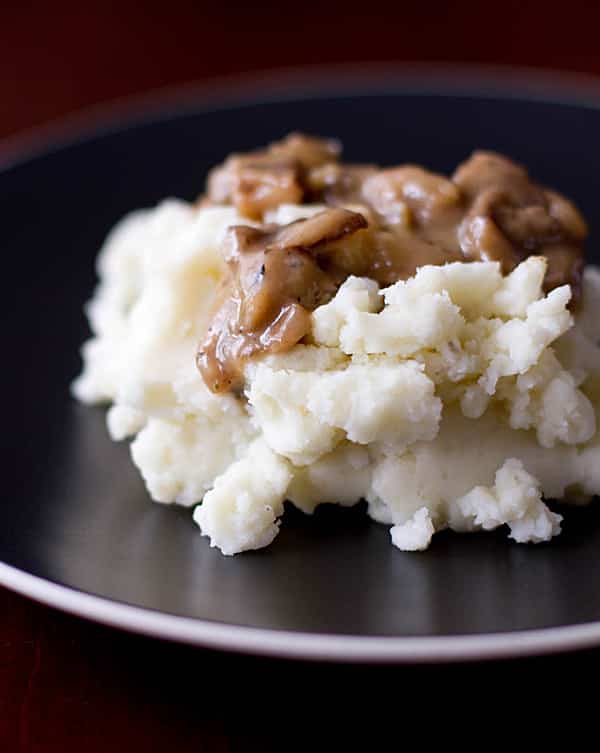 This recipe for Vegetarian Wild Mushroom Gravy is adapted from Cooking Light's Mushroom Gravy. No more Thanksgiving dinners without gravy for you!
It's All Gravy
Before I stopped eating meat, turkey was always an afterthought for me on Thanksgiving. It was the gravy and mashed potatoes, the cranberries, the green bean casserole . . . those were what I really loved to pile on my plate. The turkey was just an obstacle—my mom would make me it eat in order to get to the good stuff. I'd always make sure I had two helpings of mashed potatoes, and then I would pour on the gravy—so much that it would slowly surround my cranberries and seep into my sweet potatoes. But I didn't care too much, because I loved gravy. Cranberry gravy, sweet potato gravy, it's all good.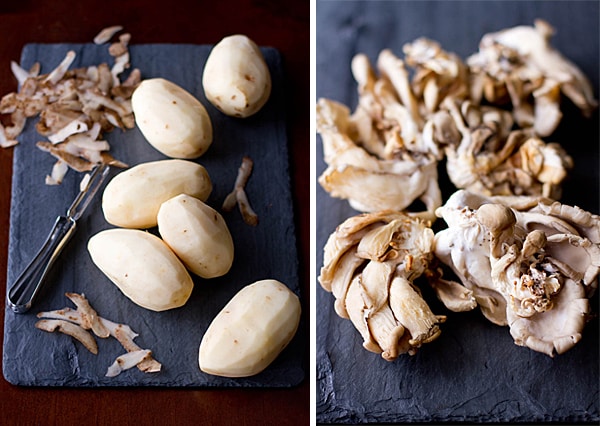 Of course, gravy is often overlooked when it comes to accommodating vegetarians on Thanksgiving. I'm always happy to eat mashed potatoes any way that I can get them, but a little something is missing without being able to drown them in gravy. It's just not right! So if you're a vegetarian, maybe you should make some gravy to bring to Thanksgiving this year. I'm just trying to be helpful, you know?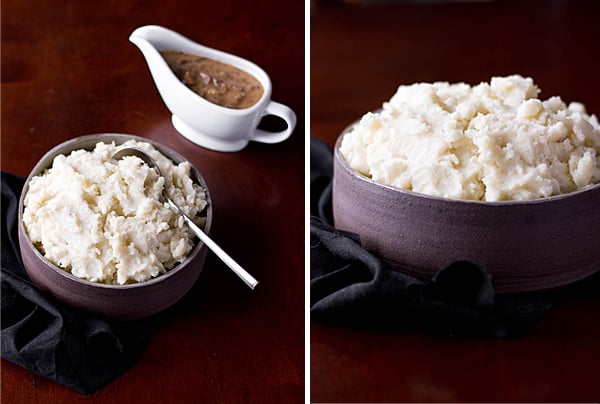 Traditional gravy is made with fat and juices from meat, so if you're a vegetarian, that's not an option. But mushroom gravy is a good alternative. Mushrooms have that nice umami flavor, making them a good substitute for turkey.
About the Recipe
I had trouble coming up with a completely original mushroom gravy recipe, so I adapted a recipe from Cooking Light instead. I replaced the button mushrooms with oyster mushrooms, but you can really use just about any kind of mushroom. And while the original recipe called for chicken stock, I replaced that with mushroom stock; if you don't have mushroom stock on hand, vegetable broth will work just as well.
The Thanksgiving recipes continue over on Rikki's blog! Today she's posting my French Bread Stuffing. It's full of delicious things like Swiss chard, caramelized onions, and cheese. Yes, cheese! I love this stuffing and I know you will too. And you don't want to miss any of Rikki's beautiful photos!
Recipe by me, photos by Rikki Snyder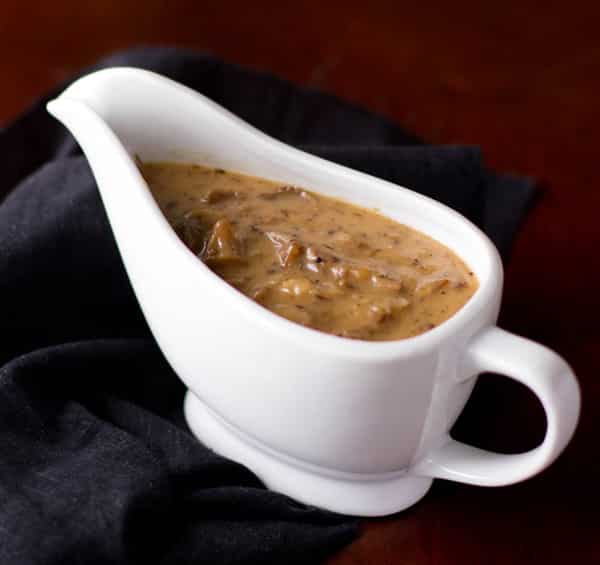 Ingredients
1

tbsp

olive oil

1/2

cup

chopped onion

1

tsp

dried thyme

1/4

tsp

salt

8

oz

oyster mushrooms

sliced

1/4

cup

dry sherry

3

cups

mushroom stock or vegetable broth

1 1/2

tbsp

all-purpose flour

2

tbsp

water

2

tbsp

butter

or Earth Balance

1/8

tsp

black pepper
Instructions
Heat oil in skillet over medium-high heat. Add onion and saute 1 minute. Add thyme, salt, and mushrooms and saute about 8 minutes, or until mushrooms are browned. Add sherry and cook until liquid evaporates. Stir in broth.

Bring to a boil and cook until gravy is reduced to about 2 cups (about 14 minutes).

Whisk together flour and water in a small bowl. Add mixture to skillet; return to boil. Reduce heat to low and simmer until slightly thickened, about 2 minutes.

Remove from heat; stir in butter 1 tablespoon at a time and pepper.