Our weekly meatless meal plans are 5-day menus that serve a family of 4 — or less if you don't mind leftovers! Click on each of the meal links below to get printable recipes, then print the meal plan and shopping list at the bottom of this post.
Here's this week's meatless meal plan:
Monday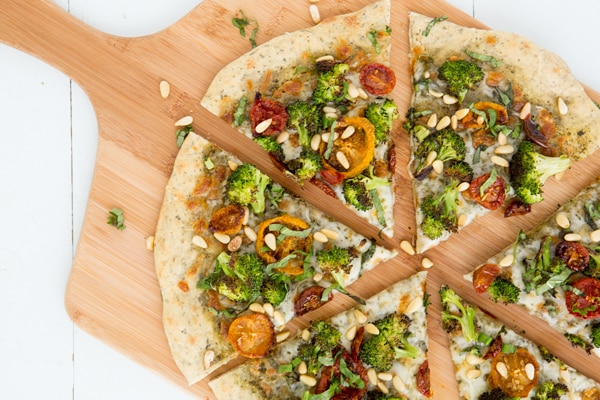 Roasted Broccoli & Sun-dried Tomato Pizza // Yep, it's Monday. Celebrate with homemade pizza for dinner—there are literally 5 minutes of prep work involved.
Tuesday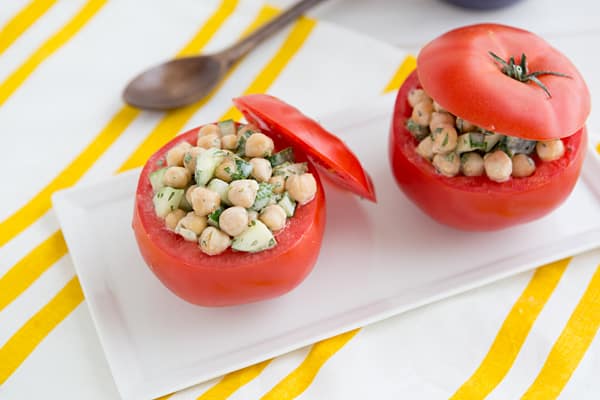 Cucumber Chickpea Salad with Lemony Tahini Dressing // Serve this super simple salad as is, or customize with whatever other veggies and herbs you have around the house. Serve in a wrap, over a bed of greens, or in tomato or bell pepper bowls!
Wednesday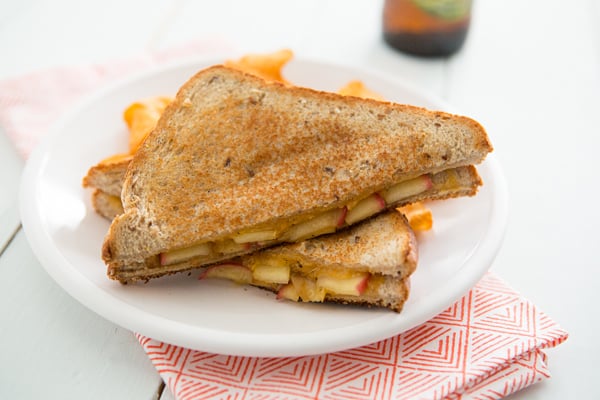 Maple Sage Apple and Cheddar Grilled Cheese // Okay, it's September now. You can officially indulge in apples and grilled cheese! Even if you're sad about summer ending, this sweet-and-savory sandwich will have you psyched for fall.
Thursday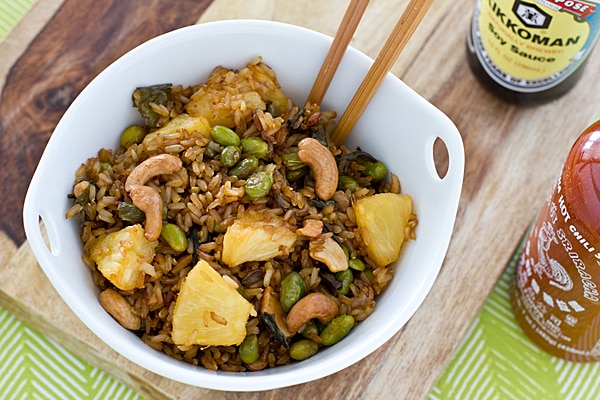 Baked Fried Rice // No frying required in this homemade spin on a takeout fave. This recipe works best with cold, leftover rice, so throw some in the rice cooker Wednesday night if you have time!
Friday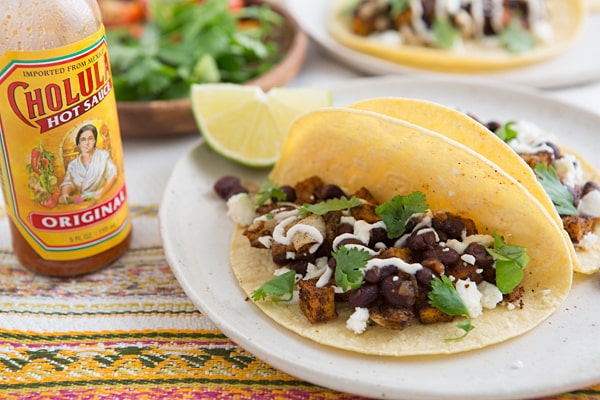 Roasted Sweet Potato & Black Bean Tacos // This is one of the easiest vegetarian taco recipes ever!
Tips For This Week's Plan
Make sure to pick up greens and veggies if you want to serve Monday's pizza with a side salad
Did you know mint is extremely easy to grow? If it's a pain to pick it up at the store every time you want to use it, consider buying a plant to keep on your windowsill. You'll be able to make Cucumber Chickpea Salad (or mojitos!) whenever you want.
Make extra lemon-tahini dressing on Tuesday and keep it on hand for side salads later in the week
Thursday's Fried Rice calls for leftover fried rice for best results. Throw some in the rice cooker Wednesday night or Thursday morning if you have time, then keep in the fridge until you're ready to make dinner Thursday.
If you know you'll be short on time Friday night, you could roast the sweet potato on Thursday night and reheat in the oven for a few minutes when you make the tacos
You can use collard green leaves, or your favorite taco shells, in place of the tortillas for Friday's tacos
Printable Meal Plan & Shopping List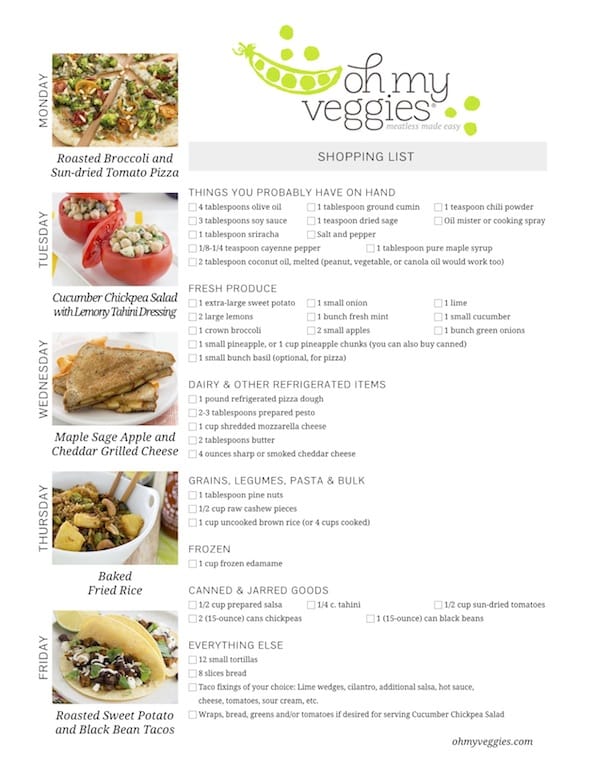 Click here for a printable version of this week's meatless meal plan and shopping list.
Find more dinner ideas from our Meatless Meal Plan archives.