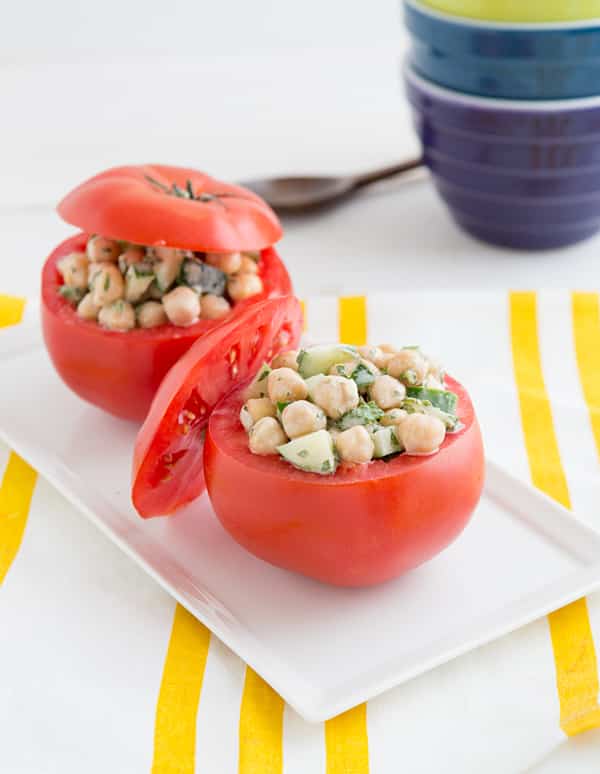 We got a new washer and dryer last week. Yes, dreams do come true! I've been watching for sales for a few months now and after finding the Samsung set we wanted for ⅓ off their regular price, we were finally able to bid adieu to our craptastic Whirlpool Cabrio machines. Our washer was like a bizarro world washer where you put clothes in, and they come out dirtier. And tangled. And with tiny little holes in them. It killed me a little bit to get rid of a washer and dryer that were only two years old (they came with our house), but they were destroying our clothes and there was nothing that could be done to fix it because that's how the washer is supposed to work. (Yeah, that makes a lot of sense, huh?) I never thought I would be a person who gets excited about a new washer and dryer, but here I am: thrilled. I walk past the laundry room just so I can gaze lovingly upon them. I might have hugged them too. Is that so weird? No. It's not.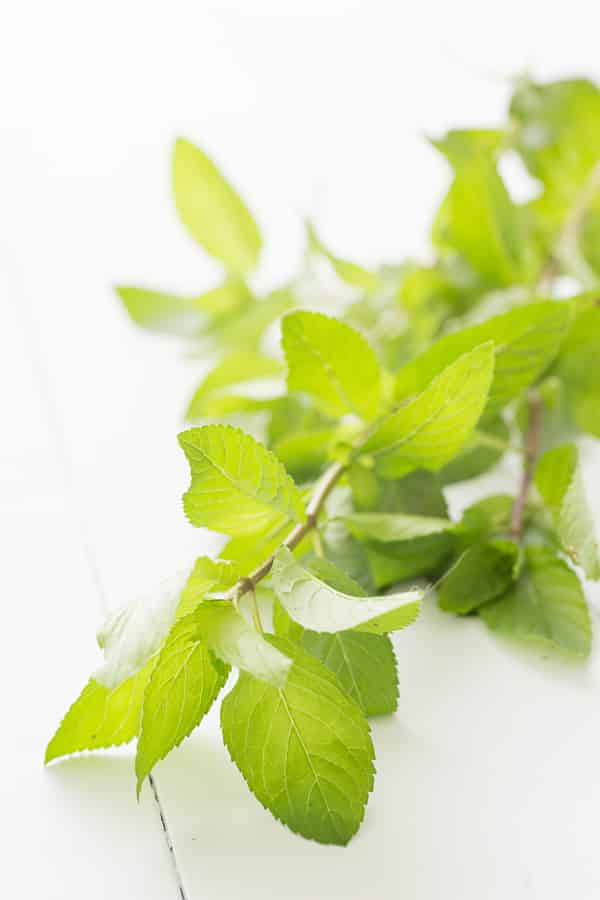 New topic! Mint! I'm growing mint in our little screen porch, but I was worried about it for a while because the cats liked to go out there and chew on it and sometimes they even liked to sit on it. It was looking a little stunted and sad and I thought it wouldn't make it, but now I'm all, WHOA MINT, slow your roll. I think this happened last year too. I kept wondering when I'd get enough mint leaves to use and then suddenly I'd have so many mint leaves, I didn't know what to do with them all. Since I'm on a salad kick lately, I came up with this Cucumber Chickpea Salad--with mint!
Can we just declare this the summer of salads? Because that's all I want to eat. Which is strange! Because I am super picky about my salads. I think it's because I just don't care for lettuce. I can't order a salad in a restaurant because it's usually 90% lettuce and I have to make myself eat it and it's just so meh. Anyway, back in the day, I used to always get Trader Joe's Middle East Feast and Balela for lunch, then I'd dump the tahini dressing from the Middle East Feast into the Balela. That was the inspiration for this particular salad. (Oh Trader Joe's, why did you stop selling the Middle East Feast? A part of me died that day. The part of me that loves tiny little pitas.)

I added some cucumber to this salad too because I love cucumber and it pairs so well with mint. When cucumber sits in a salad, it has a tendency to make the dressing a bit watery over time, so if you make this in advance, you might want to store the cucumber separately and stir it into the rest of the salad right before serving. This is a fabulous cucumber chickpea salad and it makes a great filling for pitas too.
This post was originally published July 15, 2013.
Recipe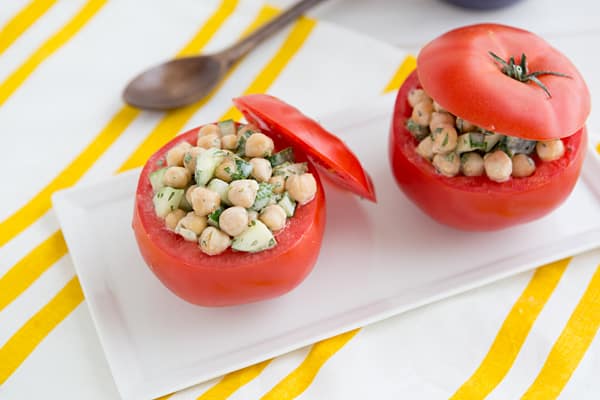 Instructions
Combine the chickpeas, cucumber, and mint leaves in a large bowl. In a small bowl, whisk together the tahini, lemon juice, and olive oil. Add a tablespoon (or two) of water if needed. (The dressing can be on the thick side because it will thin out a bit after you toss it with the salad.)

Pour the dressing into the large bowl and toss to coat. Add salt to taste.
Nutrition
Calories:
150
kcal
Carbohydrates:
9
g
Protein:
4
g
Fat:
12
g
Saturated Fat:
2
g
Polyunsaturated Fat:
4
g
Monounsaturated Fat:
6
g
Sodium:
17
mg
Potassium:
339
mg
Fiber:
4
g
Sugar:
1
g
Vitamin A:
1320
IU
Vitamin C:
12
mg
Calcium:
104
mg
Iron:
2
mg
Craving more veg-friendly recipes?
Shop our collection of vegetarian and vegan cookbooks, including our new Vegan Thanksgiving and Vegan Christmas cookbooks!