Enchiladas are my comfort food--and I'm not at all picky. They could have any kind of filling, sauce or cheese and I would happily dish myself up a big plate and dig in. But if I'm honest? I prefer a tangy tomatillo enchilada sauce over all others.
I fell hard for tomatillos when I was 20 years old and still in my infancy as a food lover. Long story short, previous to that time, if it looked green and/or healthy, I wouldn't touch it. Then I tasted homemade roasted tomatillo sauce and my life really began. (True story.)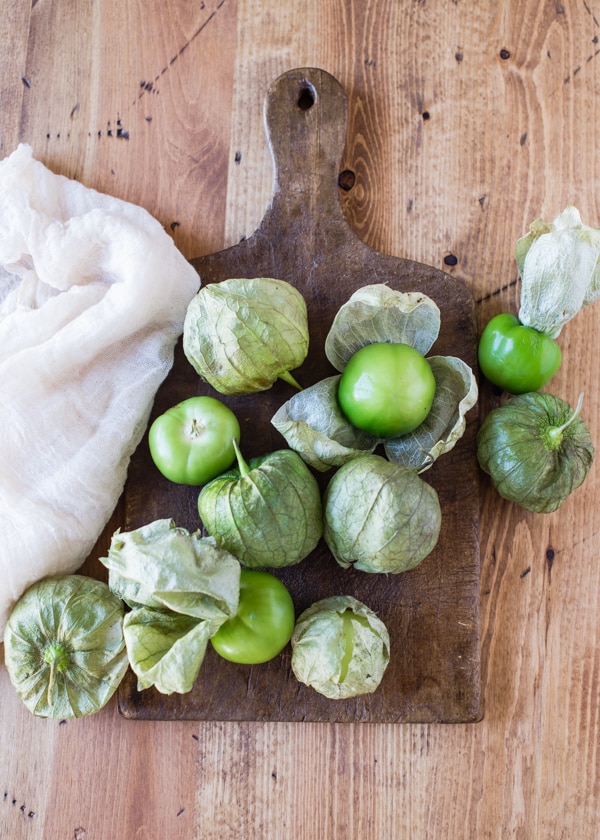 These veggie enchilada stacks are going to make your heart sing! The idea came from a similar dish I had in a fancy Mexican "cuisine" restaurant. I liked it so much, I went back a few weeks later to have it again. The sauce was different, but the filling was very similar. Thick chunks of mushrooms, diced zucchini, sweet bell pepper and corn are sandwiched between crispy baked corn tortillas, gooey Monterey Jack and that amazing tomatillo sauce. See? Perfection!
Tomatillos are a wonderful thing. If you haven't had the pleasure of cooking with them yet, by all means give it a try as soon as possible. They look like small green tomatoes, and they are part of the nightshade family, but they're more like ground cherries than tomatoes. The inside is full of tiny little seeds and the flavor is very tart and bright. They are great raw, but are most often boiled, fried or (my preference) roasted.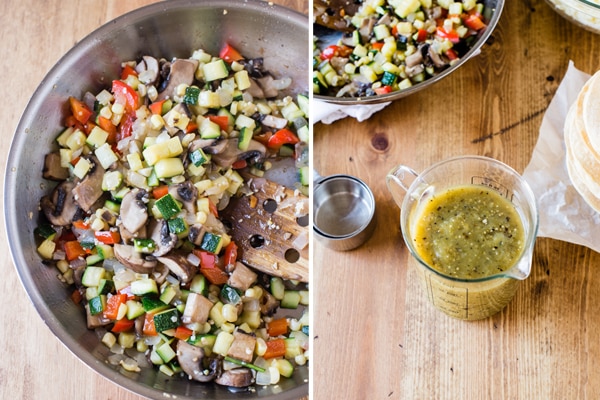 When you're choosing tomatillos, I follow the advice of Rick Bayless (whose recipe this one is based upon) and choose fruits that fill their husks and are about the size of golfballs. Some tomatillos grow rather large; we shy away from them because the smaller ones are more flavorful. Sometimes they won't fill the husk, and that's fine, but the ripest, best tomatillos do. Give them a gentle squeeze to make sure they aren't mushy. Peel back the husk and check for any cracks or bruised areas (or spiders), and use them within a few days of buying. I think they are best stored at room temperature, but they are usually in the refrigerated section of my grocery store, so that's where I keep them.
When you're preparing them for use, peel back the husks and remove them along with the stem. There is a sticky residue under the husk that generally rinses off with a little warm water and a quick rub. Then they are ready to go. From there, the hardest part of making the sauce is turning on the oven and placing everything on a baking sheet.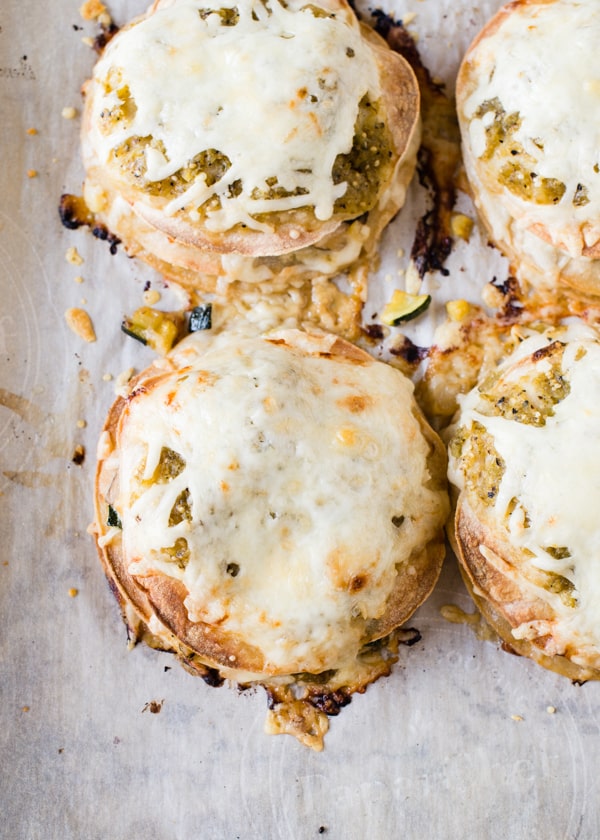 One complaint I have about enchiladas, and it's a minor one at that, is that when I make them at home, the tortillas get soggy. To prevent that in these stacked enchiladas, I baked the corn tortillas until they are crispy. This helps keep them from turning to mush. To save time, store-bought tostadas could also be used.
These come out of the oven all melty and delicious with crispy brown edges, tender chunks of garden fresh veggies and that tangy, spicy sauce. You'll wonder where these were all your life.
This post was originally published on August 25, 2014.
Recipe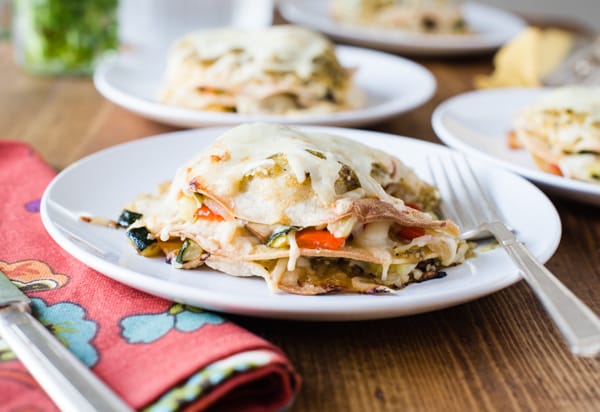 Ingredients
For tomatillo sauce:
1

pound

about 10-12 golf ball sized tomatillos, husks removed, rinsed well

3-4

serrano chiles

stems removed

1

onion

roughly chopped

2

whole garlic cloves

peeled

Salt

to taste
For enchilada stacks:
12

corn tortillas

2

tablespoons

olive oil

divided (plus more for brushing)

1

onion

diced

½

cup

diced bell pepper

Sea salt

to taste

2

garlic cloves

minced

1

small zucchini

diced

½

cup

corn

fresh or frozen

8

ounces

cremini mushrooms

sliced

3

cups

shredded cheese

Monterey jack, pepper jack, or cheddar

Cilantro

for garnish
Instructions
For the tomatillo sauce:
Preheat oven broiler to low. Line a baking sheet with parchment paper or foil. (If using foil, spray with non-stick cooking spray.)

Arrange the tomatillos, serrano chiles, onions, and garlic cloves on the prepared pan. Place the pan in the oven and broil for 5-7 minutes, then turn each of the veggies over and broil again for an additional 3-5 minutes. There should be some charring and browning, but not burning. The tomatillos will start to burst open and release their juices. (If you prefer a milder sauce, remove the seeds and ribs of the serranos after they're done cooking.)

Transfer the tomatillos, onions, garlic and chiles to a food processor or blender. Pulse until finely chopped, adding a little of the pan juices if needed to thin it out a bit. The sauce should be thick and pourable—not too runny, or the enchilada stacks will end up soggy. Add salt to taste.
For the enchilada stacks:
Preheat oven to 400°F. Line a baking sheet with parchment paper and brush it with a small amount of olive oil.

Lay 6 of the tortillas on the baking sheet and brush the tops with a little more oil. Bake for about 10 minutes, or until golden and crisp. Move to a cooling rack and repeat with remaining six tortillas.

Meanwhile, heat a very large skillet over medium-high heat. Add 1 tablespoon of oil and let it heat for 15-30 seconds, until shimmering. Add the onion and bell pepper. Season well with sea salt. Cook, stirring frequently, lowering the heat if necessary, until the onions start to soften and turn translucent about 4 minutes. Add the garlic and cook for 30-60 seconds, then add the zucchini and corn. Continue cooking until the veggies are just tender about 3 minutes more. Transfer to a bowl.

Add the remaining 1 tablespoon of oil to the pan. Add the mushrooms and cook, stirring often, until they start to brown, about 6 minutes. Add a little water, if needed, to prevent them from sticking. Add all the vegetables back to the pan and stir well. Remove from heat, but keep them warm until you're ready to assemble the stacks.
To assemble:
Arrange four of the tortillas on the lined baking sheet. Top each one with about ⅓ cup of the vegetable mixture, 1-2 tablespoons of the tomatillo sauce, followed by ¼ cup of shredded cheese. Repeat with another layer of tortilla, vegetables, sauce, and cheese. Place the remaining tortillas on top of the stacks and drizzle each one with a spoonful of tomatillo sauce and ¼ cup of the remaining shredded cheese.

Bake for 15-20 minutes, or until cheese has melted and the edges of the stacks are golden brown. Garnish with fresh cilantro and serve.
Notes
The sauce can be made up to a week in advance and refrigerated, but to save on prep time, substitute a store-bought tomatillo salsa for the homemade sauce--just make sure it's chunky and not too smooth or watery!
Nutrition
Calories:
593
kcal
Carbohydrates:
59
g
Protein:
28
g
Fat:
30
g
Saturated Fat:
13
g
Polyunsaturated Fat:
3
g
Monounsaturated Fat:
11
g
Cholesterol:
66
mg
Sodium:
574
mg
Potassium:
1082
mg
Fiber:
10
g
Sugar:
12
g
Vitamin A:
1474
IU
Vitamin C:
54
mg
Calcium:
534
mg
Iron:
3
mg
Craving more veg-friendly recipes?
Shop our collection of vegetarian and vegan cookbooks, including our new Vegan Thanksgiving and Vegan Christmas cookbooks!